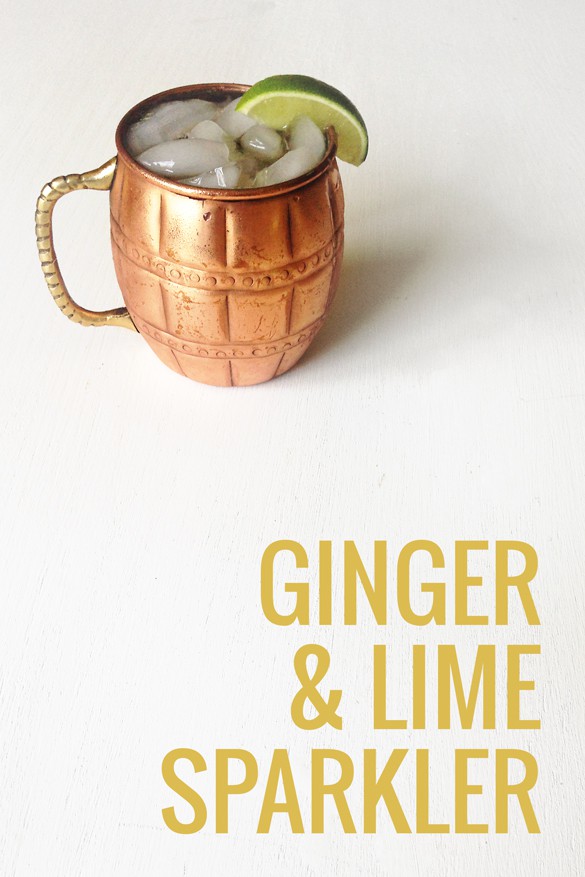 Well, hello! It's Susannah from Feast + West again! I am back with another frugal recipe for you.
I dreamed up this Ginger & Lime Sparkler, a lovely and refreshing summer sip with a hint of ginger spice. This beverage contains lime juice and ginger beer served over ice. Ginger beer isn't beer at all — it's a soda! Similar to root beer, ginger beer is a carbonated, non-alcoholic drink that's sweetened and flavored with spicy ginger. You can find it in most grocery stores, but you could also make it yourself. I haven't forayed into making my own ginger beer yet, but it's only a matter of time seeing as ginger beer is kind-of my favorite.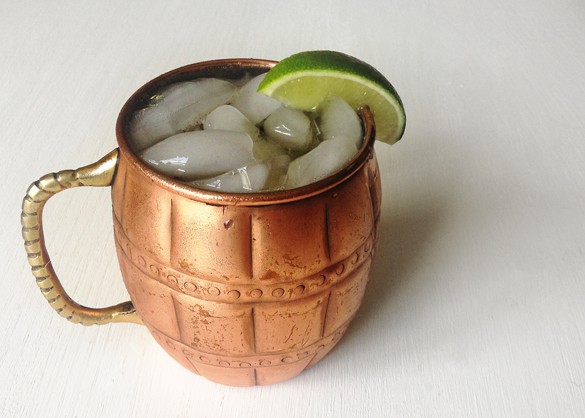 Fresh-squeezed lime juice is my preference in this drink, not the expensive pre-squeezed stuff. I think it makes a big difference, but you could certainly use either. I find that I can usually get a few limes for less than a dollar.
I choose to serve my Ginger & Lime Sparklers in a mule mug, which is a copper vessel that helps keep drinks extra super cold. You can usually find them for just a few dollars at thrift shops, though you totally don't need a mule mug to make this drink. However, they're adorable and I want to drink everything ice-cold in a copper mug right now. (Why must it be 100 degrees outside?!)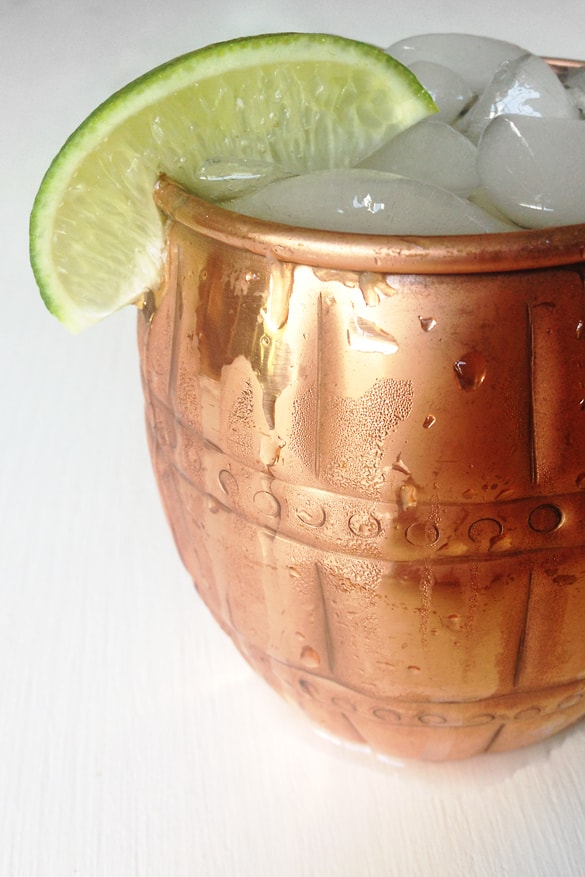 The Ginger & Lime Sparkler could be considered a mocktail version of the Moscow Mule, which is the cocktail that gave the mule mug its name. It contains all the same ingredients its cocktail brother — save for the alcohol, of course!
I'm a firm believer that beverages don't have to be boring, especially if they don't contain alcohol. If you believe that too, you may enjoy the 12 summer mocktail recipes I shared on my blog this week. Though I'm partial to this Ginger & Lime Sparkler, any of them would be fantastic for a serving as a party beverage or for sipping on hot days. Cheers!
A cool and refreshing summer beverage with a hint of ginger spice
Ingredients
6 to 8 ounces ginger beer
1/2 ounce (1 tablespoon) lime juice, about 1/2 a lime
ice
Instructions
Squeeze lime juice into a copper mule mug or highball glass. Drop in the spent shell of the lime.
Fill glass with ice, then top with ginger beer. Garnish with a lime wedge.
http://prettyprovidence.com/ginger-lime-sparkler/
Copyright Pretty Providence. All images & content are copyright protected. Please do not use images without prior permission. If you want to share this recipe, please re-create the recipe, snap your own photo and link back to this post for the recipe.