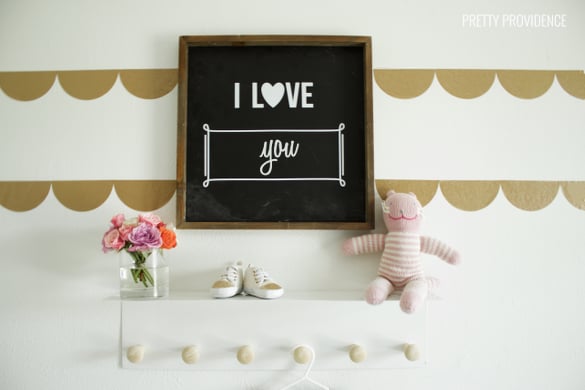 Hello hello! I am so happy to share June's nursery with you guys today. I have seriously been working on it FOR A YEAR. She is 8 months old and finally her room is decorated to my liking. I am not kidding myself, it's totally for me, at least right now. Infants don't really care if their walls are black or pink or whatever, but I hope that when she's older she will like it. I have been loving the black and white trend so last year when I began this endeavor I decided to jump on the train. Originally I wanted it to be gender neutral but as the project went on I couldn't resist all the gold sparkle, pink and purple things. So it's not super neutral but it sure is pretty. Read on for lots more pics, sources, and whatnot.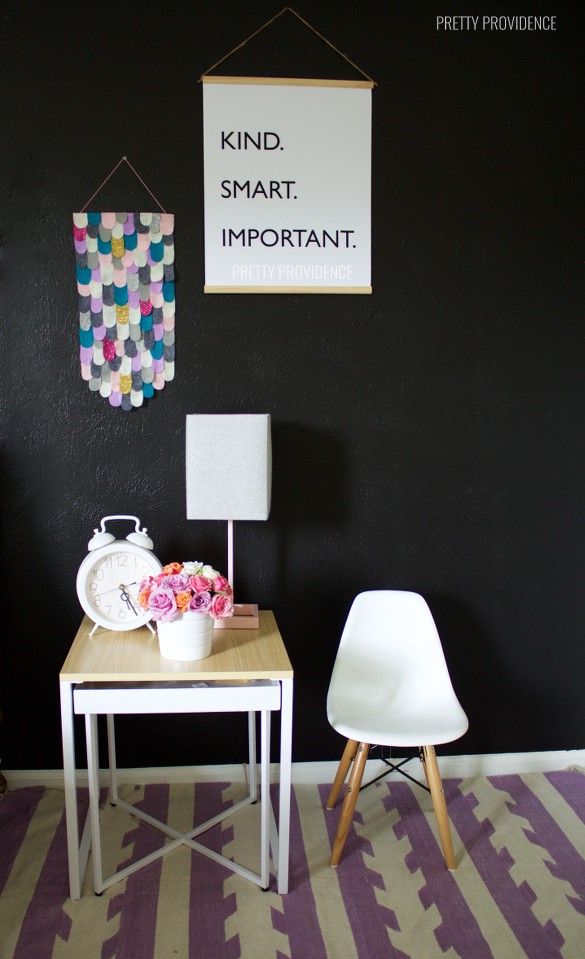 I designed the 'Kind. Smart. Important.' poster myself because I really love that saying from the book "The Help." I think those are three of the best compliments you can give a kid, and though I will never forget to tell my baby girl she is beautiful, I might need a reminder for some of those unseen beauties she has. (If you haven't read the book or at least watched the movie, please get on that.) If you want one you can print it from this link.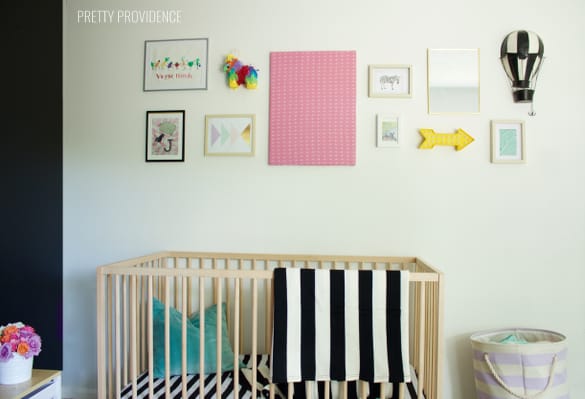 I can't seem to part with June's first tiny pair of sneakers so I added them into the decor.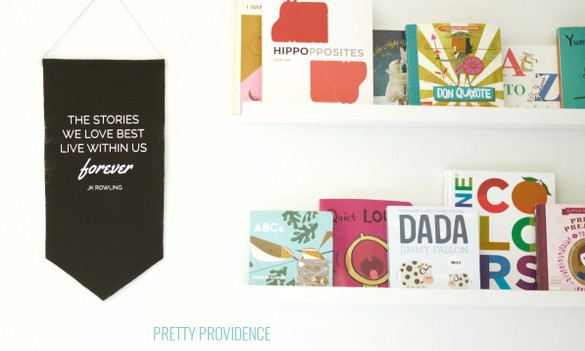 I cannot resist buying books for my babe, and picture ledges are such an easy way to display them and they double as decor. Win-win! I cut a JK Rowling quote out on iron-on vinyl with my cricut to hang next to it. Huge Harry Potter fan right here!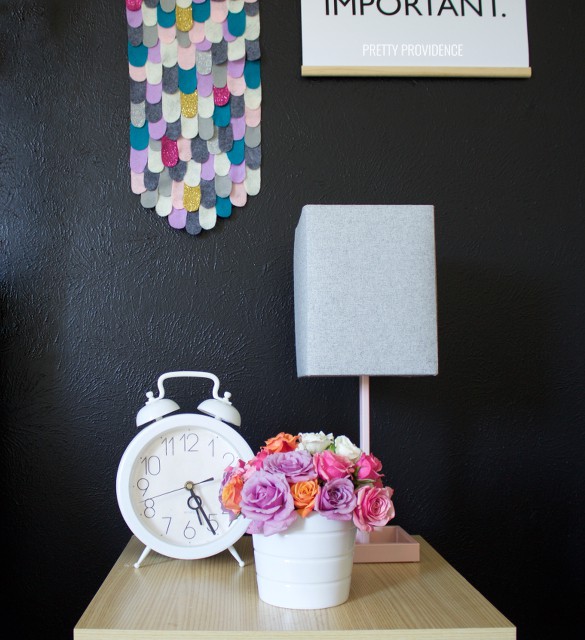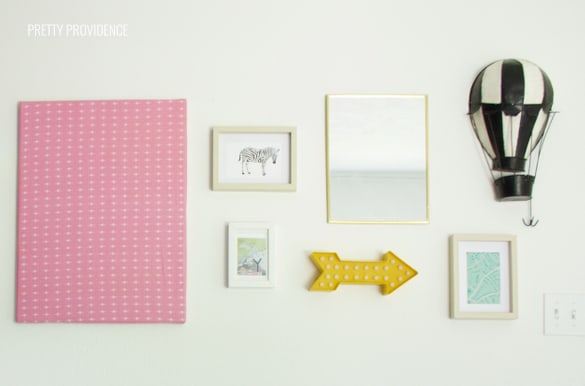 I found that pink fabric pretty much before anything else I did, and fell in love with it so I basically decorated the whole room around that and my black and white idea. It's cotton and steel, and basically all of their fabrics are gorgeous. I found the hot air balloon at a church garage sale for $2. I don't know who donated it, but I thank them! It's one of my favorite things in the whole room!
This room is doubling as a guest room when we have visitors too. Isn't this old brass bed frame so cool? It's been in my husband's family for over 100 years. It's actually his sister's but she doesn't have a place for it right now so we're enjoying its beauty at our house until she needs it back. I couldn't fit a rocking chair in the room, but the bed works great for night feedings and reading books before bed! Also, ironically, it turns out that my kid doesn't like to be rocked in a rocking chair. Babies be cray.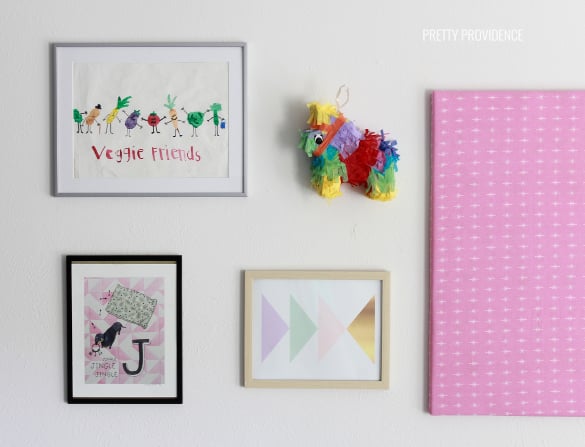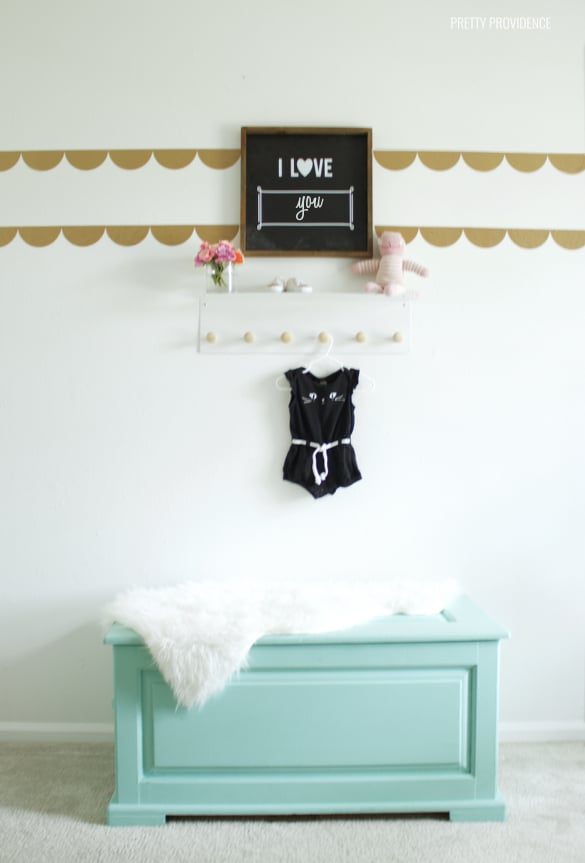 Thank you for joining us on this room tour & if you wanna know where anything is from, I've got links for you below!
Full list of sources:
Furniture:
Crib: IKEA Sniglar
Side Table: Target Room Essentials (on clearance)
Baby Eames Style Chair: Amazon (I got mine at Hob Lob with coupon but I don't see it on their site!)
Blue Chest: Hand-me-down that I painted a few years ago
Brass Bedframe: Family Heirloom
Paint Color: Behr Beluga
Decor:
Kind, Smart, Important Poster: DIY Free Printable
Scalloped Banner: DIY
JK Rowling Quote Banner: DIY
Gold glitter scallop wall decals: Target (on clearance, unavailable now) Similar – just cut them in half!
Rug: Locust Washed Arrows Rug Urban Outfitters
Framed Chalkboard: Target (on clearance, unavailable now) Similar
Rose the Cat BlaBla Doll: Gift, Amazon
Striped Throw: IKEA Elvor Throw
Striped Crib Sheet: Amazon
Crib Throw Pillow: $ IKEA Sanela (via Amazon)
Drapes: IKEA Sanela
Book Ledges: IKEA Ribba Picture Ledge
Lamp: Target Room Essentials (on clearance, unavailable now) Similar: here and here
Cat Romper: Gift
Faux Sheepskin: IKEA Tejn
Frames: Thrifted, Target Room Essentials, IKEA Ribba
Mirror: Dollar Tree
Lavender Striped Bin: Burlington (in-store) Similar
Art: Brooke Smart Illustrations, Adrienne Smart, Penny Jane Designs
Marquee Arrow: Target (unavailable) Extremely Similar
Tiny Piñata: Target
Books:
Your Baby's First Word Will Be Dada – Jimmy Fallon
ABC's – Charlie Harper
Pride & Prejudice (BabyLit) – Jennifer Adams
Don Quixote (BabyLit) – Jennifer Adams
The Book With No Pictures – BJ Novak
Hippopposites – Janik Coat
Pantone Colors – Pantone
Quiet Loud – Leslie Patricelli
Yummy Yucky – Leslie Patricelli
A to Z – Sandra Boyton

You should also check out: