This under stairs storage closet has been transformed into craft storage heaven! This is the craft closet of my dreams, with tons of organization. Ribbon storage ideas, Cricut iron-on vinyl, scrapbook paper storage, and more!
This is a sponsored conversation written by me on behalf of Cricut. The opinions and text are all mine.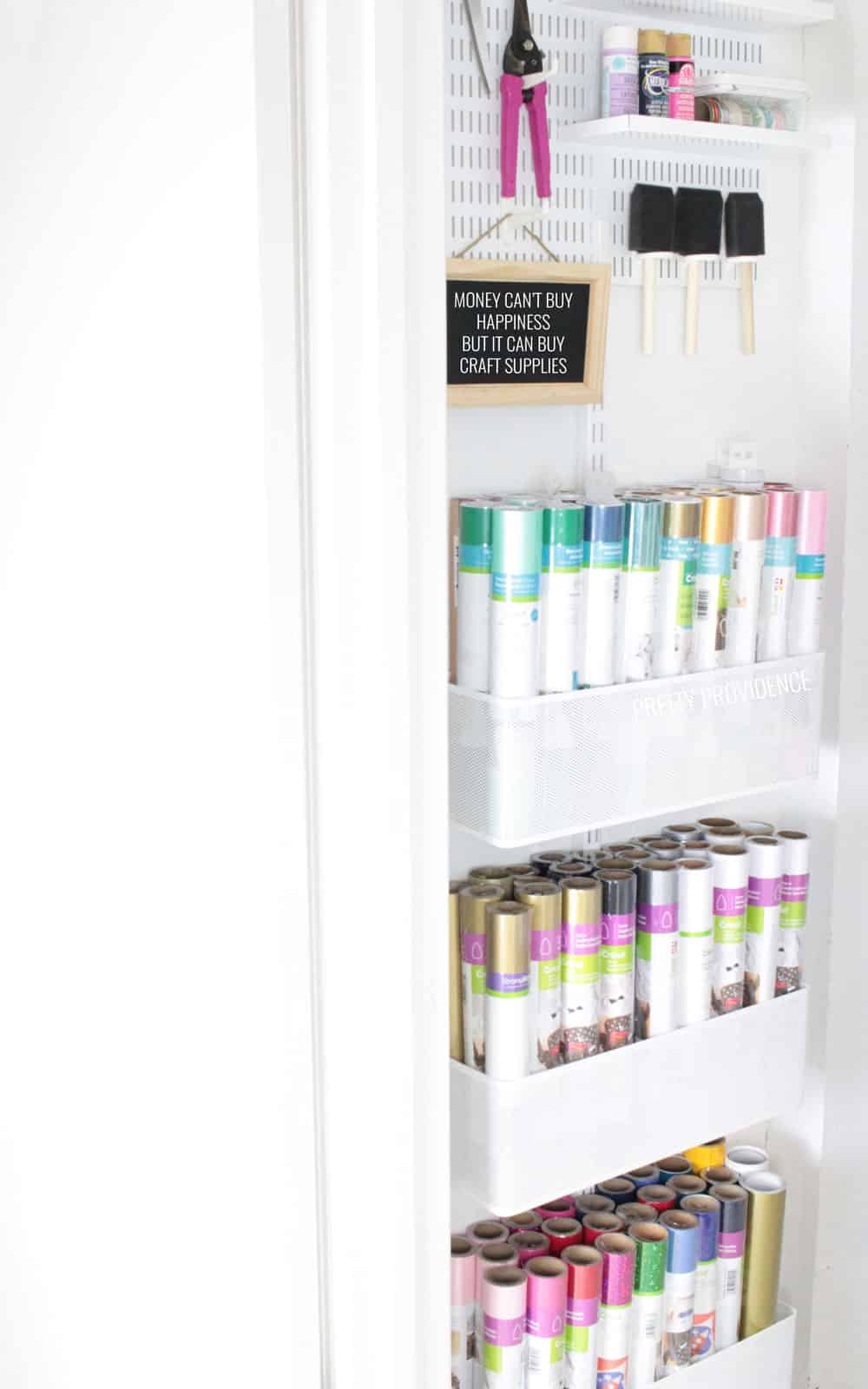 Hey friends. I am ecstatic to be able to share my under stairs craft storage closet with you today. This project has been a long one for me – it has taken almost a year to finish! Last year, I realized the way we were using our under stairs closet was not efficient. Being that it's our biggest closet, and we don't have a basement, it was just filled with random things. I'd started putting craft supplies in there too. I craft and use my Cricut Maker at least once a week (sometimes more) and I found myself struggling to find things when I needed them. It drove me bananas, and I decided to re-think the closet. To get started, I had to relocate a lot of stuff to the garage (a project of it's own!) Then I could create a functional craft storage, with easy access to what I need, right when I need it!
*This post contains affiliate links.
Before and After Under Stairs Closet
Before we get down to the nitty gritty, do you want to see a before and after? This poor under the stairs closet had nothing going for it.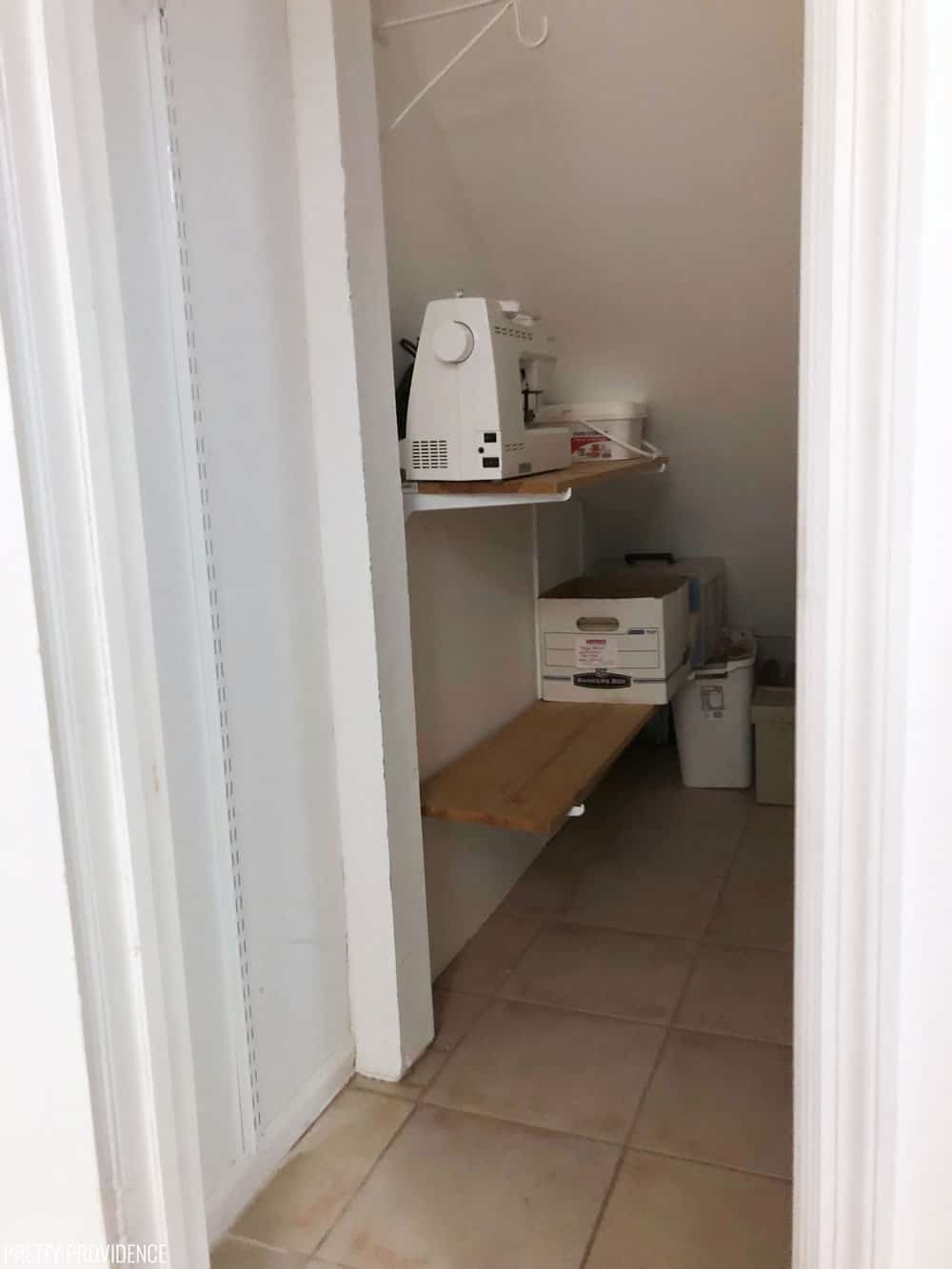 Here is my craft storage closet NOW. It makes me so happy to see how far this closet has come!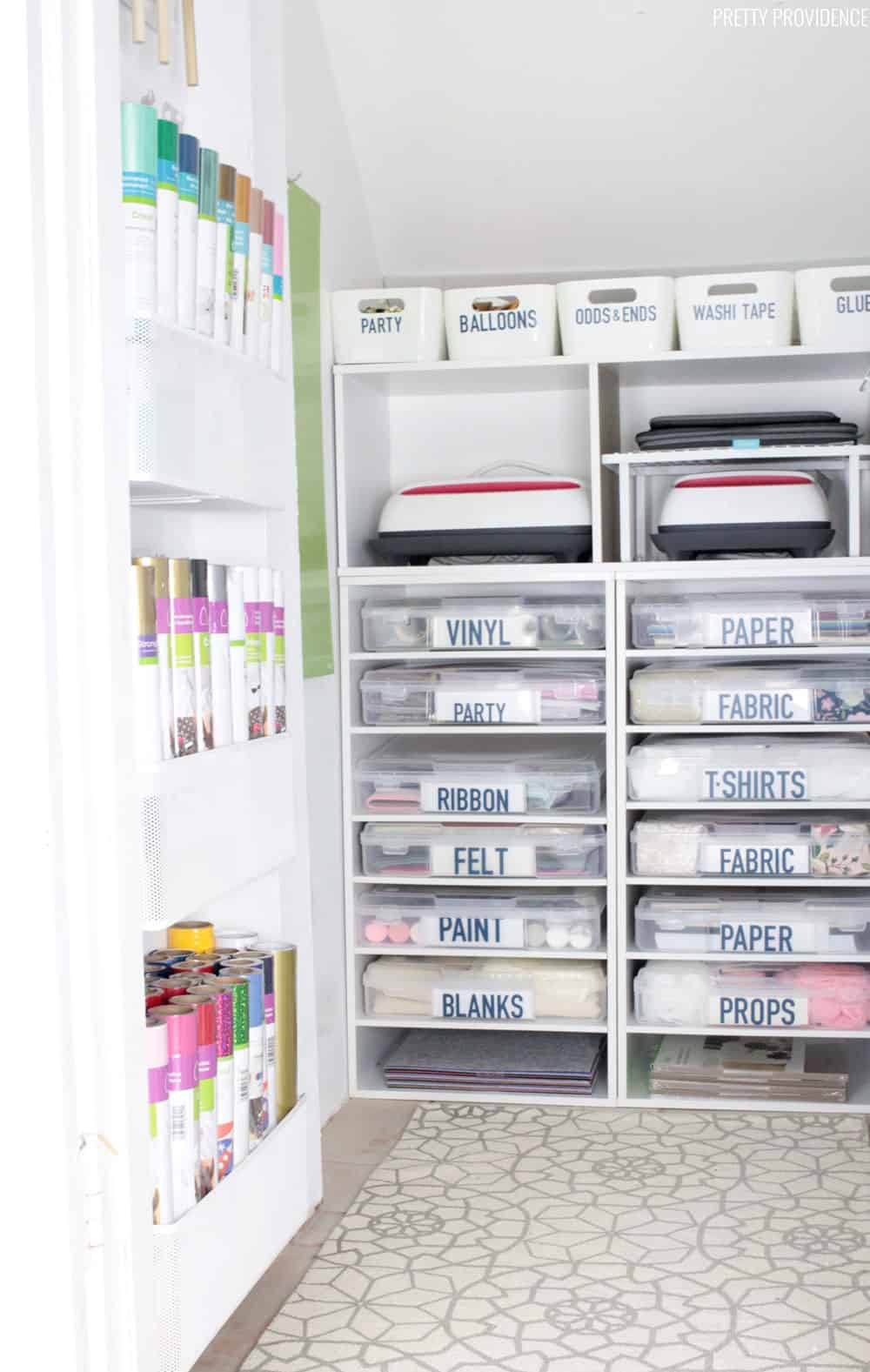 Turning my Under Stairs Closet into Craft Storage
The elfa System
I knew that one of the keys to organizing this under stairs storage space was to have everything in plain sight, and nothing on the floor! I went to my happy place, The Container Store, and found the elfa system. It's organizing system that consists of wall mounts that you can customize perfectly to your needs; you can add baskets, pegboard, shelves, and more to it.
I mainly went with the baskets – and LOVING how they display my Cricut iron-on and vinyl so perfectly. Also decided to get one utility pegboard, and one of their wrapping paper baskets which is honestly life-changing. I keep wrapping paper in it, as well as tall tools like paper cutters, rulers, a level, and my camera tripod!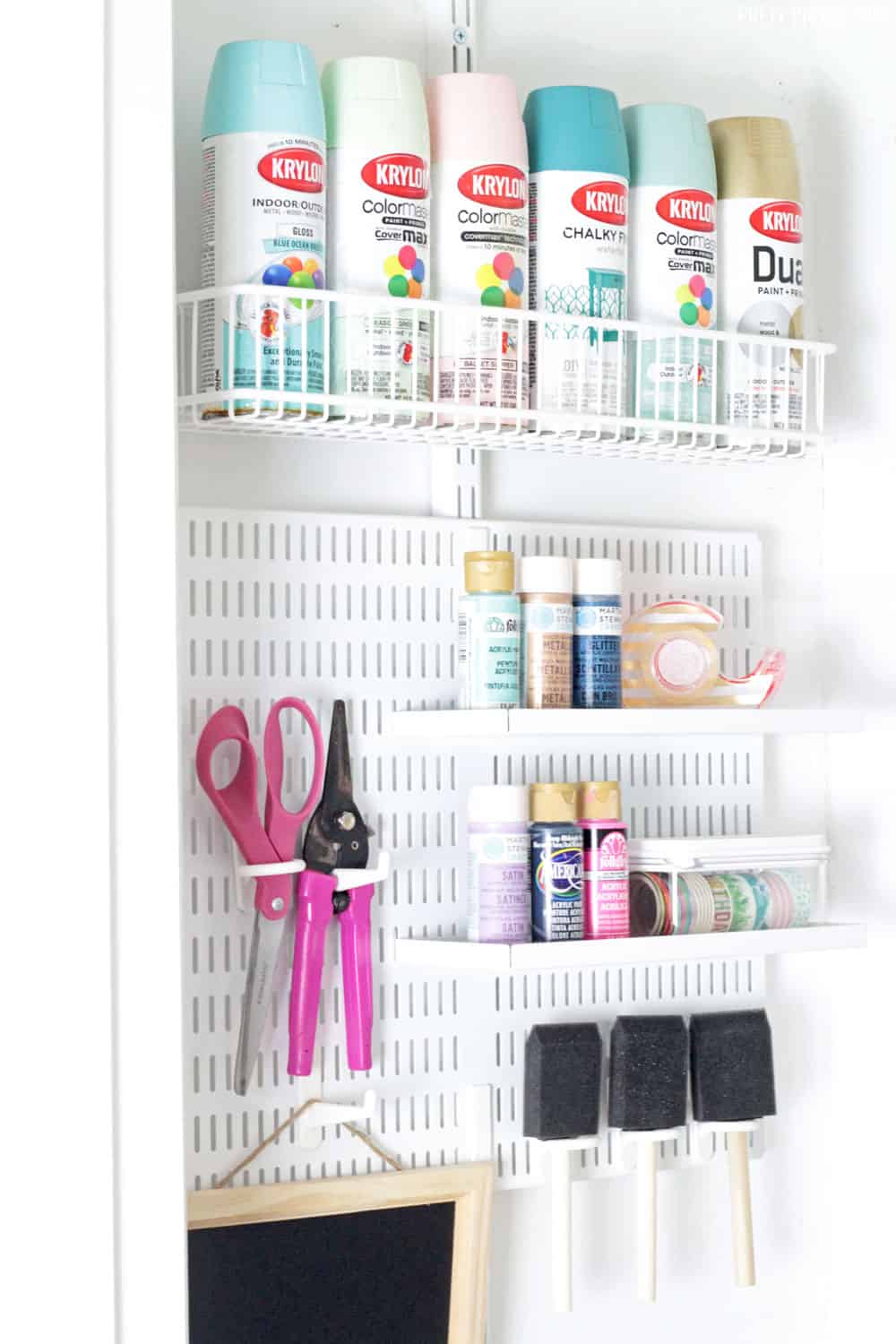 One of the reasons I took so long to finish this project, is because I did the elfa in installments. It's not cheap, but super worth the investment because of the lack of storage space in my house. I bought the first wall-mount and baskets in July, then I added more in September, January and now, March. Waiting in between was so hard, but you've got to do what you've got to do!
Now, I always know where my scissors, tape, Cricut tools, and materials are! It's the best, you guys!
I love being able to keep my scissors and sharp tools at easy-access but still up VERY high so my littles can't get to them!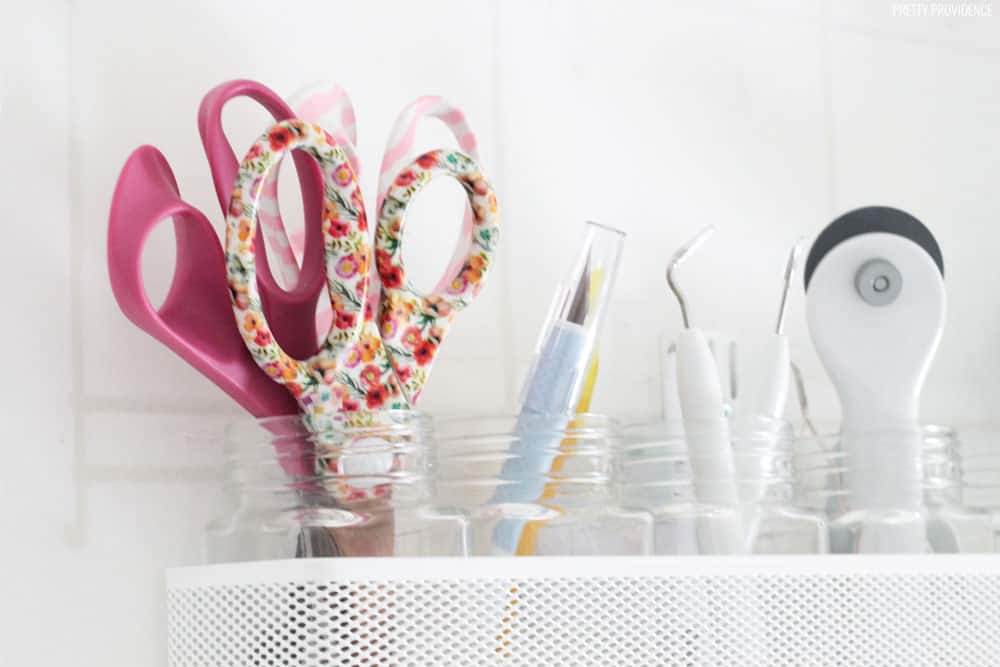 Craft Storage Shelves
Aside from the wall-storage, I also decided to get some shelving and craft storage bins for the back of the closet. I actually kind of blocked off the very back corner, but that was always impossible to get to through the mess anyway. So, I decided to store things back there that I literally never need to access until we move, and just put the shelves in front.
The two craft shelves are from Michael's and the top one is actually a sideways ClosetMaid shelf. It is perfect for holding my both of EasyPress 2's and EasyPress mats! The clear 12×12 bins fit like a glove into my shelves and they are great for storing 12×12 paper, felt, vinyl, and a LOT of acrylic paint.
Label all the things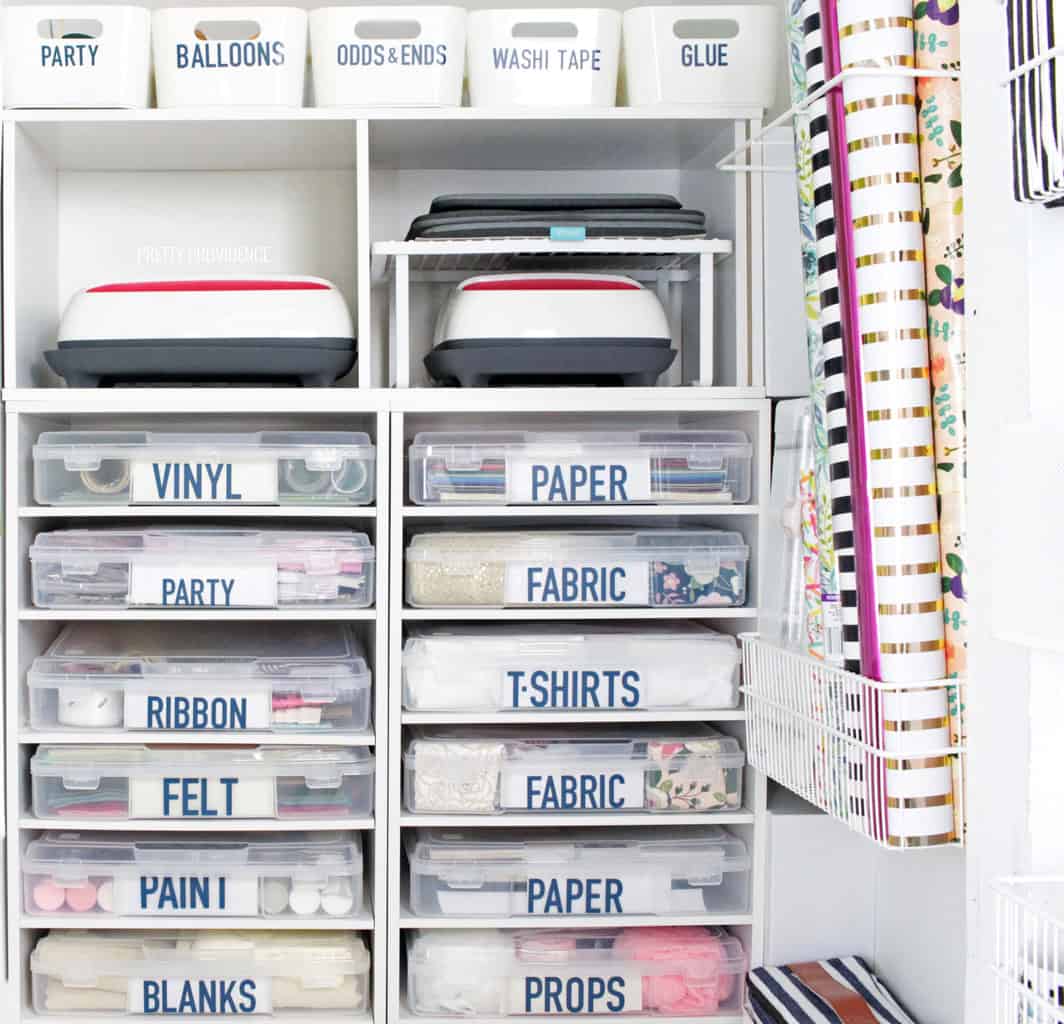 How to Make DIY Labels for Craft Storage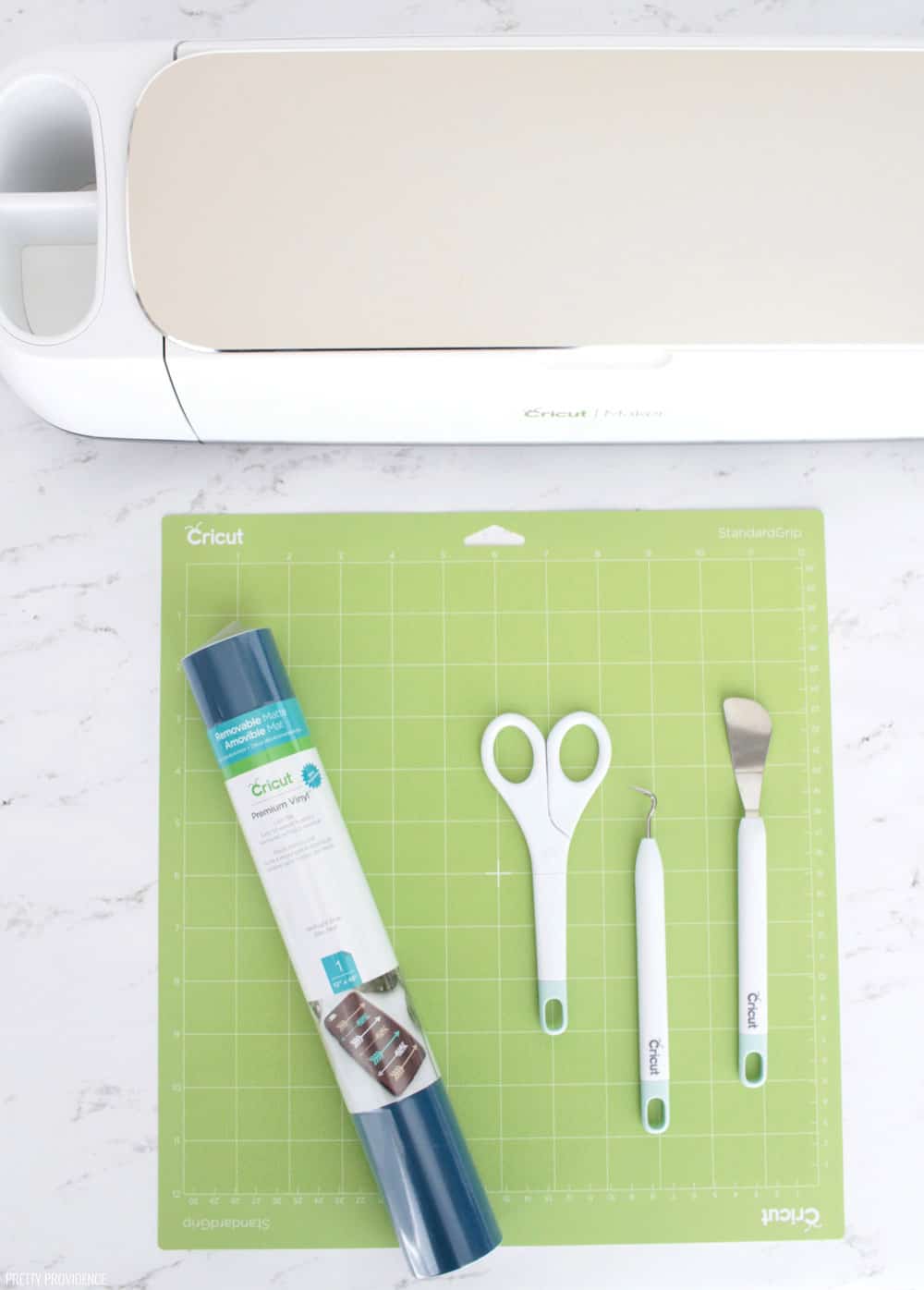 I made all my labels with Cricut Maker and Cricut removable vinyl in this beautiful Midnight Blue color with a matte finish. I am obsessed with this color. Removable vinyl is perfect for organizing projects, because it can be removed easily and leaves no residue.
Materials:
Tools:
Instructions: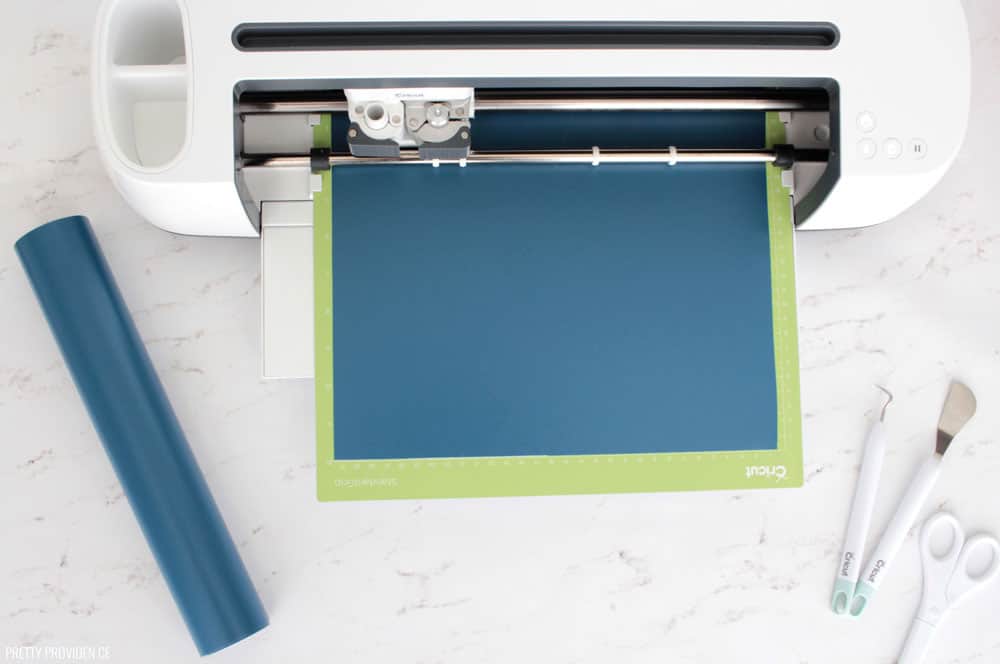 After your labels are cut, you will weed. This removable vinyl is really easy to weed, so even with a lot of words it doesn't take too long. (Party emoji!)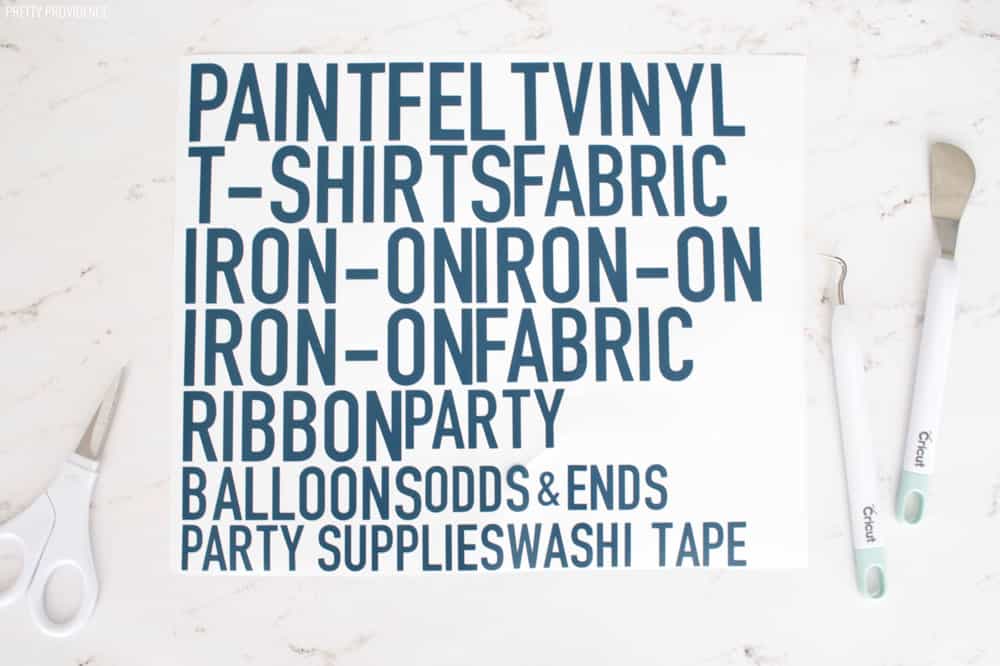 Next, you will need Cricut transfer tape to apply the labels to plastic bins. Transfer tape allows you to keep words or images together while you move them from their original vinyl sheet, onto the plastic bin. It's really cool stuff! Check out my full tutorial on how to use Cricut transfer tape.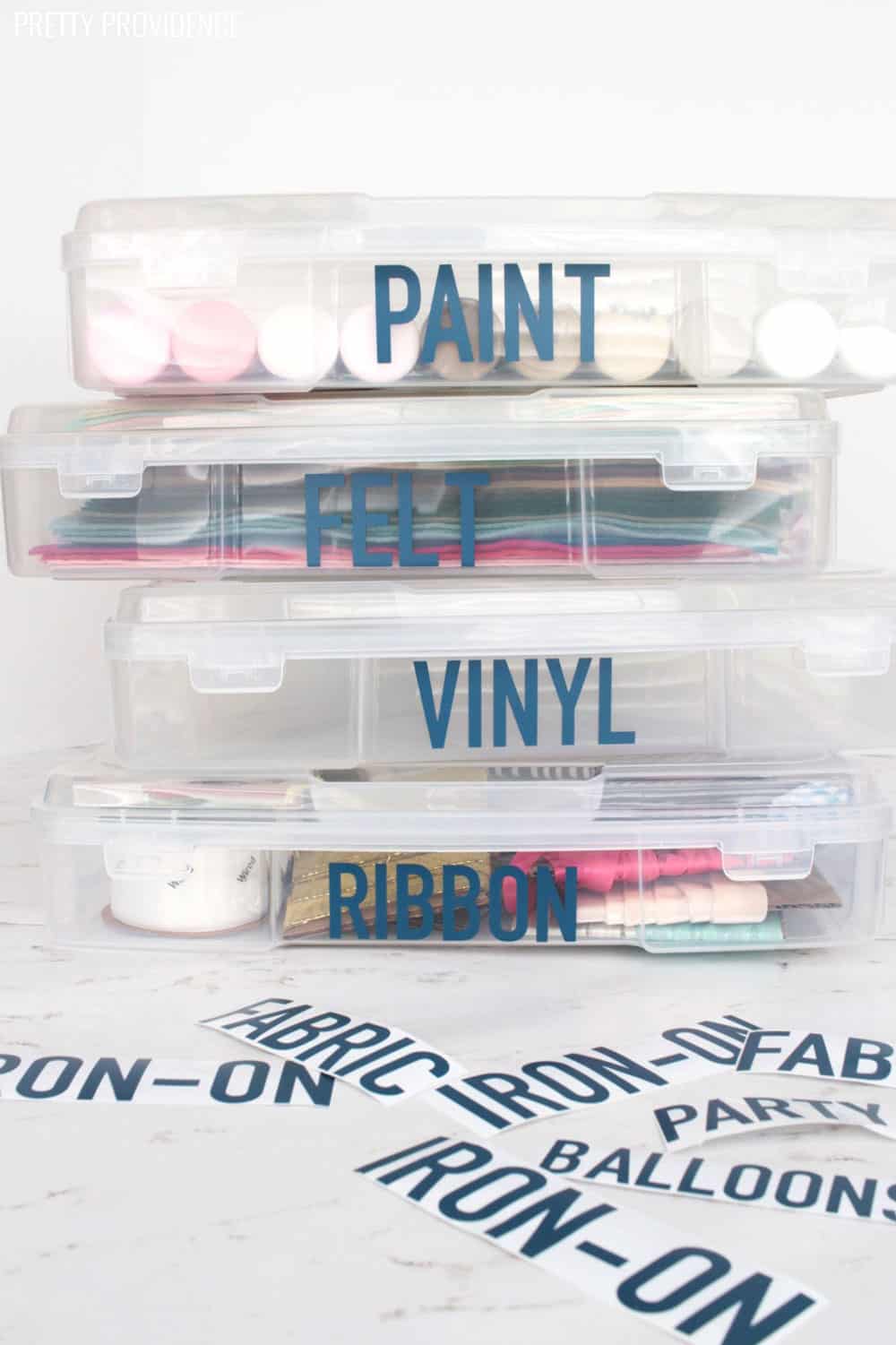 FAQ: Do I have to have a Cricut Maker to cut vinyl?
Nope. I used the Cricut Maker, but you also can do this project with other cutting machines. You can't go wrong with an Cricut Explore, Cricut Explore Air, or Cricut Explore Air 2!
More Craft Storage Ideas
I put a few small white plastic bins on the top of my bookshelf to hold smaller items as well. I love these!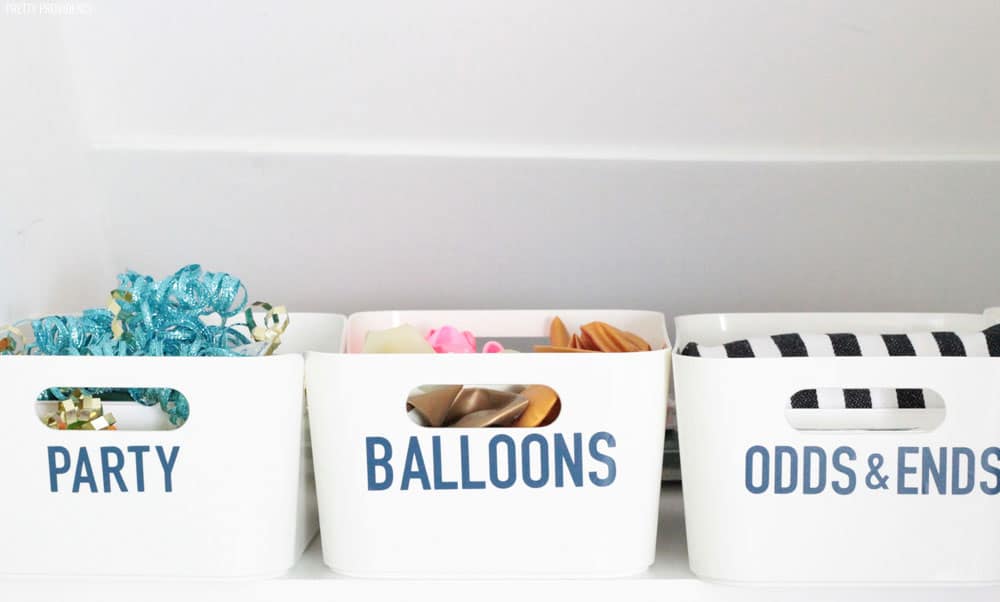 Ribbon Storage
I know I am not the only one who has been looking for ribbon storage ideas. This is the best solution I've found to save space. Take ribbon off the spool and wrap it around a small cardboard rectangle. This way, your ribbon can easily lay flat in a storage bin, drawer, or basket. I honestly can't believe how big some of the ribbon spools are that I had. They can take up a full five or six inches of space! This is so much better!
I used my Cricut TrueControl Knife to cut pieces of cardboard for this.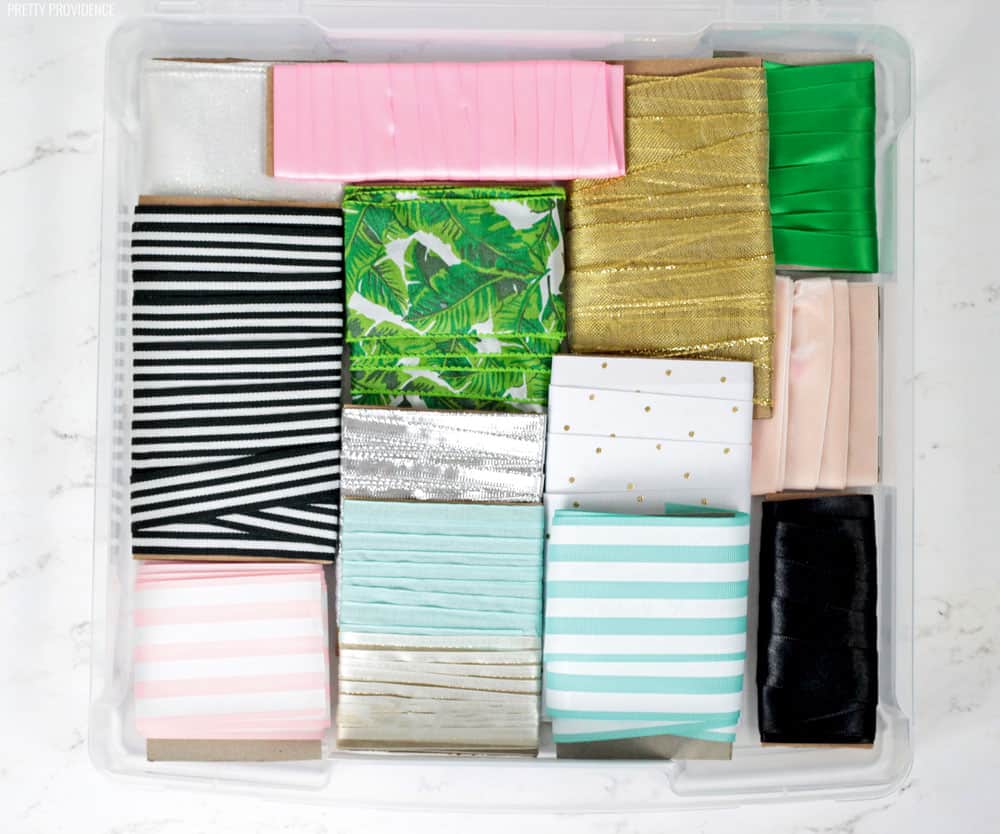 I used scotch tape to hold the ribbon on the spool so that even if the bin gets shaken up, it will stay wrapped nicely.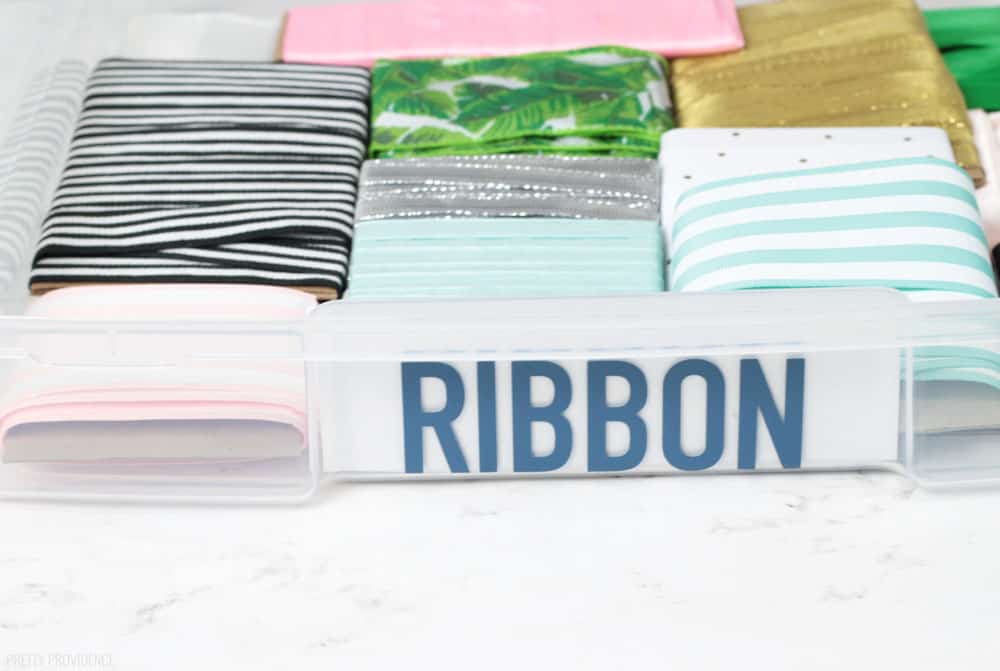 Quick Links to all the things I use for Craft Storage: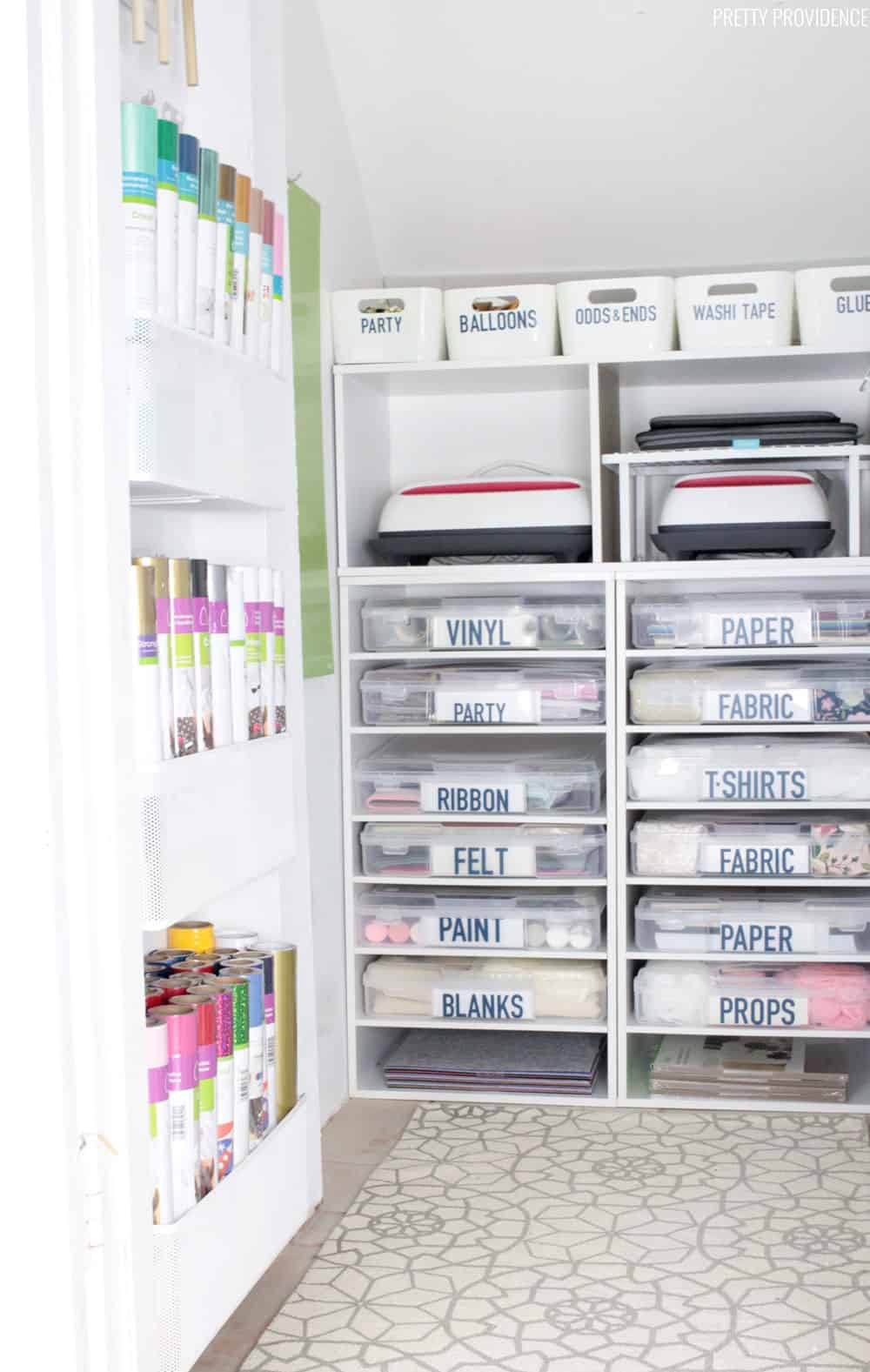 If you have a small space to work with for craft storage, I hope you will find some of these ideas helpful! It's SO worth it to organize everything so you have more time to CRAFT!
You may want to check out these other organization posts:
My Previous Craft Room
DIY Laundry Organization Bags
Walk In Closet Ideas
Tiny + Functional Mud Room