I have suffered from eczema for as long as I can remember, and my kids have it too. Believe me when I say I have literally tried EVERY lotion/cream/ointment under the sun (even a few prescription options) and have never had much success. Each time it seemed like my skin would get a little better, but never fully heal. Then eventually just return back to its normal dry, bumpy, state. That is, it used to do that before I found  I'm not exaggerating when I say that this product has changed my life, and I'm so excited to tell you guys a little bit more about it today!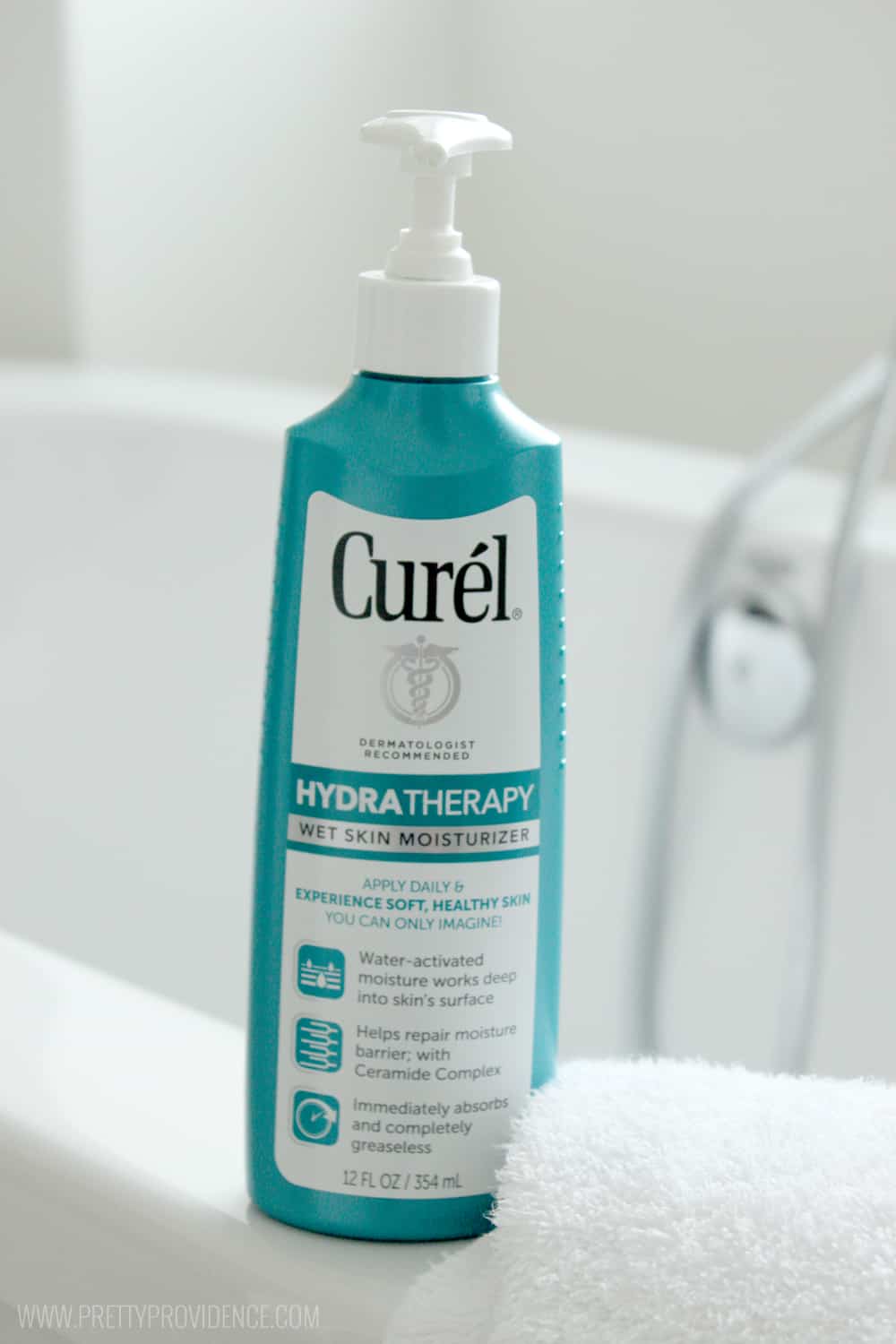 I've always had dry skin problems, but five years ago we moved to the desert and it got increasingly worse. My hands were my biggest problem area and the would be so dry and raw that my skin would frequently just break open into papercut-like cuts all over my knuckles and the tips of my fingers because the eczema got so bad. As I mentioned earlier I tried tons of different lotions and remedies but I have three young children and I wash my hands A LOT. So after so many failed attempts to fix my dry skin problem, I just became accustomed to living with my hands in a constant state of pain and discomfort. I will be honest, when I first heard about Curél Hydra Therapy Wet Skin Moisturizer I didn't have much hope, but gave it a try anyway. I am so thrilled to report that not only has this product helped my eczema, but the dry skin associated with it is so much softer! I am pretty confident that the last time the skin on my hands was this soft and smooth it was just after I was born! Haha. The cool thing about Curél Hydra Therapy is that the lotion is applied onto wet skin – not dry skin. You basically apply it on your wet skin right after you shower or wash your hands[JC1] , before you dry off.  It is not oily or greasy, it absorbs immediately, and then you towel dry off like normal! I kept my bottle right by the soap next to my sink and just used a little squirt each time after I washed my hands in my master bathroom (so there were several other times a day I washed without using it- which made no difference) and then I also applied over my whole body just after showering each day. It took a few days of daily use  to see significant results, but after two weeks of consistent use my skin is completely transformed!
Thirty nine other other bloggers (plus me!)  with dry skin issues also tried Curél Hydra Therapy Wet Skin Moisturizer and Curél made the above infographic based on our dry skin experiences to help educate people about ceramides, why they are important, and how Curél Hydra Therapy works to heal dry skin! Honestly you guys, I cannot say enough about this product! It is convenient to use, produces incredible results, is super affordable, and available at basically any grocery or drug store!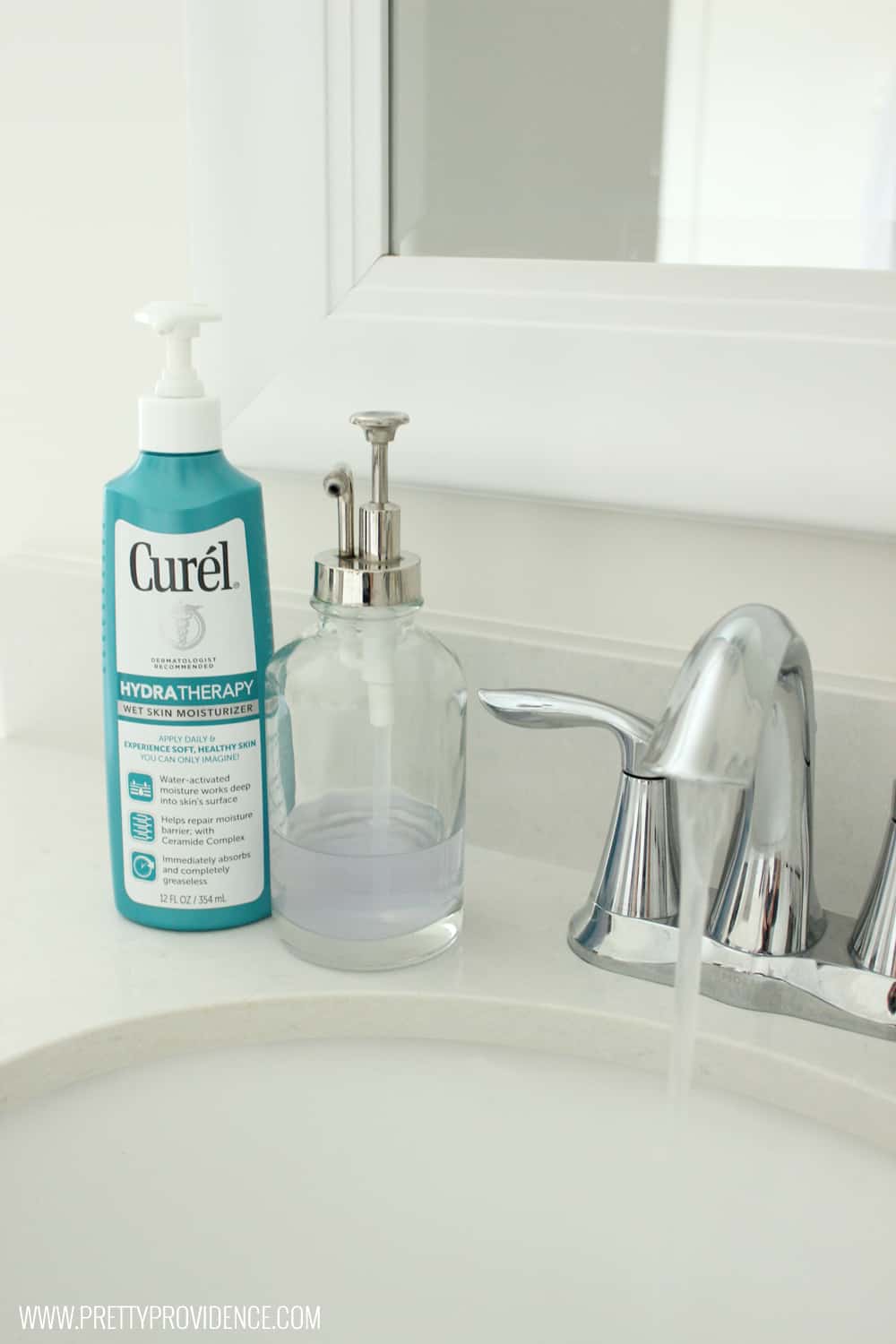 How long have you suffered from dry skin? Are you ready to start healing? If so, give Curél Hydra Therapy a try: you won't regret it!
What do you do for dry skin? Share your answer with me in the comments to win a $100 Visa gift card!
Entry Instructions:
No duplicate comments.
You may receive (2) total entries by selecting from the following entry methods:
1. Leave a comment in response to the sweepstakes prompt on this post
2. Tweet (public message) about this promotion; including exactly the following unique term in your tweet message: "#Sweeps" and "#SweepstakesEntry"; and leave the URL to that tweet in a comment on this post
3. Blog about this promotion, including a disclosure that you are receiving a sweepstakes entry in exchange for writing the blog post, and leave the URL to that post in a comment on this post.
This giveaway is open to US Residents age 18 or older (or nineteen (19) years of age or older in Alabama and Nebraska). Winners will be selected via random draw, and will be notified by e-mail. The notification email will come directly from BlogHer via the sweeps@blogher email address. You will have 2 business days to respond; otherwise a new winner will be selected.
The Official Rules are available here.
This sweepstakes runs from 3/2-3/31
Be sure to visit the brand page on BlogHer.com where you can read other bloggers' posts!