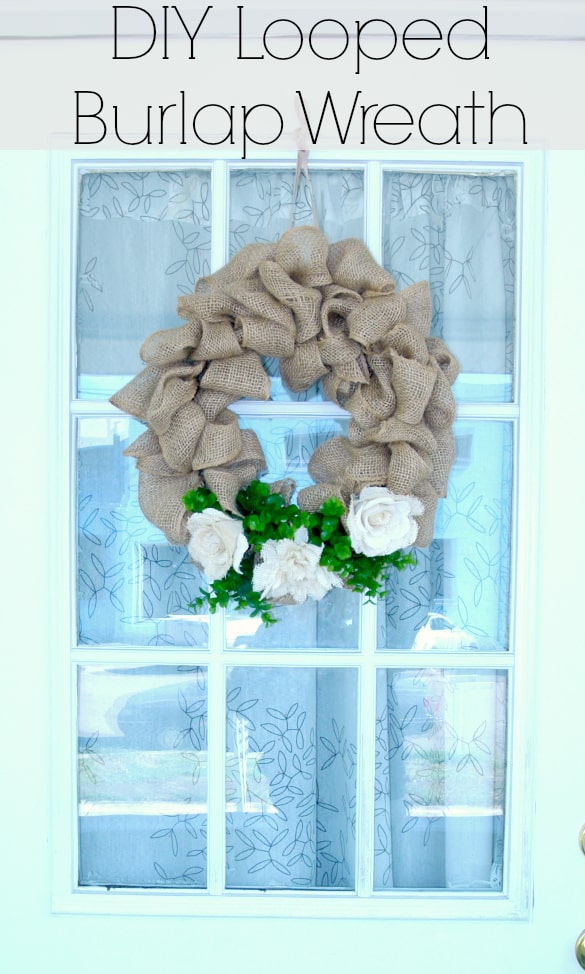 Hello Everyone!
It's Kara again from While Camden Sleeps.  My husband and I recently listed our house for sell.  The outside was looking awesome after some fresh paint, but it still needed a touch of decor to make it really pop.  So I  went on a search for a new wreath.  After shopping around, I quickly learned that wreaths are ridiculously over priced. This made me decide to make my own.  The one pictured above cost just under $20 in supplies from Hobby Lobby.  If you want a cheaper version, you can get the supplies at Walmart for around $10, though the decorations won't be as cute.
You'll need:
12 inch wire wreath frame
burlap (you can get 2 rolls of 6 inch by 15 ft at Hobby Lobby, or one 5 inch by 30 ft roll at Walmart)
decorations

Directions:
1. Tie end of burlap around inside of frame to secure.
2. Pull a loop of burlap out in between the wires.  You can choose how big or small to do it. Work your way outwards.
3. Repeat making loops back towards the center.  Continue around the entire frame.
4. Secure end of burlap by tucking it in or by tying a knot.
5. Add any decoration you want!
While trying to decide what kind of decorations I wanted to add, I discovered this wreath is incredibly popular on Pinterest.  That's probably because it's so easy to make!  After I made my own, I looked over some other tutorials.  Some people twist the loops to secure them, others alternate their loops to create specific patterns.  I've even seen some people who use two different colors of burlap to create a beautiful pattern.  Click here to see what others have done, and good luck!