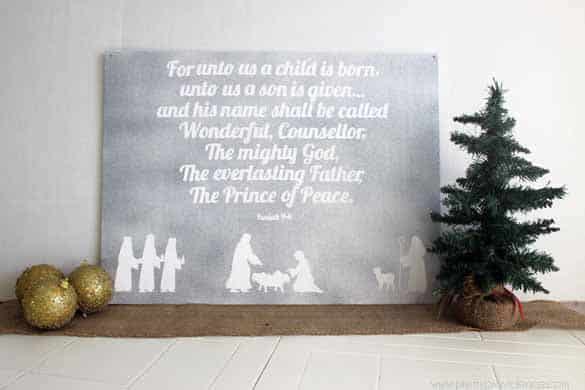 Okay, okay, before you jump all over me, I KNOW that it is still October! *But* I'm here today with my third post for the Cricut design space star challenge and the theme was holiday sparkle… so this could not be helped! Let's face it though, I am thrilled to be posting something Christmassy, because I am totally that person who would celebrate all year long if the world would let me. My husband has to set rules for me about when I can listen to music while he's present and when I can decorate! Haha. After this I will hold off on posting more Christmas goodness until November 1… haha.
Seriously though, I have been thinking about Christmas a lot lately as that time of year is fast approaching and I want to really make an effort to teach my young, impressionable children what Christmas is truly about. Last year my husband and I had a budget of $150 per child which included stockings, winter clothing and gifts. We were able to get them each a few good gifts with that money. I will never forget what happened on Christmas morning, they ran down the stairs and were so excited about the presents and the cookies being gone etc. We do stockings first in our family, so we helped them open up their stockings and they were just brimming with joy and excitement.. and they thought we were done! At this point, my husband snuck a few of the boxes away and we took them back to the store. It just dawned on me how I am the one who teaches my children what this season is about. I love buying gifts and I love spoiling my children, but how much more do I love my Savior? How much more do I want them to learn to serve others and to feel the peace and joy that the blessings of Christ's gospel brings?
With all that in mind, I set out to make a holiday project that would help remind me and my little family the reason for the season. Growing up, my mom had several beautiful nativities around our house, and that is a tradition I would like to carry on, but man those things can be pricey. So I decided to make a board (mine is actually going to hang, which is why you can see small holes in the picture above) that pictured the nativity scene! The great thing about it, is this project cost me less than $5 to make!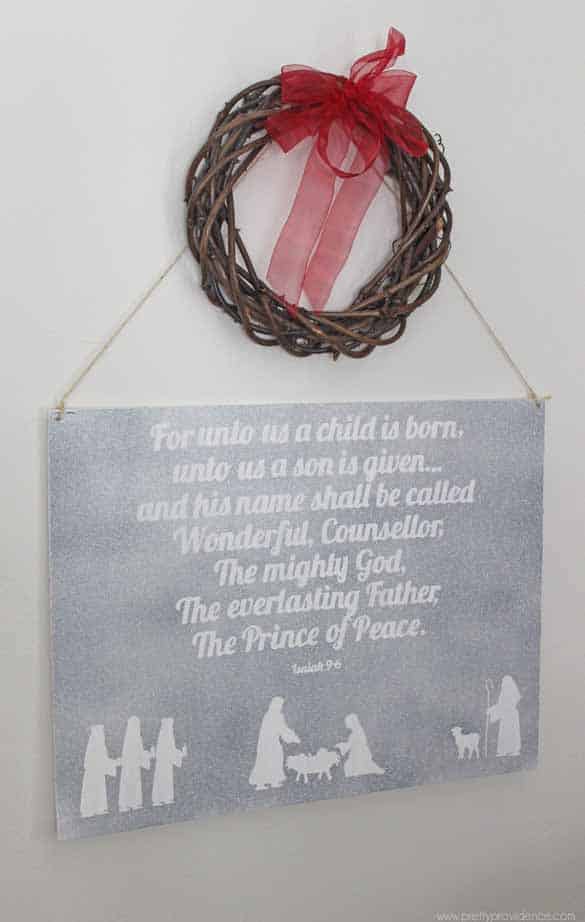 Here's what you'll need:
-a board of the desired size (mine is 18×24)
-Krylon glitter blast spray (silver flash) or whatever color you'd like to paint yours
-white paint for the background
-vinyl cut outs of the words and figures (I completely intend on having these files available to share, but unfortunately my computer crashed this morning, and I don't currently have access to the files. If you are interested, shoot me an email at prettyprovidence@gmail.com and I will email you the files as soon as I get them. I will update the post as well.)
-a drill and string (if you want to hang yours!)
Here are the super easy steps:
1) Roughly sand your board to be sure there are no real splintery issues :).
2) Paint your board the "background color" this will be the color that your words will end up.
3) Cut the words and images on your Cricut Explore, (if you do not have a Cricut, and are interested in the cut out email me for pricing). Once image is cut out, weed off the excess vinyl and apply the sections you are keeping to contact paper for easy application. Then, get everything centered where you want it on your board and stick the letters down.
4) Spray paint the entire board (over the letters) with your glitter spray. Several light coats work best. Let paint fully dry.
5) Peel off your letters and characters, and hang board if desired. Wah-lah! Enjoy!
I love this scripture so much (I left out one line in the middle, for space conservation reasons) such beautiful names for the Savior. It helps me to remember not only his birth, but his life, death and resurrection as well. I honestly feel like people are a little bit kinder, a little more friendly, and a little more charitable during the Christmas season (myself included) and that is not because of the gifts and all the hubbub (that's the part that is stressful) it's because of Him. We all remember who we are trying to emulate, and we try a little harder. THAT is why I love Christmas so much.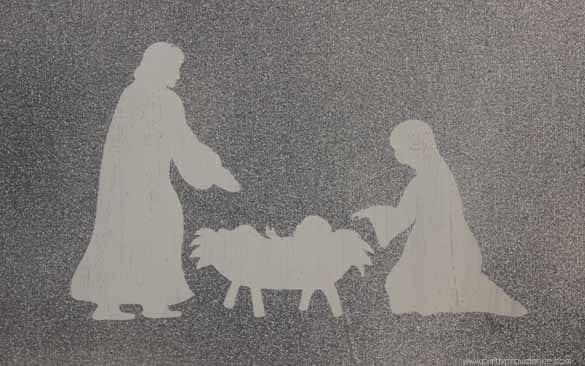 I really wish you could see the pretty sparkly detail, but alas. Pictures don't do it justice.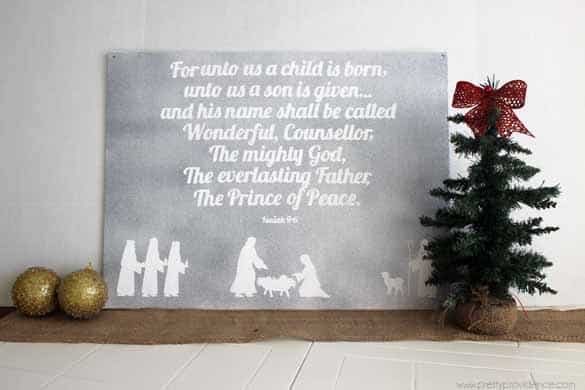 There you have it folks. Gosh. Makes me so excited to get my decorations out for reals!
Also, DON'T FORGET to check out my awesome team members holiday projects! Find their links below.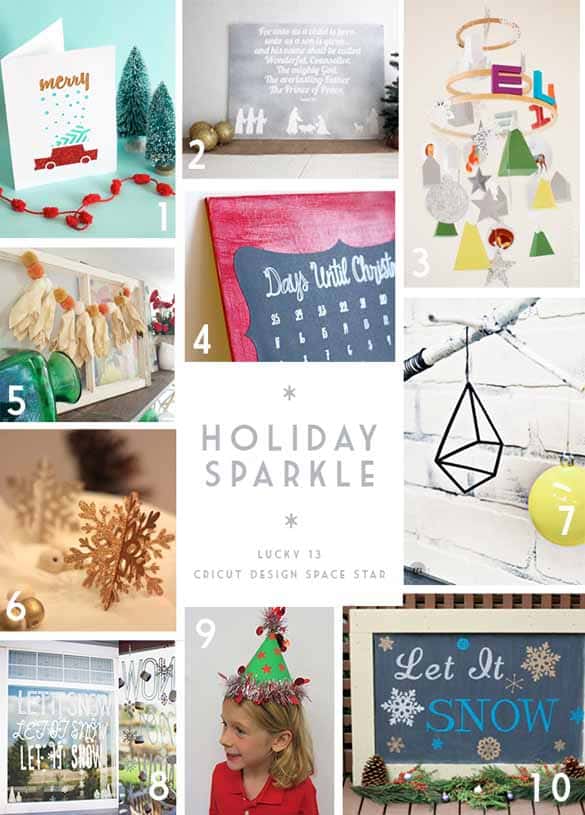 3. Petit a Petit + Family Winter Wonderland
5. Simply Sadie Jane Corn Tassel Banner
6. Pars Caeli Snowflake Toppers
9. That Girl Katie Party Hats
xo,

If you like this post you will love this easy DIY advent calendar or these amazingly creative Christmas treats!