Hey y'all! Buckle up because I have kicked the house projects into high gear. I'm trying to beautify everything before my first official house guests arrive next week! My brother and his wife are flying out here just to visit us and I am giddy about it. We're going to take them to the Houston Rodeo (and see USHER perform!) introduce them to Texas barbecue, show them how close we live to the ocean and all the other cool things about the place we now call home! (I can't believe I've been here 10 months. Time flies.) So one of the first projects I needed to tackle was our "curb appeal" …let's just say that I still had Christmas on the porch until yesterday.I knew it was shameful but I didn't have any cute spring things to replace it with and I figured a Christmas wreath was better than no wreath.
I hit up the thrift stores right when they opened yesterday and scored 6 of these floral garland strands for .75 each and then some really bad art, you have to scroll down to see it. I went to Hobby Lobby soon after thrifting and saw some garlands exactly like it for 9.99 each. (It's not a frugal post without a savings brag, right?) I set out to give my old spring wreath that is tired and faded a makeover with the new faux flowers.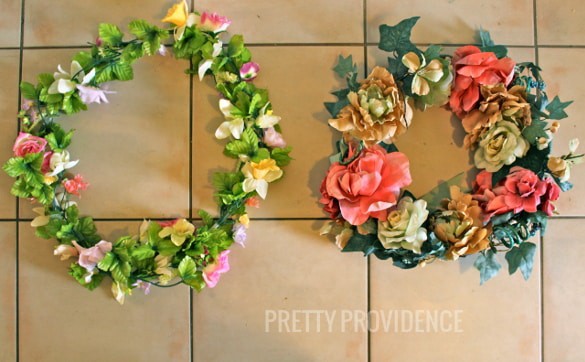 I removed the flowers from the wreath form. It was actually easier than I thought and I discovered that this wreath had these twisty-tie type things that match the form which was what held the floral part on. Convenient, considering that I hadn't decided how I was going to attach my new floral pieces!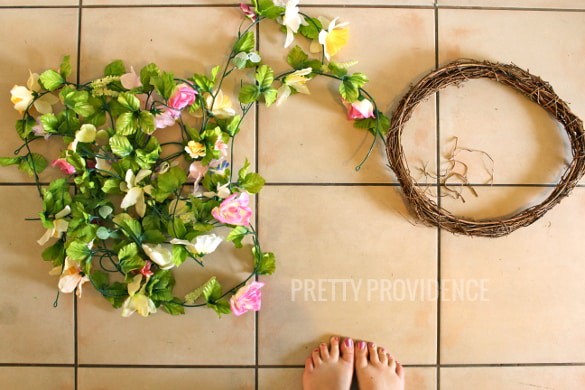 I wrapped them around until I thought it was arranged nicely, then twisty-tied them on in five spots. It looks brand new! You can't beat a $6 price tag on that springy little thing.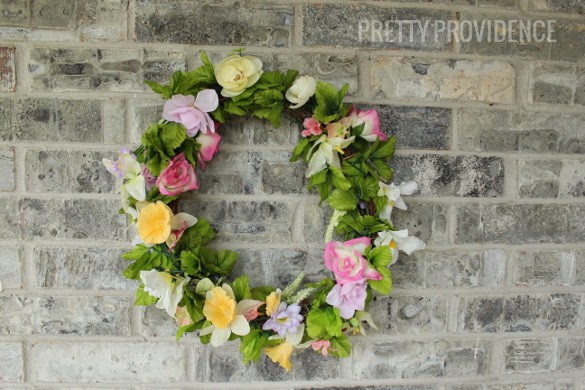 I also scored this super cool wall art at Goodwill for $2.50. It is so pretty I know. Especially the extra hand-written sharpie part. Kind of a shame to paint over it. Ha! So when I saw this baby I knew it was destined to be my new house numbers sign.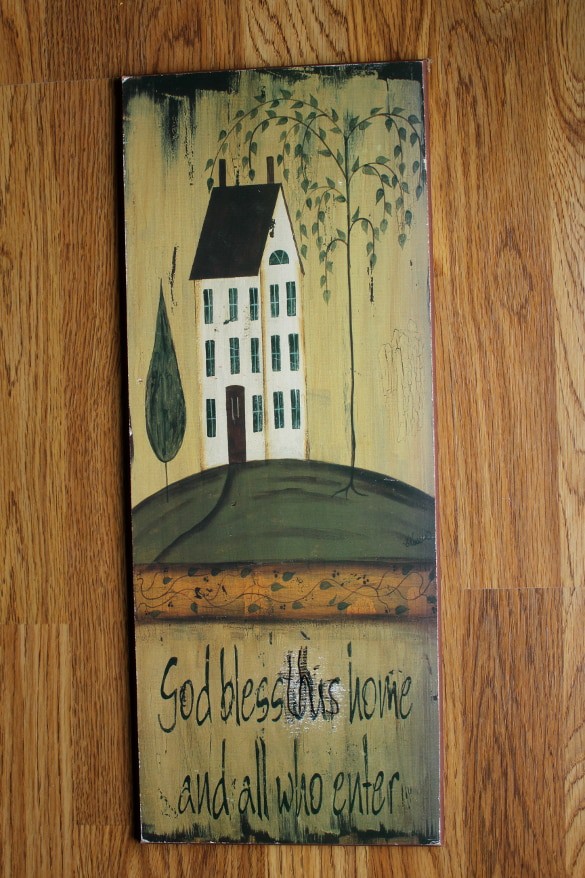 Our current numbers are impossible to see from the road. All this took was two coats of white paint, drying over night, then slapped on some number stickers and spray painted two coats of black over the top of that.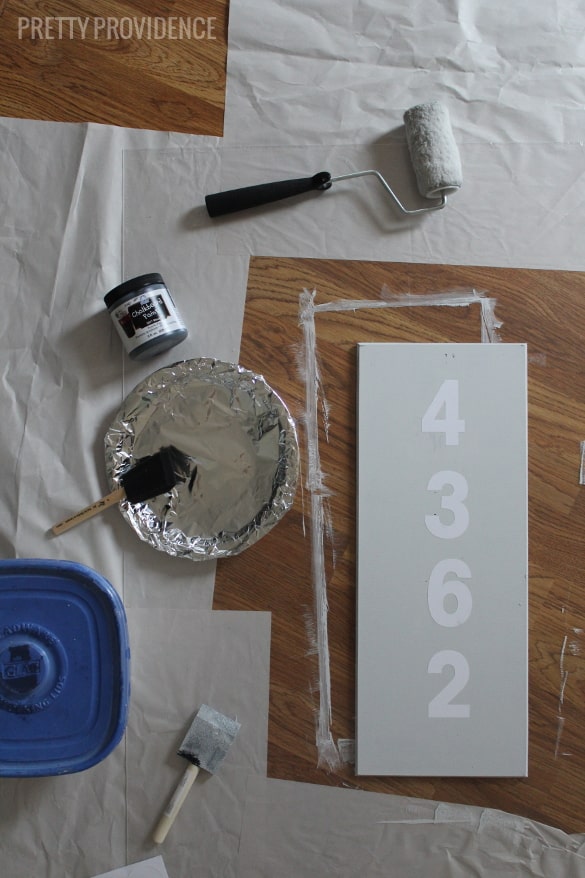 Voila!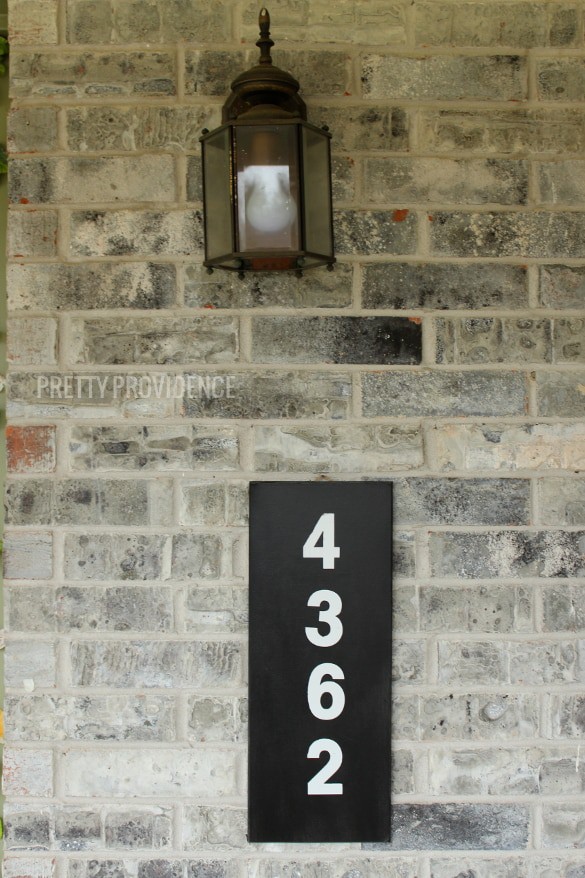 Do you guys want to know what kind of weird things bloggers do? If they are like me, they make a house numbers sign for a blog post with fake numbers, then they re-paint and do the project again with their correct house numbers so they can actually use it. The things we do to simultaneously share our lives with everyone on the interwebs and keep some aspect of privacy!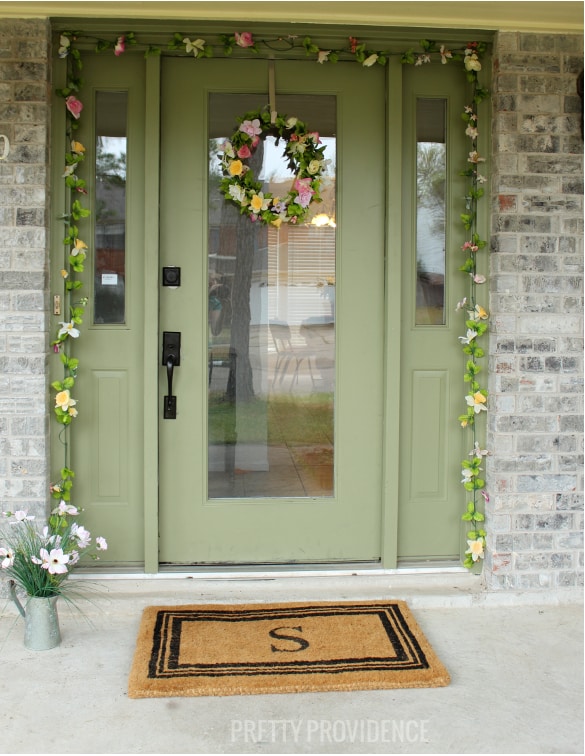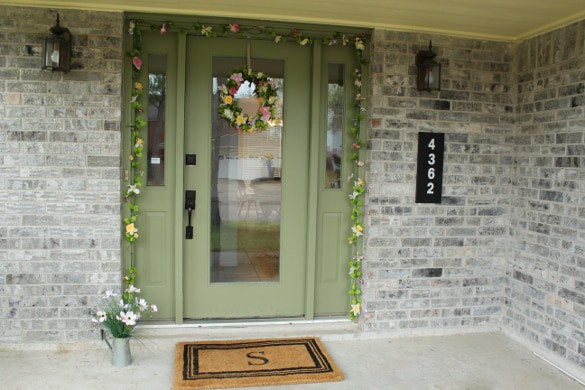 I didn't use all the strands of floral garland for the wreath so I decided to put some around the door way, but you guys, I need honest opinions. I am really torn. I don't know if I like it. I like how festive it is, but is it too 90's mom? Or something? The thing that solidified this thought for me was when a solicitor came to my door right after putting this all up. He asked me if my parents were home. I said no and let him go on his way, haha but then I was like okay, this really might not look very modern.
What do you guys think? Keep it or take it down? I'm sure I could find another use for them. Maybe another wreath!?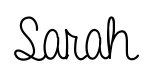 Update: I did decide to take the garland down and make another wreath and here it is. Better, right?