Hello beautiful Pretty Providence readers! Colleen here- mama of twins and lifestyle blogger over at Lemon Thistle (home to DIY, Parties, Printables, Home Decor, & of course babies!). I'm happy to be back with you and sharing this fun DIY door decor for a nursery. Door marker- name plate- I really couldn't figure out what to call this, so I made up my own: Nursery Door Decor- but I'm sure you get the idea!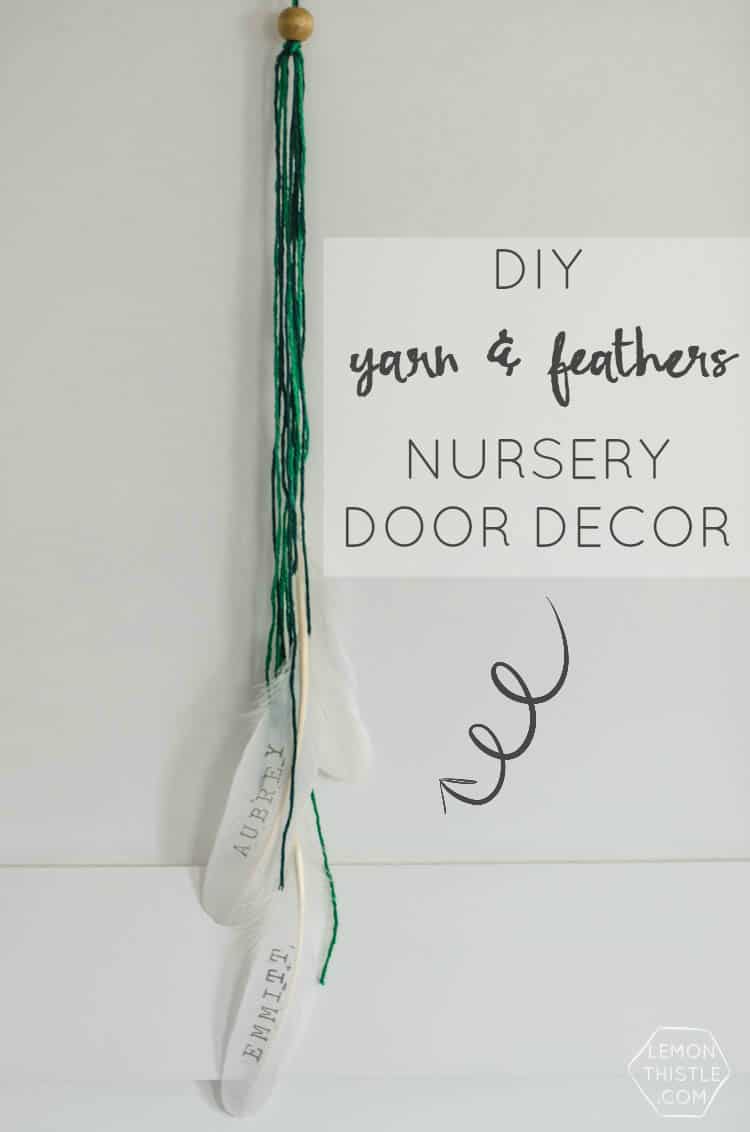 Up until we painted our interior doors, we had been using the little paper name signs created for our twins when they were in NICU for their door (you can see them and read all about our experience with that here), but for the past 8 months or so- we've had nothing. I feel like every kid should have a little something on their door making their room special to them, so when the idea to stamp feathers popped into my head, I knew exactly what I wanted to do with them!
I love this option for a few reasons. I really love that it's not a traditional sign- which can stand out (our kids door is visible from our main living area). It's also more fun than a traditional sign- a little bohemian, a little magical. And lastly… I love that it's kind of like a mobile on their door. They love watching things move, so they've been playing with the door- opening and closing it to watch the feathers flutter.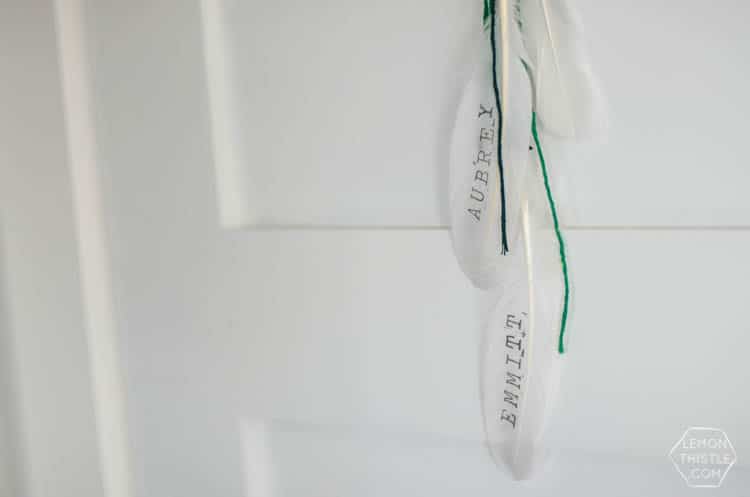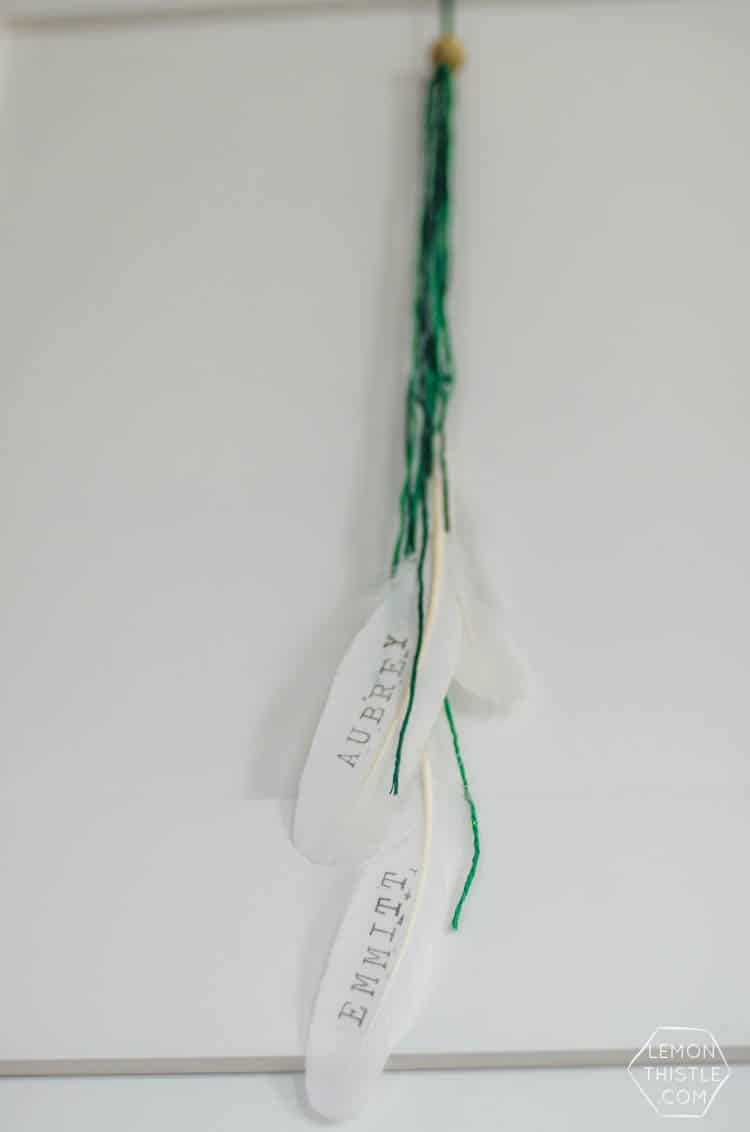 What you'll need to make your own:
Stiff Feathers (can be found in the craft section of the dollar store)
Tight Weave Yarn (mine is also from the dollar store- man, I love that place!)
Wooden Bead (you guessed it, dollar store!- all on different trips though)
Embroidery Needle (one big enough to thread your yarn through)
Alphabet Stamps (Mine are from the Target Dollar Section) & Ink Pad
Scissors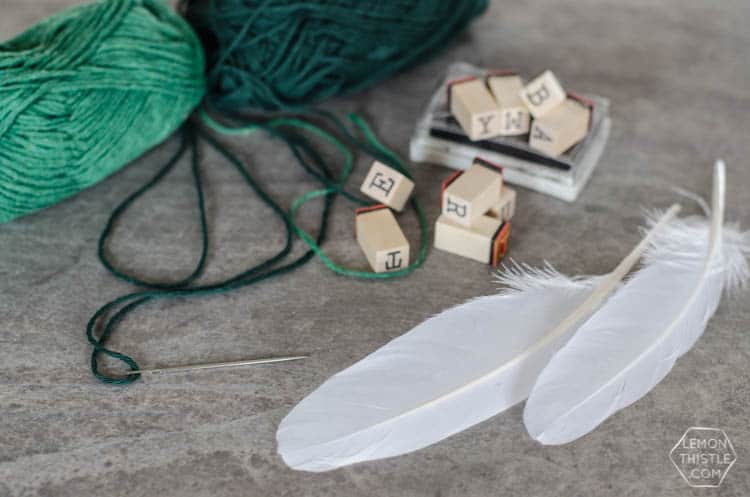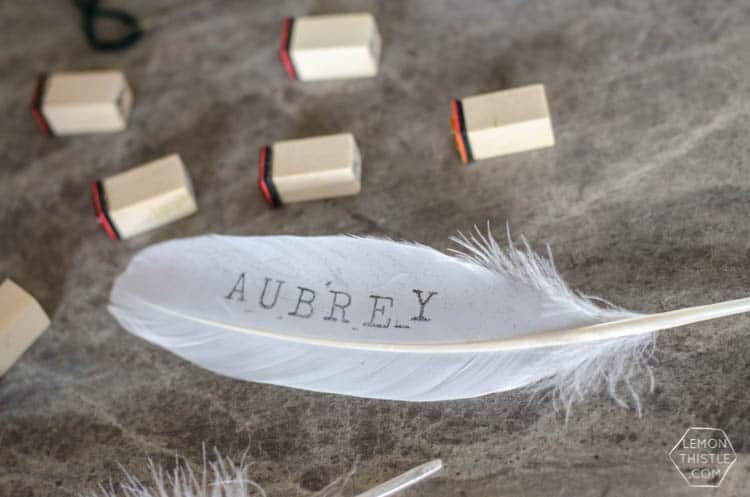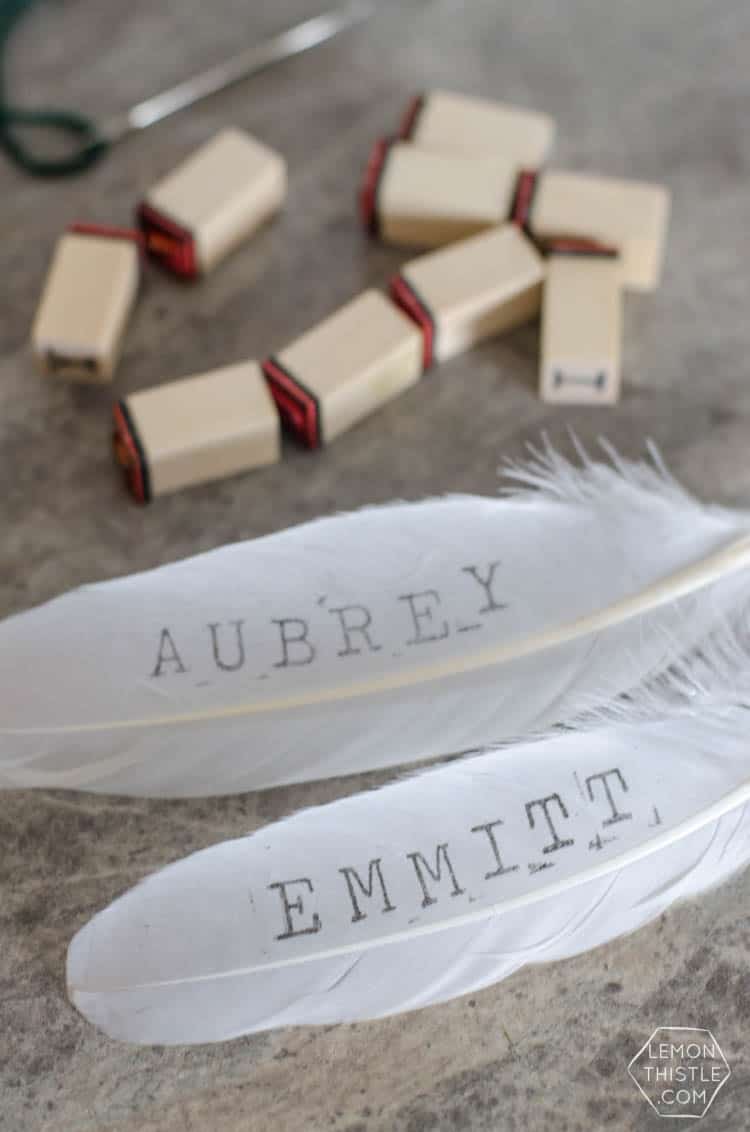 The first thing you'll want to do is stamp your feathers. Find the ugliest feather in your pack and use that as a test… I found it took a bit of practice to get clean stamps. You'll need to twist the feather and hold it to get it to lay flat for stamping. You'll also want to apply pretty firm pressure or the ink will look quite faint. But if you press too hard, you'll get the corners of your stamp showing up (see the last T in Emmitt?). It's a trick, but it doesn't need to look perfect- I think that's some of the charm with handmade projects.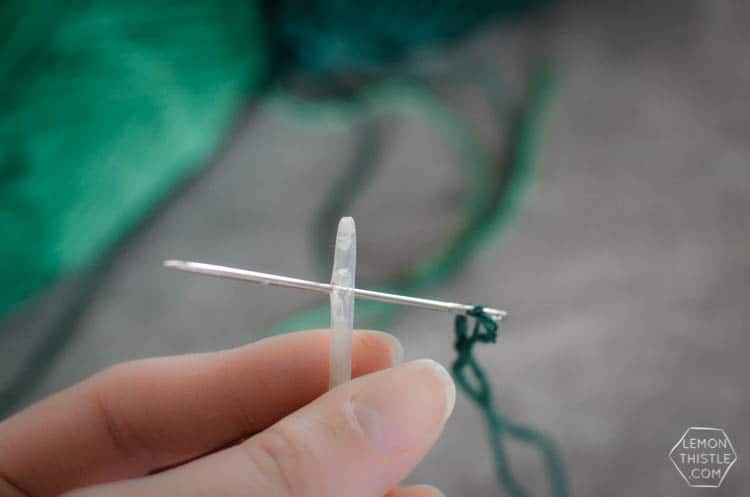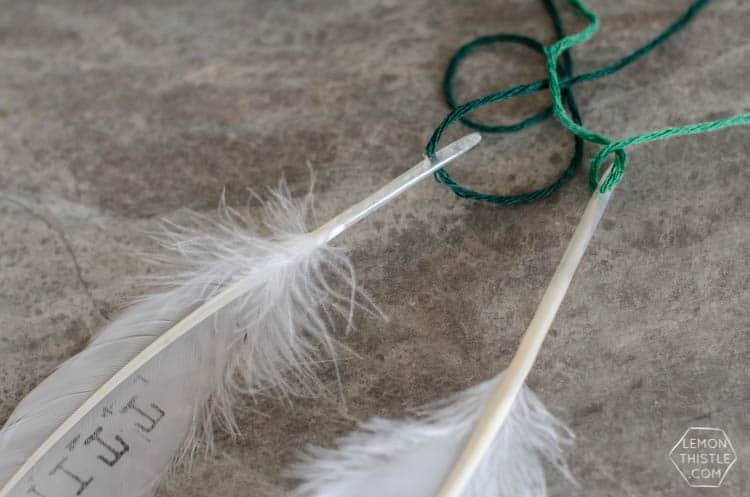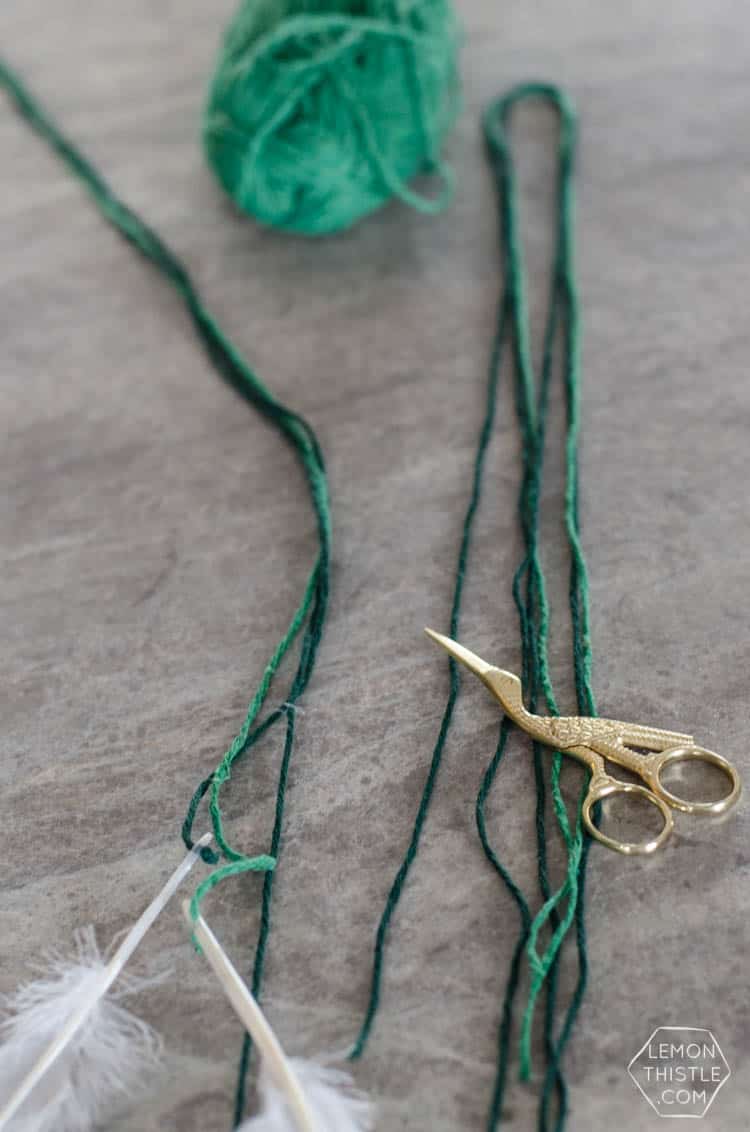 Once you're happy with your stamped feathers, it's time to assemble them. Cut a length of yarn that is long enough to not only hang where you want it to on your door, but also long enough to sit over the top of the door and hook on the other side. Use your embroidery needle to thread it through the feather quill and tie it off. I added in an extra blank feather in addition to my two name feathers. You could really add in as many as you like! When you have your feathers, feel free to add as many strands of yarn you would like to get a boho- tassel type look.
When you have your tassel looking like you want- tie it off and slide the bead on from the opposite end (so it sits on top of the knot). That's really all there is to this! To hang the door decor, you could use washi tape (I did as the door is always open when we're awake) or you could get a small command hook and hang it upside down on the opposite side of the door. It's really light, so you can hang it almost any way you like!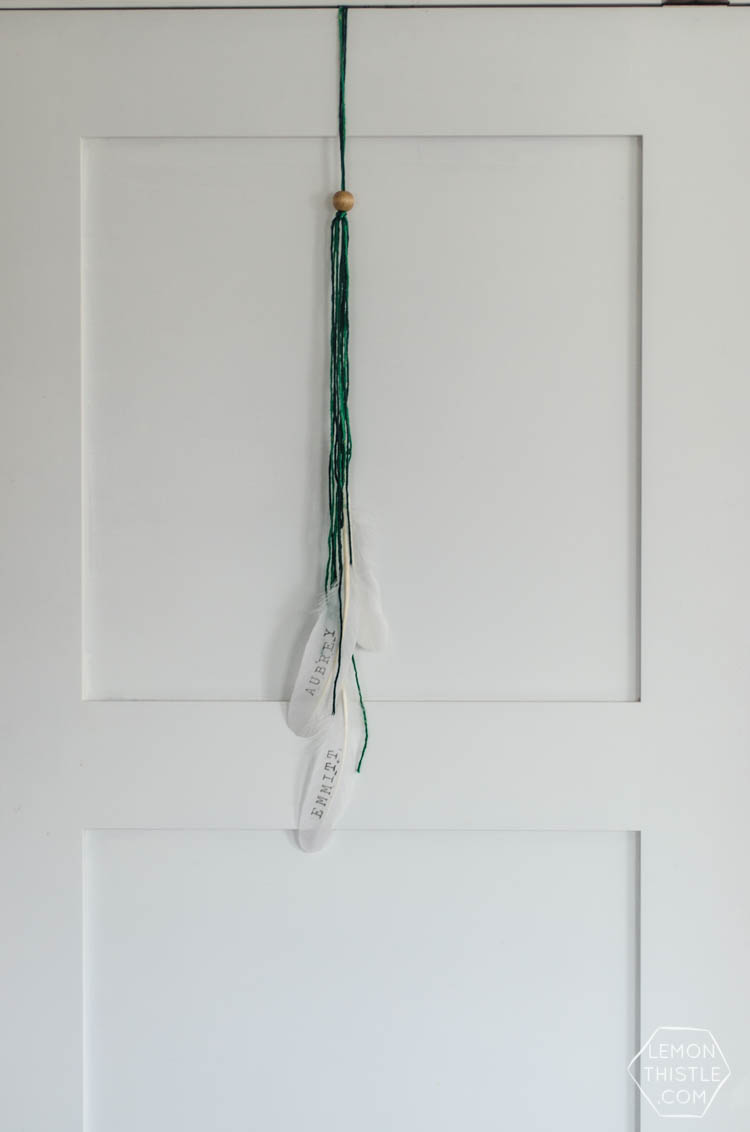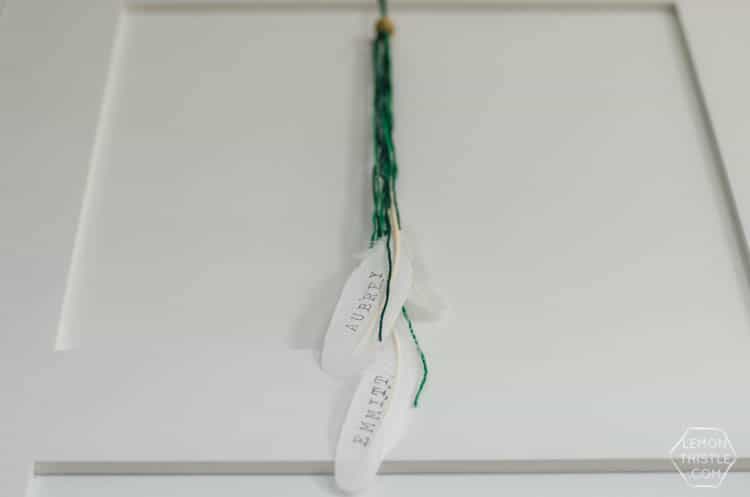 That's it! What do you think? I'd love to hear if you had a door sign when you were growing up- is it a standard, or am I crazy? If you're not into having door decor- this guy would make a lovely wall hanging (names or not- maybe words you love or scripture?) or mobile above baby's crib.