This shop is part of a social shopper marketing insight campaign with Pollinate Media Group® and Rubbermaid, but all my opinions are my own. #pmedia #FastTrack http://my-disclosur.es/RgFrEH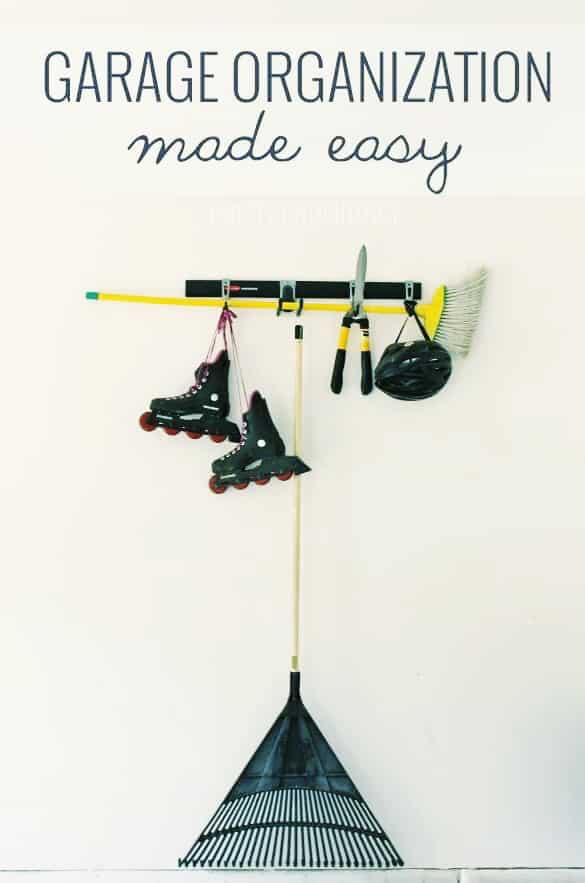 You guys, my garage is kind of a disaster. I know, whose garage isn't a disaster right? But since we moved in to this house in October, we have parked in it once. The weather in Houston is pretty mild in the "fall, winter and spring" – quotation marks because we really don't have seasons. It's between 60 and 80 for 8 months out of the year (wonderful!) and then in the summer it's hot as hades – and that's why I'm working to get my garage organized now. Temps are heating up and I want to park my black car with black interior in the shade! I'm already starting to get burned when I hop in during daylight hours.
The key to me being able to park in the garage is just getting things off the floor. My garage isn't that big so I need every inch of space so that I can not only park but also open the car door fully and walk inside. There is no room for our yard tools and roller blades and bikes and spare boxes from moving and spray-painting shenanigans along the walls anymore. It's time to clean up. I jumped at the chance to try out this FastTrack organizer which is basically an anchor with a bunch of different hooks you can put up on your garage wall to keep things out of the way. It's super strong so you can hang almost anything from it! The best part? It's so easy to install that I did this by myself, no help from husband. I did have to stand on a chair though, because I am not seven feet tall and I wanted the thing to be straight.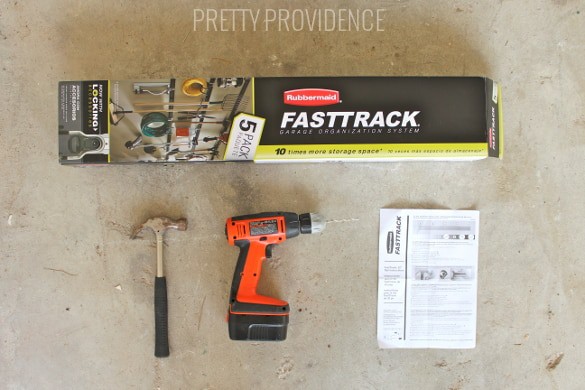 The Rubbermaid FastTrack 5 piece Kit is on sale for $28.89 at Target THIS WEEK ONLY! (regularly $33.99) – which tempts me to go buy five more so that I can line the entire wall with them! I'm not going to bore you with a tutorial because it's really easy and all of the instructions are in the box. What I am going to show you is how I problem solved a little. I wanted to hang up this big rake we have, but it didn't have a hook or anything. You can do this with almost anything you might want to hang in your garage as long as it has a wood or plastic handle.
So take your handle, and lay it flat on a hard surface but leave some room on the other side of it for your drill to go all the way through. I found that the edge of the driveway and beginning of the grass was perfect for this. Simply drill a hole (go through two or three times if you need to) and then tie a string through that baby. Now you can hang it up so you don't trip over it getting out of your car with an armful of groceries.

We have some other garage organization projects in the works as well, one being that we're recycling some of the old cabinets we tore out of our kitchen and using them as storage out there. They aren't totally hung yet but that's high priority on our to-do list and I can't wait to show it off when it's done! What are some ways you've come up with to get things out of the way in your garage?