I love the idea of a framed wreath! It's a little different and it's super sturdy so you can reuse it again and again! I think a gorgeous white frame is a great investment because there are so many ways you can use it!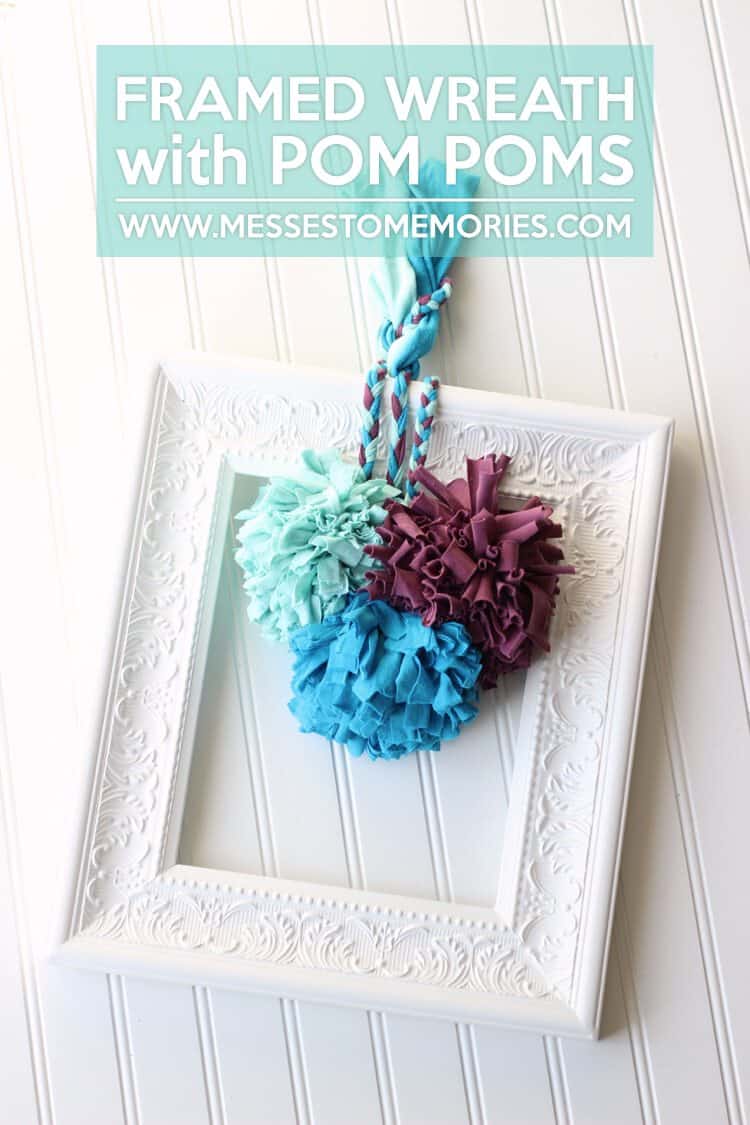 For my first adventure with a framed wreath I decided to go with some fabric pom poms. They are super fun to make and so pretty! Plus, they are pretty simple.
I made this wreath in just a couple hours while watching my current favorite binge watch show… Rookie Blue! I highly recommend it.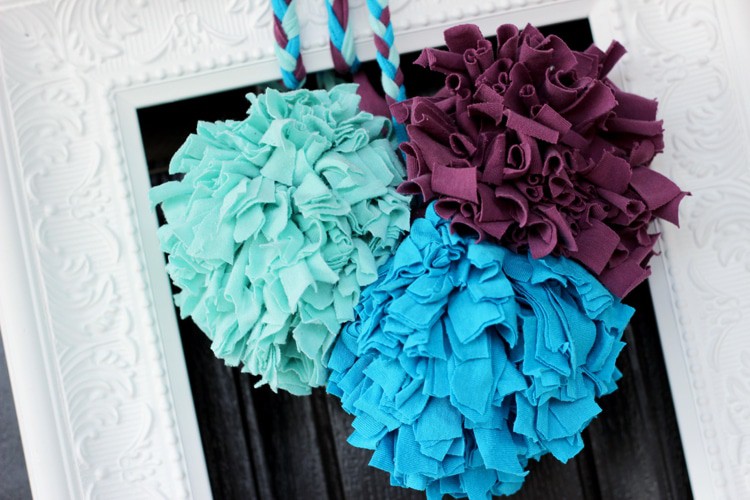 First thing I did was grab some old stretchy t-shirts. Yep! I made these pom poms out of my old t-shirts! So I feel really good about up-cycling something old into something crafty and fun to look at.
Check out what else you need for this project!
Supplies:
Old t-shirts
Scissors
Cardboard
Frame
String or Fabric to hang the finished wreath
Directions:
Grab a stretchy t-shirt and remove the seams. Cut the shirt into 1/2 inch strips.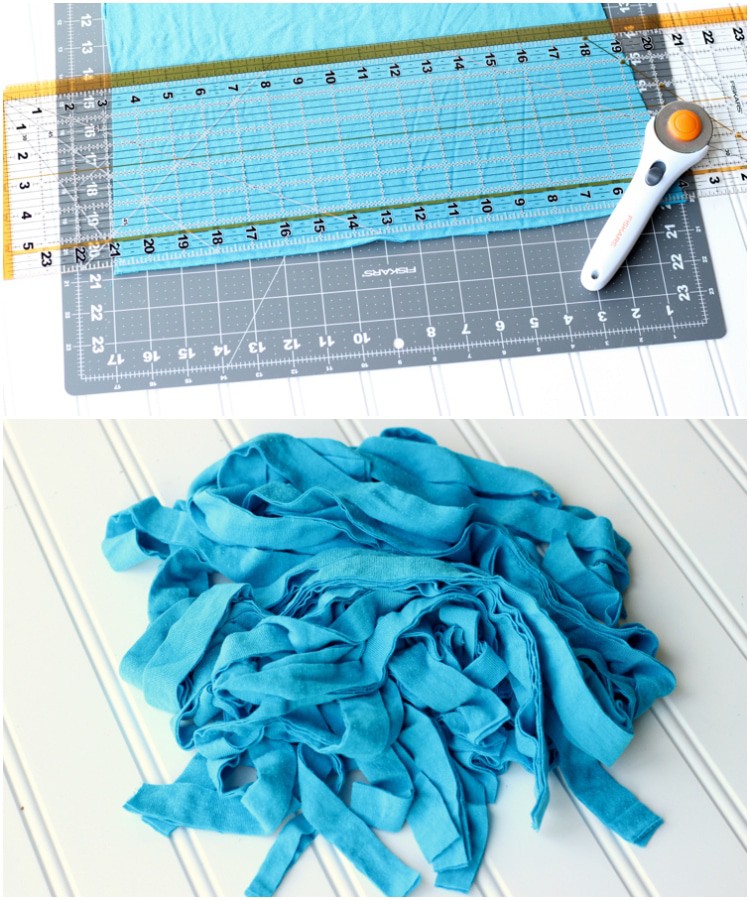 Make your cardboard templates. I used a 6.5 inch bowl for the outer circle and a baby jar lid for the inner circle. Then cut a small section out so that you can wind the t-shirt around easily! Place one strip on top of a piece of cardboard, then sandwich it with the other piece of cardboard. Start wrapping strips around and around. Stretch them a little bit to make them tight.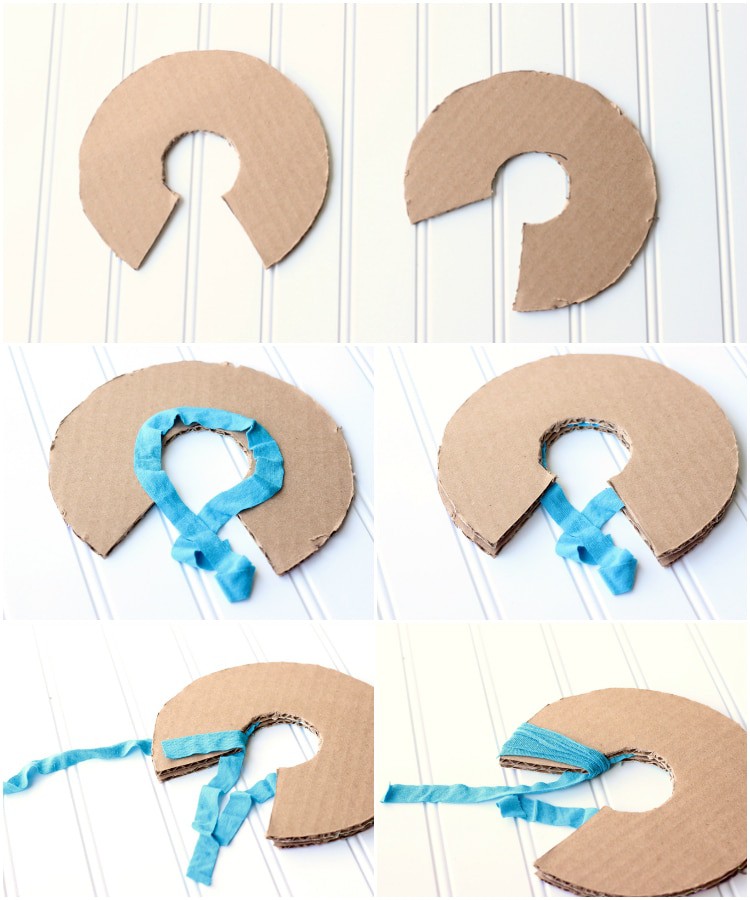 Wrap the strips around until you have several layers. Start a knot with the sandwiched strip, then get a sharp, pointy pair of scissors to help you cut between the two pieces of cardboard. Use your hand to hold all the strips in place.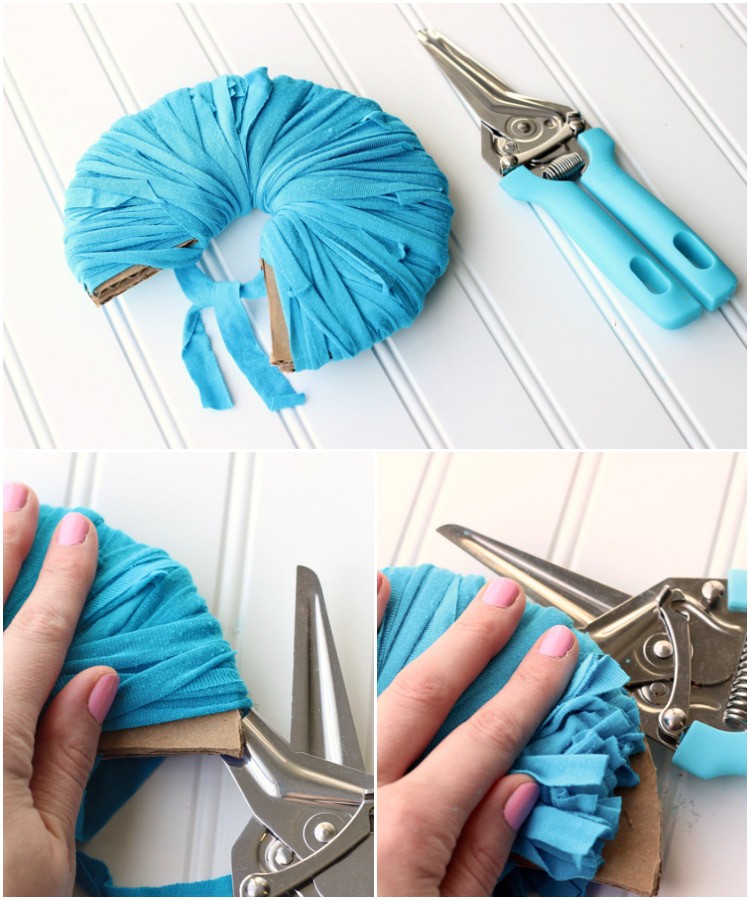 Once you've cut all the way around. Tie the knot off to hold it together and remove the cardboard. Trim the little pom pom ball and then give it a little fluff!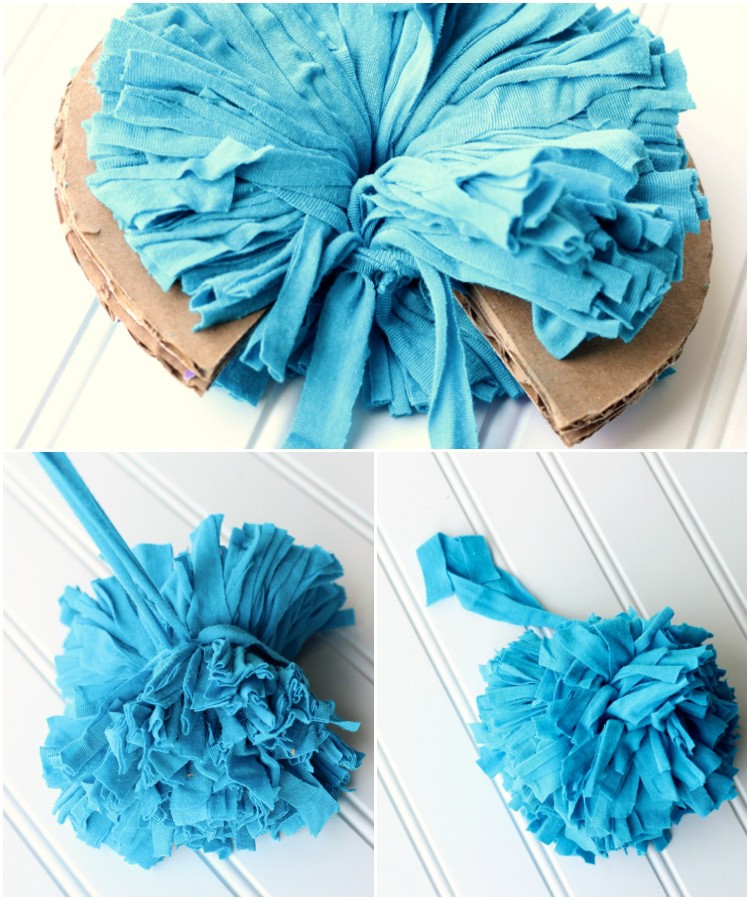 Repeat with a couple more t-shirts until you have three pom poms! Once your pom poms are all done, it's time to attach the fluffy balls of fabric to your frame!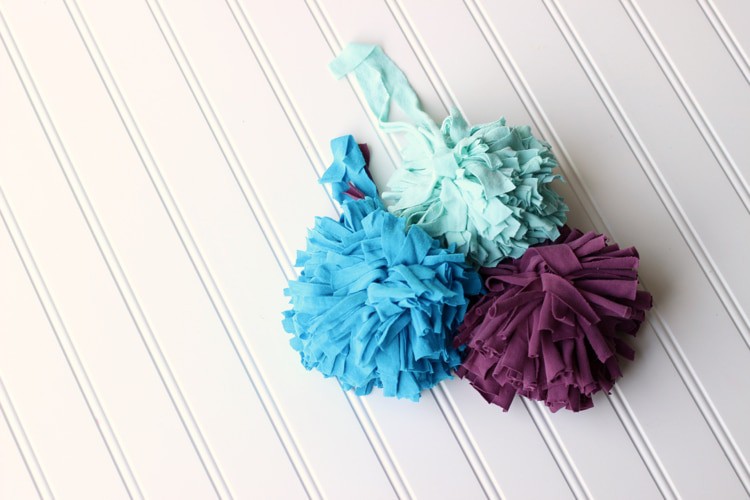 I braided a couple of extra strips to attach the pom pom balls! I love the way they look!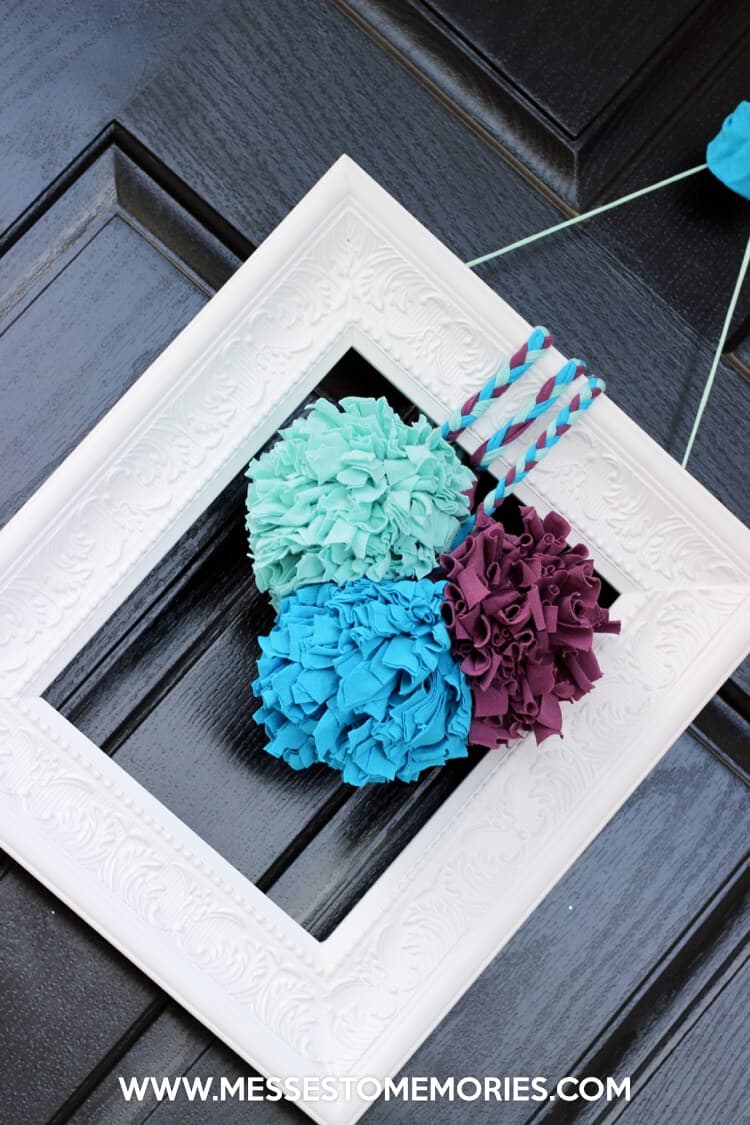 Then I picked a matching thread and used it to make a little hanger! I used one of the t-shirt sleeves to make a cute little hoop at the top! Just a little embellishment…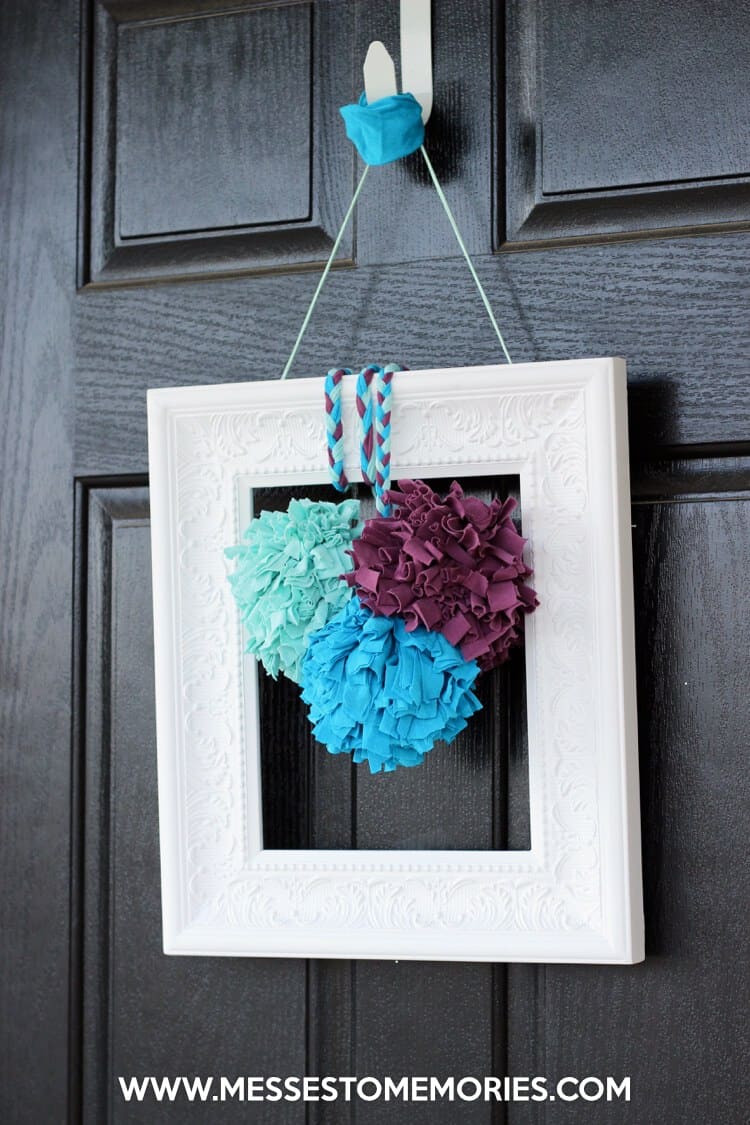 This was such a fun project and it looks so pretty! I think it is very fitting for the season as well… Bright and colorful! I'm in love!
My inspiration for this project was Craftaholics Anonymous. She's basically the pom pom queen!!
Come follow Messes to Memories on social media and see the delicious recipes and family fun ideas we're sharing!
Facebook  | Pinterest  | Twitter | Instagram
Be sure to stop by and check out some more fun crafts and recipes like this burlap wreath, burlap and tulle flowers or this pretty little wooden display!