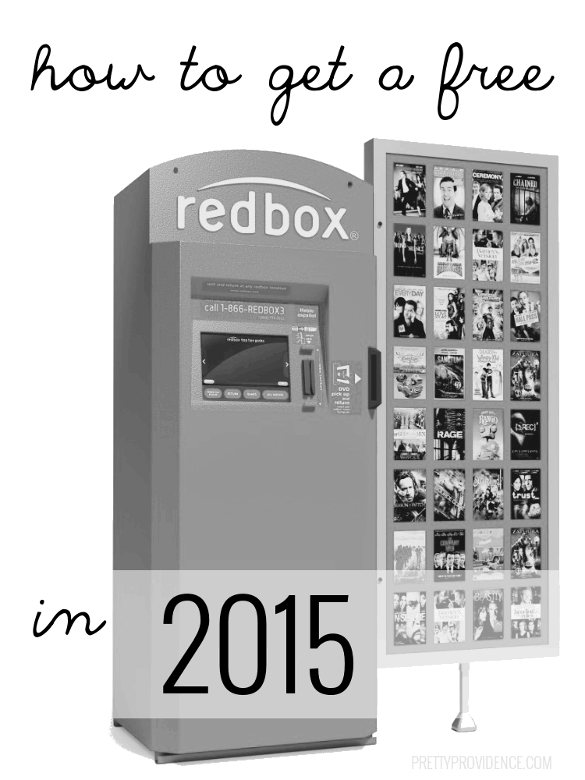 I have learned two things in the past 3 years blogging at Pretty Providence. 1. People LOVE free stuff. and 2. Sometimes I overestimate what the average person knows about saving money. You see, I'm absolutely always looking for a way to save a buck.  I never make a purchase without first searching out a coupon code or looking at multiple stores to see if I'm getting the best deal possible. I forget that not everyone is like me. So, three years ago my husband told me I should write a blog post about how we always get free redbox codes and I kept brushing him off thinking "everyone knows that, no one will want to read that post."
Boy was I wrong. When I finally wrote the post, it went absolutely viral on Pinterest. We were getting traffic like we had never seen before. Even now it gets lots of traffic every day, but the information in that post is no longer accurate. I decided it's high time to write a new post about this because the way Redbox does their promo codes is different now, but in my opinion more awesome than before!
First, for those who don't already know: free redbox codes are promotional codes that Redbox releases that can be used for one free night DVD rental. Sometimes the codes cover blu-rays or video games as well, sometimes you have to pay the difference for a blu-ray (which is about 50 cents.)
Two things I want to make clear. First, it is not hacking or stealing to use these codes and second, not all codes will work in all areas.
Okay, now that that is out of the way here are all of the ways you can get free redbox codes in 2015. 
1. Use one of these 'universal codes' which have been around forever and seemingly always work for new renters.
REDBOX
DVDONME
BREAKROOM
Note: these codes will work once per debit or credit card. I haven't used these in years but according to the internets they still work for most new redboxers.
2. Send a text to 727272.
Text  APPNOW to 727272 to receive a code that you can redeem through the Redbox mobile app. (You'll also need to download their app to do this.)
Text EMAIL to 727272 and reply to their text back with your email address to receive a code sent to your email. It will expire after 2 weeks. (This will subscribe you to their email list.)
Text GAMEKIDS to 727272 for a free video game rental.
Text ALERTS to 727272 for a free one-night DVD rental.
Text MOVIENIGHT to 727272 for a free one-night DVD rental. (Apparently this one can be used once a week!)
3. Join Redbox Play Pass! This is their newest thing and it's pretty neat. It's a free rewards club where you'll get a free code for your birthday and on your Play Pass anniversary. Also, for every redbox you rent, you'll get 10 points (even when you use a promo code!!!) and when you get to 100 points you will receive a free one-night DVD rental.
4. Download the mobile app and rent something. The first time you reserve a DVD through the mobile app, you'll receive a code in your confirmation email. Also, once you have the app they sometimes send free codes out through through the in-app messaging, so check for those periodically too.
5. Watch for location promo codes. Some stores have their own Redbox codes that can only be used at the kiosks in those stores. Some of them include:
DVDATWAG (Walgreens)
DVDKROG (Kroger/Smiths)
RDBOXHEB (HEB)
DVDATWEG (Wegmans)
DRIVEIN (Sonic Drive-In)
6. Join the Redbox Text Club. All of the text offers above automatically add you to the text club but you can always reply STOP if you don't want to join it. However, if you stick around you'll periodically be sent new codes via text message.
7. Join the Email list. Similar to the text club, if you sign up for emails you'll get a free code right away, and then they'll periodically send out codes as long as you're a subscriber to the emails.
I tell you what, Redbox codes are the best. I have been using them for years and okay, on the last post some people commented that it was ridiculous to worry about saving one dollar, but when you're renting at least one movie every weekend, the dollars add up! Plus the codes are so easy to use. It's almost a crime not to use one!
What are you gonna rent with your free codes? We just watched Big Hero 6 and Mockingjay, both of which I highly recommend. Especially Big Hero 6 – it's not just for kids!