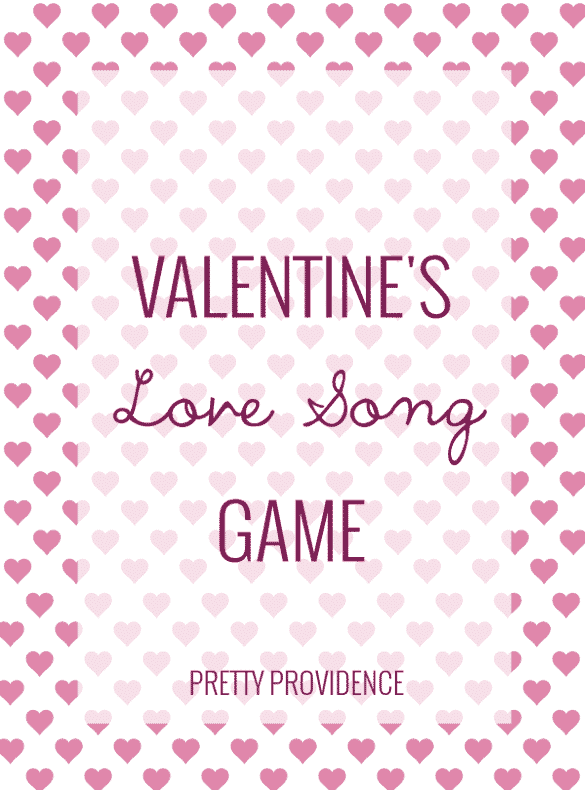 Have you guys ever seen the movie Music and Lyrics? Husband and I love this movie. Oh so funny. Every time we watch it though (as well as many other times) it brings up this debate, which is more important… music or lyrics? I say lyrics. Husband says music. Obviously it is ideal to have both… Anyway I thought it would be fun this Valentines day to make Bryce a matching game using lyrics from love songs that have meaning to us and see if he could match the lyric to the song title. Then, of course, if he gets them all right he gets a special prize!I think part of what makes the game fun is using songs that are meaningful to you in some way, but just for illustration sake, here are the songs I am using followed by the quotes I picked out of them (not in order, obviously, since he will have to match them). It could also be fun to burn a CD of all the songs you use so your significant other can reference it as needed and then have a souvenir to keep!

OUR LATEST VIDEOS
1. Home – By: Phillip Phillips
4. You Mean Everything to Me – By: Shawn Mullins
5. Just Another Day in Paradise – By: Phil Vassar
6. Truly Madly Deeply – By: Savage Garden
7. Stolen – By: Dashboard Confessional
8. Love Like Crazy – By: Lee Brice
9. Lost in this Moment – By: Big and Rich
10. How Do I Live – By: LeAnn Rimes
11. Stay Stay Stay – By: Taylor Swift
12. Marry Me – By: Train
13. Amazed – By: Lonestar
14. Divide Me – By: Kalai
15. Whatever It Is – By: Zac Brown Band
16. Everything – By: Lifehouse
*There's no place I'd rather be, well, it's two hearts and one dream, I wouldn't trade it for anything.
*I've waited my whole life to feel this blessed, now I'm comparing the dream to the way it is. And everybody's looking their very best, remembering times when they were just like this. My imagination never felt so clear, so now I know this is for real.
*Every time our eyes meet this feeling inside me is almost more than I can take. Baby when you touch me I can feel how much you love me and it just blows me away. I've never been this close to anyone or anything. I can hear your thoughts I can see your dreams.
*I am completely consumed, my feelings so absolute, there's no doubt. Sealing our love with a kiss, waited my whole life for this, watching all my dreams come true.
*I can just see you when your hair is turning grey. What I can't see is how I'm ever gonna love you more, but I've said that before.
*Our passion's like a rose, the seasons tell it how it grows, and not much compares to the times we've shared together.
*You are the strength that keeps me walking. You are the hope, that keeps me trusting. You are the light to my soul, you are my purpose.
*Be a best friend, tell the truth, and overuse I love you. Go to work, do your best, don't outsmart your common sense. Never let your prayin' knees get lazy.
*Touch me deep, pure and true, give to me forever.
*I want to stand with you on a mountain. I want to bathe with you in the sea. I want to lay like this forever, until the sky falls down over me.
*Forever can never be long enough for me, to feel like I've had long enough with you. Forget the world now, we won't let them see, but there's one thing left to do…
*… I'm always laughing and I love you because you have given me no choice but to stay.
*I need you in my arms, need you to hold. You're my world, my heart, my soul, if you ever leave,
baby you would take away everything good in my life.
*And from the ballroom floor we are in celebration, one good stretch before our hibernation. Our dreams assured and we all, will sleep well.
*Settle down, it'll all be clear. Don't pay no mind to the demons, they fill you with fear.
The trouble it might drag you down. If you get lost, you can always be found.
*Cause when she loves me…Girl that's how I feel, cause when she loves me I'm on top of the world. Cause when she loves me I can live forever and when she loves me I am untouchable.
What are you guys doing for your loved ones this Valentines?
If you enjoyed this post, check out these other popular posts:
How to Ensure Your Marriage Will Get Better With Age
A Very Special Guest Poster: My Husband
Tie & Suspenders Onsie
New "Pop" Gift Basket
This post may be linked up at one of these fabulous linky parties, check them out.