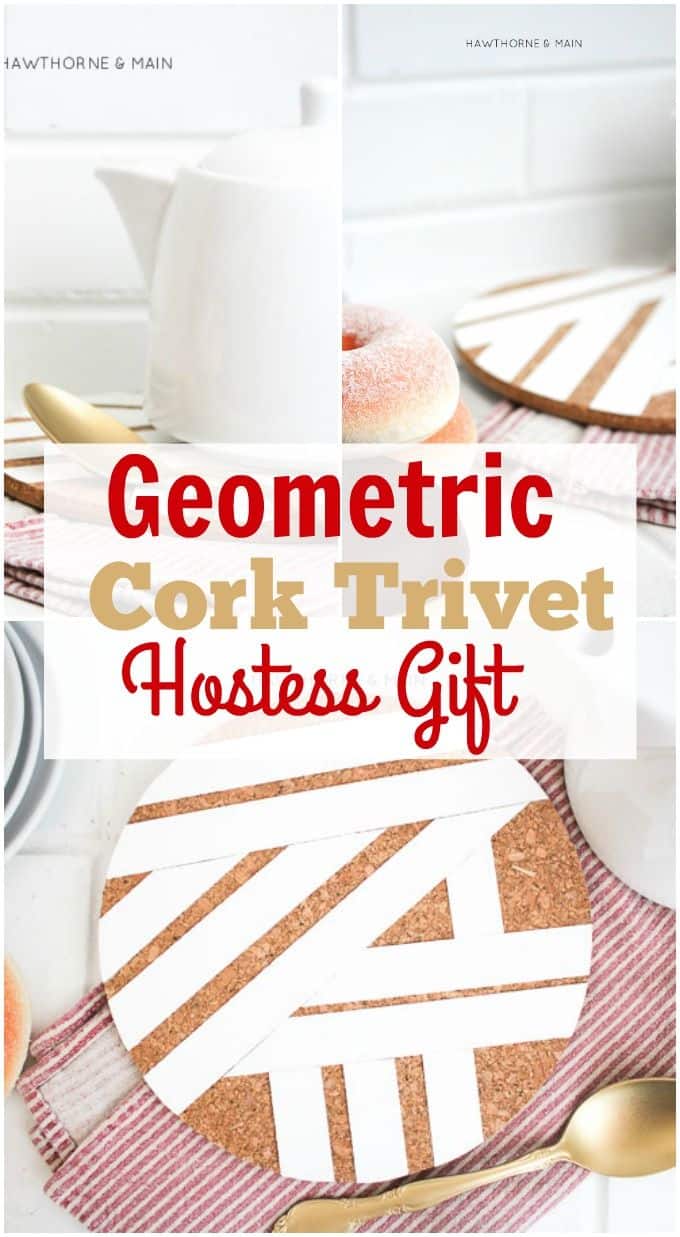 Hello Pretty Provident readers! This is Shonee from Hawthorne and Main, here to share with you another DIY project.  Over at Hawthorne and Main, you will find all sorts of DIY projects, including our experiences in fixing up our fixer upper house.  It is always an interesting ride at our house!
With the holidays coming up I thought it would be fun to share with you this super easy and customizable geometric trivet. This would make the perfect hostess gift.
Imagine handing your hostess this trivet along with a box of chocolates, perfect! Your host will love you for sure!
SUPPLIES:
-Cork Trivet
-Melamine Iron on Trim
-Scissors
-Iron
I found my melamine iron on trim at Home Depot.  It was down the wall trim isle.  I am sure that you could probably order this online too.
TUTORIAL:
To begin, cut out pieces of the white melamine trim in any pattern you like.  I sort of went with a geometric pattern.
You could get really creative and do the initials of you hostess, for something more personal. Once all the pieces are cut, lay them out on the trivet to make sure they are all the right length.   I actually cut all of my pieces a little bit too long on purpose, just to make sure they would work.
Once you have all the pieces cut to size, turn on your iron.  Iron on all of the pieces according to the directions on the package. I ironed on one piece at a time, just to make sure each on was in the right place.
After all the pieces are ironed on, allow it to cool for a couple of minutes.  Once it is cooled off take your scissors and cut off the excess that is hanging over.
Now you have a beautiful hostess gift that was easy to make and is sure to make any hostess happy!
Here are a few other ideas from Hawthorne and Main: Fall Home Tour, IKEA RAST Hack, DIY Oversized Wreath