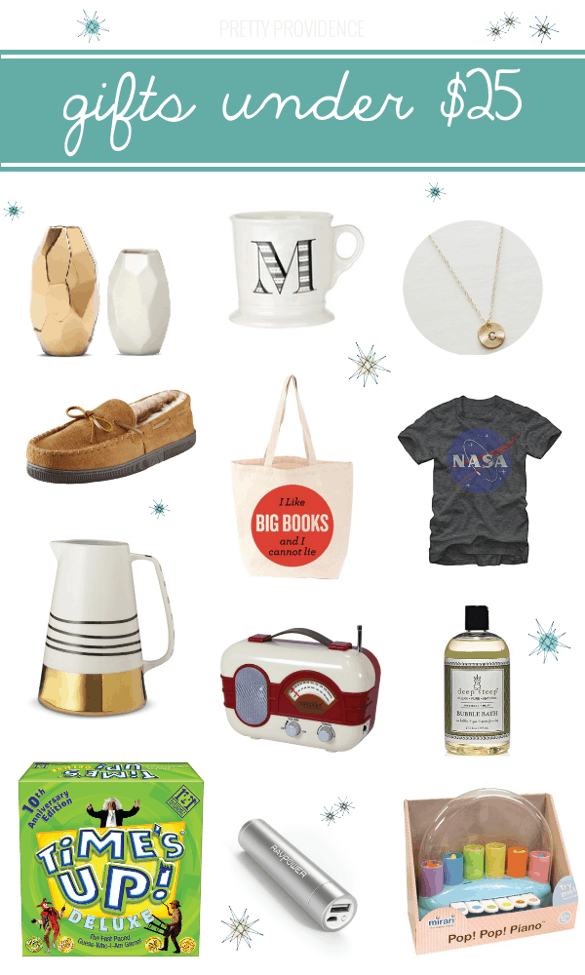 Hey hey! Do I have a treat for you today… I have put together a list of sweet last minute Christmas gift ideas for the different people in your life, all $25 or under! Because we are getting down to the wire most of these have free two-day shipping with Amazon Prime so you can rest easy knowing your gifts will arrive in time and you can have them under the tree by the weekend!
For The Decorator: Gold and White Nate Berkus Vases – You guys, Nate can do no design wrong, and his line at Target is amazing. This set of cute vases would make any stylish homemaker so happy! For The Homegirl: Monogrammed Mug – I am pretty sure hot cocoa tastes better coming from a pretty mug, and monogramming is always good.
For The Mom: Gold Initial Necklace – These necklaces are so simple, pretty and meaningful!
For The Dad: Charles Slippers – My husband is loving his new slippers, they're good looking, comfy and I would imagine almost any man would appreciate them!
For Your Bookish Friend: 'I Like Big Books' Tote – This is just awesome, and a girl can never have too many tote bags!
For The Brother: NASA T-Shirt – I really like the T-shirt and not just because I live only minutes away from the place. Also, this World's Okayest Brother T-Shirt is hilarious if your brother can take the joke :)
For The Party Planner: Oh Joy! Striped Pitcher – This pitcher happens to be on my wish list this year, it's just so gorgeous, simple and modern. I love love love it.
For The Music Lover: Mini Vintage Radio Speaker – Can you say rad? I have always wanted a vintage radio but obviously the function is more important, so the fact that this has an auxiliary jack makes it the best of both worlds!
For The Sister: Rosemary Mint Bubble Bath and Bath Pillow – Three words: treat yo self. Or, since it's Christmas, treat yo sister. Give her the fancy bath stuff she'll never buy for herself.
For The Game Lover: Time's Up! If you've been following along you already know this is my favorite favorite game on the planet. It's hilarious and always a crowd pleaser at family nights and parties with friends.
For The Phone Addict (aka Everyone): Portable Phone Charger – I don't think I need to explain this one.
For Lil' Sis:  The Selection 4-Book Box Set – I have heard such good things about this series and can't wait to read it!
For The Baby: Pop Pop Piano – If you have a baby to buy a gift for this year, think how cute they'll be enjoying this toy with their chubby little fingers! I can't even.

If you like this and want some more ideas, check out my Gifts Under $25 lists from years past (for her, for him, & for anyone) or check out our gift ideas gallery!