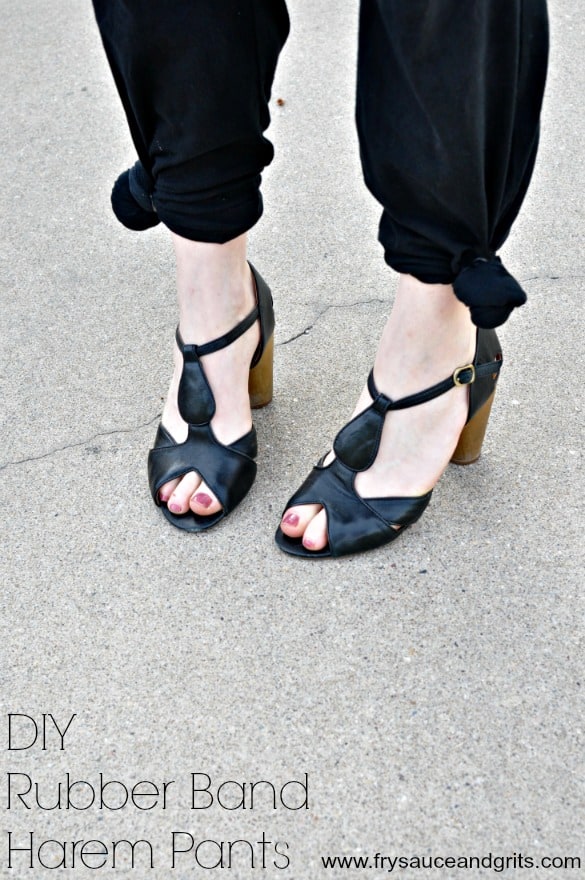 Hey everyone, it's Courtney from Fry Sauce & Grits!  When you're 33 weeks pregnant, you tend to run out of clothes in your wardrobe that actually fit.  When you have a small budget and can't afford new clothes, you resort to wearing the only pair of pants and two pair of shirts that fit the last 7 weeks, right?
Well, I love these black flared leg maternity pants because they're super comfortable, one of the non pajama pants that fit me right now, but they're kind of long on me and they were always dragging on the ground. This was bugging me so one day I decided to twist both bottom pant legs, wrap it around into little buns, and put elastics over them so they wouldn't get caught under my shoes.  I ran errands, went to music class with my daughter, and went on a walk later that day and everyone was commenting on how cute my pants were.  Funny, how something so simple could make random people come up to you and ask you where you got your pants.
This tutorial is so easy, it's almost embarrassing, but I'm going to show you step by step how to make these DIY knotted or (bun) style harem pants with two rubber bands, so let's get started!
The first step is get some pants that are flare legged or have a wider leg.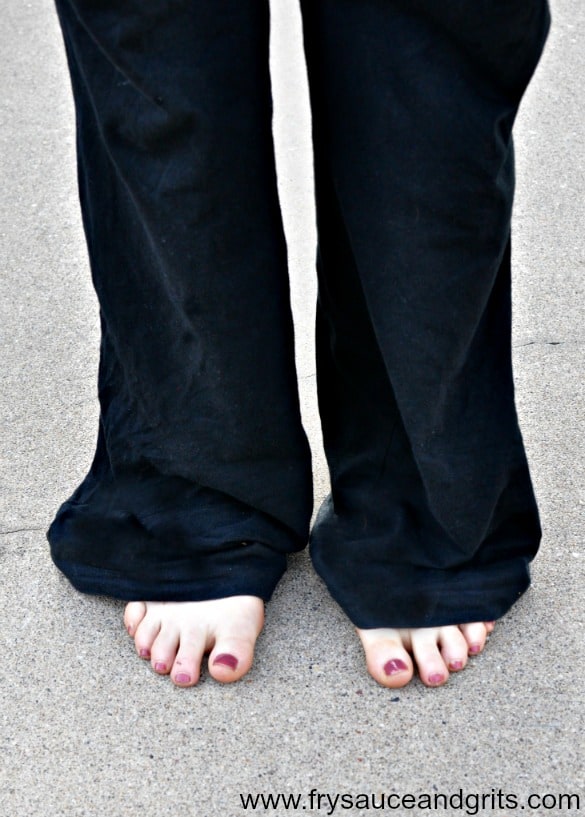 Gather the fabric with your hand and twist until you can't twist anymore.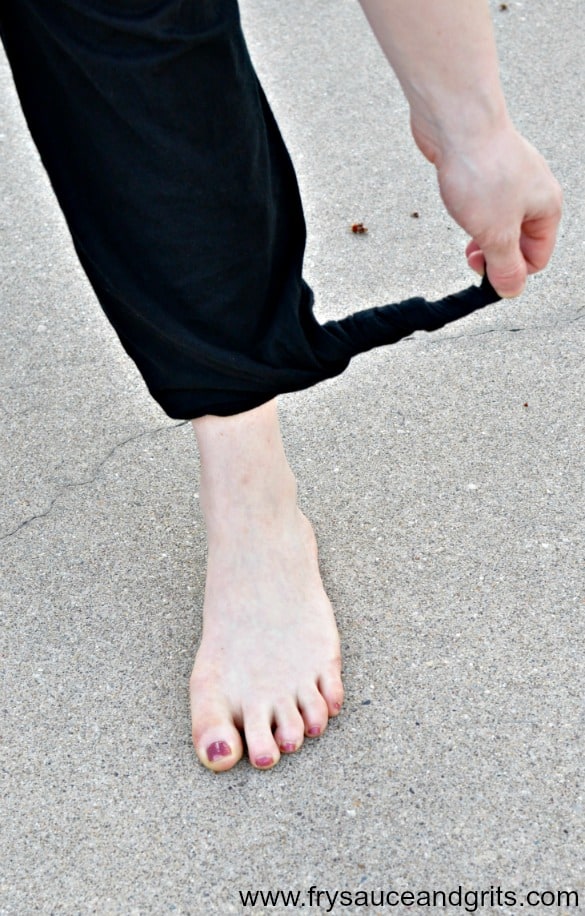 Roll the fabric in a circular motion, kind of like a cinnamon roll or a twist bun.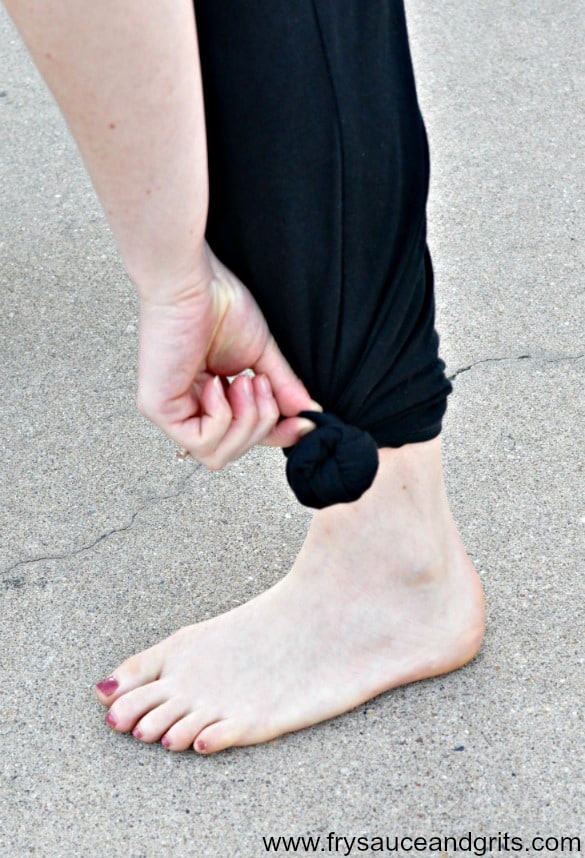 Secure it with some clear elastics, or elastics that are the same color of your pants.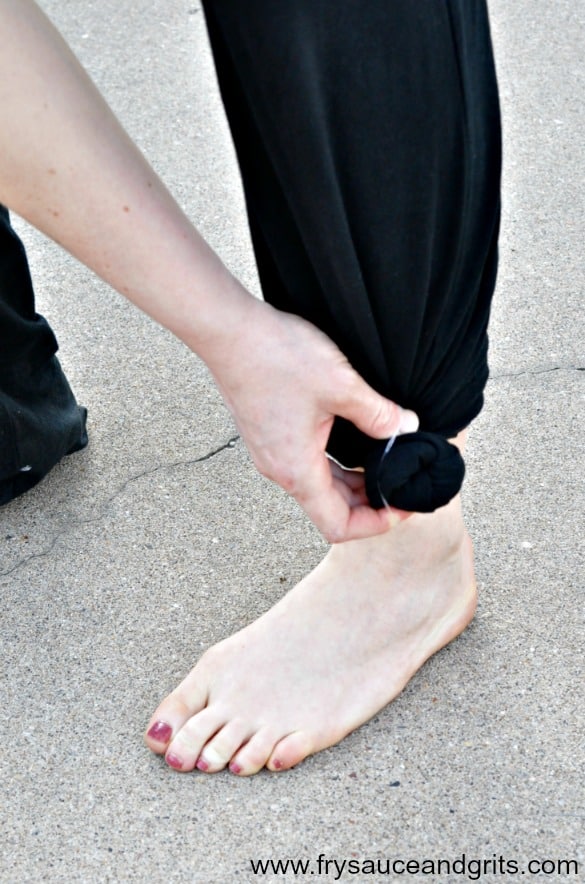 And tada!  You're done.  You can now enjoy your no sew harem pants without the commitment.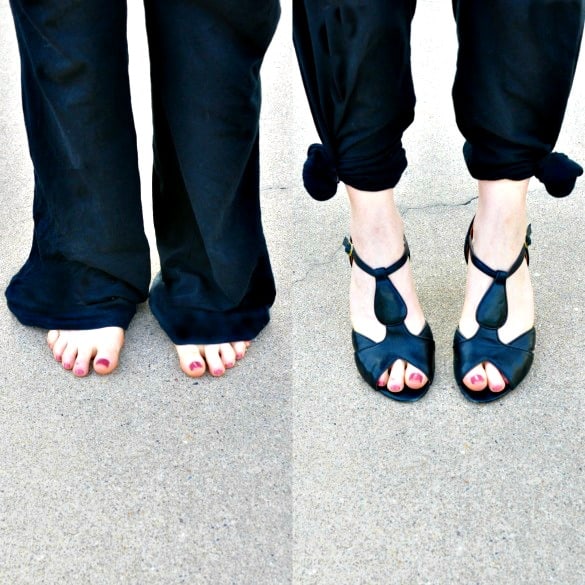 They're really cute, I even got out my black heels for you, and I only wear these on Sunday, haha.
Thanks everyone for reading my post!  Hope this has inspired you to repurpose those clothes in your closet.  Make sure to check out other diy's on my blog at FrySauceandGrits.com!