Hi there, my name is Havalah and this is my first time contributing over here at PP. I was so excited to join in because I just love everything about this blog. I blog over at Sisters, What! about most things creative from DIY fashion, sewing projects, crafts and home decor. I just love doing stuff myself even if sometimes it would just be easier to buy it. For my first post I thought I'd share one of my favorite things: thrifting! I hate being wasteful and love supporting my local thrift stores by either donating or shopping. I especially love that I can buy stylish clothes from thrift stores and save lots of money. Just check out Sarah's July thrift haul for more proof on the matter.
When I was younger I learned from my mother and older sister, that thrifting for clothes has many awesome perks.
I can find clothing that is unique.
Older clothing is sometimes way better quality than stuff made today.
I save LOTS of money.
It's kind of therapeutic.
And hey it's good for our environment.
So here are some of my tips for you to show you how to thrift shop for stylish clothing like a pro.
Our Latest Videos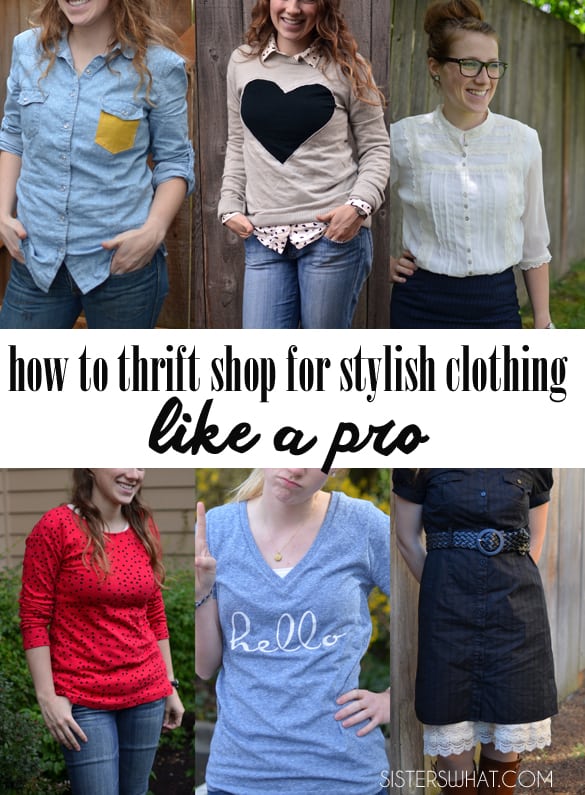 1. Make a List
I know, sounds a little crazy to go into a thrift store with a list like you would to the grocery store, but seriously, do it. It makes the trip quicker and helps you stay focused. What I typically like to do, is go to my pinterest style board and make a list of all the cute ideas that I really want. I'll sometimes save specific pictures on my phone so I remember exactly what I want. This then helps me look for certain patterns and specific pieces of clothing. If I have those ideas in my head, I'm able to actually zone in on similar pieces of clothing. The list works for other thrifted items as well. I just always keep a list of general things I want to find at the thrift store and slowly I'll cross stuff off over multiple trips.
2. If possible, go by yourself
This is kind of a hard one for me and it rarely happens with little kiddos always in tow. Especially since the special sale days happen during the week. But, it goes without saying, shopping without kids or a husband is SO much easier and relaxing. Haha, then again, if I do have any of said people in tow, I definitely hurry which can help with buying too much. However, with kiddos, it's really hard to throw yourself into the search for clothing (especially if you want to use the changing room).
3. Know when Sale Days are
Most thrift stores have sales. For example, there is a nearby Salvation Army that does 50% off everything Wednesdays . It's kind of crazy, people line up before the store even opens. I wish I could make it at the opening, but with 3 kiddos, not even possible. But I hate going any other day because I know I can get it on Wednesday for half the price. Most thrift stores have a specific color tag sale. Know those sales days. It makes it even better to save more on those days.
4. Look at quality and patterns
When browsing the clothing racks, look for patterns that stand out to you. Ignore brands. It's so tempting to find a name brand and want to buy it but do you really love it? Also it goes both ways, if you find something you love but the brand isn't great the quality might not be great either. So after you find that shirt with that awesome pattern, check the quality next. Is the material thin? Are there any holes? Does it look really worn? It's not worth buying something only to have to throw it away after a few washes. Trust me, I've made that mistake many times. It's just not worth it. But it is great when you can find great pieces of clothing that are still in excellent condition and something you love. So just keep your eye out.
5. Refashion it
If you have any sewing skills (beginner is perfect), you an refashion many great pieces of clothing. Sometimes I find a shirt or a dress that has a really great pattern, but the dress is not cute or the shirt is WAY too big. But I don't let that stop me. You can make a dress into a skirt or bring down an oversized shirt. In fact, I prefer to shop in the larger size section and even the men's section. It opens up so many more options because I know I can refit any larger top to fit me. I've even made a ballerina skirt out of curtains, true story! If you're not so sure about refashioning, just go on pinterest and search refashioned clothing and you'll find so many inspirational tutorials that are easy for anyone to do. You can check out my own tutorial for refashioning any shirt or sweatshirt. Seriously, I think anyone can do it.
6. Do you really love it
When you are looking, really ask yourself if you really love it. Even though it's cheap, it's not worth it if you don't love it.
Well I hope these tips were helpful. I seriously love thrifting and the fun diamonds that I've found.