This post is sponsored as part of a series in partnership with Kimberly-Clark and the #CelebrateFamilyValues campaign.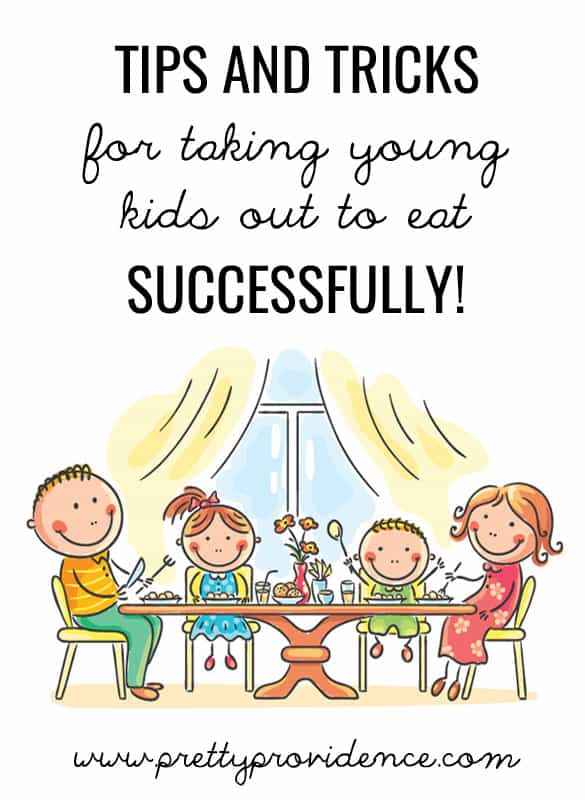 You may not know this about me yet, but I secretly consider myself a foodie. I love basically every type of food and I love trying new things I never have before! My husband is the same way, so going out to eat to celebrate special occasions or to unwind and de-stress has always been one of our favorite things to do together… until we had kids. Any parent knows that eating a meal in peace while young kids are awake can be difficult to say the least! Even at home we would usually take turns eating or wait until the kids were down before feeding ourselves. Eventually though we realized what worked and what didn't work when it came to taking our young kids out to eat successfully, and it has become a really special bonding experience for our family, which we love! Here are a few things we've learned over the years: 
1) Timing. Good timing is everything when it comes to going anywhere with kids, but especially out to eat. We try to plan ahead when we are going to go out so that we can re-arrange naps to ensure that no one is super sleepy or super grumpy due to sleep deprivation. Also, this may seem obvious, but make sure your kids will be HUNGRY. If they are, then when everyone's meals come there is a good chance you will have a few minutes to all enjoy your food together, but if you stuff them full of snacks in the hour before, they will likely not be hungry enough to care about the food and chances are slim anyone will even remember what their food tasted like afterwords.
2) Atmosphere. When we were new parents, one of the most stressful things about going out to eat was worrying about distracting other guests or making huge messes. We have since learned that five star restaurants are just not the place to attempt a family outing when you have three little ones. When we go out to eat now we try to choose family friendly places where a little noise is not a foreign concept.
3) Preparedness. I have lived through two absolute NIGHTMARE situations at restaurants. I will spare you the gory details, but suffice it to say both times have involved not having a diaper on hand when we needed one. Apparently the second time is the charm because I will never, EVER make that mistake again. Wipes are nearly as important as diapers, because it seems my children can't eat anything without getting it up to their elbows (they don't get that from me… they don't) and it seems like one wipe can do the job of 25 napkins (don't forget to check out this site for awesome deals on diapers and wipes.)
4) Entertainment. Even if you aren't at a nice restaurant there is typically a wait time between when you arrive at the restaurant and when you get your food, so we always play a game together while we wait to help the time pass and keep the littles in their seats. A few favorites are I spy, pictionary, and the question game. We just take turns asking random questions, like: "who is Dad's mom?" and whoever answers first gets a point. The kids get to ask questions too. The great thing about any of these games is they can easily be adapted based on kids ages and interests. We have so many sweet memories of playing these games with our children -the things they come up with! It gets me every time.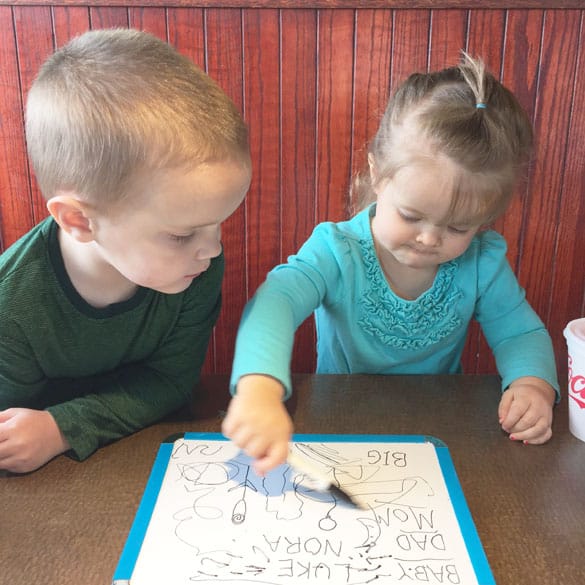 5) Deals. As our family has grown going out to dinner has obviously become more expensive, but we have learned that ton's of restaurants have special deals for kids which make going out to eat way more doable. Plus, then if things go South you don't have to feel too bad because you didn't spend an arm and a leg to go! Here is a great list of over 50 restaurants that have "kids eat free" deals listed by day of the week!
Hopefully some of these tips will help you guys make more fun memories eating out together as a family! Follow the #CelebrateFamilyValues campaign on Facebook and Twitter for more ideas on creating new memories with your family!
xo,

P.S. If you liked this post you may also like how to get your picky eater to eat or our ice cream in a bag tutorial!