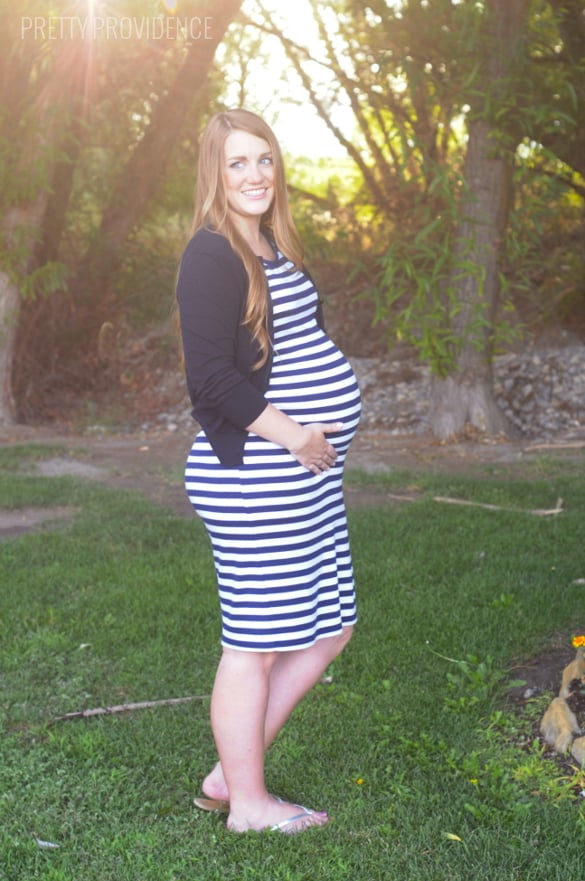 You guys – I have really come to understand how difficult it is to dress a bump. I have always thought that pregnancy is gorgeous and I never got it before when people said finding clothes was hard. I know now. It is so hard to feel cute and to find the right maternity items that will flatter your new, extra super curvy body. It is inevitable that most of us have to buy a few new items during pregnancy and you want to choose wisely so you don't break the bank on clothes you can only wear for a few months! I'd like to share a few things today that I've learned about maternity style on a budget.
Our Latest Videos
The fact that I've done most of my growing during the hot hot summer has not made it easy for me. I mean, I'm 10 degrees hotter than everyone else at all times anyway so there is no way I was going to be layering this summer. Behold, the greatest maternity item to ever exist: this dress. It has sleeves and goes down to the knee so I felt comfortable wearing this and only this as an outfit, and just added accessories to it. You can also wear it with layers if it's spring or fall – in the photo above I am wearing it with a cardigan but that was a rare occasion this summer. It's available in blue/white stripes, black, salmon or black/gray stripes. It's only $25 and you will want to wear it every day. I got two. If have to choose just one, I'd go with the black because it is so practical but I loved my blue and white striped one and wore it more – I just like stripes.
I also found that I could wear some non-maternity items. Look for STRETCHY. The skirt I'm wearing below (this is a lake weekend outfit) I have had for five years. I had a few other stretchy skirts and shirts that I wore before I was expecting and am still wearing now. One of my favorites are soft, stretchy t-shirts.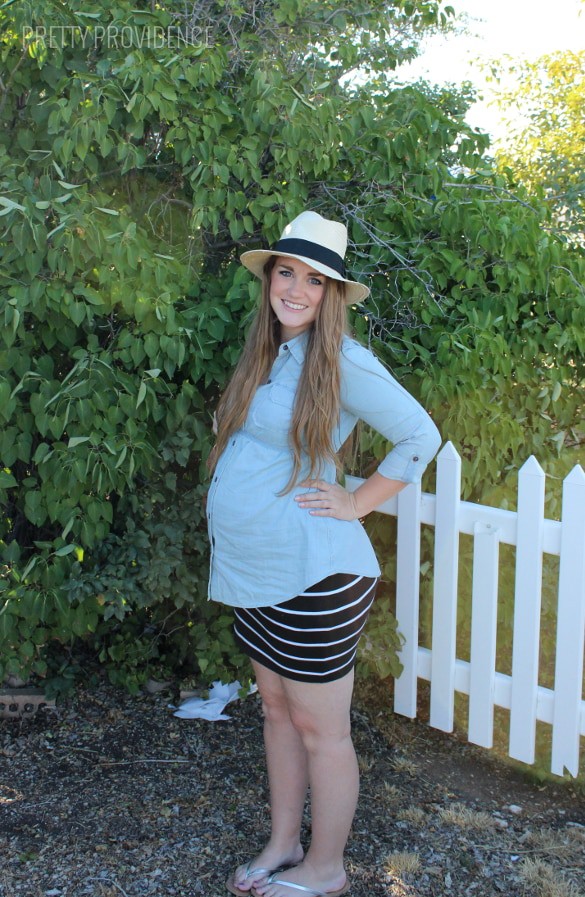 Shirt – Skirt (old) (similar) – Shoes – Hat (old) (similar)
Now that it's technically fall, but the weather here in Houston is still hot and humid, I've been trying to adjust my wardrobe again to find a happy medium between cool and comfortable, and still cute. I feel like layering would fix all of my problems – scarves, drapey cardigans, boots! But alas, I will have to get creative to get fall looks without the layering. Another big issue is that I'm hoping to retire the flip flops soon since they scream summer, but my feet aren't fitting into a lot of my normal shoes these days! Yikes. I've got few ideas on how to make this work without buying ten new pairs, but nothing solid yet. Any suggestions to help a prego out with her fall wardrobe!?