Hey ya'll! It's me Amber, from Dessert Now, Dinner Later! I'm back & excited to participate in Pretty Providence's 12 Days of Christmas Series! One of my favorite Christmas flavors is mint chocolate. Stephen's Mint Chocolate Cocoa Mix is my favorite!!! I know there are those who like peppermint better, but there is just something about that green spearmint flavor that I love. After Halloween was over I went straight to the store & bought me some mint truffle kisses & I knew exactly what I wanted to do!
These Mint Truffle Thumbprint Cookies are incredibly moist & delicious and super simple to make. So simple to make, that it's fun for your kids to help out! My son unwrapped the kisses & helped place them in the middle. He even helped me dredge the cookie in green sugar crystals. Now, if you absolutely can't stand the green or spearmint flavor, you can try swapping the recipe with a white cake mix, peppermint extract, red sugar crystals, a peppermint kiss & white chocolate drizzle. Have fun with it! Happy Holidays!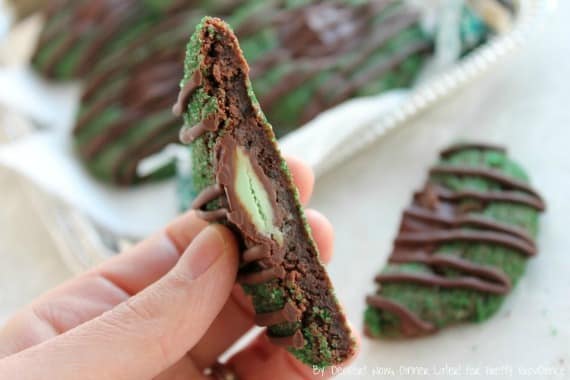 Mint Truffle Thumbprint Cookies
Recipe by: Amber (Dessert Now, Dinner Later!)
1 box Devil's Food Cake Mix

1 (8oz) tub Cool Whip

1 large egg

1/2 tsp pure creme de menthe (mint) extract

1 (2.25oz) bottle green sugar crystals

Hershey's Mint Truffle Kisses

1/3 cup semi-sweet chocolate chips, for drizzle
In a stand mixer, combine cake mix, cool whip, egg & mint extract. Scrape bowl & re-mix until no cool whip streaks appear. (Do NOT use a hand mixer, the dough is thick.)

Scoop balls of cookie dough & dredge (coat) the outside of the cookie dough in a bowl filled with the green sugar crystals. Flatten cookie dough until about 3/4″ thick on a parchment lined baking sheet. Place an unwrapped mint truffle kiss in the center. Repeat with each cookie.

Bake at 350˚F for 10-12 minutes or until the cookies have spread, cracked & look done.

Smooth the tip of the melted kiss with the back of a spoon. Heat the chocolate chips in a bowl in the microwave 30 seconds at a time until melted. Place in a plastic bag with the corner cut off. Zig-zag the tops of the cookies. Allow to cool completely before removing from pan & packaging for friends/neighbors. You can place cookies in the fridge to speed the process along. Enjoy!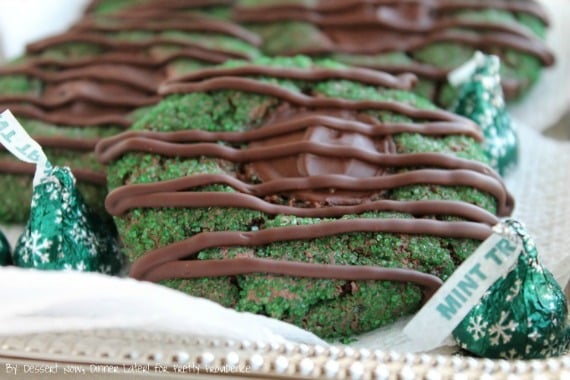 Can't get enough mint chocolate?
Or do you want to try a different thumbprint cookie? How about these Turtle Thumbprints
I've got lots of Christmas cookies to choose from, so stop on by & check the Cookies section under my Recipe tab.

This post may be linked up.