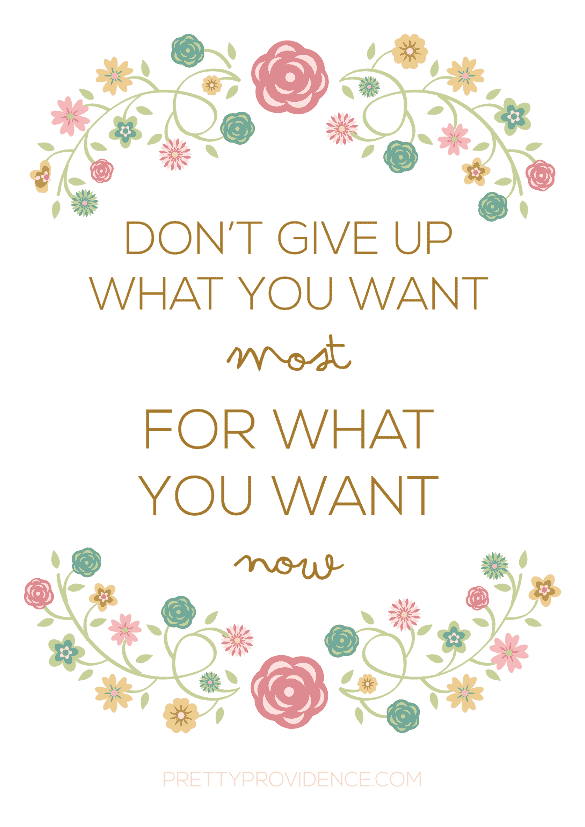 I made this free printable version of my favorite Dave Ramsey quote. If you want you can print it off to hang up in your home either in PDF version here or as a JPEG here! (Jpegs are lower quality, but I have had requests to offer printables this way. Go with PDF if you can!)
Did you know that money is one of the top reasons cited for divorce these days? The way finances are handled in a relationship is SO important that the happiness of your marriage literally depends on it. There is no one right way for a couple to manage their money, but for your marriage to be happy you definitely have to be on the same team and share some common goals. I am not going to bore you with statistics but trust me, there are numbers that confirm this. Happy couples manage their money together!
Money Matters in Marriage
Today is actually the one-year anniversary of our home-ownership, and we're anxiously awaiting the arrival of our first child. Happy times, right? Yes, of course! But the last few months have also been kind of stressful for us financially. I know I don't need to explain the high costs associated with both of those things, but I will also add that one of our cars just went off the deep end and the timing is obviously not great. With all of this going on, we've had to scale back our budget in some areas and both spend and save more in others. Everything is just out of whack, and that's okay, but things like this do affect our relationship!
Our car called it quits on us on a Friday night while we were driving home from a movie date. Talk about a buzzkill, right? All we wanted was to put our cares away for the weekend, go out to see a movie, head home and spend the rest of the weekend relaxing. That would have been great for our marriage. Refreshing! Rejuvenating! Instead my husband had to spend the rest of that night and all of the next day messing with the car, reading manuals and trying to figure out the problem. On top of that, I was doing research about how much transmission replacement would cost, how much we could get out of that car if we decided to scrap it and sell it for parts, how much we could afford if we decide to buy a new car, all of that fun stuff. We're sharing our one car that works for the time being, and are still not sure what we're going to do. Even doing that has its difficulties and requires us to make compromises and be unselfish about it.
So, money absolutely matters in marriage. If one partner is selfish and spends like crazy while the other is trying to work toward a savings goal, it's not going to work. Can you imagine how many fights would ensue? It would be a constant push and pull. I love budgeting, and I have testified on this blog so many times about how it's the only way to have financial peace. Subsequently, it will make you happier in general. Sometimes I am tempted to throw caution to the wind, but that would cause some negativity in my marriage, and it's not worth that.
My marriage is the most important thing that I have been blessed with in life and absolutely nothing is worth risking it for. I love this guy, why would I want to hurt him or increase his stress levels by giving in to selfish desires? We have always discussed purchases that are over $100 with each other before going ahead and spending. Lately, given our circumstances, I have tried to think about every purchase (even the small ones) with him in mind. Will my buying this enhance our relationship, or will it add tension? Would I buy this if he was with me?
I am in no way the perfect wife, but I am always trying, because there is nothing more valuable to me than my relationship with my man. If that means me making some more conservative financial choices, so be it. I know he is doing the same with me in mind, and that's what makes our marriage a partnership! By taking time to talk about our goals and make decisions together we just get stronger. We also get to celebrate together over the small victories like saving up enough to go on a weekend getaway or finally getting a long-awaited house project done!
Since saving money on the small things is just as important as the big ticket items, we've been cooking more easy/cheap meals at home and just generally living life the frugal way. Plus, since my husband and I share an affinity for saving a buck, we like to go yard sale shopping and thrifting together. Then, sometimes we get to make really cool furniture out of what we find! Our active attempts at saving money bring us endless entertainment on top of helping us get closer to our financial goals (and maybe closer to getting back to having two cars!)
How has working together on your financial goals blessed your marriage or relationship?

If you like this post check out our most popular marriage post: How To Ensure Your Marriage Will Get Better With Age (the comments are awesome, too!) and I can't finish without recommending some of my favorite books on this subject: Fighting For Your Marriage, Seven Principles for Making Marriage Work, and Total Money Makeover. The two marriage books are research-based and totally genius, and the third is Dave Ramsey who we consider an absolute must-read here at Pretty Providence!