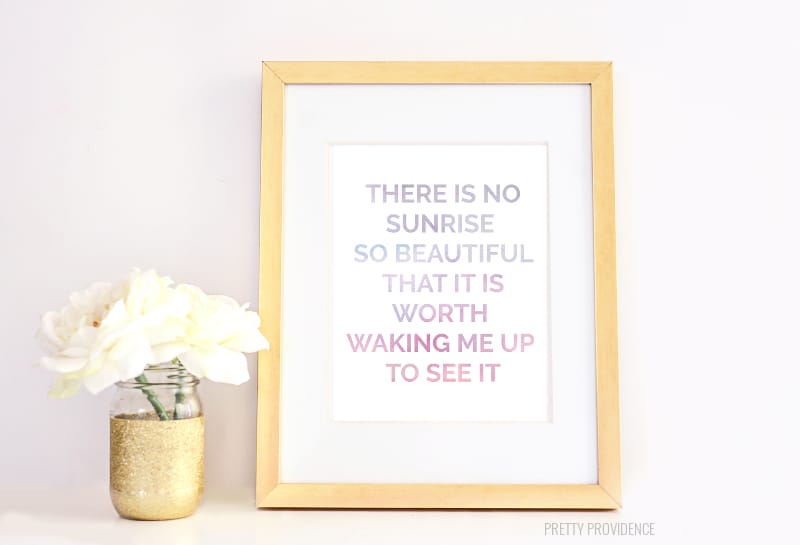 Do you guys watch The Mindy Project? I kind of love it… Mindy Kaling is one of my favorite writers/actors and probably the best thing about her is that she is fearlessly honest about her true feelings. She isn't going to pretend she cares about something if she doesn't. She's maybe a little too honest, but it's hilarious. I have two good friends that I used to watch The Mindy Project but over text. We would group text through the whole thing so it felt like we were watching together. (So fun, by the way, if you can't watch a show together in person!) One of them mentioned to me once that she wanted a printable of this quote from the show, and I am finally delivering! This one is for you, Lauren!
This quote is perfect for any Mindy fan or any person who hates mornings, and let's be honest there are a lot of those people.
Can I just add really quick, that I personally watercolored the background for the text? It was super fun and SUPER easy. These are in PDF form and you can print in an 8.5×11 at home or an 11×16 at a printing place (I go to FedEx Office usually.) Print them by clicking the links below:
11×16 Mindy Project Quote Poster
8×11 Mindy Project Quote Poster
So do you have a favorite TV show that you need a quote printable from? I'd love to make more of these! I'm thinking Liz Lemon or Leslie Knope quotes next… let me know if you have any requests!