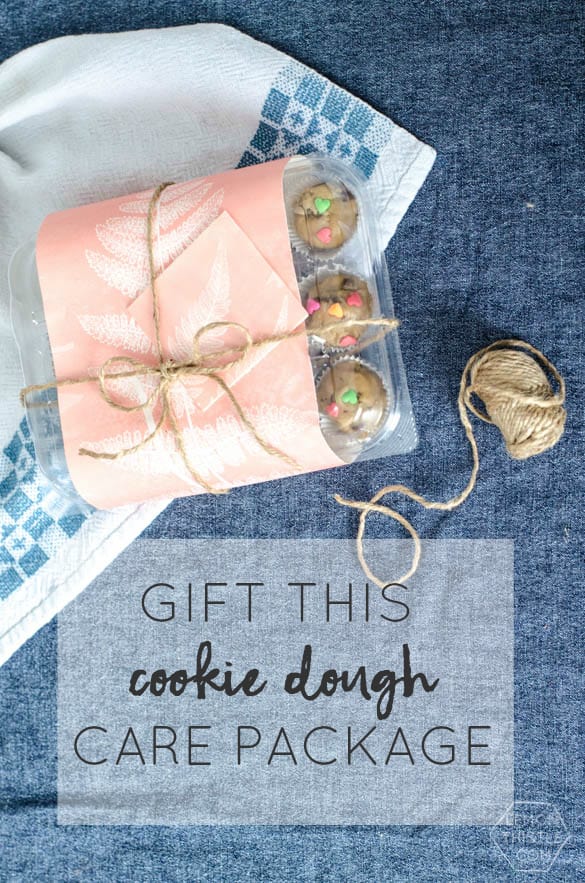 Hello again everyone! Colleen here- mama of twins and lifestyle blogger over at Lemon Thistle (home to DIY, Parties, Home Decor, & of course babies!). Today I'm excited to be sharing with you this simple and frugal gift idea to bless someone in your life. This the perfect gift for a new mama, that friend that is renovating their home, or someone that just needs a pick me up. It makes a pretty awesome care package for just about anyone.
When I had my babes we were so blessed by friends and family that showered us in meals. The one thing I was craving though? Sweets. I can't tell you how many tubes of ready made cookie dough we bought (because it's embarrassing… and I lost count #honestymoment). On the flip side, I once went to a cookie exchange and came home with all these baked goods- only to have some of them go off on my counter before we could eat them all. You see where I'm going with this, right? Cookies that aren't cooked yet! Better known as frozen cookie dough (one of my favourite treats!). While gifting a log of frozen cookie dough is always appreciated, this packaging is not just cute, but the cookies don't need to be portioned out- just pop a few in the oven!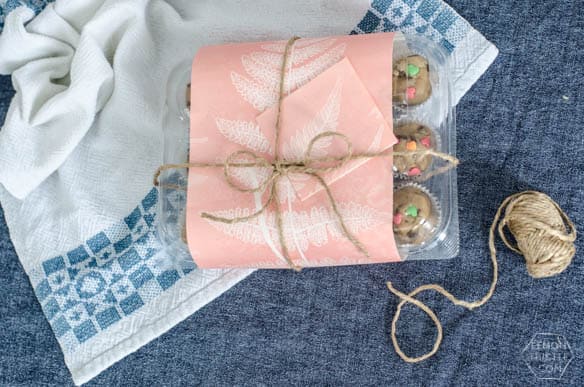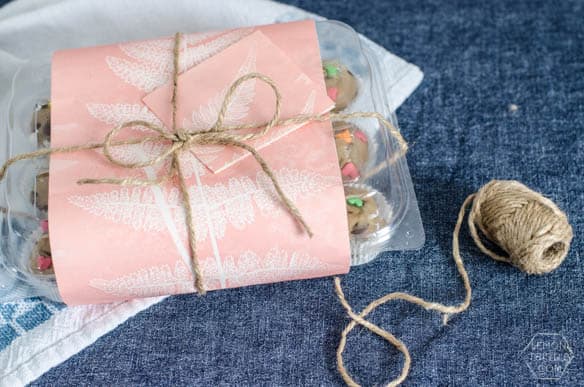 Alright, now that we understand how awesome it would be to receive this (cookies on a minute's notice? Yes please!), let's talk about how we can put it together. You'll need:
One batch of your favourite cookie dough (my recipe is almost identical to Jessica's Best Ever Chocolate Chip Cookies)
One mini muffin container
Mini cupcake liners
Sprinkles
Double sided tape
Scrapbook paper
Twine & Scissors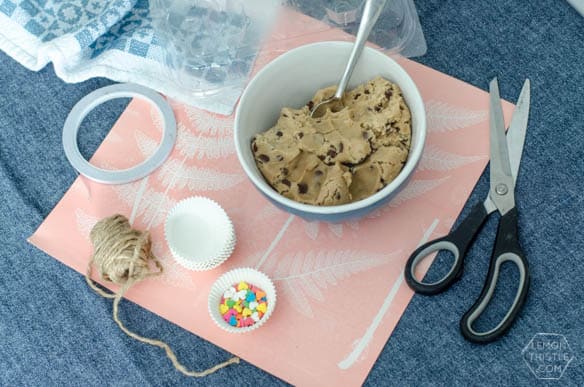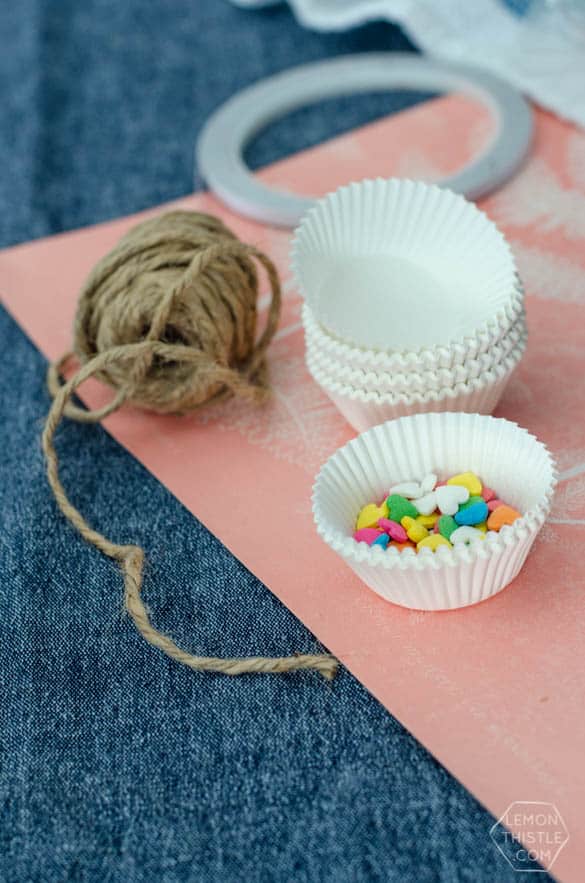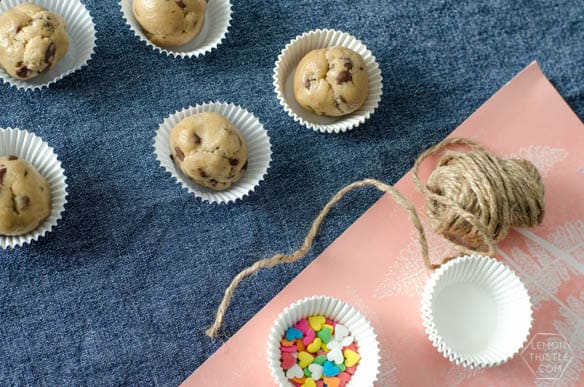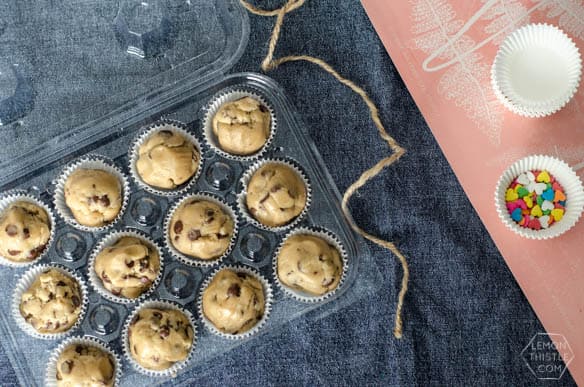 After you've whipped up a batch of cookie dough, scoop small balls into your cupcake liners and place them in your mini cupcake container. I saved mine after buying a container of mini cupcakes- but you could buy these containers in bulk from Grocers People or another bulk retailer.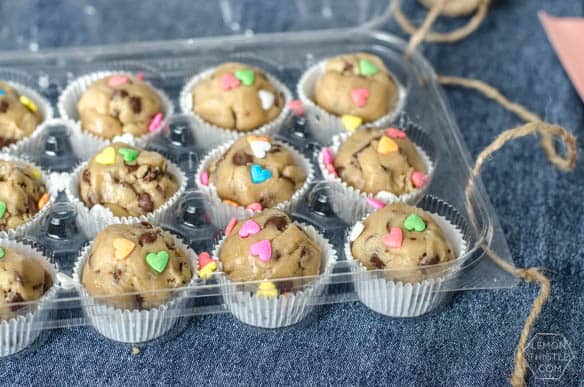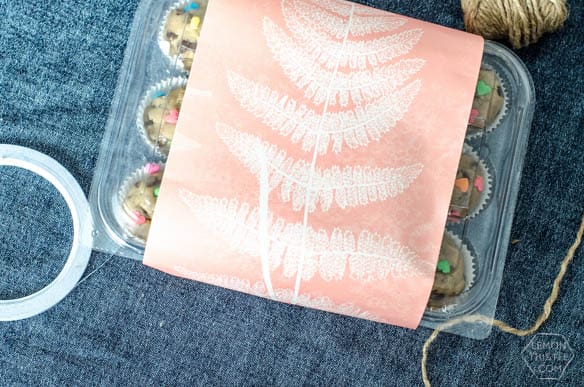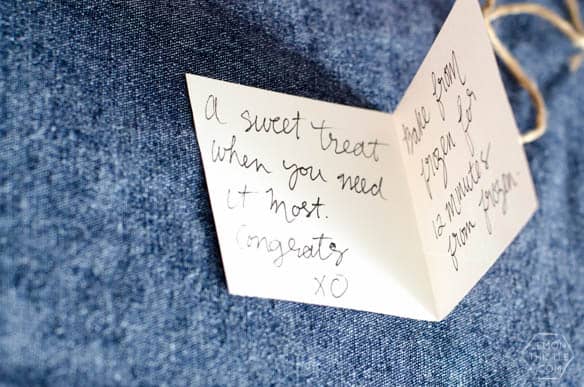 I highly recommend giving them a coating of sprinkles (I firmly believe in sprinkles- not only do I think they taste delicious, but they are so cheerful!). Before closing the lid. If your container doesn't seal tightly, you could add a strip of double sided tape to make sure there's no freezer burn on your cookies! Wrap your container in a band of scrapbook paper and tie with twine or other ribbon. Slip a note with instructions on how to cook from frozen (I found my conversion online- and it works perfectly!) and your best wishes, and you're good to go!
This gift comes together so quickly- and not baking the cookies not only saves you dishes and cook time, but it is so wonderful for your giftee to know that they can bake just a few whenever they need a little sweet treat. Bonus? To fill a mini muffin tin leaves about four cookies worth of dough leftover for you to bake up as a reward for your hard work.
What's your best kept gifting or care package secret? Do you have something that's always a hit? I'd love to hear!