This post brought to you by Stride Rite. The content and opinions expressed below are that of Pretty Providence.

I am a pretty independent person and I encourage my kids to be independent as well. The problem is, I am also kind of a control freak and it's hard for me to let them do their own thing… #thestruggleisreal. So here's what we have been facing lately: both my two oldest (4 and 2 1/2) are big into getting dressed on their own, which is GREAT! Except when they pick the same graphic tees out of the hamper everyday and are super offended if I tell them they have to change. I needed a solution to the problem that allowed them to still get dressed on their own, while allowing me to make sure they are wearing clean, cute, matching clothing.
These free printable day of the week door hangers have been the perfect solution to our 'organize kids clothes' issue! I plan out all their outfits on Sunday night and hang them on the low bar in their closets for the coming week. I even made a little tag version so for younger kids you could stick the clothes in those plastic pull out drawers instead!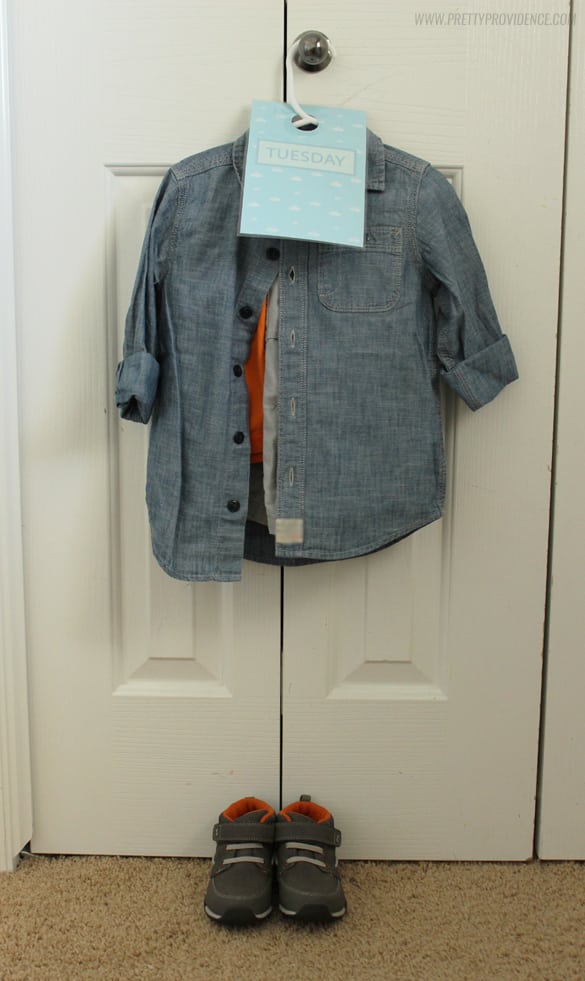 I can't even tell you how much easier this has made our back to school routine! Both kids have loved it and I've made it a point to be super proud when they find the right day and get dressed all by themselves! If you wanted to make it even easier for your kids, you could just grab the appropriate hanger for the next day when you are doing bedtime routines and stick it on their dresser or door knob! I am loving how adorable the kids look in their cute little school clothes. I can't wait for Fall to get here.. it's my favorite clothing season, for sure.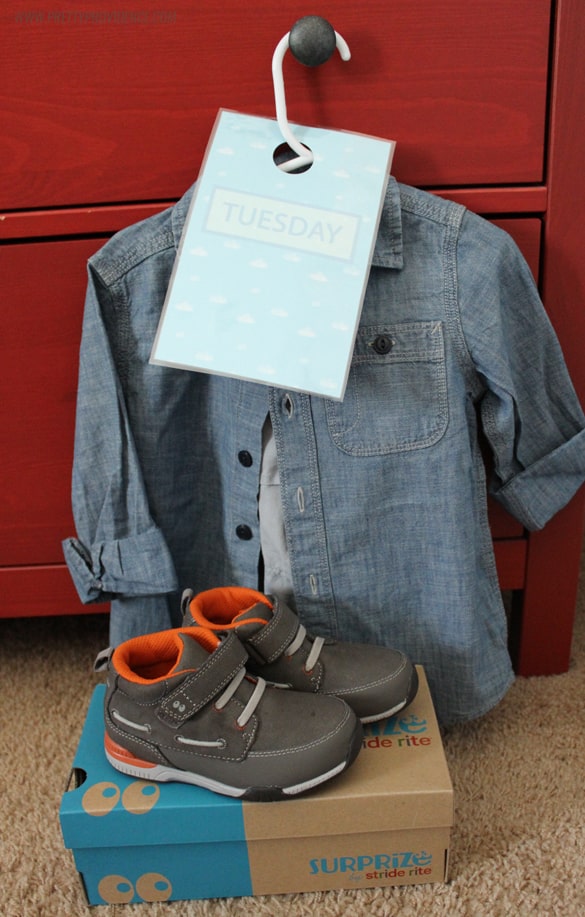 As for shoes, we are in love with Stride Rite's new Surprize line at Target! I typically only buy my kids two pairs of play shoes at a time, because they seem to ruin or grow out of them so fast, but these Stride Rite shoes are amazing! Seriously, they are durable, comfortable and cute, every Mom's dream! I love that all their shoes have memory foam footbeds, flexible outsoles and durable rubber toes so that my little ones can run and play without sore spots or ruined shoes. 
Pretty cool, huh? Okay are you ready for all the downloadable printables? I think they turned out super fun.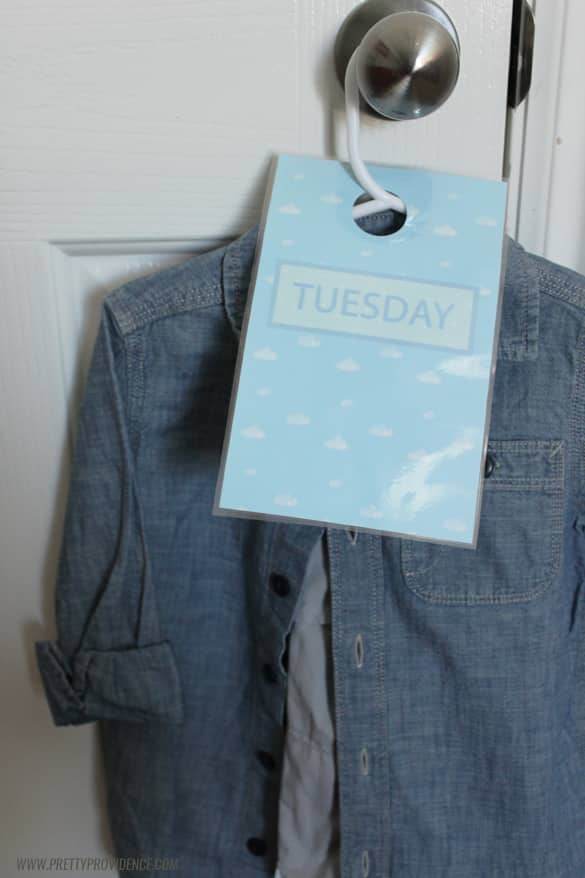 Days of the Week Small Labels For Little Ones
Sunday and Monday Door Hangers
Tuesday and Wednesday Door Hangers
Thursday and Friday Door Hangers
Saturday and Uniform Door Hangers
I printed my hangers out on cardstock and then used my laminator to make them extra sturdy. Then I cut around the edges and used my 1 inch hole punch to make a hole the hangers could slide through. Super easy! I hope they work as well for you as they have for me!
What do you think? Will you give them a try?