Hi everyone! This is Sara again from Sew LOVED Blog, and I'm back to bring you another beginner sewing tutorial (Has it really been a whole month already?!).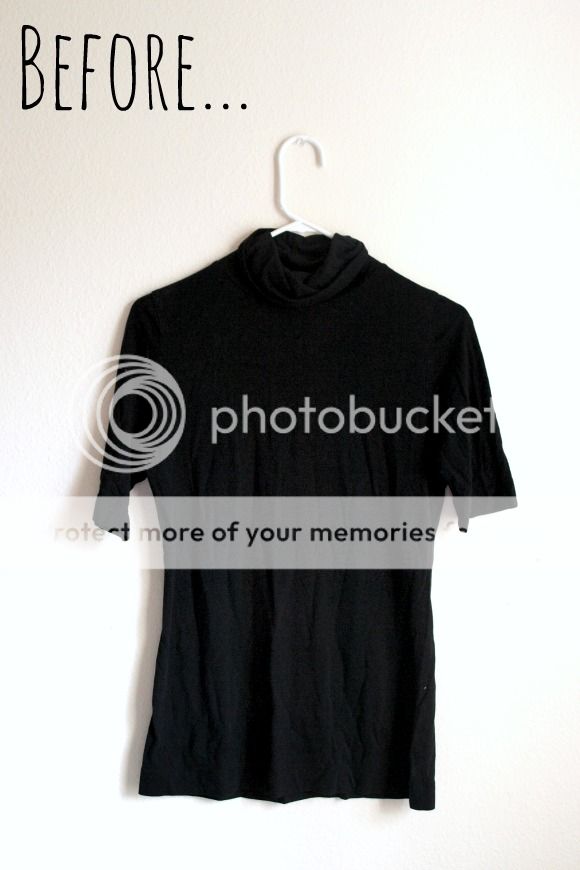 For this project I pulled an old shirt from my wardrobe that needed a bit of an update.  Adding a different pattern or color to the back of a t-shirt is a great, yet simple way to breath new life into your wardrobe! Once you've found yourself a t-shirt to refashion you'll need roughly 1/2 yard to 3/4 yard of fabric to use on the back. I used some polka dot chiffon material that I found at Hancock Fabrics on clearance for $2. Printed silk or light weight jersey knit fabric would also be great alternatives.
Fold your fabric in half and lay your shirt on top as a pattern guide. Fold back the sleeve to reveal the shape of the armhole. You will want to cut the back of your shirt slightly bigger then your actual shirt to allow for ease and a relaxed fit in the final product. Also make sure that you add 1/2 inch to all sides for seam allowance. Add 1 inch to the bottom for the hem.
Next, cut the back out of your t-shirt. My shirt was rather form-fitting to begin with so I picked out the side seams so that I wouldn't loose any additional fabric.
Once the back of your shirt is cut out, along with  the fabric you are adding to the back , it is time to sew it back together. Sew the top of the fabric to the back of the shirt first. Next, sew the side of the armholes. And lastly, sew both side seams. If you are using the existing hem on the front of the t-shirt, hem fabric that you are adding to the back before you sew the side seams (see hemming instructions below).  I decided to cut my shirt shorter so I hemmed the bottom of the shirt at the very end.
Hemming light weight fabric, especially chiffon, can be difficult so to make it easier,  I first sewed  along the bottom of the fabric about 1/4 inch from the edge.
Then, roll the fabric under 1/4 inch, pin and sew. Sew along the top edge of the fabric for a neat rolled-hem edge.  I usually iron the hem as I'm pinning it which makes the hem more even and sewing the hem a million times easier. Once you've finished hemming your shirt, you will then have yourself a stylish and fun addition to your wardrobe! That shirt that you never really liked to wear will now become your favorite!
I didn't like the turtle-neck on my shirt, so I took the extra step of cutting a new neckline as well.