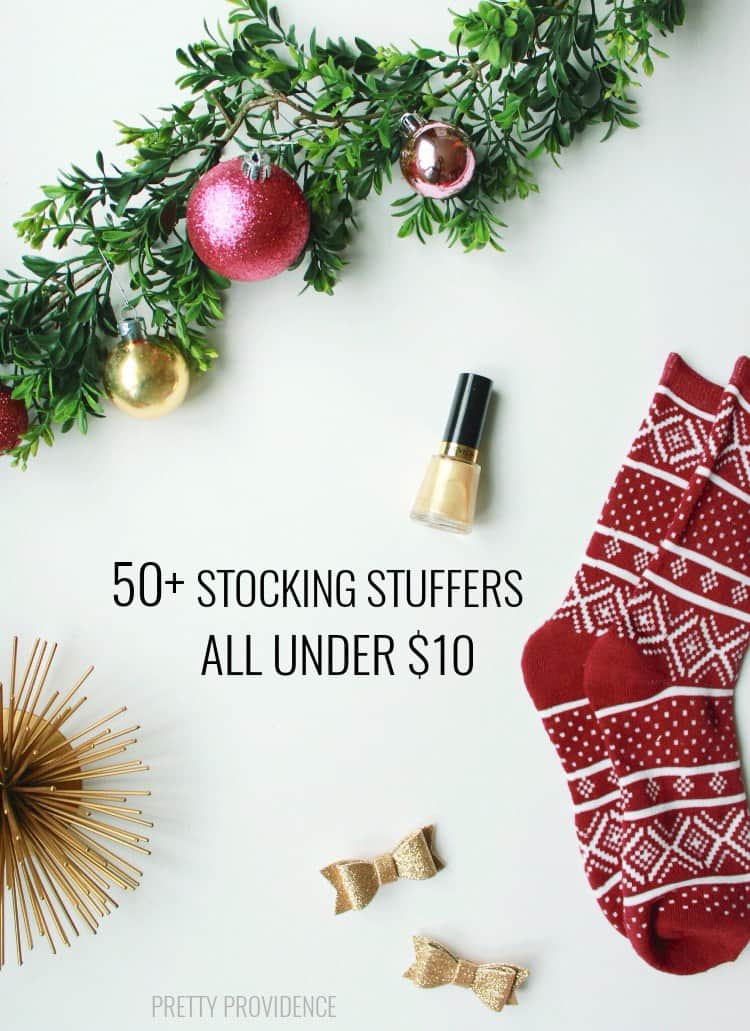 Hey friends! Are any of you Christmas shopping yet? I like to get most of mine done before Thanksgiving. It makes December so much less stressful and helps me really be able to enjoy the Christmas season when I'm not rushing around trying to do everything at once! Stockings are so fun to fill, but I always see people grabbing at the random things without giving it a second thought… and that gets expensive! So how about getting your people some stocking stuffers that they will like, that also won't break the bank!? I give you my list of cool stocking stuffers all under $10. 
A couple of disclaimers: I left food off of this list because candy and fruit, etc. are a no brainer. Also, you may also want to consult this post: How to Stuff a Stocking for under $20! 
FOR LADIES:
Nail Polish – $3.50
Best Top Coat EVER – $4
Pink Tape Measure – $4
Adult Pocket Coloring Book – $4
Bath & Body Works Hand Soap – $4-$7 each
EOS – $3
Mindy Kaling Book – $9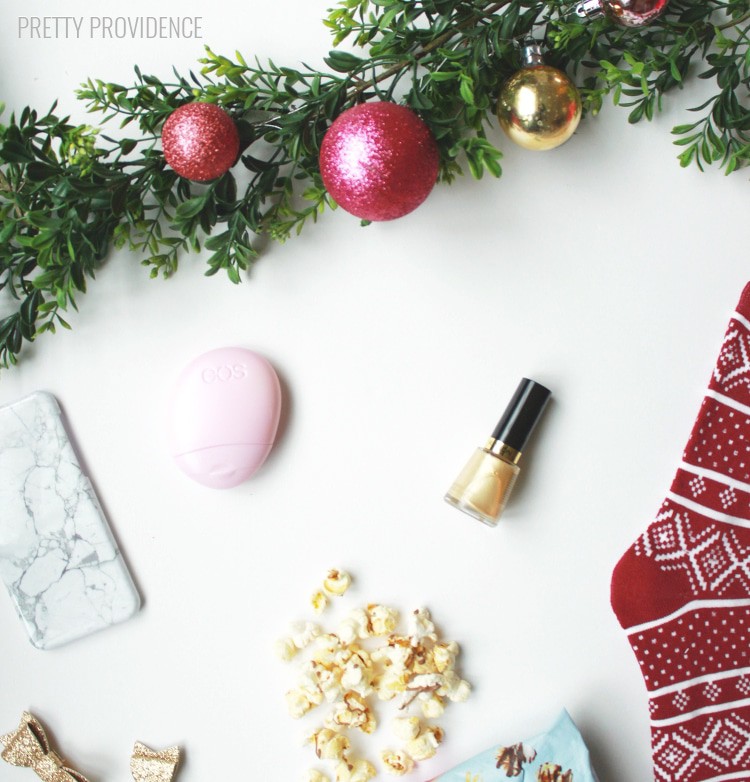 FOR KIDS:
Hot Wheels – $1
Crayons – $3
Uno or (Frozen Uno!) – $5
Coloring + Activity Book – $4.50
Washable Watercolor Set – $3.50
Sidewalk Chalk – $6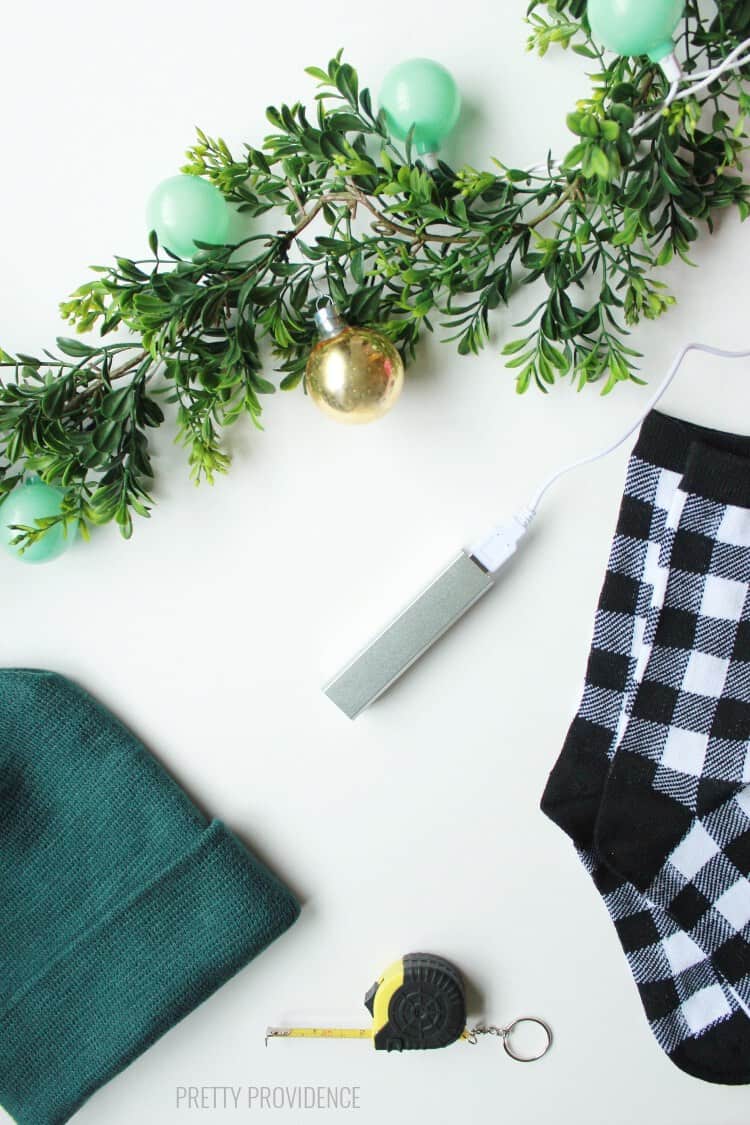 FOR GUYS:
Tape Measure Keychain – $3.50
Screwdriver Set – $2
Back Scratcher – $5
Leather Keychain $4.50
Wallet – $10
Phone Accessories:
Marbled iPhone Case – $10
Portable phone charger – $10
Double USB Car charging port – $10
Cozy accessories are always a fitting gift for Christmas and a lot of them fit perfectly inside a stocking! My mom always used to put a new pair of gloves in mine… and socks are one of the things I love to stuff stockings with the most. They add a fun element and you can find tons of fun holiday prints, it's fun to be festive. You can easily find them for less than $3 a pair!
WEARABLES:
Buffalo Check Socks – $1.50 – $3
Holiday Print Socks – $7.50 for a 3-pack
Beanie (Mens)  (Womens) – $5
Scarf – $10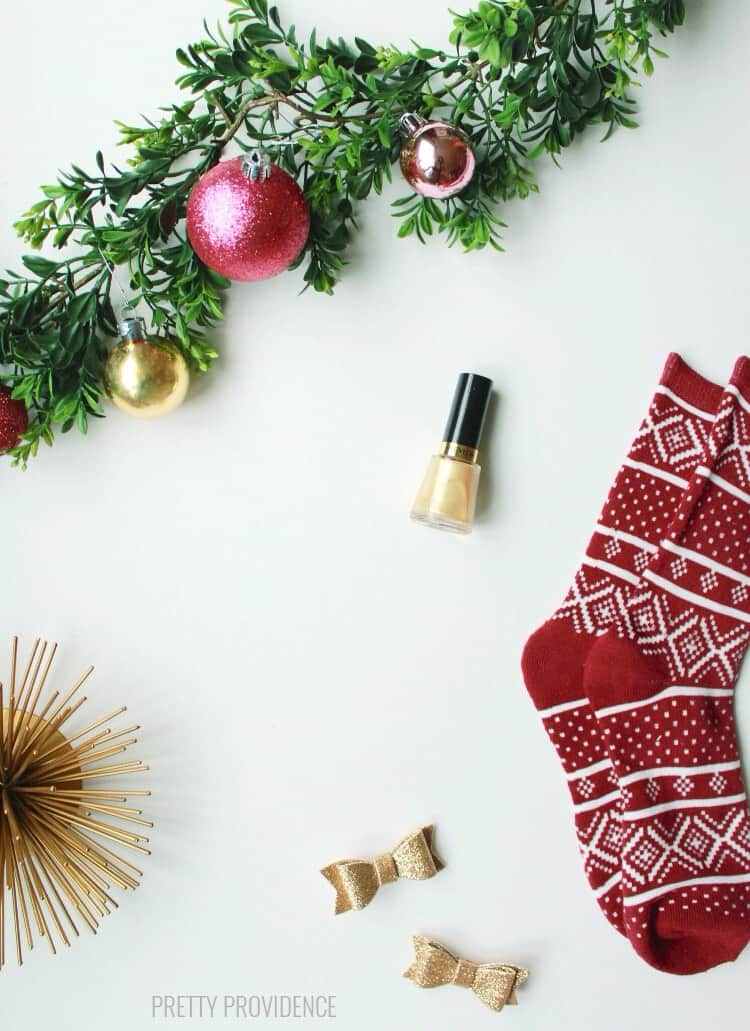 FOR THE HOME COOK:
Measuring Cups + Spoons Set – $6
Avo Saver – $6
Kitchen Scissors – $8
Cheese Slicer – $6
Toaster Tongs – $5
FOR THE CRAFTER:
Colored Pencils – $2.75
Chalk Marker – $2.75
Botanical Labels + Stickers – $9
Washi Tape Set – $5
Metallic Sharpies – $4
Pink Scissors – $7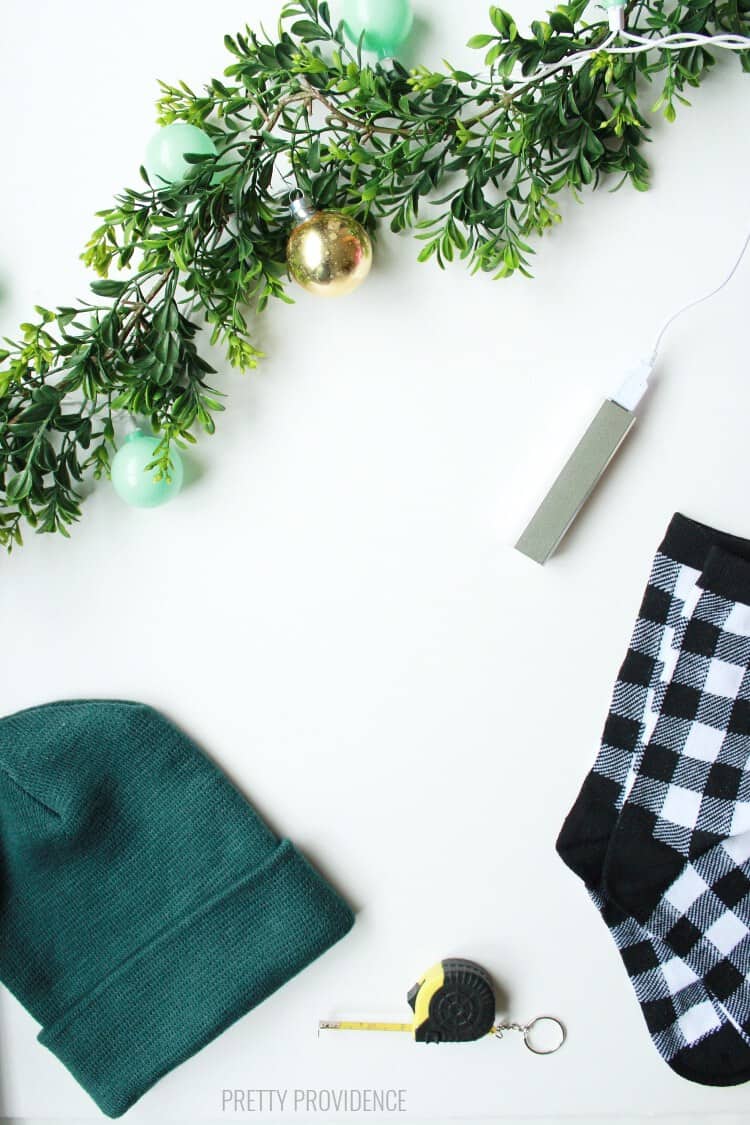 FOR THE MUSICIAN:
Guitar Picks – $4
Drum Sticks – $7.50
Harmonica – $6
Guitar Strings – $4
String Winder – $8
Tuner – $9
FOR THE SPORTS LOVER:
Baseball Cards – $7
Golf Balls – $6
Golf Tees – $5
Mini NFL Replica Football – $10
Sweat Band – $5
Baseball – $6