This post was written in partnership with Kimberly-Clark. All opinions, of course, are 100% mine.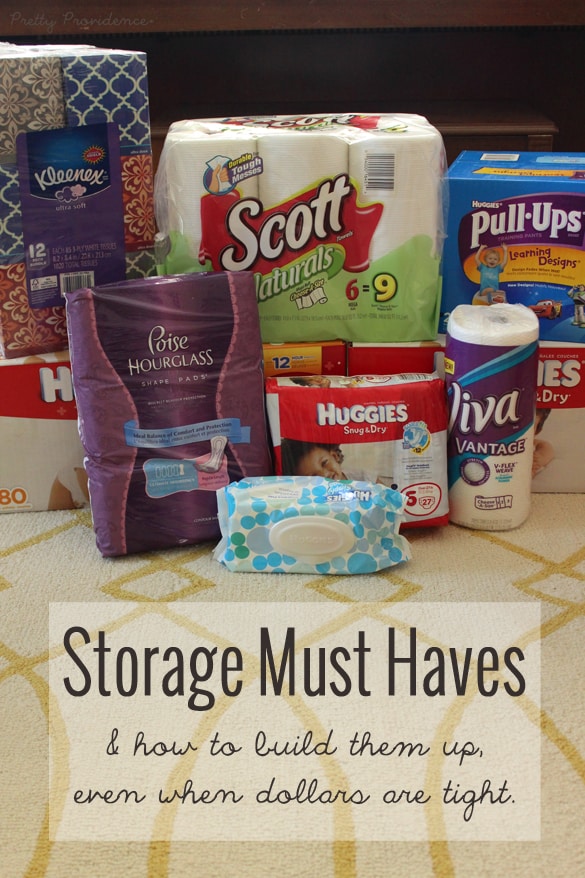 If you've been reading the blog for a long time then you know that my family and I are big into being prepared. The whole purpose of budgeting is saving for a rainy day, and then for the future. Well, we also believe in saving up food, emergency preparedness gear and other life essentials for said rainy day. Today we are talking about the "other life essentials" part. Let's be honest, life is seriously busy and it seems like dollars are always tight! I don't know about you, but for us, it seems like it was always the essential items that busted our budget wide open. We would be doing pretty well keeping to the budget, and then with one week left in the month we would run out of toilet paper, laundry detergent and baby wipes at the exact same time. Seriously, universe? Please tell me we are not the only ones this happens to! Anyway, Bryce and I finally decided that we were tired of this happening to us and sick of eating sandwiches every single night as a result, so we decided it was high time we built up a stockpile of all our essential items.
I was recently introduced to Kimberly Clark's new website www.pickupthevalues.com and it has been a huge help in saving time and money when trying to stockpile some of our most used items on a budget! They have high value coupons for quality brands that we love like Kleenex, Scott, Cottenelle and Huggies, and it is super easy to locate and print coupons, too.
If you are interested in starting your own emergency essentials storage, here is how I did it in a few easy steps!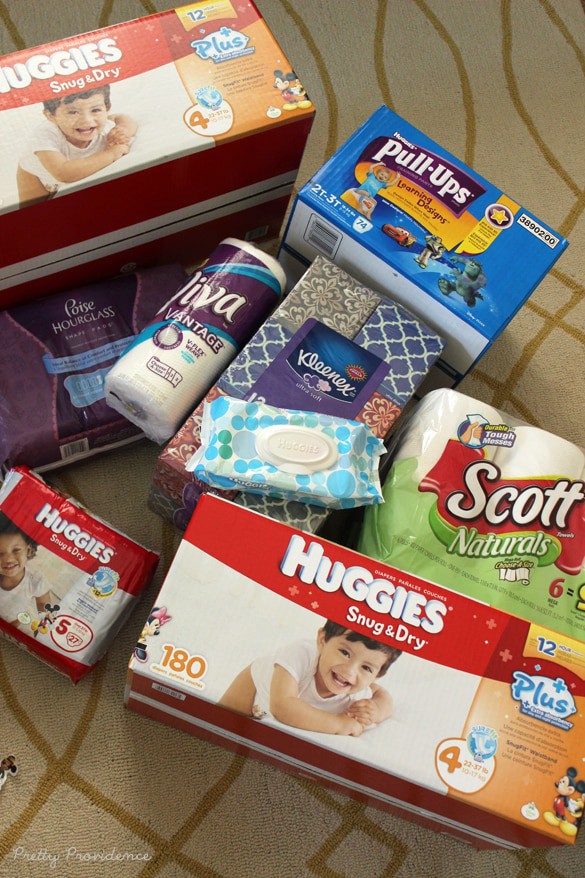 1. First things first you need to make a list of all the things you'd like to stock up on! This will be a little different for everyone depending on your stage of life, preferences, etc. but here are a few examples from our list: kleenex, toilet paper, paper towels, diapers (for Nora), pull-ups (for Luke), wipes, baby powder, feminine items, toothbrushes, toothpaste, floss, face wash, face lotion, contact solution, razors, shampoo, conditioner, soap, baby soap, cotton balls and cu-tips, laundry detergent, dishwasher detergent and medicines we use frequently.
Whew! Quite the list right? It's no wonder it can break the bank if you aren't careful. We originally wanted to have a year supply, but not only is that hard to build up, we realized we just don't have the space right now to store that much, so we aim to keep a six month supply stocked, you choose what is right for you!
2. After you have a list of the items you would like to stock up on, go down the list and figure out how much you would need of each item to last you a month. If you aren't sure, take a month to monitor how much of something you use and mark it down. Once you know how much you need to last you a month, it is easy to multiply by 3, 6, or 12 to figure out how many of each item you would need for a 3 month, 6 month, or 12 month storage supply.
3. There are a few different ways you can go about building your essential storage. You could take a bulk sum out of your savings and buy a six month supply right at the start, and then as you use an item add it to your groceries list so that you always have a 6 month supply stocked. Or, you could make a line item in your budget so that you have a little bit to spend each month on building your supply until you are ahead. What we did is we took inventory of what we had in our cupboards and closets, and then we gave ourselves a small $$ amount right then to supplement what we had. After that, we would add something from our list anytime we had a little extra wiggle room in the budget until we were completely stocked.
4. Take major advantage of sales and coupons! When you have essentials stocked up, it makes it so that you never have to ever pay full price for them, WAHOO! Keep an eye on your weekly ads and websites like pick up the values so that you can utilize coupons and stay ahead for less.
5. Now just relish in the how amazing it feels to be ahead of the diapers and the tissues and have one less thing you have to buy full price when you're low on dough!
I know it can be stressful starting out, but having storage built up is such a comforting feeling. Not only does it help you keep ahead of the budget and life's generally crazy schedule, but it can bring great peace of mind when confronting something daunting like a job loss or natural disaster. You won't regret putting in the work now, I promise!
Best of luck!
xo,

P.S. You can also follow Pick Up the Values on Facebook and Twitter, if you are interested in even more deals!
P.S.S. If you like this post you may also like how to start your food storage on a budget and DIY 72 hour kit with things you have on hand!