Before I begin, I am not a licensed CPA, nor do I claim to be a tax expert. I simply did my research on taxes for bloggers after I couldn't find anything written about it elsewhere and decided to share what I learned here. Any questions you have about tax prep that aren't answered in this post should be directed to your accountant. :) My sources can be found at the bottom of this post!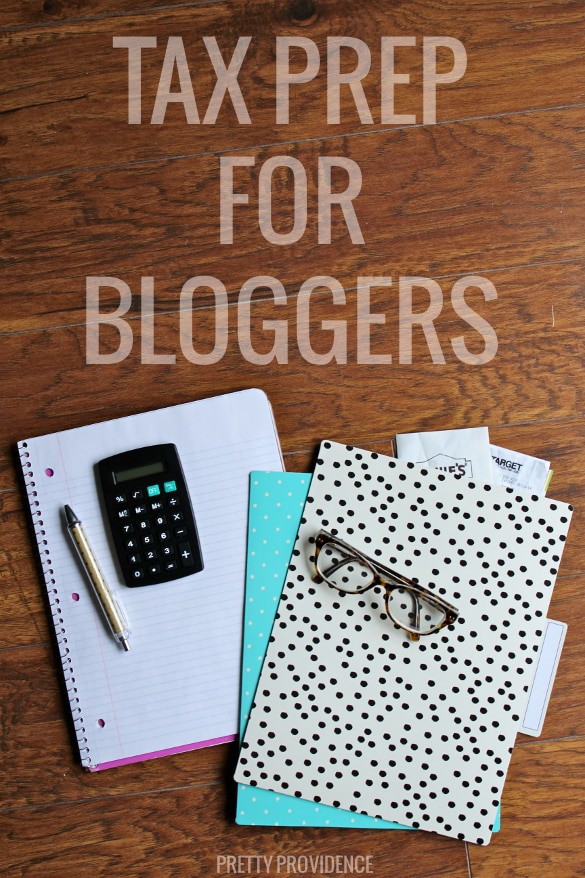 A few weeks ago I sat down to tackle the task of getting all my tax prep done so Jess and I could get our blog (small business/partnership) tax form done and therefore get a move on with personal taxes. The clock was ticking, but every time I tried to do this chore I kind of just sat there wondering where to start. I know I can't be the only one who was feeling this way. I started googling things like "tax prep for bloggers" or "how to do taxes for small business – blogging" you get the idea, but there was nothing. I found a lot on doing it for small businesses, but there are some big differences between the typical small business and blogging as a small business. So as I was figuring it all out for myself I decided to take some notes so that I could help out another blogger or two. There are four things that need to be done:
First, let's talk about whether or not you need to file taxes on what you make blogging. If you earn more than $400 net profit in a year, you need to file self-employment taxes. (That is, if you live in the U.S.) If you're not sure, take what you made from ads, affiliate programs, sponsored posts, etc. last year (I know – fun stuff to track down) and subtract any expenses. If the number you get is more than $33 a month or $400 total, congratulations! You are self-employed and you file taxes with a form called 'Schedule S.E.' After you complete that form you can file your personal taxes and report your self-employment taxes within them.
So if you are one of the lucky ones that will be filing taxes for blog income, you'll need to gather up a bunch of information. Maybe you're like me and you have a pile of receipts that need to be put into some kind of expense report…but no idea how. You may also have very little idea of what other deductions you qualify for. But we all want to get as many deductions as we legally can, right? (AMEN) So here is an explanation of the deductions that I found we qualify for as bloggers: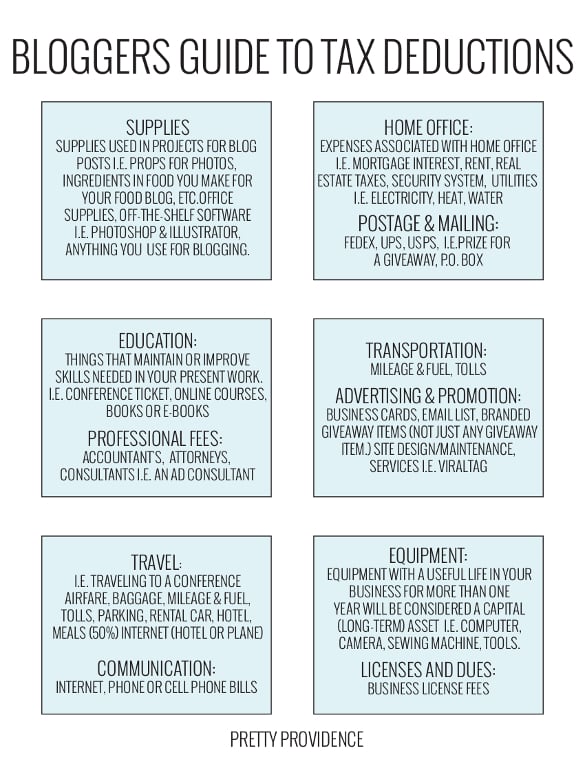 I went through the big giant list here and narrowed it down to the ones that apply to most bloggers and added some examples of typical blog expenses. Here is a printable version of that list if you want to print it off & use it as a checklist while you do your prep!
Some of these are full deductions, others are percentages. For instance, your home office deductions will be a percentage – you calculate that by finding the square feet of your home office area, and then divide that by the square footage of your entire house. Whatever that number is, is the percent you can deduct from your utilities, rent, property taxes, and so on. With phone or internet bills, you calculate the percentage of business use vs. personal use. I looked at my usage history in my verizon account for the past three months and figured out that I am using my phone's minutes, texting and data for exactly 50% work and 50% personal. (Jess and I text a lot.)
I know what some of you might be wondering… if you blog about fashion, are clothes a deduction? Unfortunately, no. Articles of clothing can only be written off if they are a uniform, like scrubs, coveralls, etc. basically anything you wouldn't want to wear for regular everyday use or on a fashion blog. However, if you blog about sewing, the fabric and other materials for sewing a new dress you blogged about are a write-off.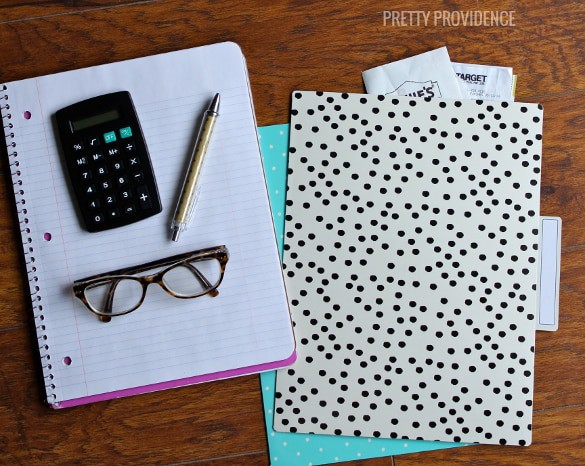 So now you know what things you can put into your expense report as deductions. The kicker is that you have to have receipts or proof of almost all expenses you want to write-off. If you lose the receipt, you lose the chance to get that money back when you file. But keeping track of receipts is a pain! This year Jess and I tried three ways of keeping track of our expenses. First, we were keeping a google doc and just writing them in. That wasn't so easy to read or add things up so we abandoned that after about a month. Then we tried excel spreadsheets and that wasn't particularly great or easy either. The result for me was this evil box full of receipts.
So we come to the task of organizing the information. I found multiple online programs where you can take a photo of a receipt and enter in an expense on the go, then you can export the data into a nice, neat, readable file. To name a few, there are taxreceipts, shoeboxed, expensify, and fresh books. I tried all of these throughout the last few months and expensify is my favorite because it's not just receipts. You can hook it to your bank account and enter those transactions in too, and there is a tool for adding mileage by putting in two addresses. It does it all. I spent about two full workdays entering in my whole year's worth of expenses and though tedious, it was easy. Now I have this gorgeous report and I can't believe I wasn't using it earlier. I'm in love I'm in love and I don't care who knows it! I've managed to stay on top of this year's stuff already with their mobile app so I won't have to spend two weeks suffering from anxiety and two days entering things next January.
Lastly, gather any forms you may have been sent by companies that paid you this year (for example: google Adsense, rewardStyle, Amazon Affiliates) which you will need for reporting your year's income.
If you don't plan to hire an accountant and want to do it yourself, you can just download Business TurboTax 2013 we are using it this year (used it last year too) and I'm not personally the one filing, but I hear it's really easy to use!
Okay, take five deep breaths. You can do this. Make sure you check out my sources below and if you have any questions about what I wrote, feel free to ask in the comments! I'd love to clarify anything I can.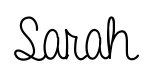 Sources: TaxReceipts.com Plain English Deduction Guide, Small Business Tax Guide at SeanOgle.com: Interview with Kyle Durand, Tax Attorney, Tax Accountant and owner of TaxReceipts.com (this YouTube video ROCKS) & Expensify. I am not affiliated or sponsored by any of these businesses, I just found them extremely helpful! 
If you like this post you will probably also like this review of my favorite budget software, and this list of 7 items I think are worth splurging on.