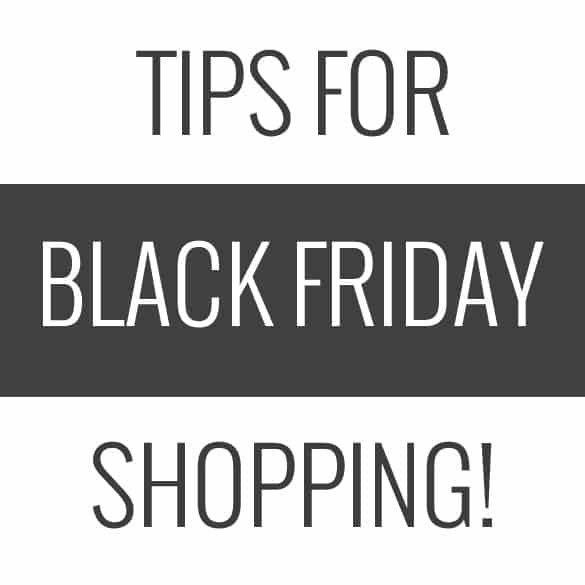 Although I really wish that they wouldn't start black Friday deals etc. until after Thanksgiving (so that everyone could enjoy their holiday) for someone on a tight budget it can be hard to pass up the opportunity of once-in-a-year type savings. Black Friday shopping has been totally polarizing for me in the past, it is either amazingly successful or an appalling waste of time. Here are a few things that will hopefully help you avoid the second type of experience.
1. Review your list of needed items. Whether or not you have an actual written list, you probably have a mental list of items you need, people to buy for, gift ideas etc. There is no way you will be able to find everything on your lists on black Friday, so you will want to focus on things that are typically expensive.
2. Check stores ads ahead of time to see if any sales match items you need. If there is a match for an expensive item on your list, that will probably become your priority. If not, see what few items will give you the best overall savings. For example, last year my husband really wanted a specific Nintendo game that had great savings, so that was my primary focus. This year, Luke has outgrown most his clothes and we still don't have what we need for Nora so my focus is much more general, clothes the kids need.
3. Pick a few (I try to keep it at 2) stores you are going to patron. I have found that if I try to go for too long I become useless. I wander aisles, forget what I need, become grumpy etc. There have been a few years where everyone present wished we had stopped one store early. Don't let it get to that point, leave yourself wanting more and reveling in your successes, not cursing yourself for going out in the first place.

4. If the items you want are gone, leave. In my experience, black Friday is not the time for browsing. There are tons of people, and among other inconvenient shopping complications, this makes lines super long. It really isn't worth saving a dollar on a trinket that you didn't even want in the first place…until you saw it, that is. Plus, at this point you are wasting time and productivity. Simply move to the next store.
5. Don't go alone. Divide and conquer. Chances are you won't be able to get everything you came for, but having a partner greatly improves your chances. Split the store and your lists into sections then meet up to check out. Also, sometimes it can be a lot faster to have one person pick up your selected items while another person waits in line.
6. Look into online options. In recent years the online options for black Friday have improved drastically. Of course, online only sites like Amazon will have great deals, but often regular stores like Walmart will have the same deals online as they do in-store with free shipping. If this applies to your wish listed items, you can black Friday shop from your couch at home with your jammies on and leftovers in your lap! However, be aware that online deals often still have a time frame attached with them. Sometimes retailers only have a limited number of a certain product for sale at the discounted rate, so the early bird still gets the worm. If you will be doing online shopping for black friday don't forget to sign up with Ebates, so you can earn cash back on those purchases!
7. Be kind to those around you. Yes, black Friday brings with it a crazy, hectic atmosphere. However, that does not give you free license to be rude and discourteous to those around you. While the noise and the people can be stressful, I always make an effort to be kind and patient with those around me. If you lose the spirit of Thanksgiving and sense of gratitude you felt earlier than no deal will be worth it.
So there you have it!
I think this year my two stores will be Walmart and The Children's Place Outlet if I can find someone to go with me. Hopefully people will be nice since I have a huge pregnant belly :). What are your favorite stores that have great deals?


If you love shopping and saving money as much as we do be sure to check out this awesome video of how to save money shopping Target's clearance!
If you enjoyed this post, you make like some of these other popular posts:
How to Vacation on a Budget
How to Decorate on a Tiny Budget 
How to Plan Now for Less Stressful, Happy Holidays!