Hello Pretty Providence readers! This is Shonee from
Hawthorne and Main
and I am super excited to be here with you today!!!
Next month my hubby and I will be celebrating our 10 year anniversary, say whaaaattt?? I can't be that old, right?! Since we have been married we have moved a lot. For the most part we have lived in teeny tiny apartments. Because of this we were not able to move all of our belongings with us. Luckily my parents have been gracious enough to keep it for us.
Last year we bought our first home.
Awesome right!
It was at that time that my parents decided it was time for us to finally take home all of our stuff that they had been storing for the past 10 years.
Wow did we have a lot of stuff!!
This year, for me, is all about getting organized and dejunking!! I hate clutter, but at the same time all of my stuff is oh so important!
I can't just get rid of it- ya know what I mean!!
So instead, I am finding ways to organize what I need and get rid of the rest. Hopefully I will regain control of my garage!
Today I am sharing this wrapping paper storage idea with you!

I got this basket at a thrift store a few months ago. When I got it, it was all natural colored.
Then I decided to do this to it….. What was I thinking?
White dipped, good…
Gold dip on top of white dip, bad…
Plus, the added black strip on top… really bad…
At least I can admit my crazy crafty mistakes, and even share a couple of them with you!!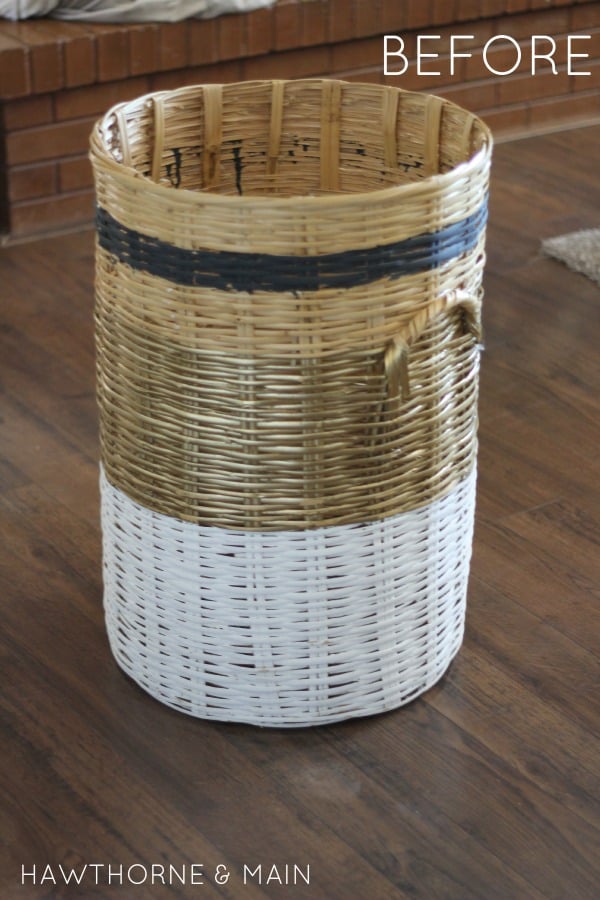 This basket has room hopped so many times since I got it. Mainly because of its large size but really because I painted it so ugly!!
My wrapping paper was a mess to say the least. Some parts were sitting in this laundry basket. Some of it was under my bed and the last part of it was shoved in a closet getting all sorts of wrinkled.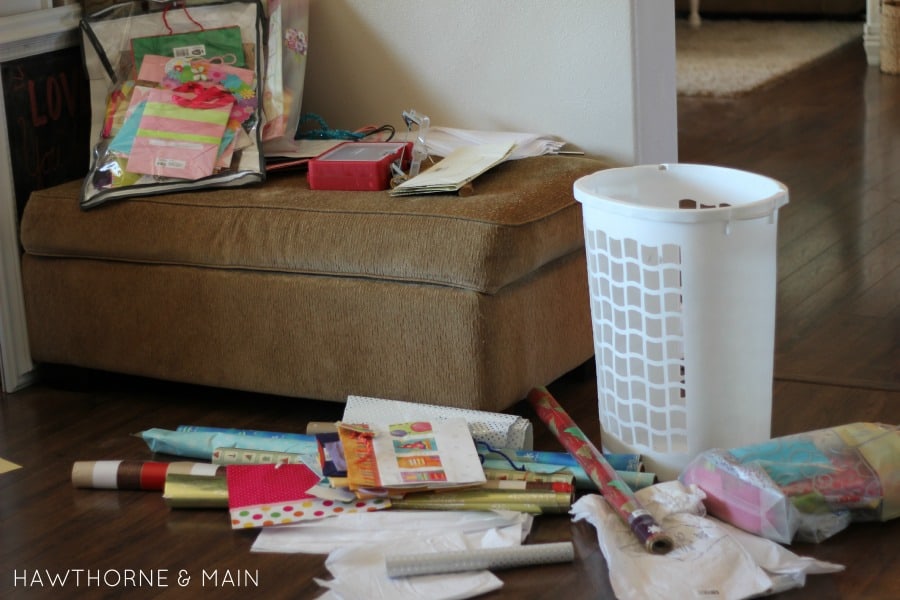 I was tired of running from room to room looking for that ribbon I just knew that I had bought last month but couldn't find. As I was pondering how to organize this chaotic gift wrapping mess, the ugly basket came to mind.
I finally reasoned with myself and realized that the white dipped, gold dipped, black strip wasn't happening.
I proceeded to spray paint the whole thing antique white. I now love this basket!!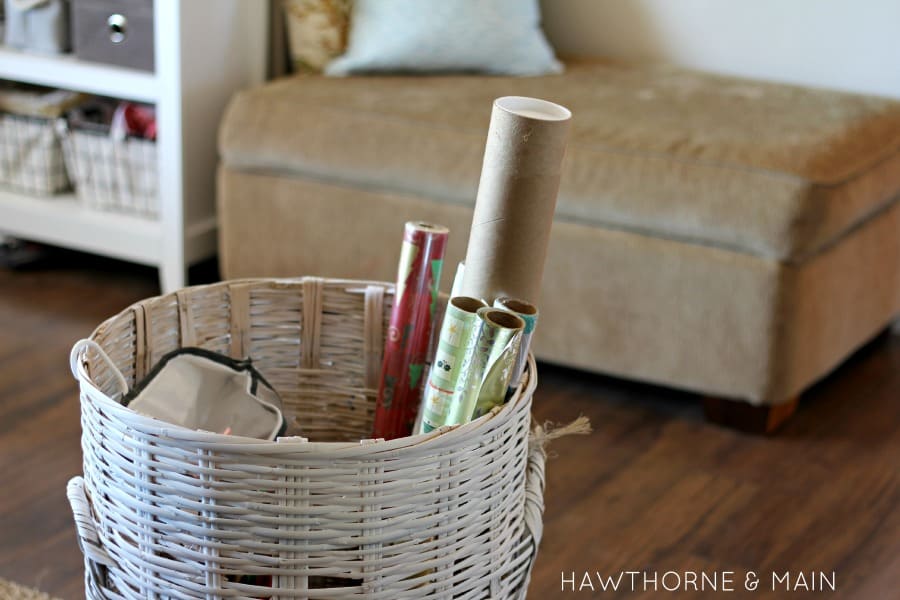 I added all of my wrapping paper into the basket. I also made a mini garment bag and use that to store all of my gift bags, tissue paper, and ribbon. This way I can pull out the entire bag and find what I need rather than running from room to room!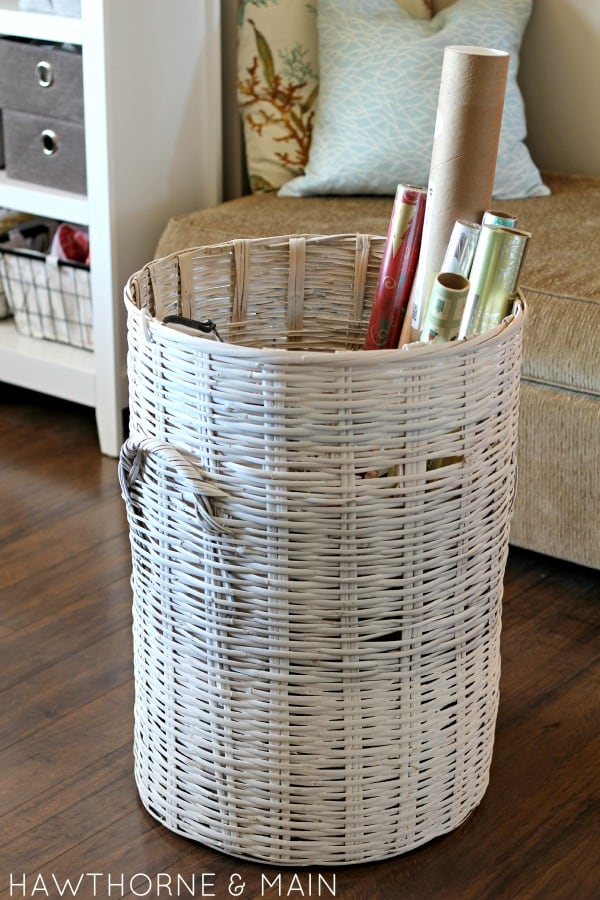 It is currently sitting next to our bookshelves. Not sure if it will be here forever but for now I am content.
How do you store your wrapping paper and gift giving supplies??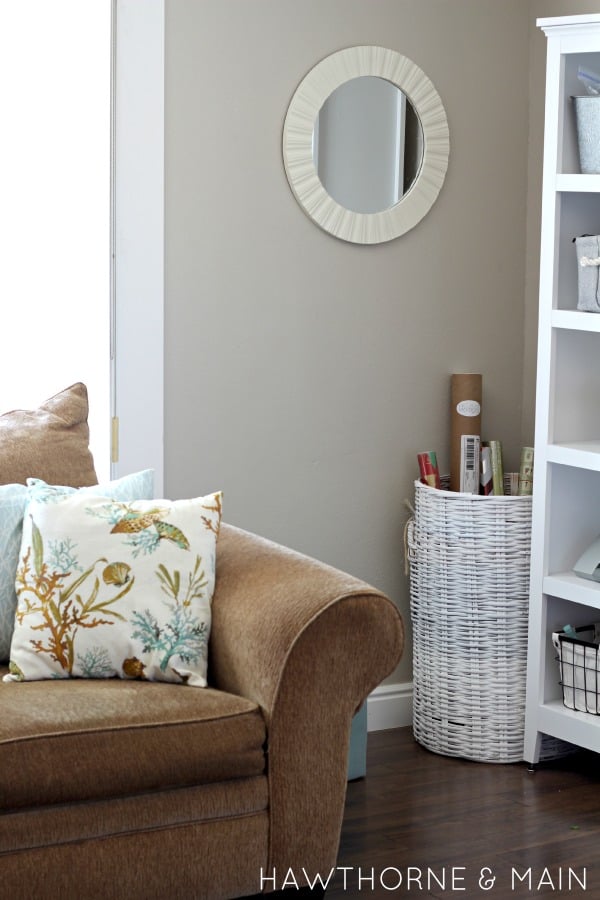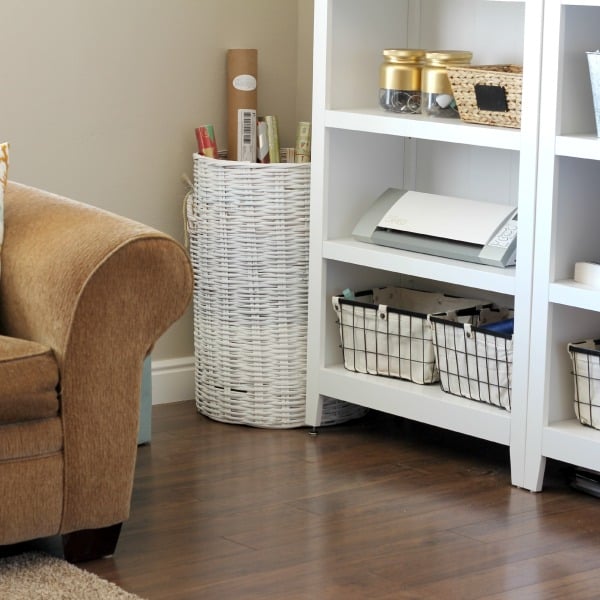 Check out what else has been going on at Hawthorne and Main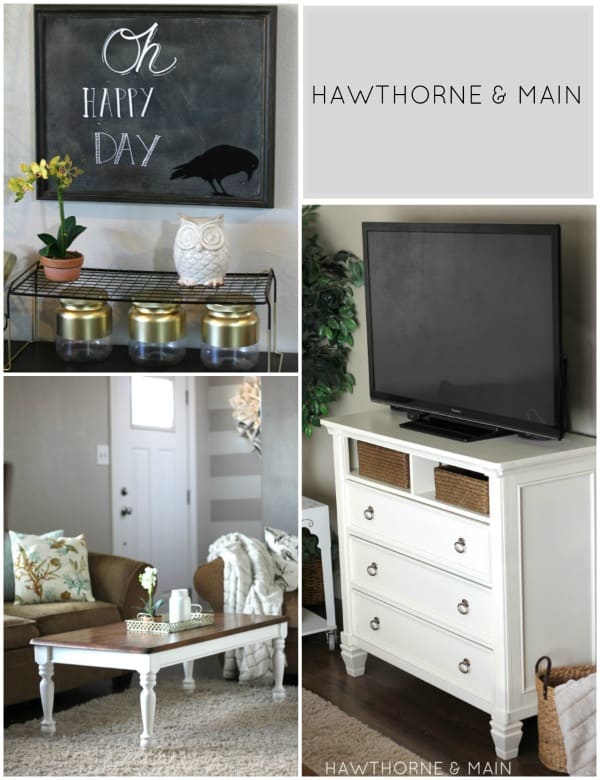 Connect with Shonee: