Y'all! There are few things I get more thrilled about than talking budgets and this topic has been too scarce on Pretty Providence lately. I'm sorry! When we first started the blog we focused a lot more on money stuff. Jessica even did a great budget series which you can check out if you're interested: step 1: make a financial plan that's right for you, step 2: basic budget workup and step 3: track your spending.
Anyway, we started to slack on budget-centric posts because honestly we weren't getting much feedback on them compared to recipes, DIY and crafts. After a while we figured we should focus more on what we thought people wanted to see. What we didn't realize until a few weeks ago, was that there are still a lot of you that do love this stuff, and we obviously love to fangirl about it so here we are. We've decided to do at least two budgety finance posts a month, maybe more.
So here's to getting real you guys. I'll just tell you my deepest, darkest secret now: I suck at tracking my spending. I'm ashamed to admit it, since I know very well that I should be, I just hadn't found the right system. My excuses piled up. Before the husband and I graduated we didn't have a hard time knowing where our money should go. It was simple: 10% to tithing, 10% to savings, pay the rent, utilities, phone, then anything leftover was for food & fuel. Sometimes we ran out, and our gracious mothers fed us big dinners and sent us home with all the leftovers. Now it's more complicated, we have mo' money and mo' problems! I fell off the spending wagon for a few months after purchasing the brick house, but I'm back on and so motivated. The only new years resolution I made this year is to track my spending better!
Enter my new best friend, and easiest budgeting software I've ever tried: YNAB aka You Need A Budget
I'm hooked. YNAB's software is simple, and if you're nervous like I was, they have tons of video tutorials and free online classes to help you get the hang of using it. Their budgeting method has four parts:
Give every dollar a job.
Save for a rainy day.
Roll with the punches.
Live on last month's income.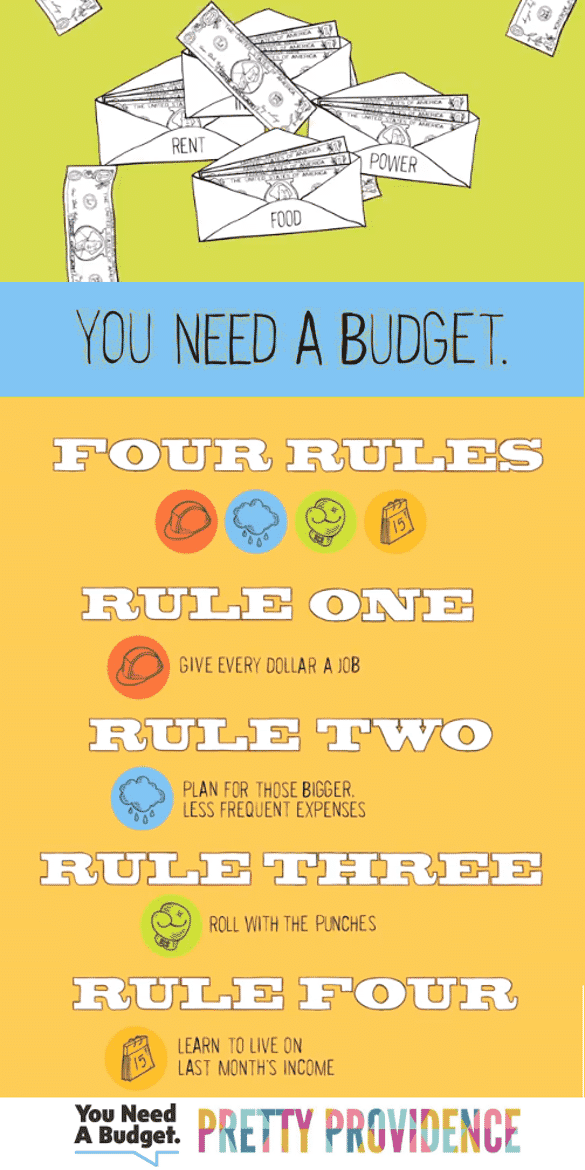 The last two are what set it apart from other methods! The software actually helps you "roll with the punches" meaning that when you overspend in one category (like is bound to happen at some point) you can easily go take that amount from another category and reconcile the budget. It also takes what you have leftover at the end of a month and rolls it over, and helps you achieve the goal of living on last month's income. I can't imagine how stress-free my life would be if I was a month ahead on my budget – and that's on top of having savings for a rainy day!
Here's an idea of what the budget looks like: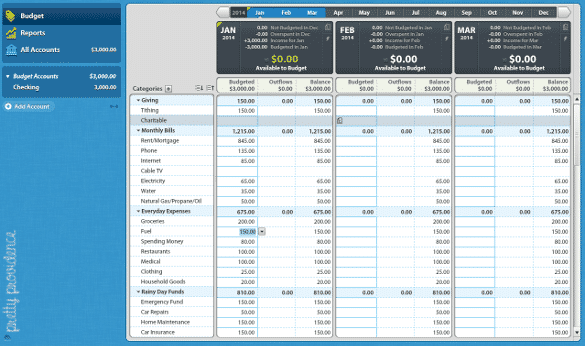 I'm totally loving it. My favorite part is their free iPhone app, it's the only reason I'm succeeding at my new year's resolution so far! I can track my spending by adding it to the app right away, and my husband has the app too – our account is cloud synced, so he can see our new balance after I've bought the groceries before he goes out for lunch.
Pretty sweet, right?
If you want to try YNAB too, they offer a 34-day free trial! Then you can buy it if you love it, which I think you will. If you go through this link you'll get $6 off!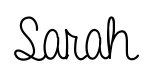 *I want to disclose that this post is NOT sponsored, but I did email YNAB telling them how many good things I had heard about their system, and they graciously offered me a free copy to try in exchange for this review. All the fangirling is 100% honestly mine.