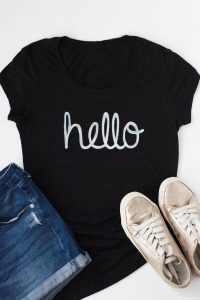 Print
Freezer Paper Stencil
How to make a freezer paper stencil and use it to paint a shirt! Make a custom t-shirt with just a few inexpensive household items.
Total Time
3
hours
40
minutes
freezer paper

fabric paint

foam paint brush

plain t-shirt

pencil

scissors

1

piece

of cardboard
How to Make a Freezer Paper Stencil
Put a piece of freezer paper to the same size as your printout and place your hello underneath it with the waxy side of the freezer paper facing down, touching the printed paper.

Trace your design. don't forget to trace the inside details of your letters too, you'll need those.

Cut your design out carefully. the way you cut the design out is the way it will look on your final product.
How to Paint a Shirt with a Freezer Paper Stencil
Place cardboard inside the shirt. This is to prevent the paint from seeping through to the back. Cut another piece of freezer paper and place that inside your shirt, on top of the cardboard with the waxy side facing UP.

Place your freezer paper stencil with the design cut out onto your shirt. You want the design you'll be painting to be exposed on your shirt. Do this with the waxy sides facing DOWN. Place them carefully where you want the design to be and iron it down.

The two waxy sides of freezer paper being ironed together well is what makes the stencil work. Make sure the edges are really stuck!

Make sure you have any small inside pieces of the stencil ironed down too - for example, the hole in the letter 'e.'

Using a sponge brush, apply paint onto the shirt over the freezer paper stencil. Be careful around the edges not to let the brush go under.

Paint one coat, wait twenty minutes and do a second coat.

Let fabric paint dry for a few hours or overnight. Remove stencil pieces carefully.
100% cotton t-shirts work best.
Put cardboard or foam board inside your shirt to prevent the paint from seeping through to the back.
Tape your shirt to a flat surface using masking tape or painter's tape so that it doesn't move while you are painting it.