This painted TV stand makeover was easy to do in just one weekend!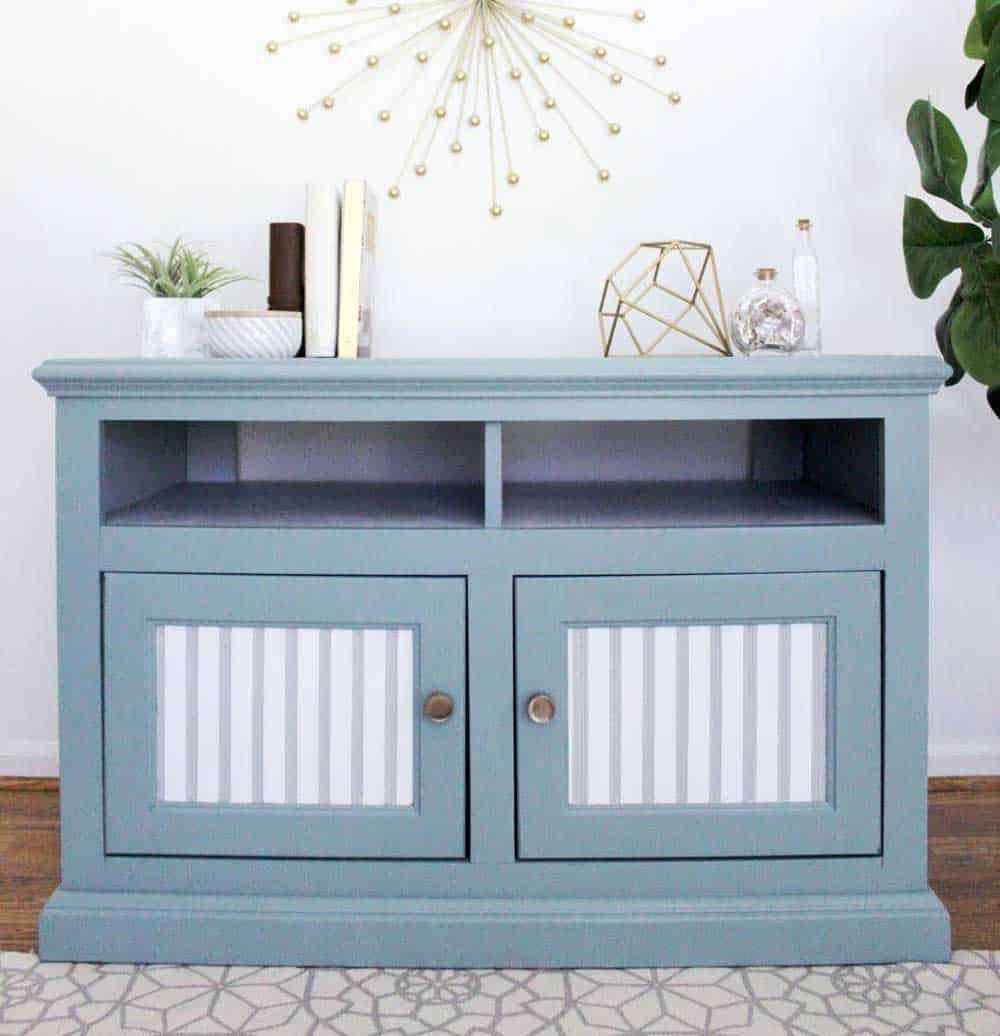 Hello friends! You may remember my post a couple weeks ago where I introduced the #BEHRBox challenge. I was challenged to use BEHR® paint and some other fun items to create an easy DIY project that could be completed in one weekend. I have needed a TV stand for quite some time, and decided this challenge would be the perfect excuse to get that project done! Plus, I haven't done any painted furniture in a while and I really needed to scratch that itch!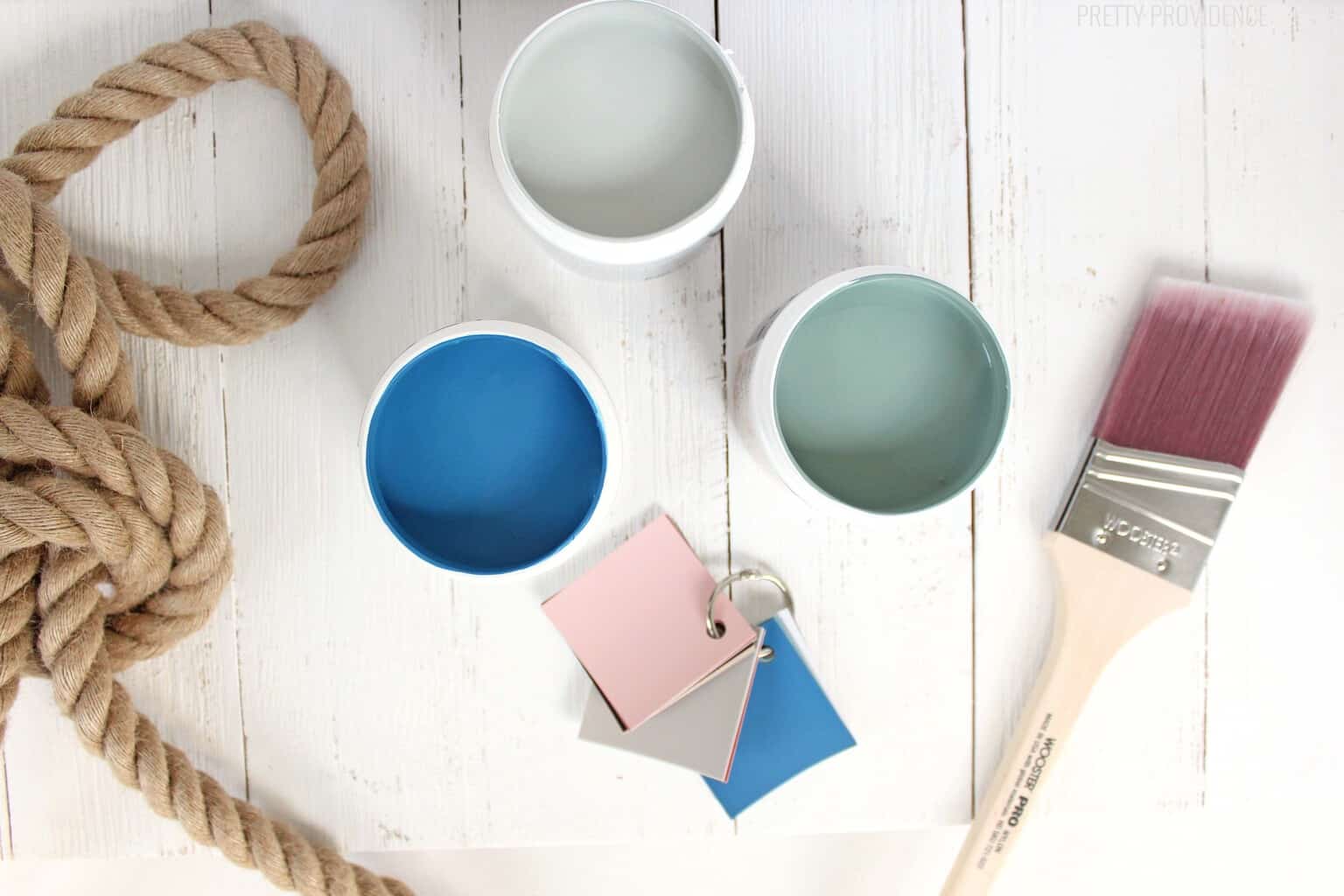 I went thrifting and scoured my local classifieds until I found the perfect project piece. I wanted it to be solid wood, with a modern or contemporary shape, and not be too beat up. After a few days of searching this black one came up on craigslist and it was love at first sight. It cost a cool $40 and was originally from a high end furniture store – totally solid wood. I messaged the seller right then and picked it up the next day. I owe a big thanks to my husband for carrying it down multiple flights of stairs at the apartment complex and loading it in and out of the car for me!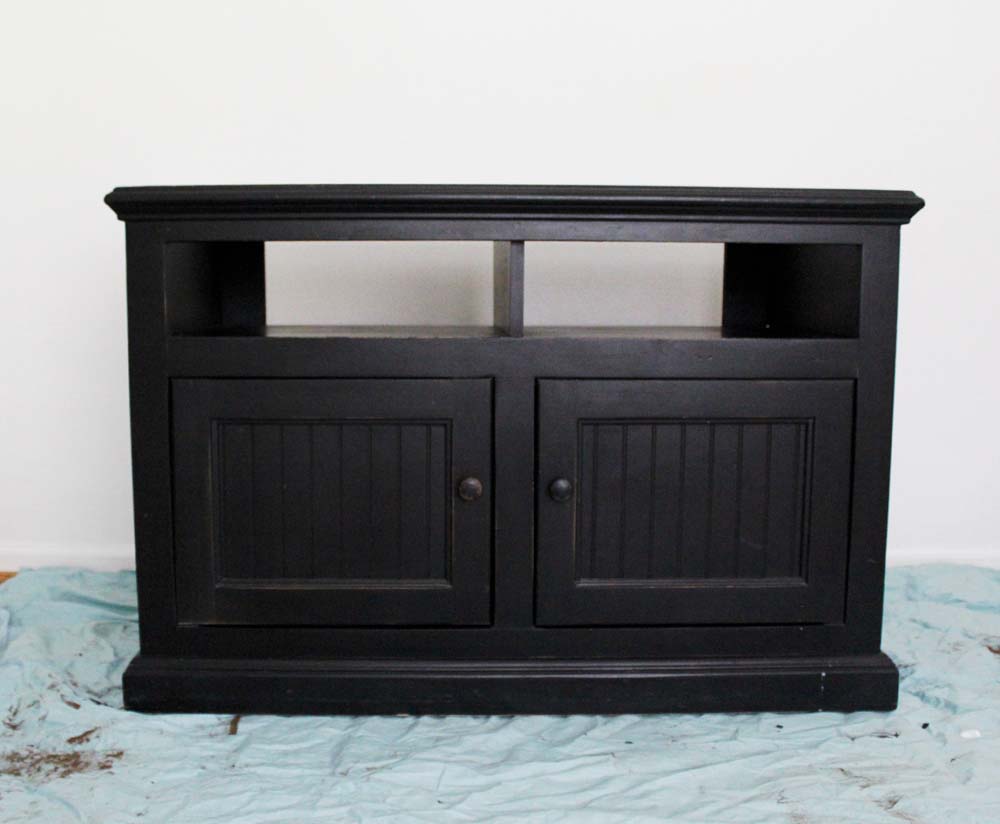 I sanded the top a tiny bit but otherwise all I had to do to prep this was to take the hardware off and the doors off. I used BEHR Marquee paint in 'In the Moment' (which is the 2018 color of the year.) In the can it looked more green but once painted it looks pretty blue! I think this is a very versatile color, and I love it.
I also decided to paint the inside of the shelves with a light gray called 'Quiet Time.' Then for a really fun pop, I added stripes on the doors. (The white I used is my favorite white – 'Polar Bear')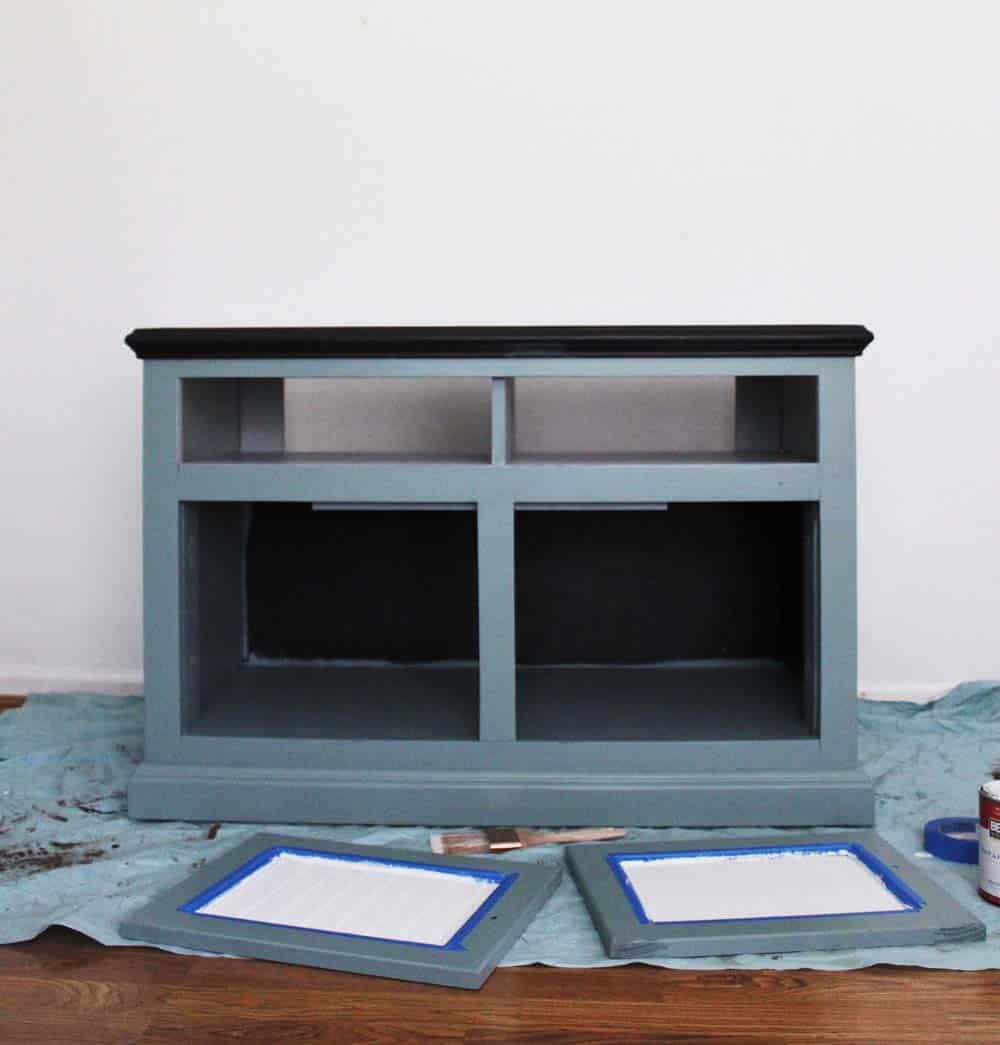 I have always loved stripes… and I feel like I've gotten pretty good at painting them! After I painted two coats of white to the doors and let it dry, I added the tape stripes, then gave it just one coat of gray.
My two best tips for painting stripes on furniture are:
Use great paint so you don't have to do too many coats
Use great painter's tape
Measure as you go, so that you can tape evenly! It's all in the PREP.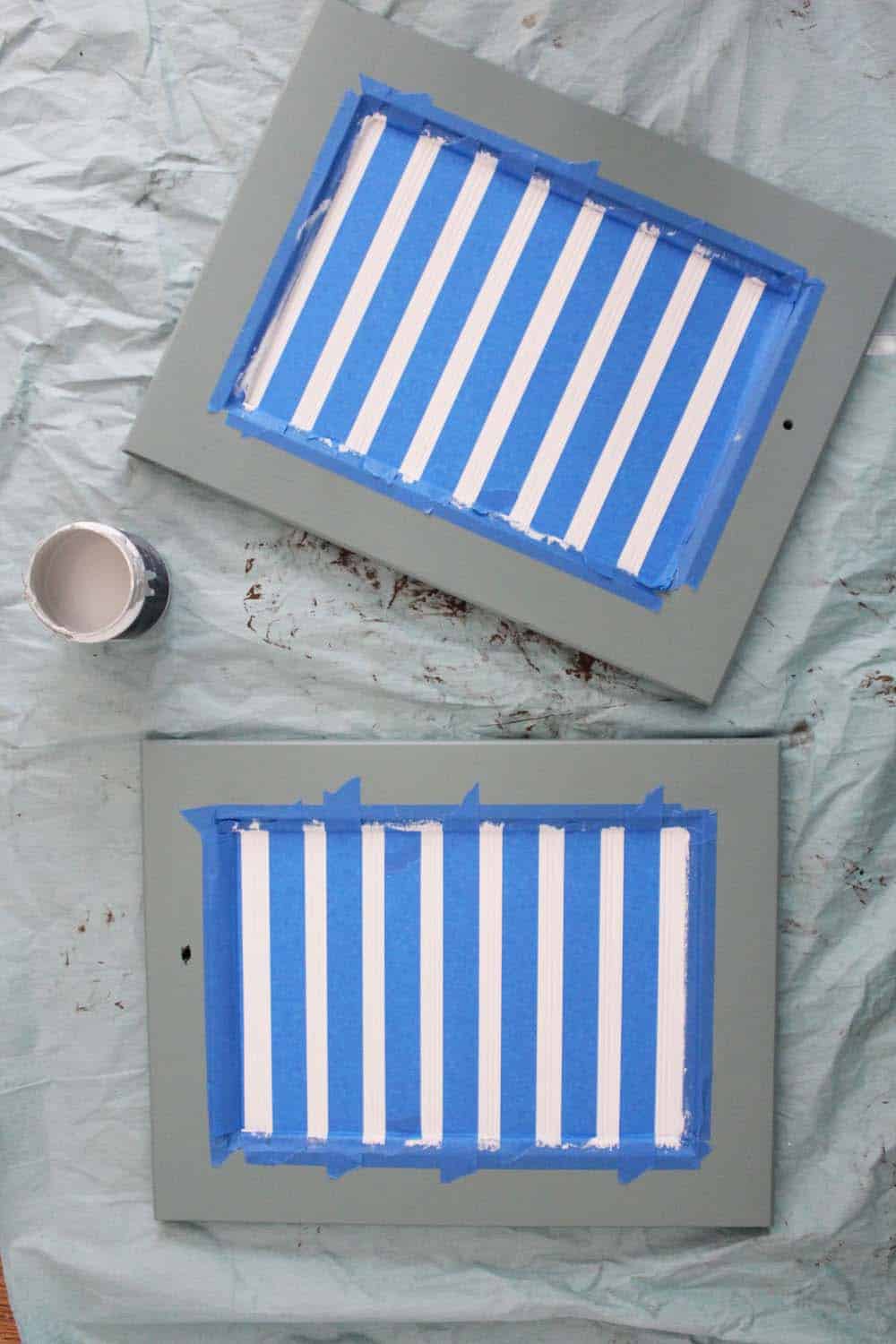 For the final detail – I added some beautiful, modern gold pulls from Liberty Hardware! I love these little guys. They really are the perfect finish for this project!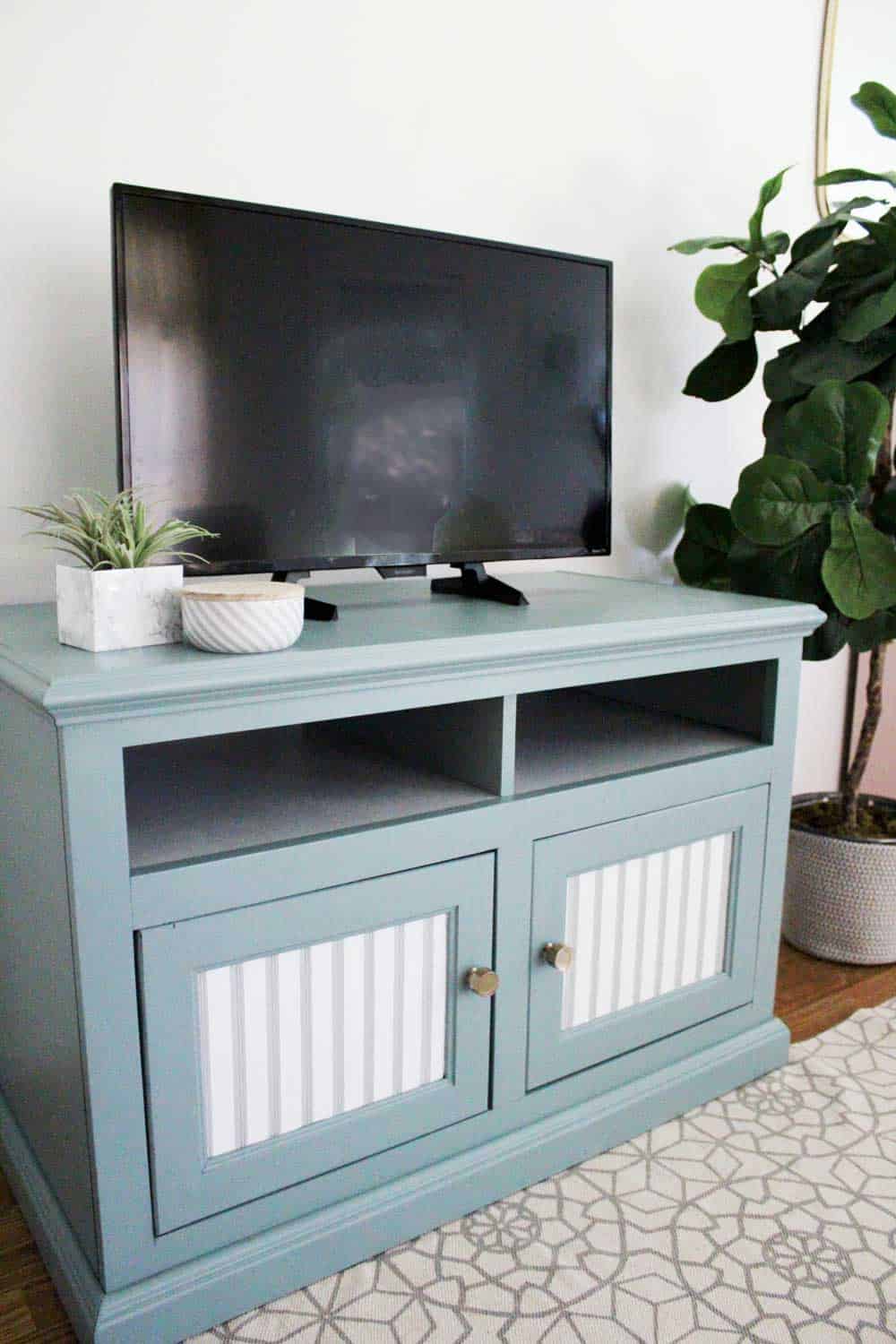 I'm really happy with how this TV stand turned out. It's not too bright but definitely adds a fun pop of color and playfulness to my home! Have you ever painted furniture with a pattern before? I haven't but I'm sure this will not be my last time!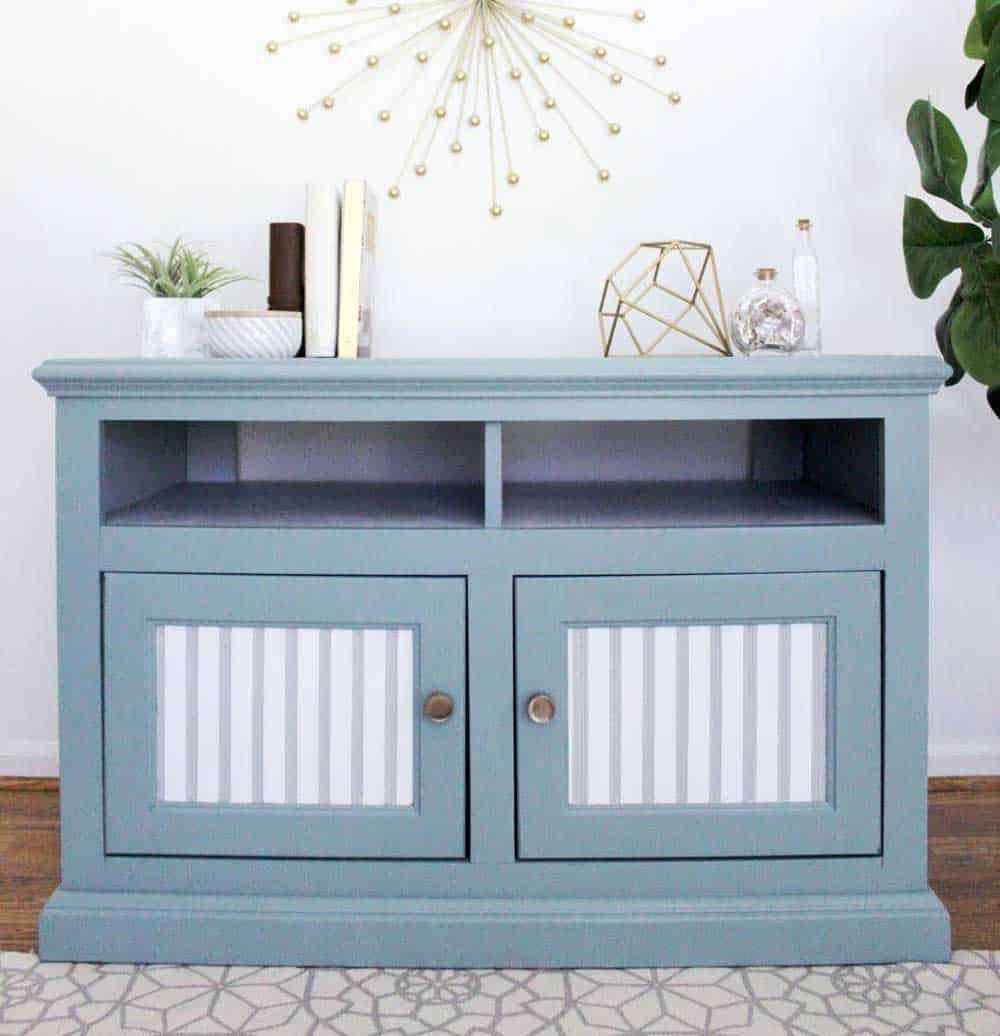 Like this? PIN IT!