With just three ingredients these Watermelon Slushes are not only easy to make but they're healthy too!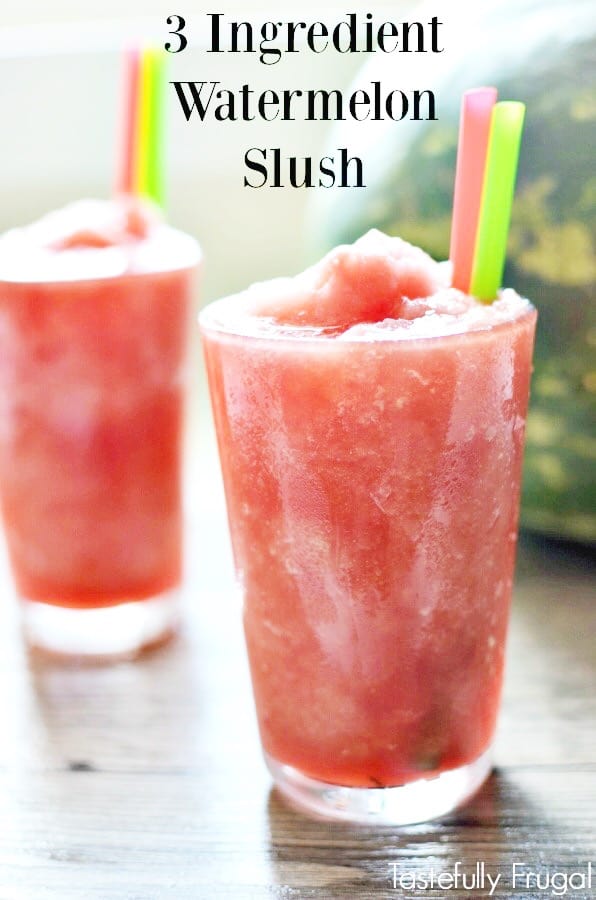 Watermelon is THE fruit of summer, don't you think?! Nothing says summer more than biting into a nice, juicy slice of watermelon. I don't know if it's because I'm 8 months pregnant or because it's so hot this year but I feel like I could eat a whole watermelon to myself in a day or two. My boys on the other hand need a little more variety in their diet. So last month when the temperatures were too hot to handle we spent some time in the kitchen coming up with fun ways to eat watermelon. Their favorite were the watermelon candy popsicles. Mine was this watermelon slush.
As you know by now I'm a huge fan of slushes. The only down fall to these cool drinks is the sugar content. I found out while doing research for our Copy Cat Sonic Slushes with Pop Rocks that the restaurant uses 5 pounds of sugar for every gallon of water. FIVE POUNDS! No wonder these dang love handles won't go away! This watermelon slush is just as tasty, if not tastier, and only has 1/2 cup sugar per batch; and each batch makes 3-5 servings depending on size. I feel a whole lot better letting my kids drink this version.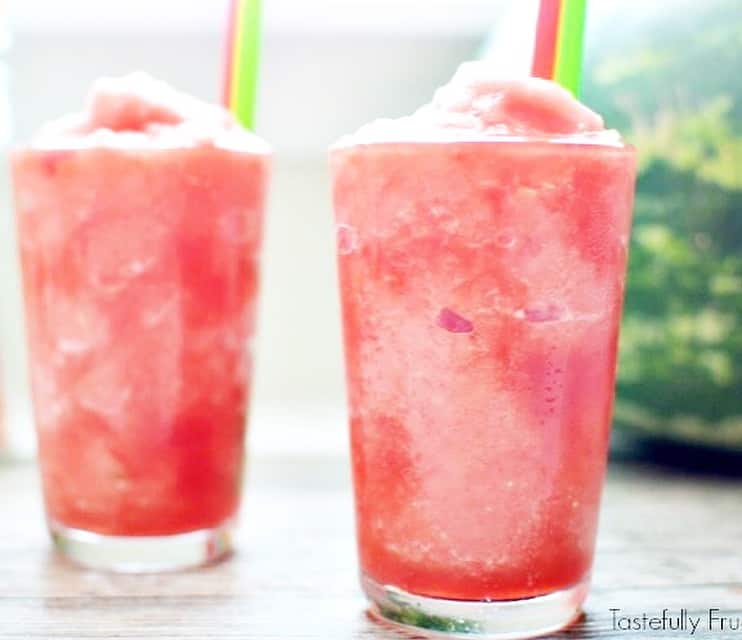 To make prep for these slushes easy I like to buy an extra watermelon when their on sale (or when they are $4.99 at Costco) and dice up the second one. I measure out the pieces into 5 cup portions and freeze them in ziploc bags. This way whenever the hankering for a slush comes on it only takes 2 minutes to make. And believe me, once you've tasted this sweet, cool refreshing drink you'll want to make more again and again!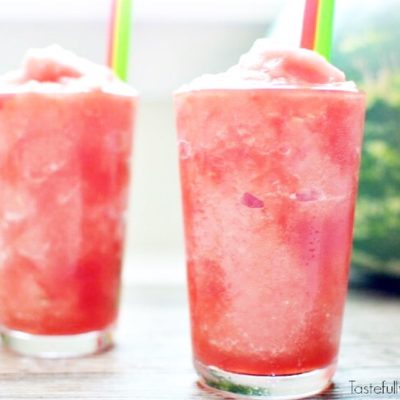 Watermelon Slush
Ingredients
5

cups

watermelon

diced and frozen

1

cup

cold water

1/2

cup

sugar

2

Tbsp

lemon juice
Instructions
Place all ingredients in a blender and blend until smooth.
Do you love watermelon as much as I do?! What's your favorite way to enjoy this summer classic?
Here are a few of my favorites: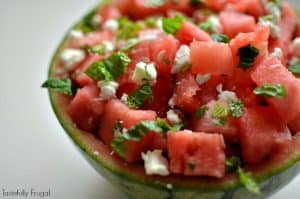 Watermelon Mint Feta Salad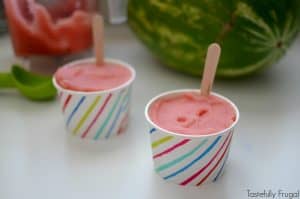 Watermelon Sorbet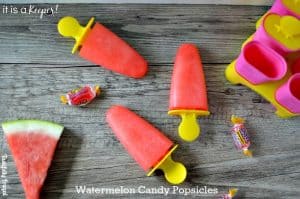 Watermelon Candy Popsicles