This post is sponsored by Cricut and contains affiliate links.
This DIY breakfast kit, with a customized Breakfast in Bed tray, carrying case and napkins will make special occasions a snap!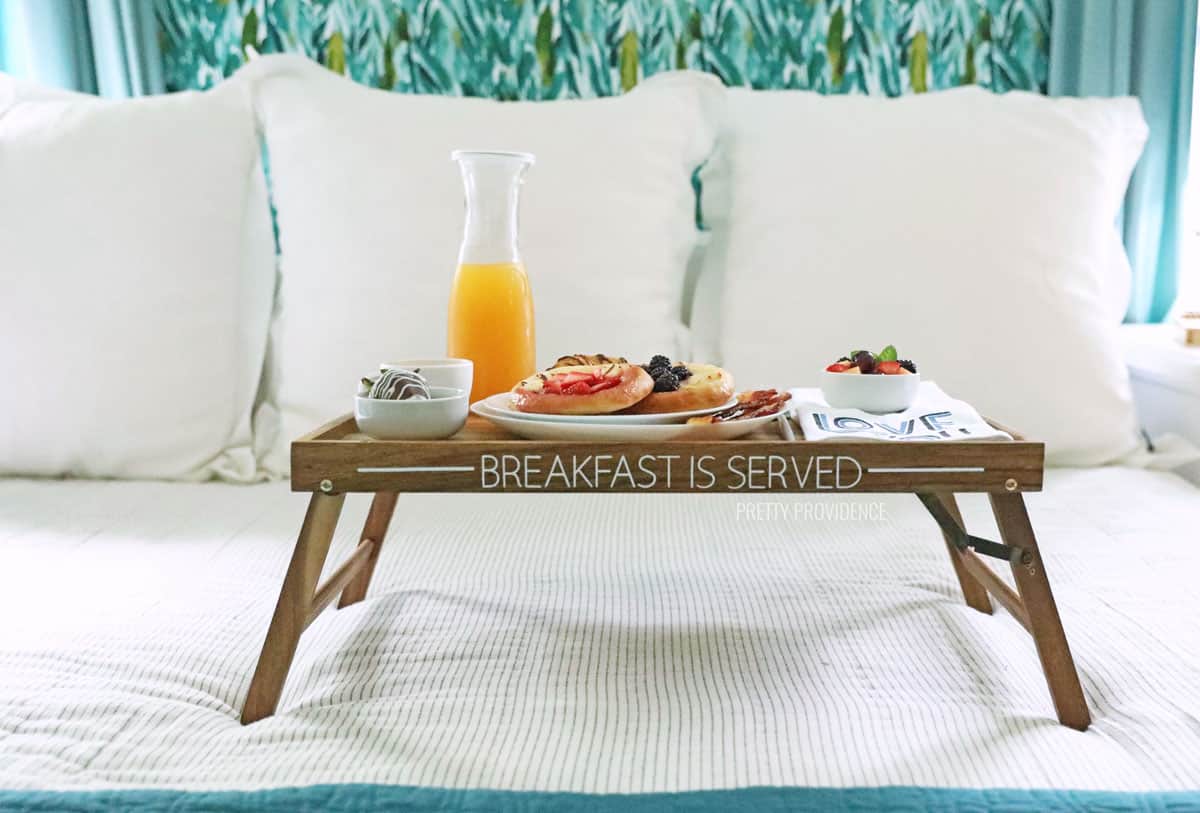 I don't know about you guys, but we have had very few opportunities for date nights this past year! My husband and I have come up with some at-home date ideas that we think are keepers, though. One thing we love to do sometimes is set aside some weekend time and have breakfast in bed!
I decided that it would be fun to have a 'Breakfast in Bed Kit.' I made a DIY carrying case to keep dishes all together in one spot, and with padding, so they won't get broken in storage. Of course, I wanted to personalize things and add some flare with my Cricut! I used my Cricut Joy to add vinyl to the breakfast-in-bed tray and used iron-on to create special napkins that we can use for different occasions.
We also do breakfast in bed for birthdays, Mother's Day, and Father's Day, along with those 'just because' breakfast dates thrown in for good measure.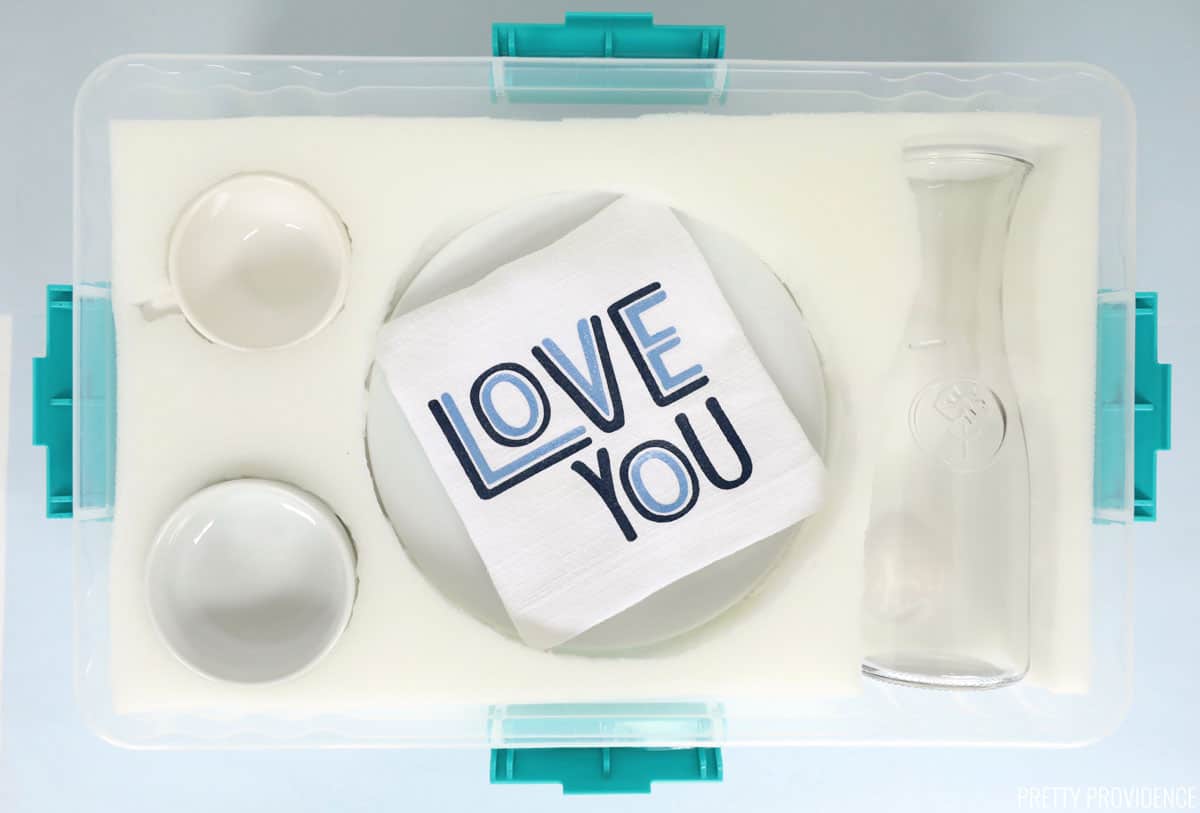 Speaking of breakfast in bed – we recommend these Overnight Waffles, The World's BEST Breakfast Casserole, or this Easy Homemade Strawberry Danish. You should check out our breakfast page for even more amazing recipes!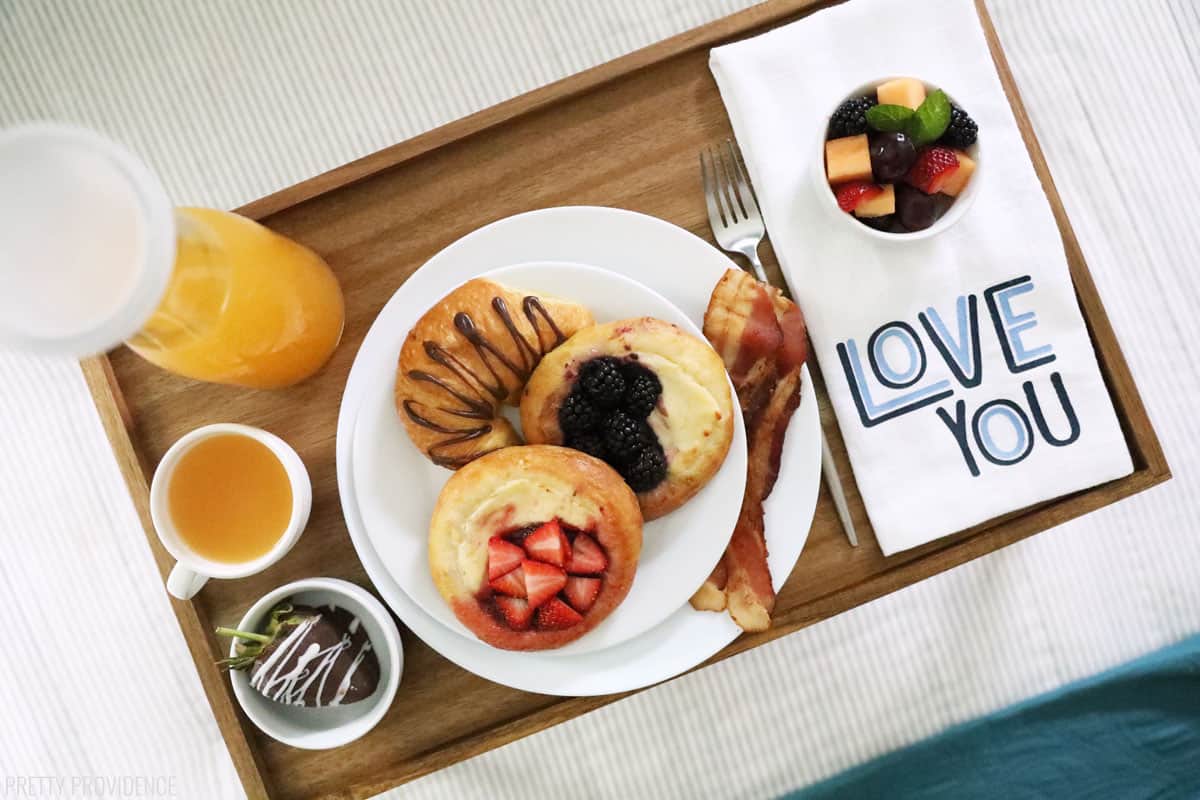 What's in the Breakfast in Bed Kit:
First, I'm going to share the tutorial for the tray and napkins, and at the bottom of this page you can find the tutorial for making the sweet carrying case that completes this kit!
Breakfast in Bed Tray
I got this bed tray with legs for under $20 and love it.
Cricut Materials:
How to Add a Vinyl Decal:
Create your design in Cricut Design Space and measure your tray. Decide how big to make your vinyl decal.
Follow prompts in Design Space to cut the vinyl.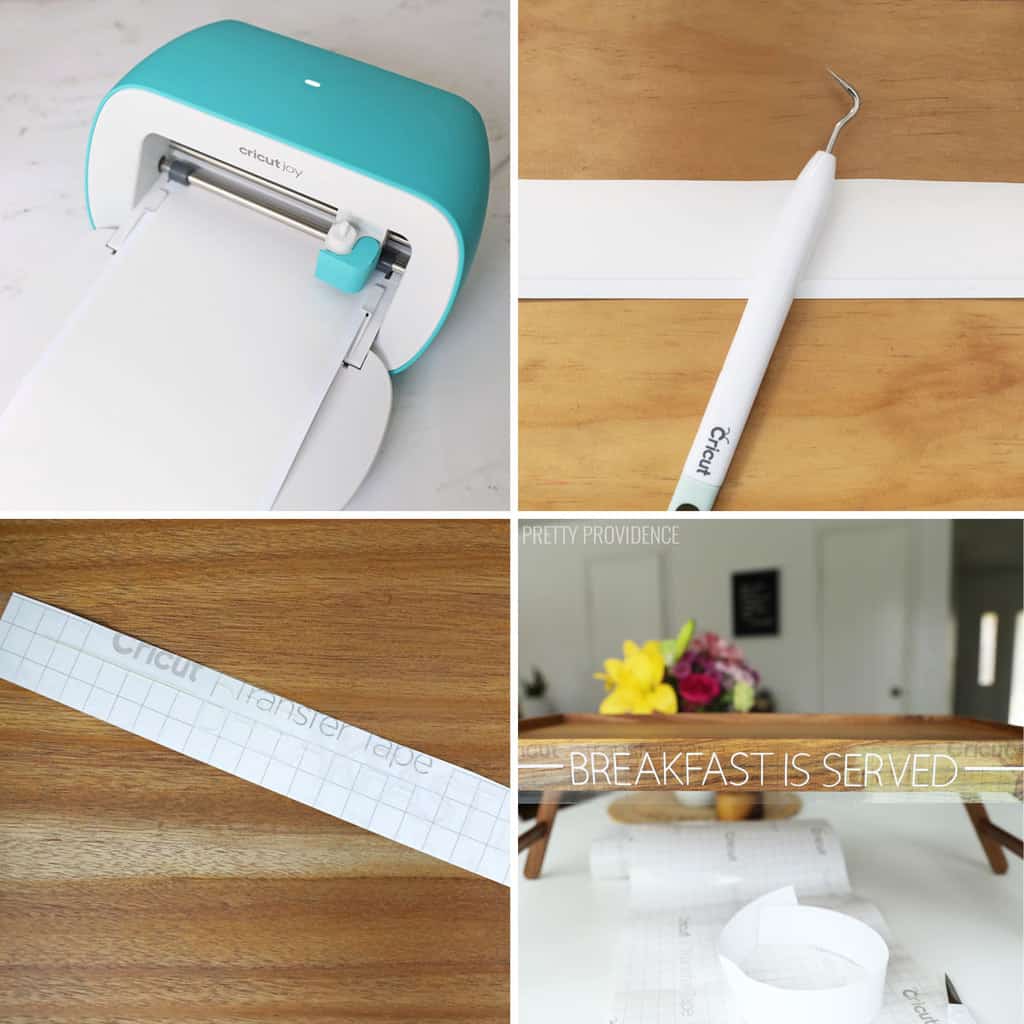 Top left: Load smart vinyl into Cricut Joy and cut.
Top right: Weed the extra vinyl from sides and inside of letters.
Bottom left: Press transfer tape onto vinyl and rub until the vinyl sticks well. Peel white backing away from the transfer tape and make sure that the letters stick to the tape.
Bottom right: Press transfer tape and vinyl onto the tray and rub it on.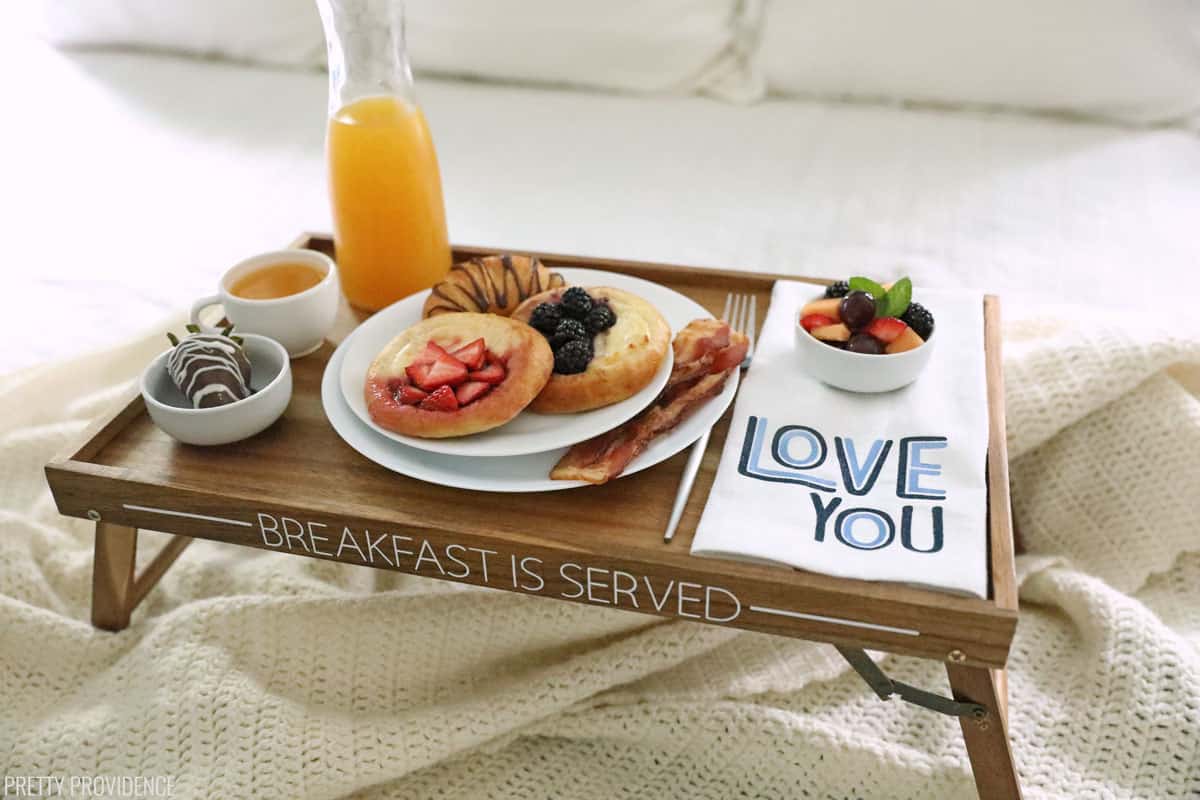 Ta-da! Isn't it so cute?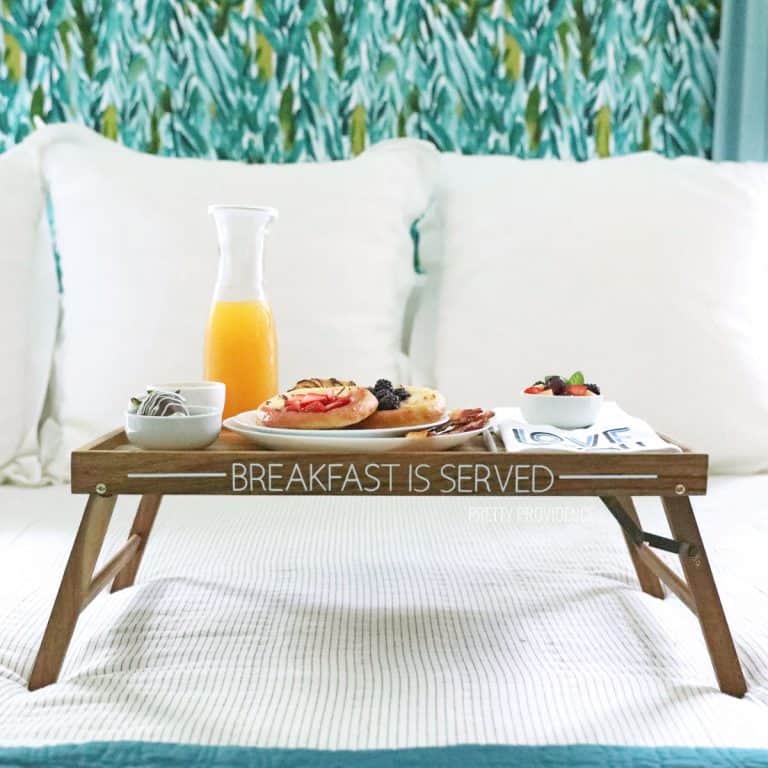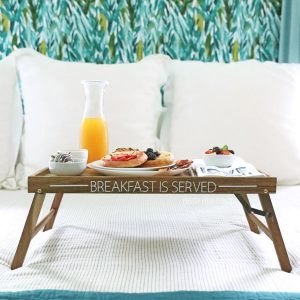 Personalized Breakfast in Bed Tray
Make a regular breakfast in bed tray a little fancier with permanent vinyl.
Print
Pin
Rate
Equipment
Cricut Joy, Air 2, or Maker

Weeding Tool
Materials
Breakfast Tray

Smart Vinyl
Instructions
Create or upload a design into Cricut Design Space. Measure the breakfast tray and decide how big you want the vinyl design to be.

Size the design accordingly in Design Space, and click 'Make it.' Load Smart Vinyl into Joy. Follow the prompts in Design Space to cut the design.

Weed excess vinyl from the design.

Use transfer tape to apply vinyl to breakfast in bed tray.

Enjoy your breakfast in bed tray!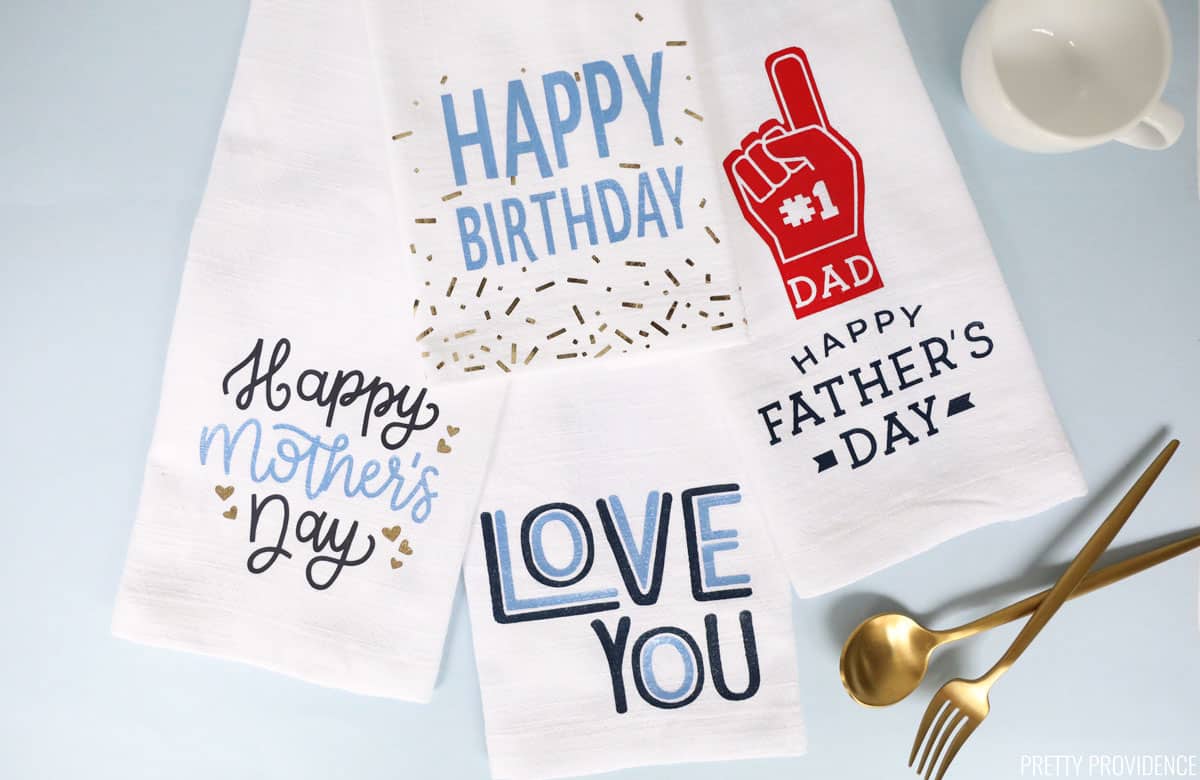 Cloth Napkins
Plain white cloth napkins are beautiful on their own, but I wanted to make ours festive for each special occasion we might use them for! My kids are always really, really excited about breakfast in bed, and I know they will love having these 'Happy Birthday' napkins to use on their special days.
How to make iron-on napkins:
Choose designs in Cricut Design Space, or create your own. For these, I searched 'love' 'mother's day' and so on within the Cricut Access gallery and found all of these pre-made designs to use.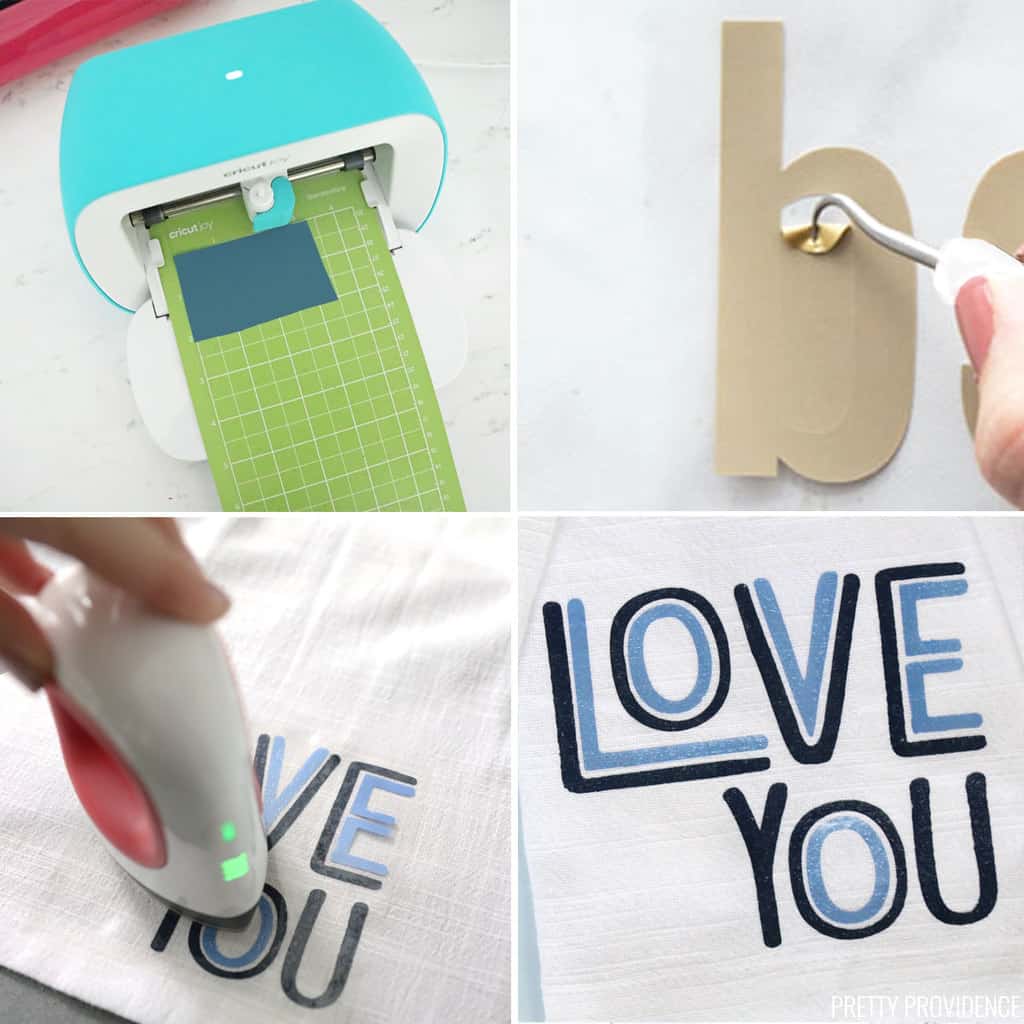 Top left: Cut iron-on designs with the Cricut Joy.
Top right: Weed excess iron-on away from sides and in between letters.
Bottom left: Use an EasyPress Mini or iron to apply iron-on, one layer at a time.
Bottom right: Peel away while the iron-on sheet is warm.
Here are the full printable instructions for custom napkins: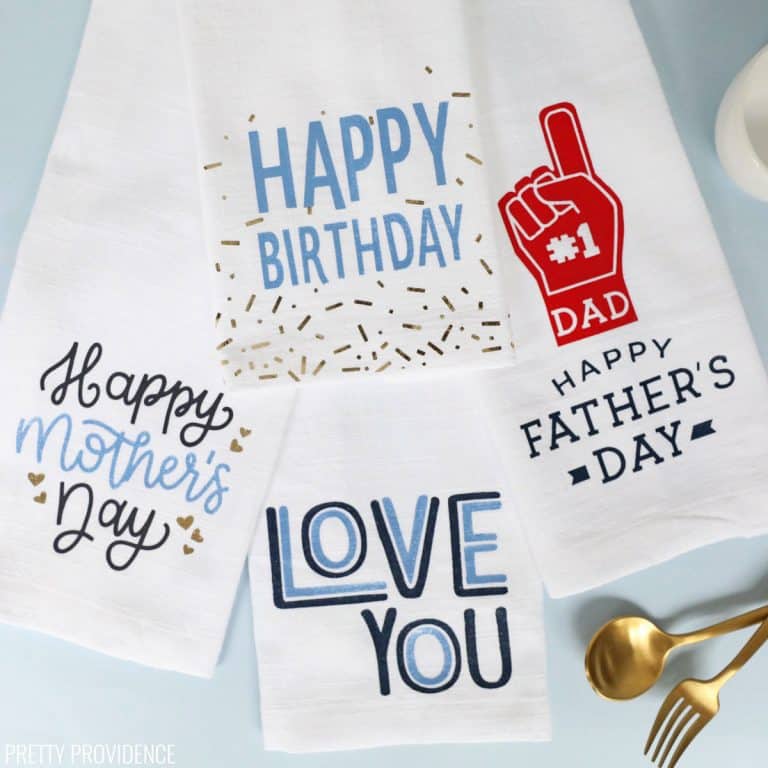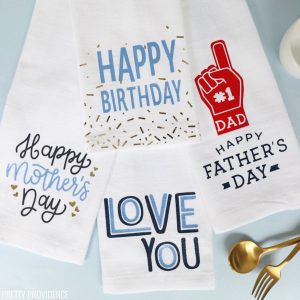 DIY Iron-On Cloth Napkins
Make festive cloth napkins with iron-on vinyl and use them for special occasions like birthdays, Mother's Day, Valentine's Day, or just because!
Print
Pin
Rate
Equipment
Cricut Joy

Cricut Joy Mat

Weeding Tool

EasyPress Mini
Materials
Everyday Iron-On

various colors

Cloth Napkins
Instructions
Create or upload napkin designs in Cricut Design Space. Make sure they are sized correctly for your napkins. Select 'make it.'

Make sure the design is mirrored for iron-on, and put iron-on onto a green cricut Joy mat.

Follow steps in Design Space to cut iron-on and repeat the process for each color of iron-on you're cutting.

When cutting is done, weed extra iron-on from the sides of design and in between letters.

Use an Easypress Mini or iron to apply the iron-on to napkins.

Repeat heat application for each color you are layering. Use a heat protective sheet if you have one to reduce the risk of messing up layers.

Enjoy using your custom fancy napkins for special occasions!
DIY Carrying Case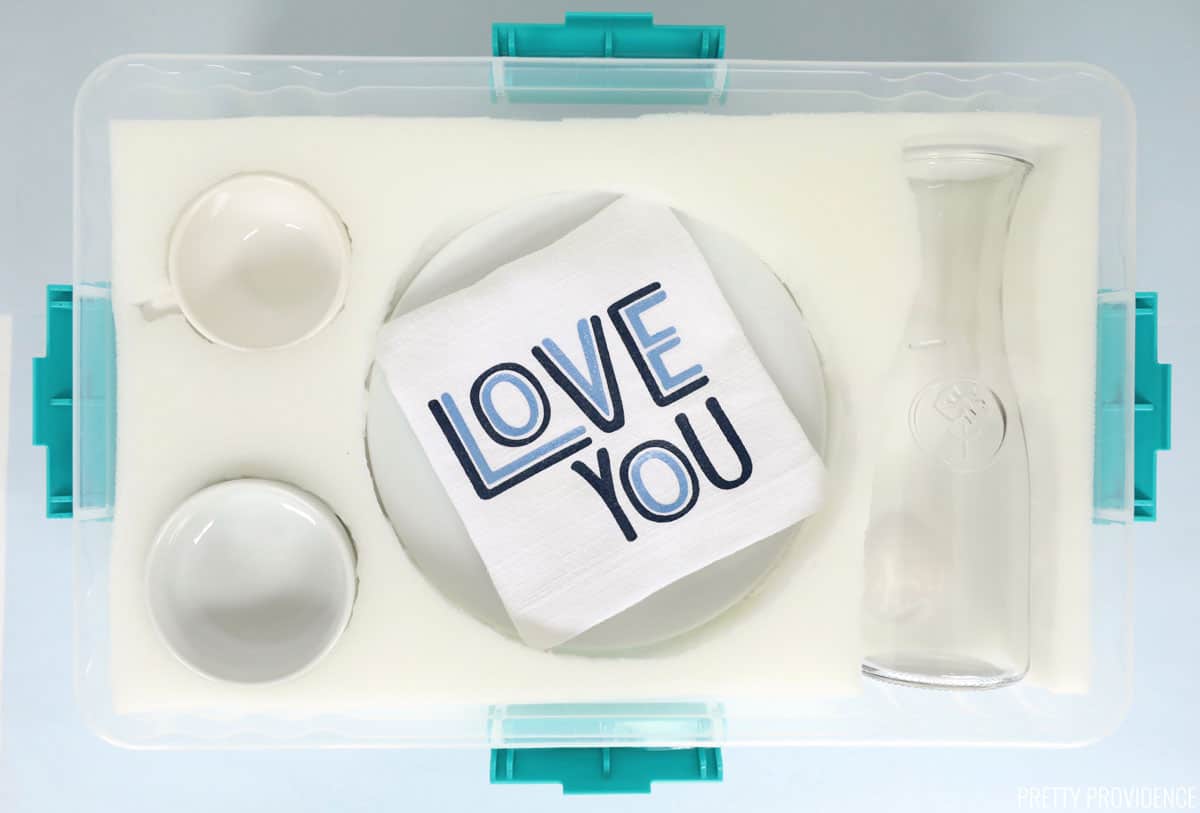 Materials:
Breakfast dishes
Measuring Tape
Pen
Instructions: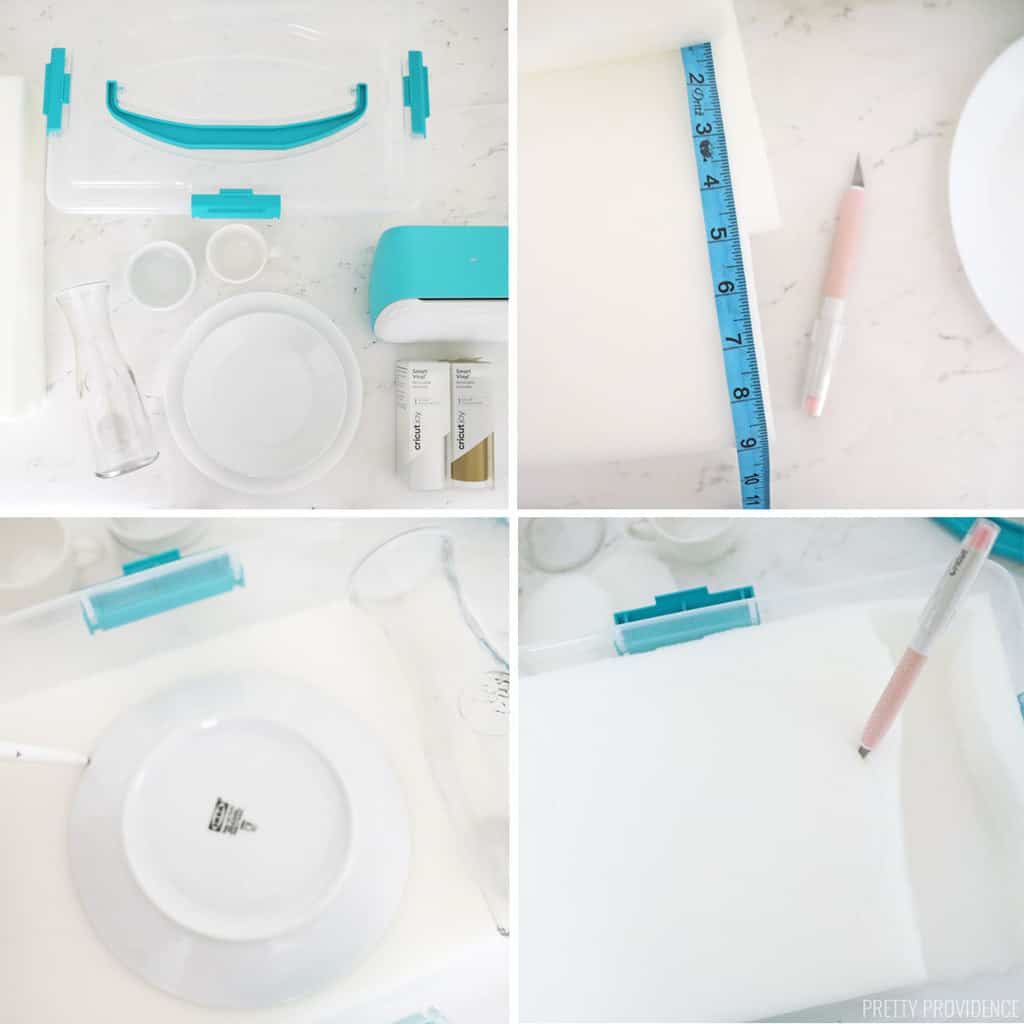 Top left: Gather supplies, including dishes
Top right: Measure foam pads and mark them to where they will fit inside the carrying case.
Bottom left: Trace the shape of dishes onto the foam pads.
Bottom right: Use a craft knife to cut shapes of dishes out of the foam.
Below are the full, printable instructions: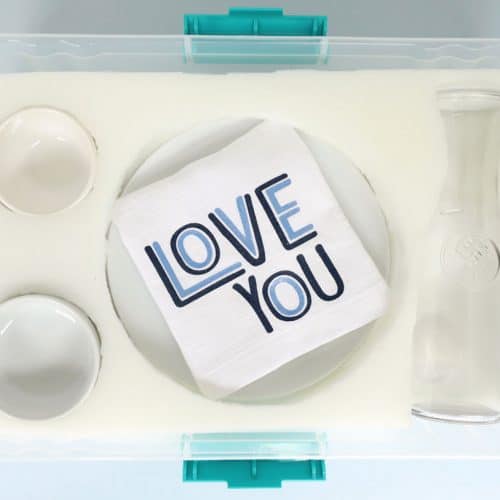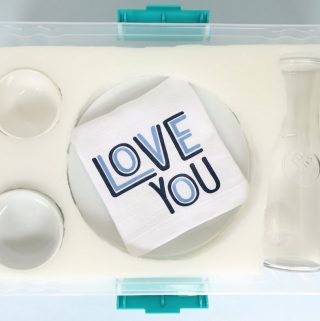 Breakfast in Bed Kit + Carrying Case
This DIY breakfast-in-bed kit is a great way to store dishes and napkins to make special breakfasts quick and easy!
Print
Pin
Rate
Equipment
Craft knife

Pen

Measuring Tape
Materials
1

Cupcake carrier

like this one

3

Foam pads
Instructions
Gather the dishes you typically would use to serve breakfast-in-bed.

Measure the cupcake carrier and then measure the foam pads. Mark the foam pads where you will cut the foam to fit inside the carrier.

Place foam inside cupcake carrier. Put dishes on top of the foam and arrange them so that they will fit comfortably in the carrier, with at least an inch of space in between each dish.

Trace lines onto the foam around the largest border of each dish. Do this on all three layers of foam.

Use a sharp craft knife or xacto knife to cut dish shapes out of the foam.

Put dishes into their spots and enjoy your breakfast-in-bed kit!