If you need a good steamed broccoli recipe, look no further, because this is the best broccoli seasoning ever!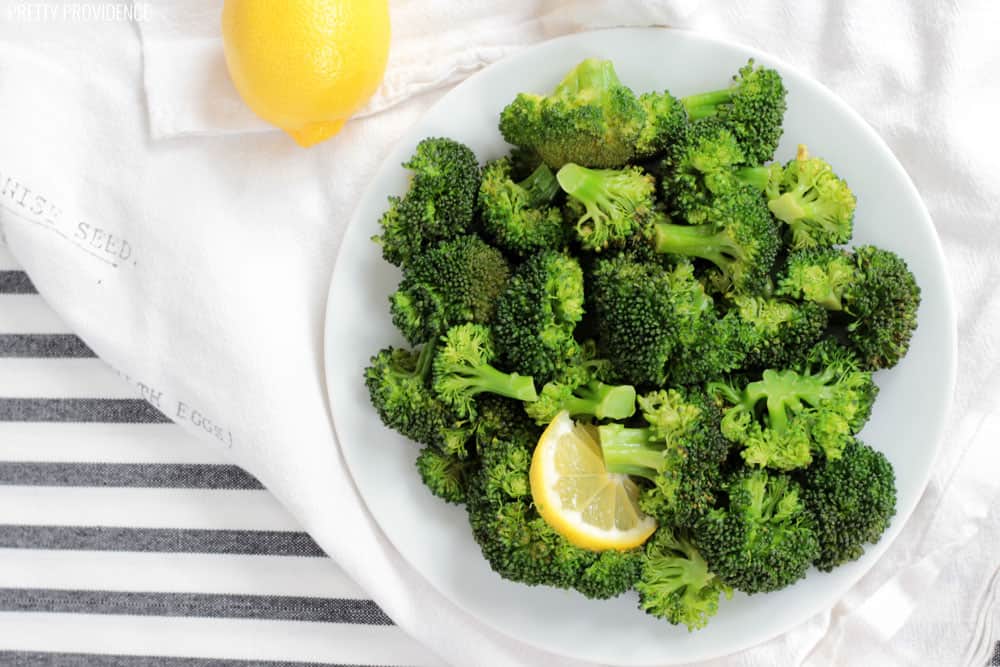 I must admit, I am not a huge vegetable person. I had hoped that my taste buds would mature as I became an adult, but the sad truth is… veggies just aren't my faves. Salads are delicious to me, but that's about it. Until, of course, I was introduced to this steamed broccoli recipe! Oh. My. Goodness. It is seriously good. Guess what the best part is… it is steamed in the microwave! Did you guys know you could do that? Have I been the only one missing out?
One of the reasons I don't love veggies is because I typically don't like frozen or canned veggies and I thought that fresh ones took too long. This discovery has opened up a whole new world of scrumptious vegetable options to me… and this broccoli seasoning… to DIE for. My husband made it up, and I made him make it three nights in a row. Then, I made him teach me. Once we knew it was solid, I measured everything out so that I could share it with all of you!
The best broccoli seasoning ever: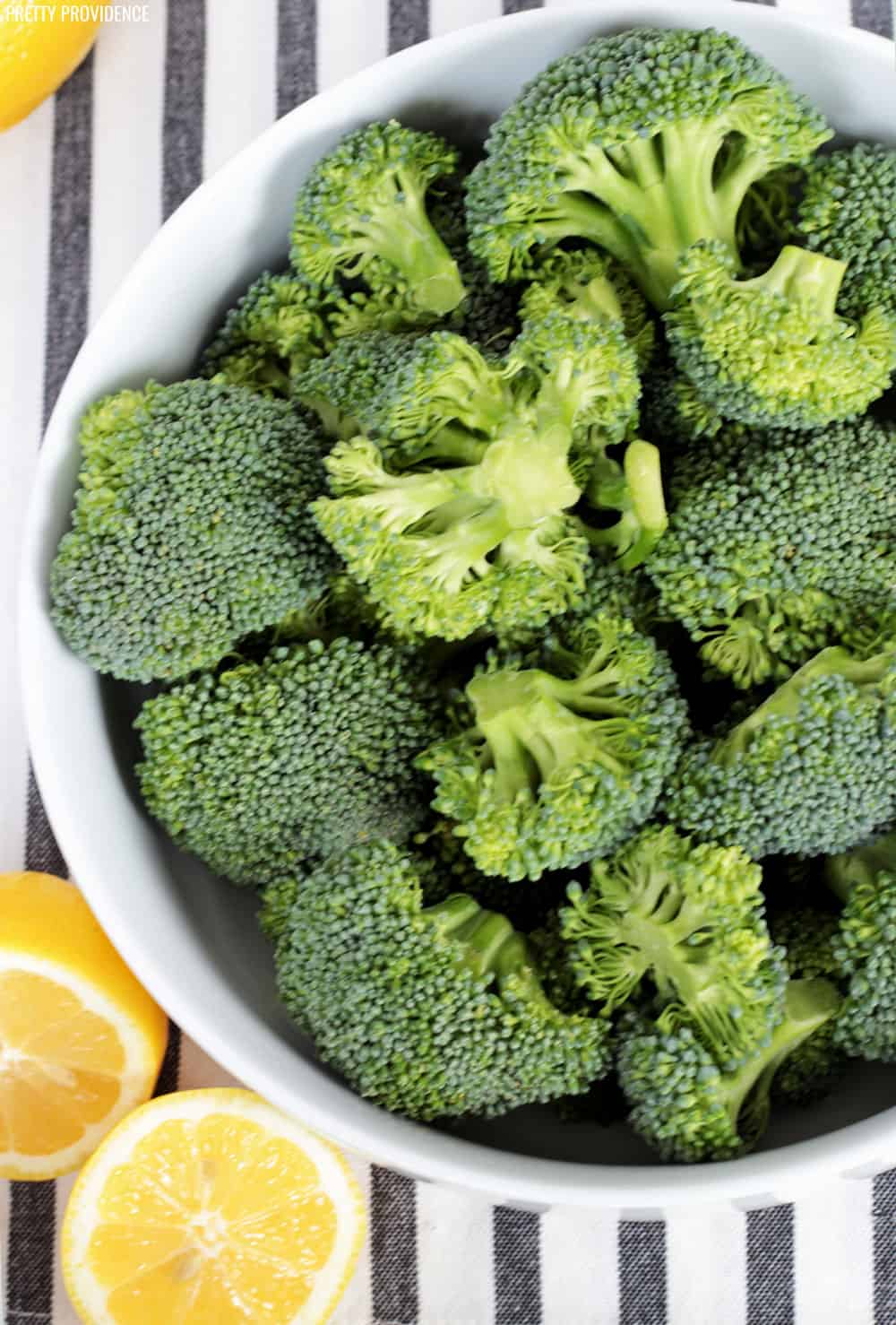 Here is how to season broccoli and instructions for how to steam broccoli:
Place broccoli in a shallow bowl and add thyme, garlic salt, lemon juice, olive oil and toss. Add water.
Cover the bowl with plastic wrap and steam it in the microwave for 4 minutes. Let it sit for another 3 minutes before removing from the microwave.
Your broccoli is done!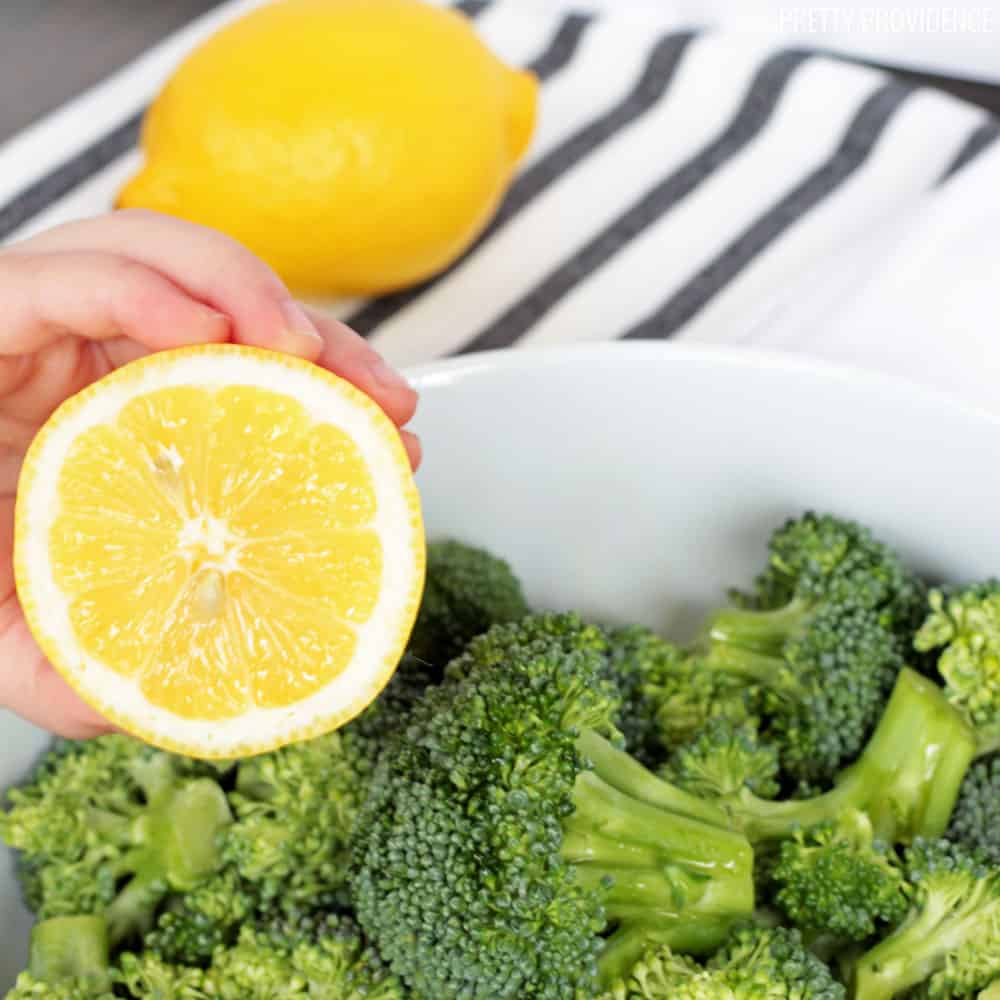 Yes, it really is THAT easy. I should also mention, my kids LOVE this recipe too! They are picky with a capital P, but no one complains about this broccoli seasoning!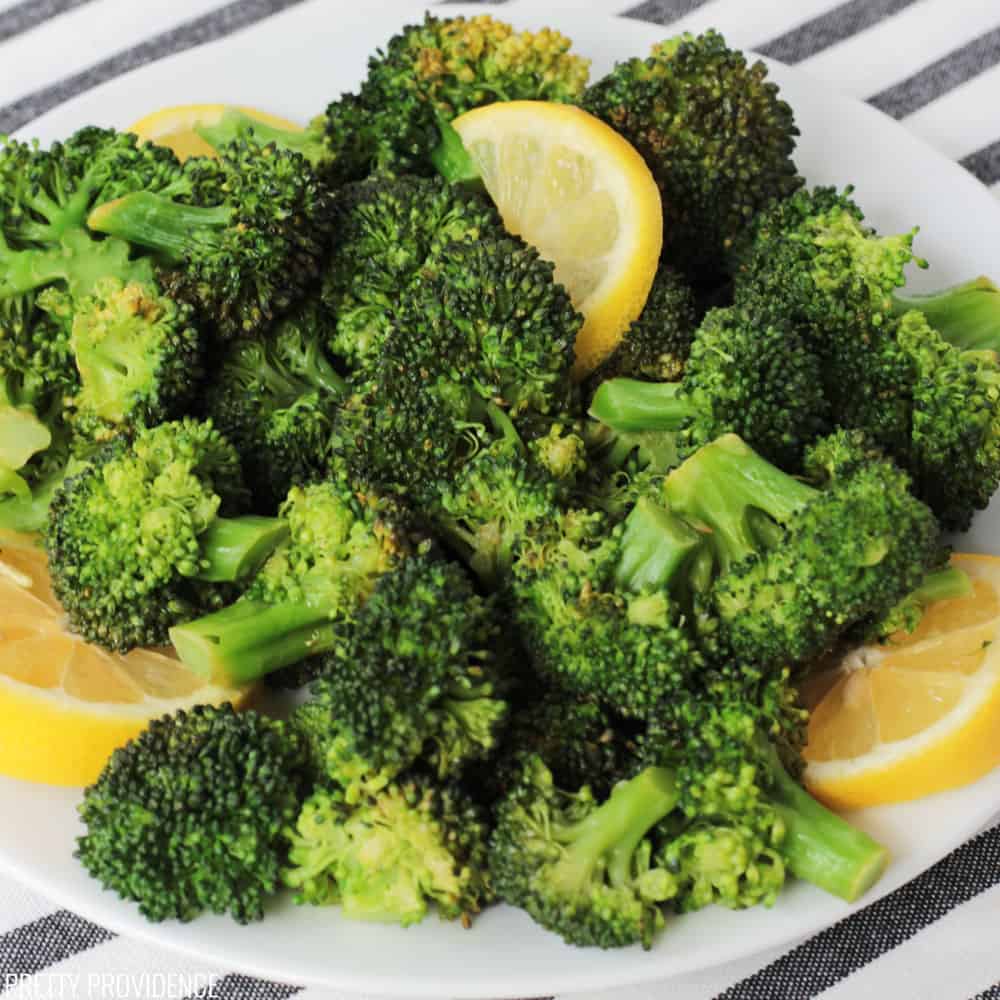 Now, are you someone who prefers your broccoli roasted? This seasoning is great for that, too!
How to roast broccoli: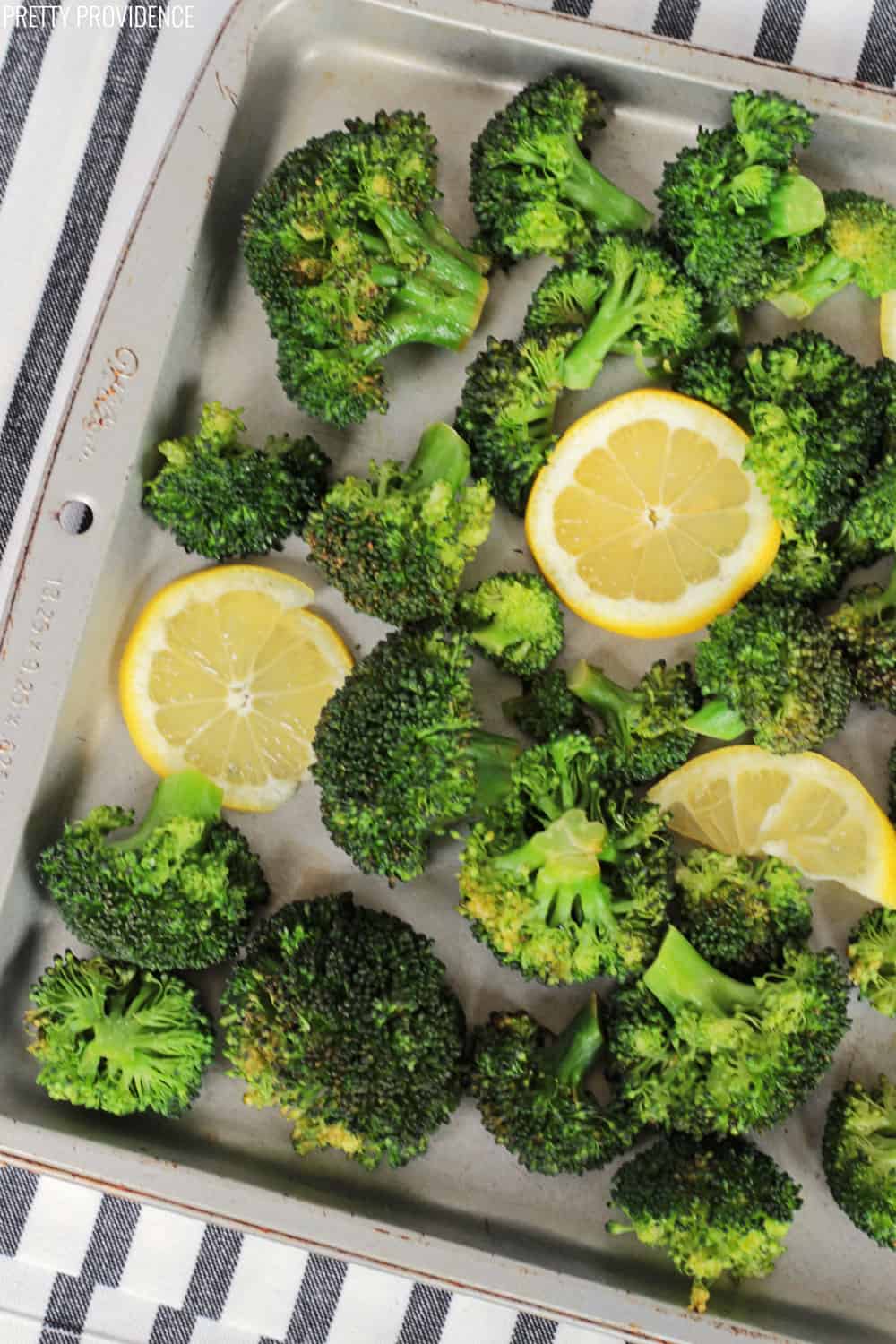 Toss broccoli with thyme, garlic salt, olive oil and lemon juice.
Put broccoli on a lightly greased cookie sheet. Lemon slices are optional, but they do make it look so pretty and add another dimension of lemon flavor!
Roast broccoli at 400 degrees Fahrenheit for 20 minutes.
Your broccoli is done!
Notes: I prefer my broccoli to still have a slight crunch to it. You can roast it for longer if you like it to be softer or slightly charred.
Man.. I am salivating just typing this… and for a vegetable, that's really saying something!
More delicious & EASY side dish recipes:
Roasted Balsamic and Brown Sugar Carrots
Yellow Rice
Easy Slow Cooker Ranch Potatoes
Chinese Chicken Salad
21 Unique Green Salad Recipes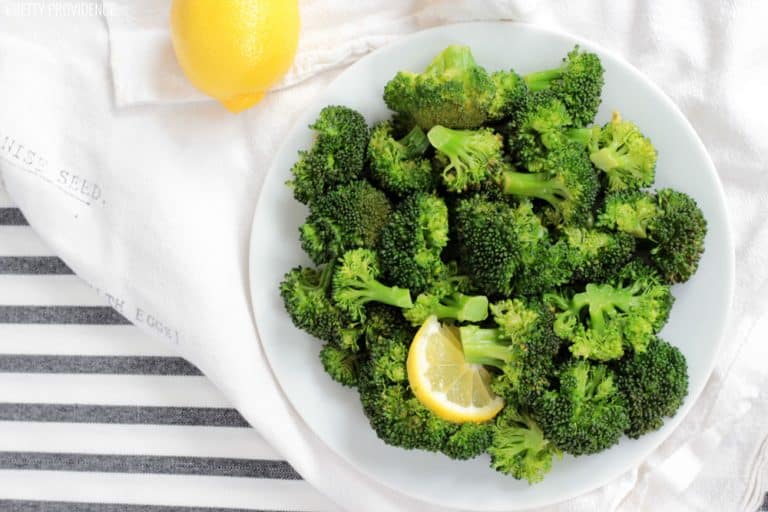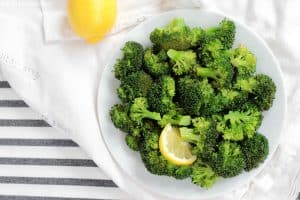 Print
The Best Broccoli Seasoning Ever!
If you think you don't like broccoli, wait until you give this delicious broccoli seasoning a try! Best part is, it's still healthy!
Ingredients
3

cups

fresh broccoli

1/4

cup

water

1

tablespoon

olive oil

2

teaspoons

lemon juice

1/4

teaspoon

garlic salt

Pepper to taste

1/4

teaspoon

thyme
Instructions
Put your broccoli and your water in a microwave safe bowl and cover loosely with plastic wrap. Microwave for 3-7 minutes.

When your broccoli is cooked according to your preferences, remove it from microwave and drain excess water, if any.

Add all your seasonings and toss to coat.

Serve with your favorite meal and enjoy!
Notes
If you like your broccoli to still have some crunch to it, cook it for less time. I recommend steaming 3 to 4 minutes in the microwave, or 15-20 minutes roasting in the oven.
If you like your broccoli to be soft, steam it for a full 7 minutes in the microwave, or roast for 20-25 minutes in the oven. 
We love to serve broccoli with this easy Chicken Schnitzel or our Chicken and Stuffing Bake! 
Nutrition
Calories:
21
kcal
|
Fat:
2
g
|
Sodium:
97
mg
|
Vitamin C:
0.7
mg
I hope you love it as much as we do!

This recipe was originally posted on March 28, 2013 and has been updated.