Happy August Pretty Providence readers! I'm Bethany, and I blog at Whistle and Ivy.
This summer has been very lovely and I am sad to see it slipping by so quickly. However, I am loving this summer trend of needlework and tapestry wall hangings, I think they are gorgeous. I have been dreaming up a design for a wall hanging with hexagons, and I am excited to share project with you today. This crochet hexagon wall hanging came together quickly and nicely, and I hope you give it a try.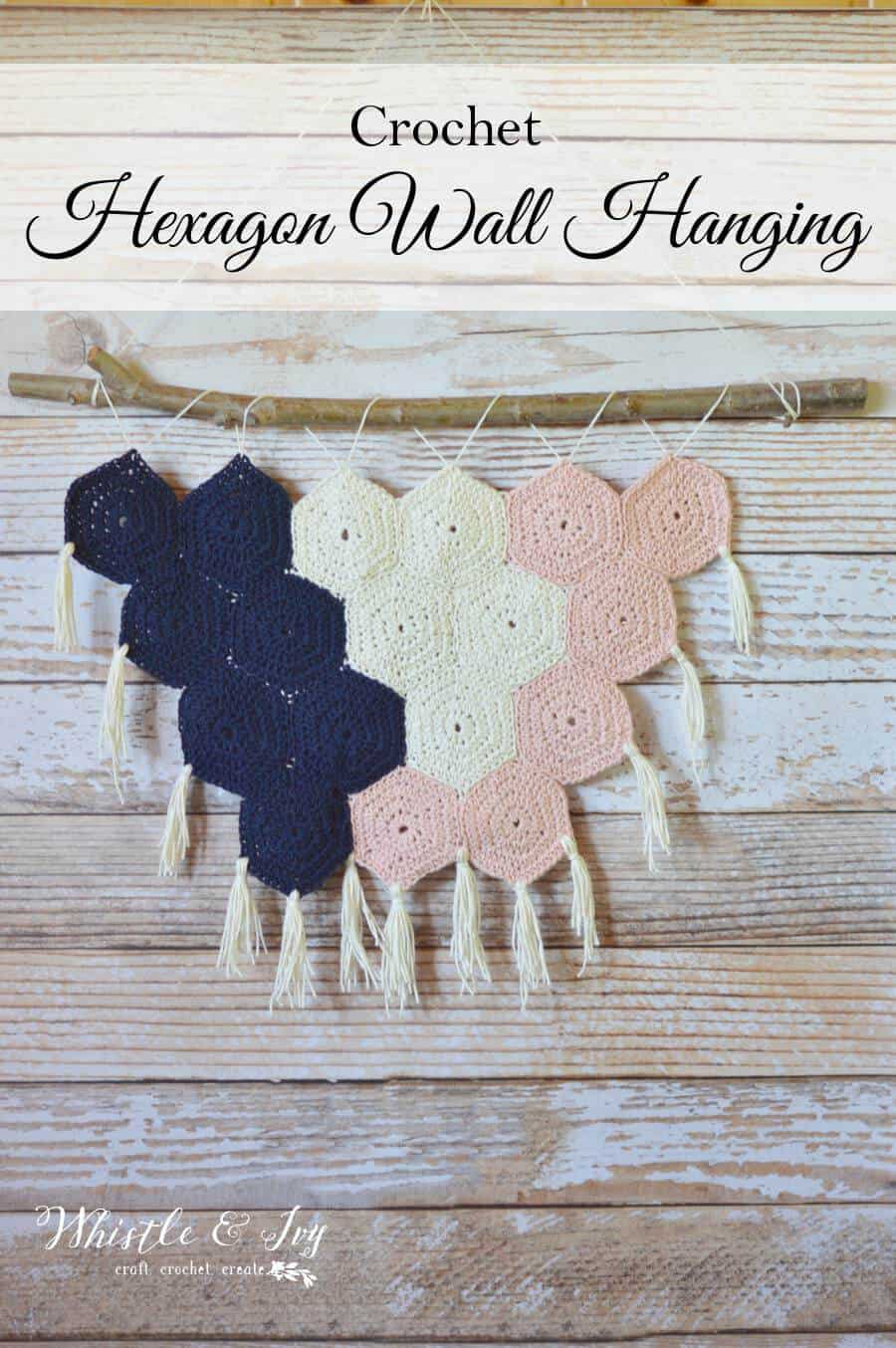 If you are new to crochet, this is an easy beginner project. It only uses 2 stitches!
You can find a video tutorial for half double crochet stitch here.
What you need: 
Size G hook
Worsted Weight Yarn (cotton) in 3 colors
Sharp Yarn Needle
Thick Brand or Twig
To begin, click over here to get the Simple Solid Hexagon pattern.
I chose 3 colors for my wall hanging – navy blue, cream, and blush pink. Make 18 hexagon. If you are following my color scheme and pattern exactly, you will need 7 navy blue hexagons, 5 cream and 6 pink.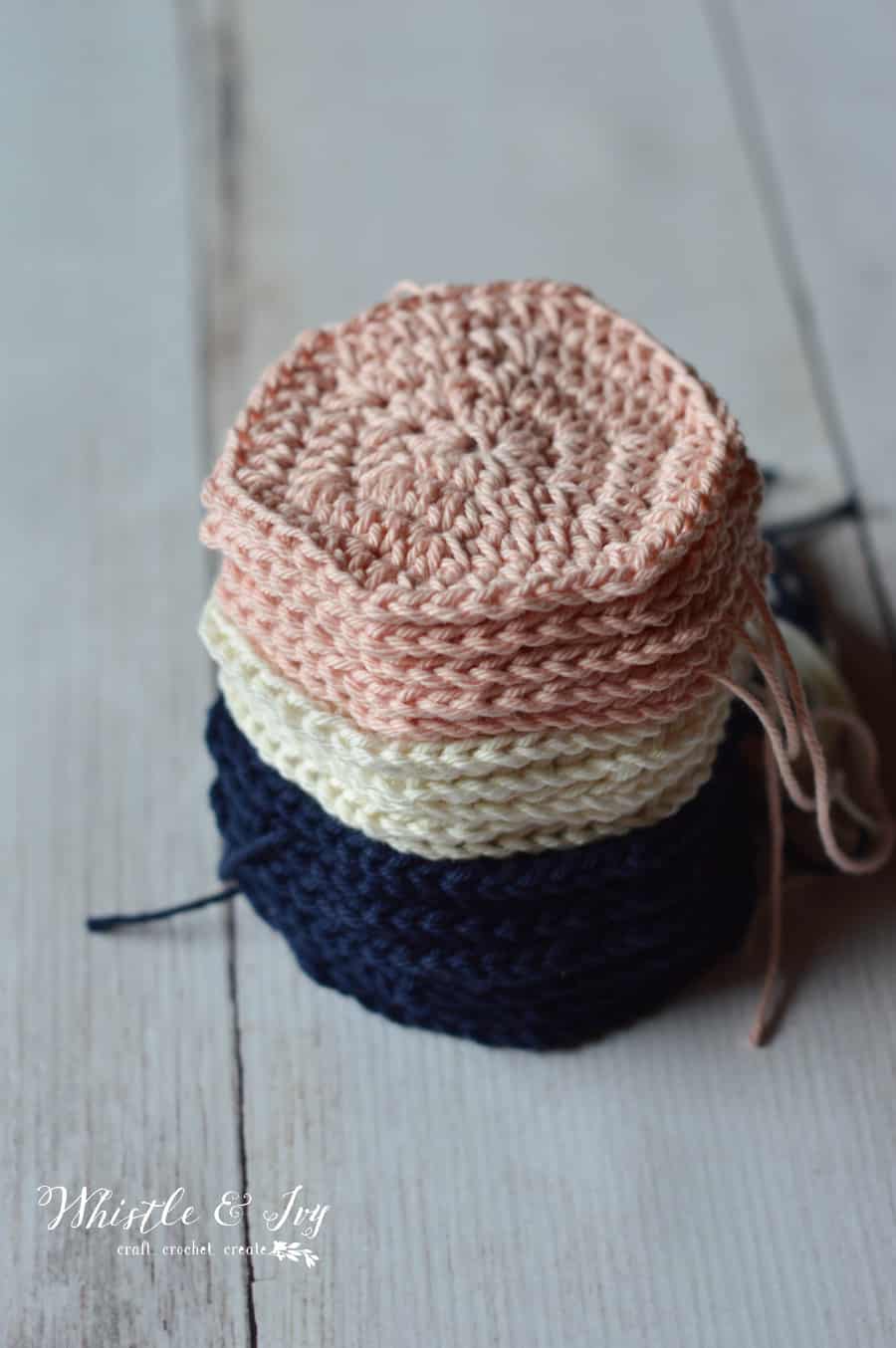 Next, lay out your pattern the way you want it to look.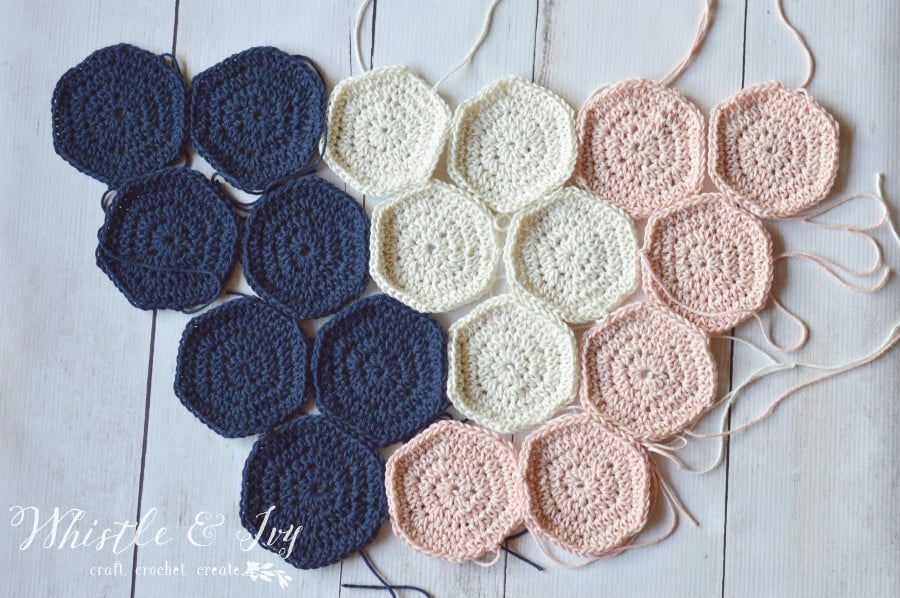 When everything looks good, you can start sewing. You want to put right sides together, and go through the back loops. When the hexies are faced right sides together, the back loops will be the 2 loops on the outside.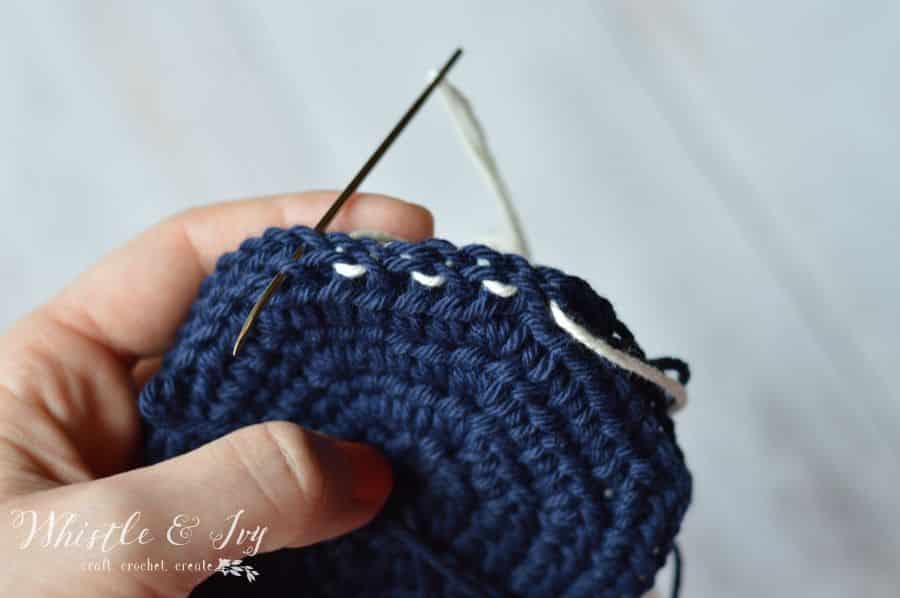 Work your way up and down until all your hexies are sewn together. It really doesn't take too long once you get going. Try to map it out so you can go from one to the next without cutting your yarn too many times. It will be a bit messy on the back, but it's okay. You won't be able to see it when you are done. And don't waste time weaving in your ends! Take 2 minutes and tie the ends together with a sturdy knot. It's much faster and weaving-in is not necessary on this project.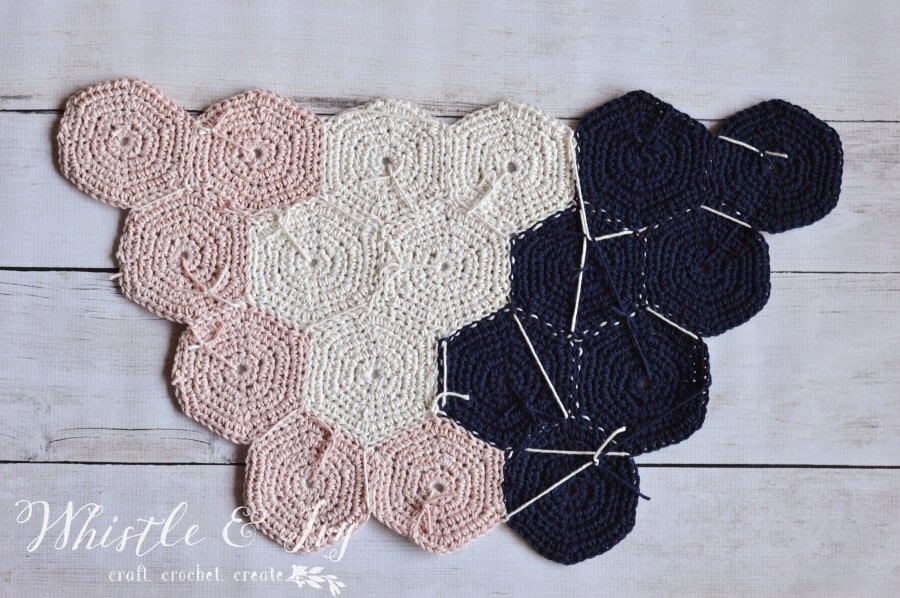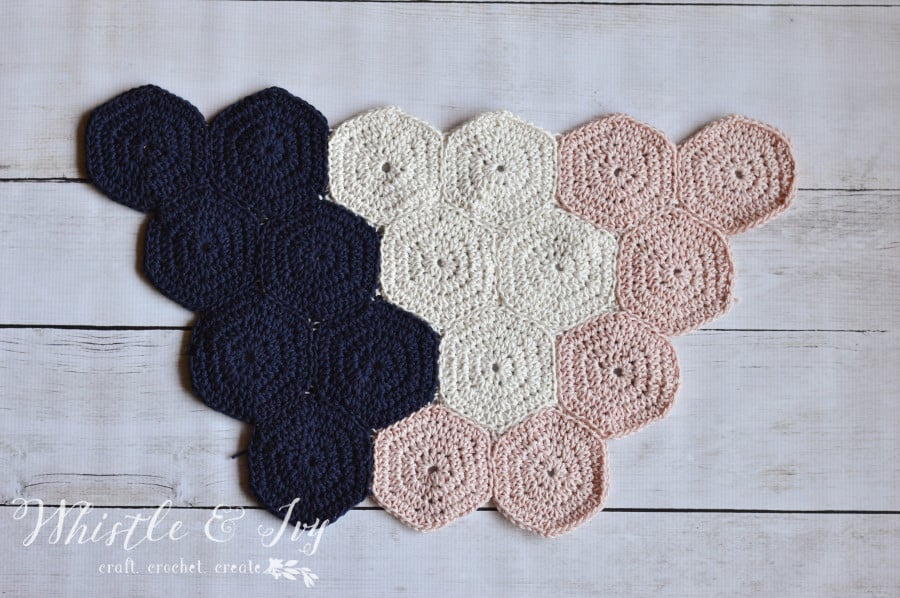 Next, you can start adding the tassel fringe. To make each tassel, wrap some yarn around your hand 6-7 times. Pull it off your hand and cut the bottom.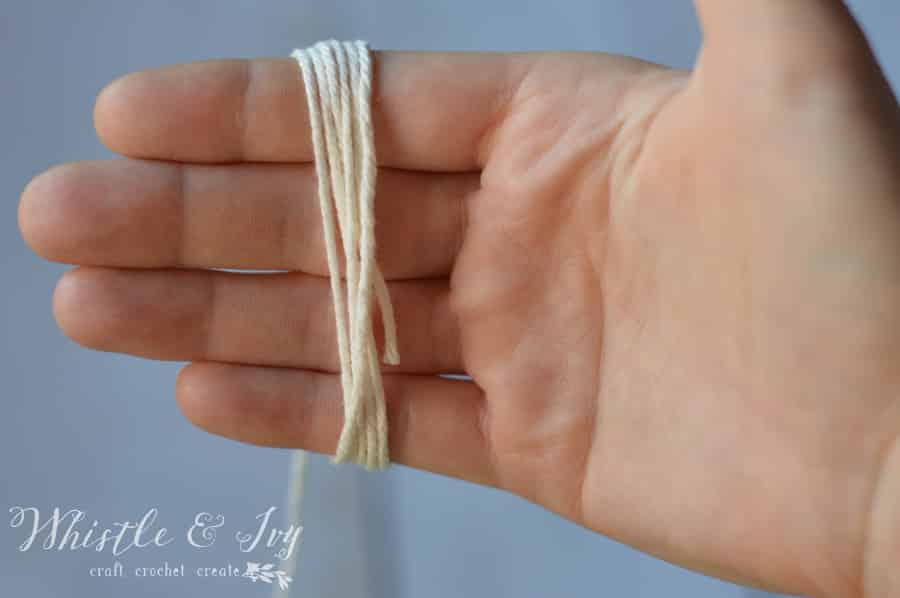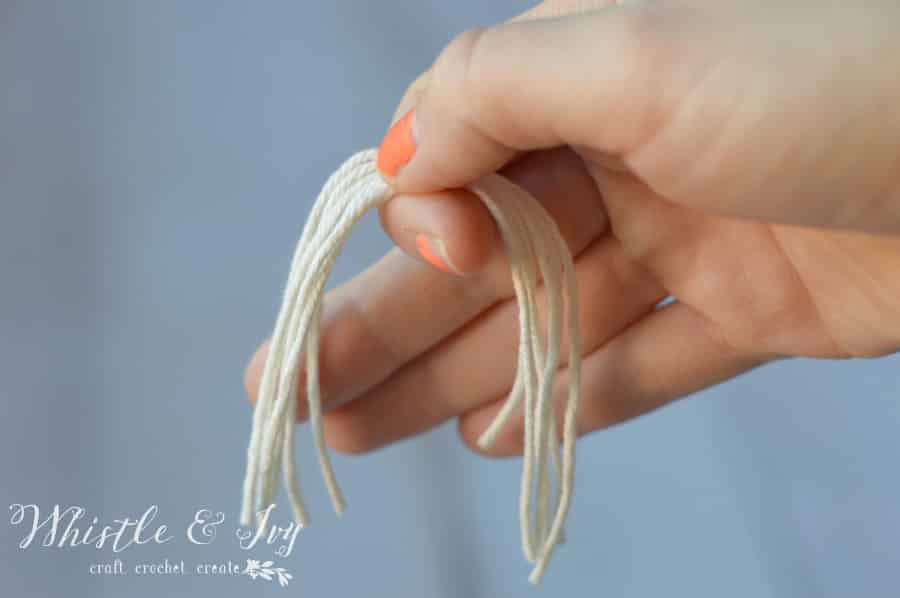 Use your hook to pull it through the corners of the hexagon.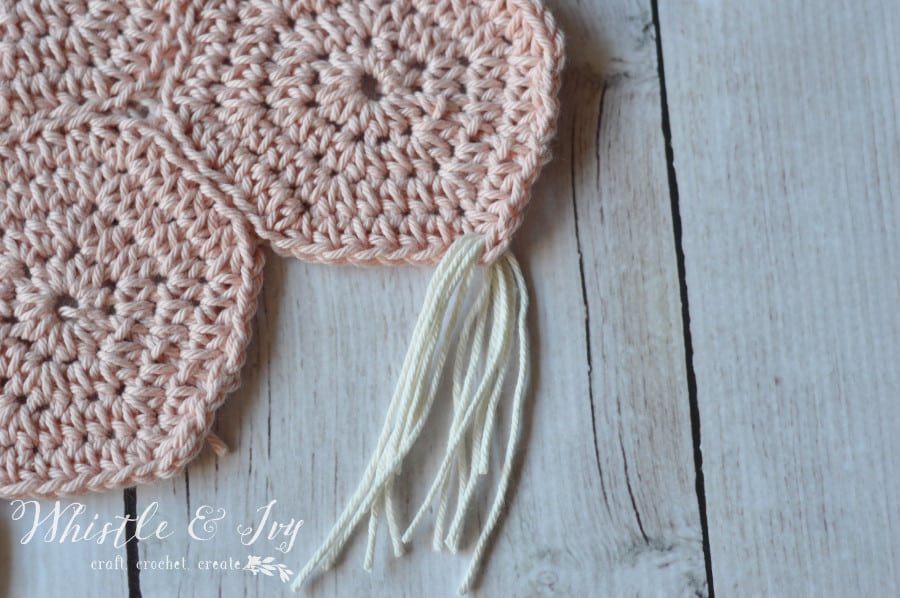 Pull the yarn through each corner. On the bottom, pull yarn through the space where to hexagons meet as well as the corners.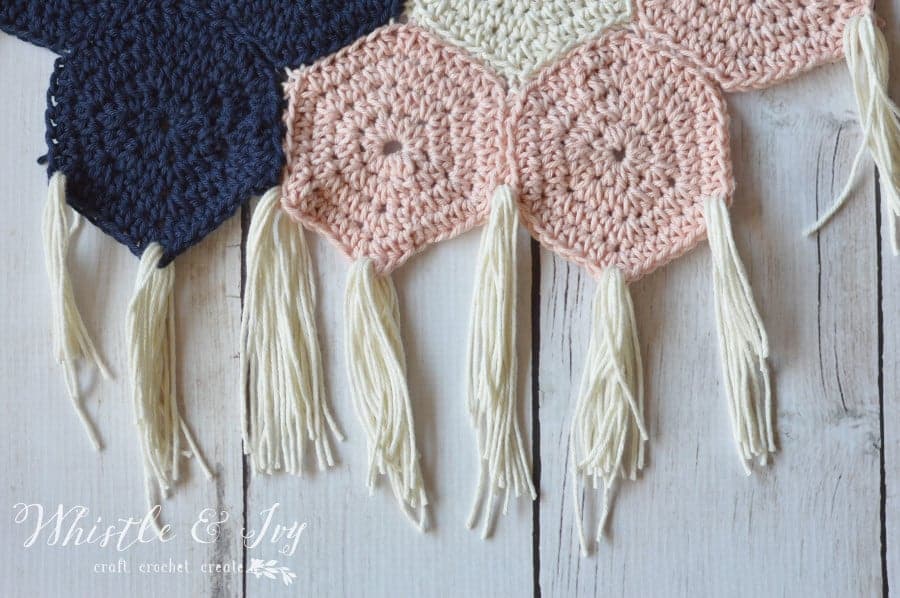 Tie them into tassels by wrapping a length of yarn around the top. Turn your piece so you are working from the back.  Pull the ends of the knot up and down to tighten so the tails can be hidden easier.
Once all your tassels are tied, you can attach your hexagons to a branch.  My yard has a never-ending supply of branches, because my neighbor has a weeping willow that hangs over our fence. It works out well for me!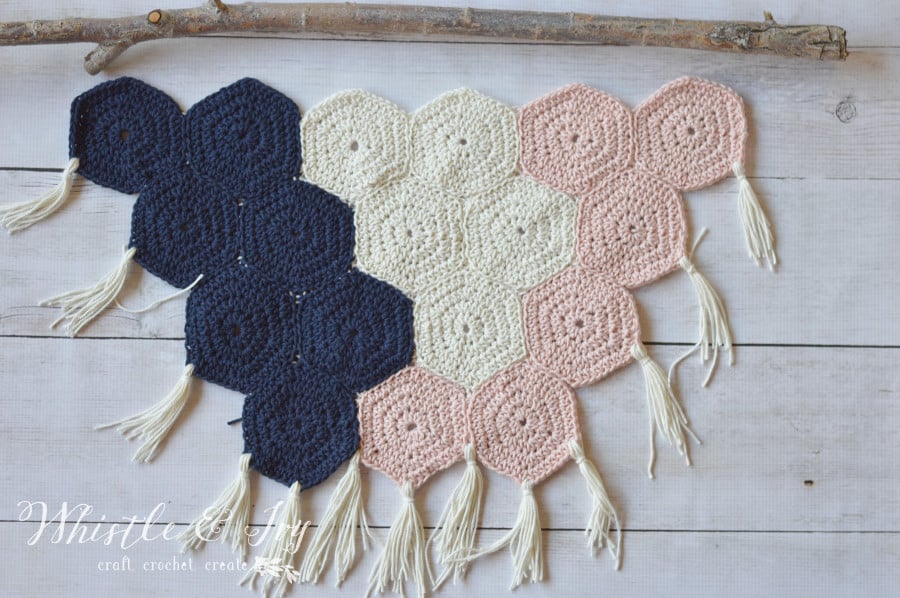 Get a long piece of yarn and go around the branch and through the top corners of the hexagons. Leave enough length to the the ends of the yarn to tie a knot at the top to hang it from.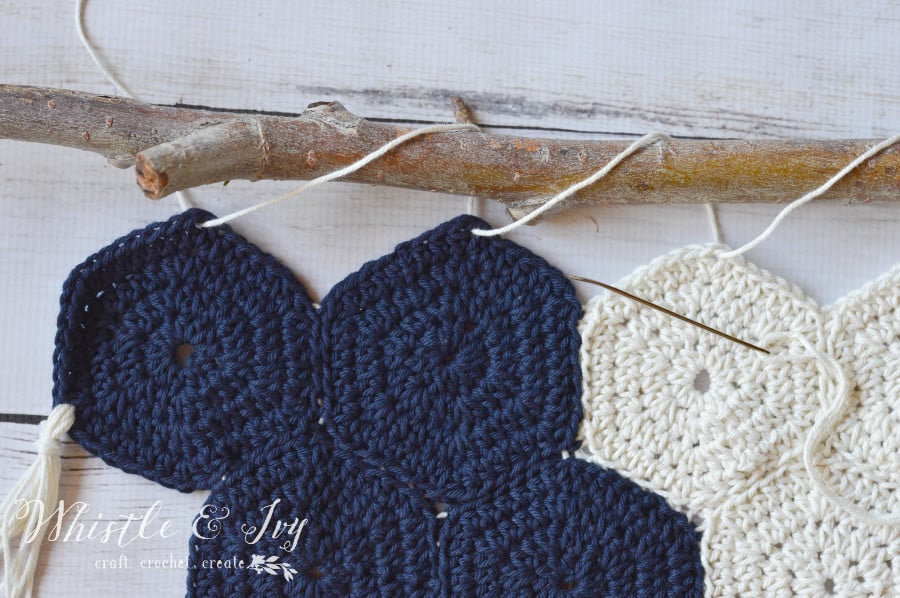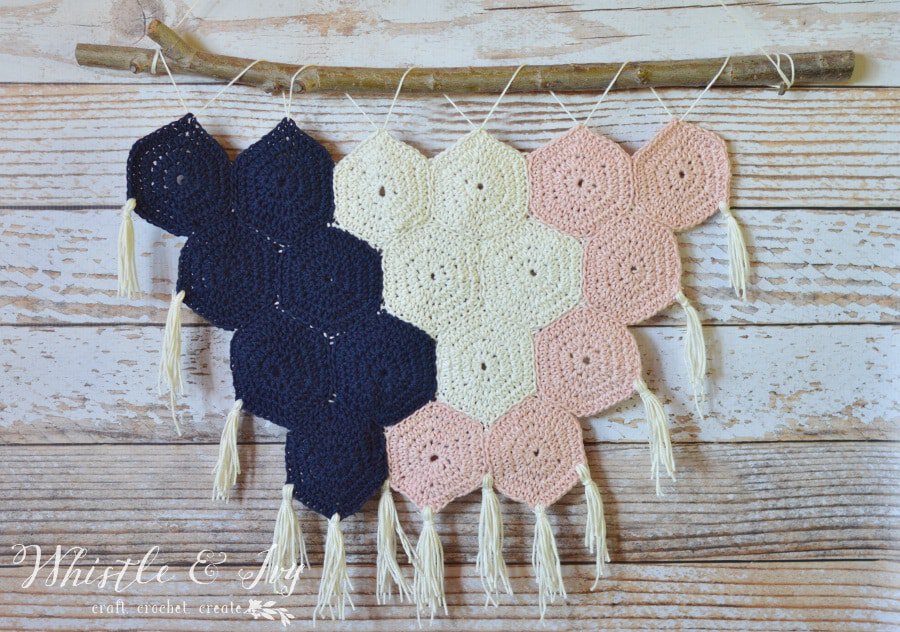 I love how it looks! What do you think about this trend?
Love it? Be sure to subscribe to Whistle and Ivy so you don't miss anything!
Until next time,