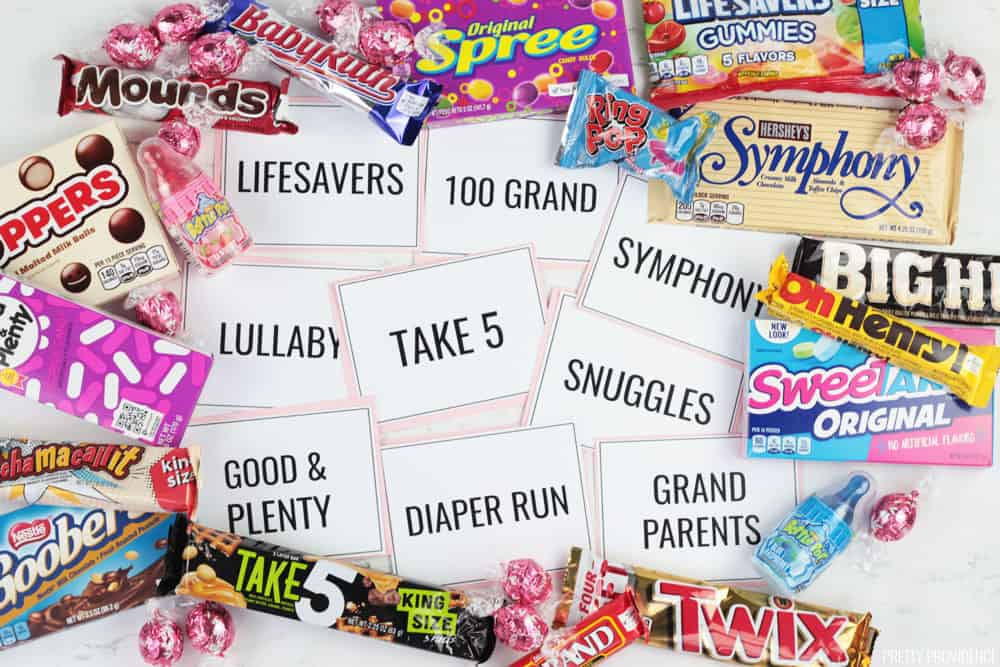 We love baby showers around here. I recently made this candy bar matching game for a baby shower and it was a hit! It is a pretty basic matching game. Each person who makes a match gets to keep the corresponding candy bar, so there are lots of winners! It doesn't take too long, and it's great for groups of any size!
*This post contains affiliate links.
How to Play the Baby Shower Candy Bar Game
Display all the cards face-down on table or, even better, mount them on a poster board.
Each guest will take turns turning over two cards. If the two cards they turn over aren't a match, turn them back over but leave them in the same spot.
If a guest finds a match, they get the corresponding candy bar as a prize!
Keep playing until all matches have been found.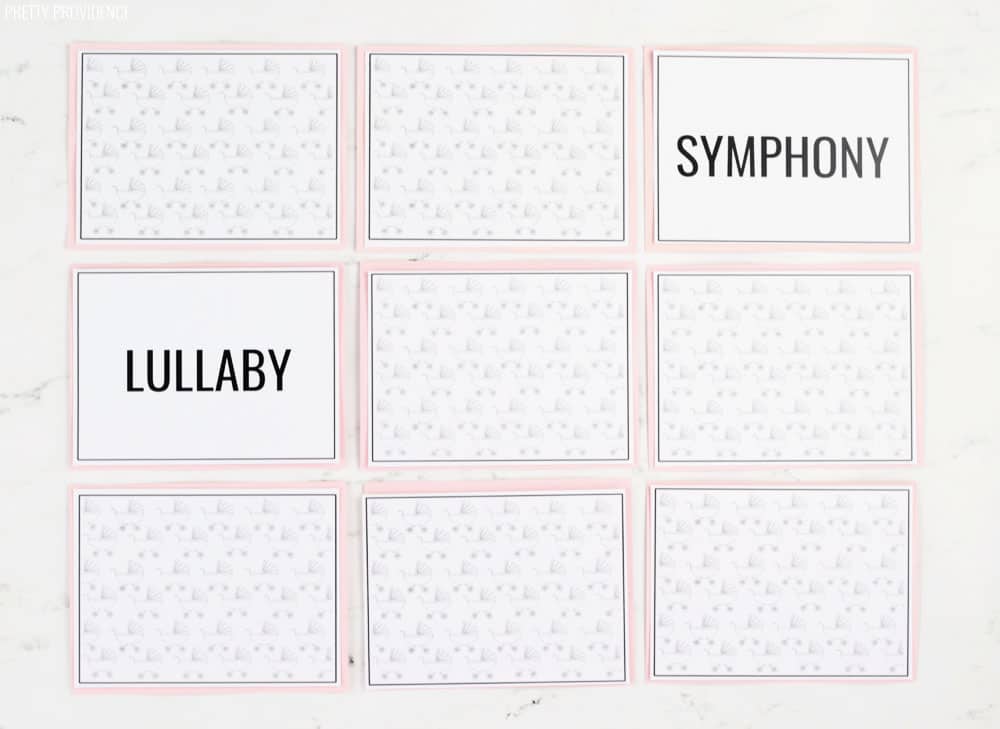 How to prepare the Baby Shower Candy Bar Game
Download the to your computer and print the cards onto white card stock.
Cut them out leaving a little bit of space around the border. (I swear by this paper cutter for projects like this.)
For each candy bar name or baby shower phrase, glue a patterned card onto the back.
*Optional: cut a piece of colored card stock into a slightly bigger rectangle and glue both sides to that. That's what I've done to give these cards a cute, pink border!
Collect all the candy bars you need and keep them in a cute basket. I made a shopping list of candy bars you'll need that you can print – click here.
Arrange the cards on a large poster board, easel, or on the wall! I like to use poster putty for this.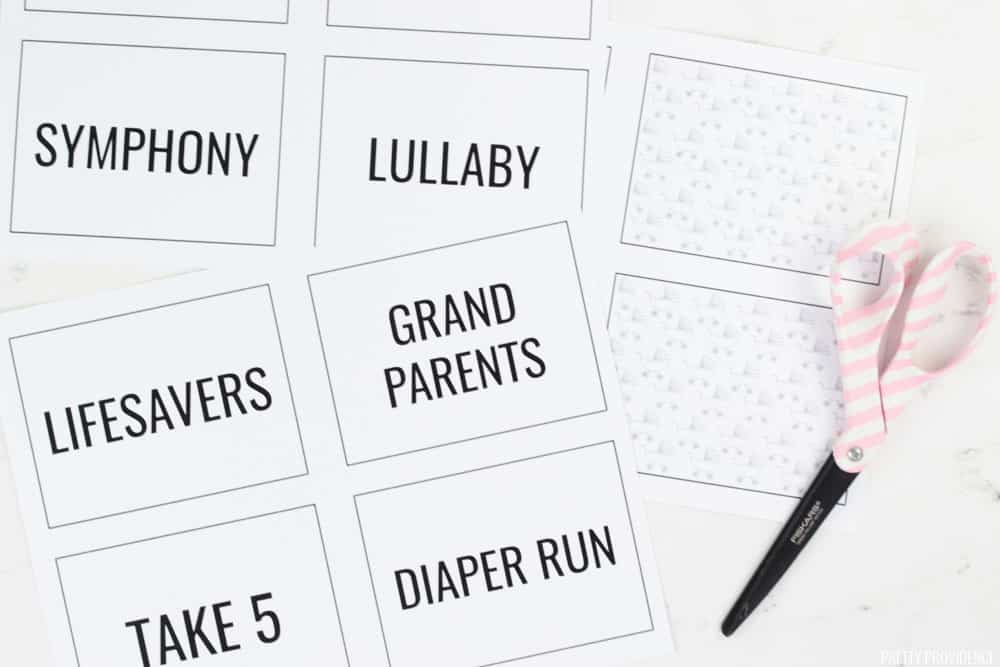 Ready to print the game?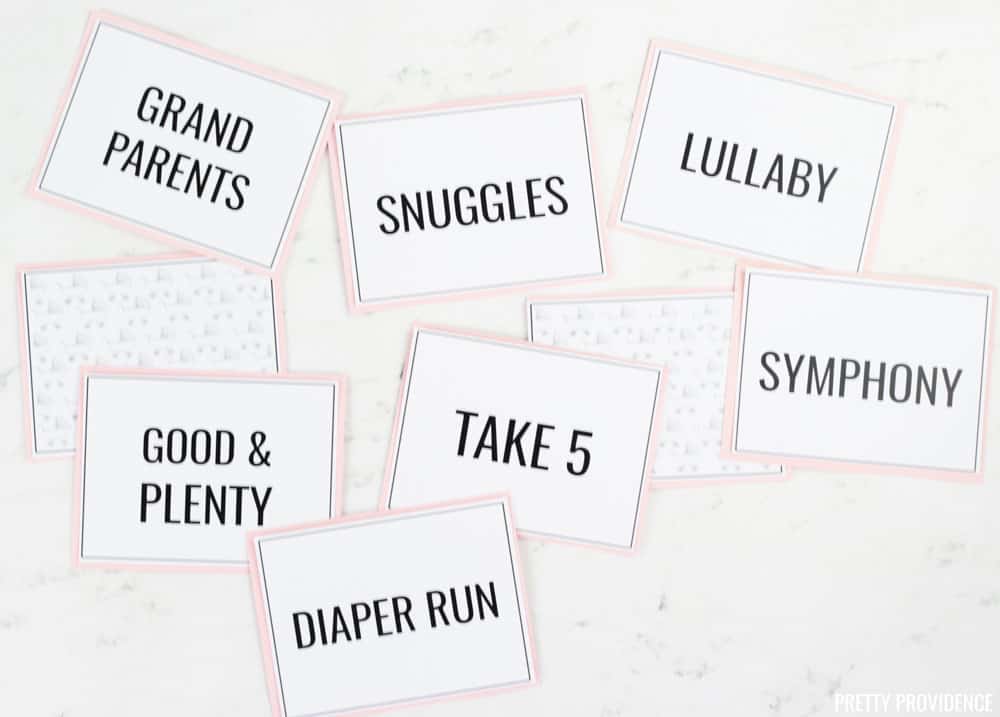 Here are links some of the things I use to make it easier: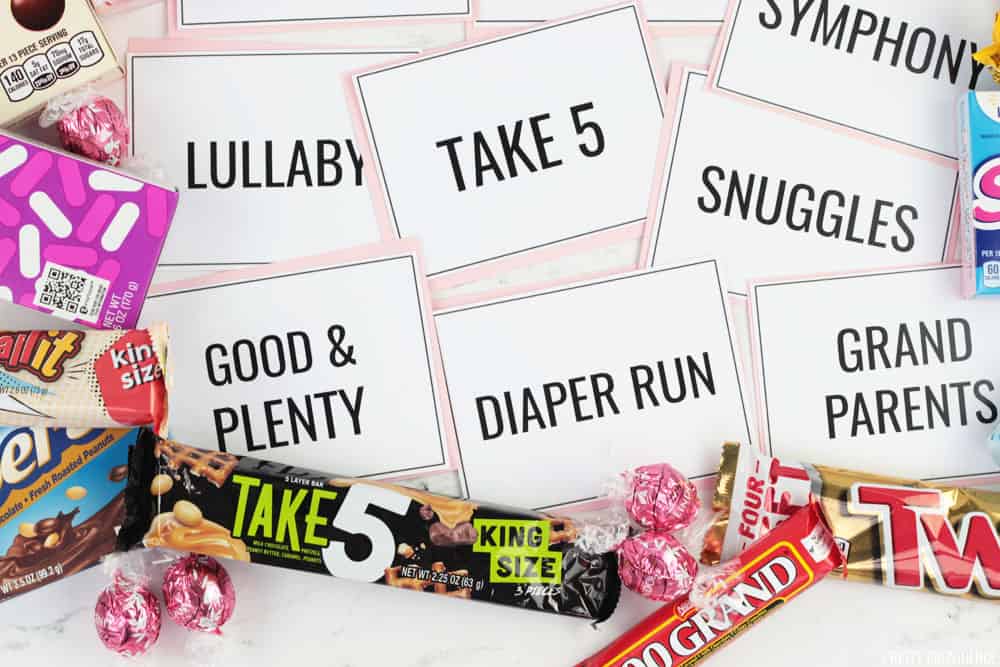 Candy Bars and Corresponding Phrases for the Baby Shower Game
Ring Pop – Binky
Big Hunk – Dad
SweeTart – Mom
Spree – Shopping for Baby
Rocky Road – Pregnancy
Twix – Twins
Snickers – Giggles
Mounds – Laundry
Oh Henry – Baby Boy
Baby Ruth – Baby Girl
Baby Bottle Pop – Bottle
Whoppers – Contractions
Goobers – Boogers
Whatchamacallit – Baby Names
Runts – Preemie
100 Grand – Hospital Bills
Lifesavers – Grandparents
Take 5 – Diaper Run
Good and Plenty – Snuggles
Symphony – Lullaby
Shopping for the candy for this game was fun! I did have to go to multiple stores to find everything. Quick tip: sometimes gas stations have candy bars that regular stores may not – like my favorite, Take 5. I can never find that one at grocery stores. It's probably for the best, though! Haha. Once again, here is a candy bar shopping list you can print. Have fun!
We have so many baby shower ideas to share, make sure you check out all of our printables and game ideas!
Boy Baby Shower Ideas
Ready to Pop Baby Shower
Where the Wild Things Are Baby Shower
Guess the Candy Bar Baby Shower Game(different than this game!)
Baby Stats & Predictions Baby Shower Printable
Story Book Bookmark Favor
DON'T MISS OUR BABY SHOWER GIFT IDEAS EITHER!