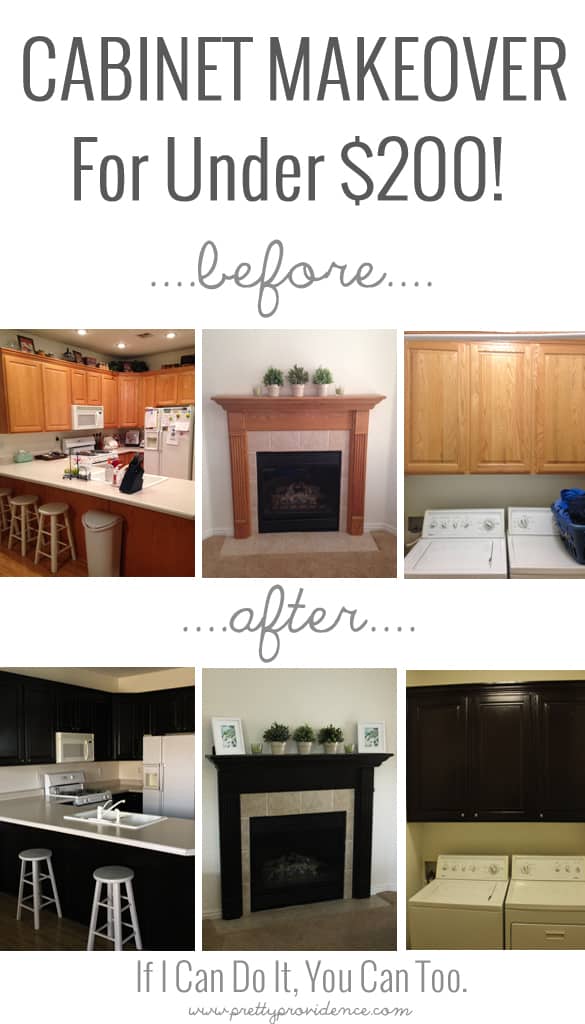 Ever since I first moved into my house (almost two years ago) I wanted to refinish my cabinets. I am not, not, not a fan of honey oak. The issue is, when I first moved in I was pregnant, then I had a little baby and… well I was basically low on energy! To top it off, big house projects cost money, and it seems like there is never enough of that to make the changes I'd like to! Then, one day I was scrolling through my blogroll and I found this post of Brooke's from All Things Thrifty. It made me think, "hey, if it really is that easy, maybe I could do my cabinets." And then I thought, "nah. That was just a clock. It might not be the same." A few months passed, and then Brooke posted this tutorial on how to stain an oak banister dark, and I thought, "Let's do this thing."
I followed Brooke's tutorial pretty exactly, except I didn't sand (more on that later) so click over to read the details if you are interested in embarking on your own project!
Now, I am going to try to answer your questions in advance, and give you a few notes that I took along the way!
1. Why didn't you sand? I started with the laundry room because if I messed up on anything I wanted it to be there. I started out lightly sanding with the recommended grit, but it was making pretty deep marks on my wood. My cabinets had very little gloss to them, and I think the sanding was too much. I knew if I didn't sand just right it would show, and I didn't have the patience/time/energy to do it right. We tried staining the doors without sanding and it worked great. That was really all the excuse I needed. I am sure that in the future I will have more nicks from my lack of sanding, but I figured I'd rather touch up then spend like 200 extra hours and have a sandy mess in my house for a month. You decide.
Tip: If you are going to sand, make sure you go with the grain of the wood. I'm sure most of you aren't as dumb as me, but… enough said.
2. How many coats did you do? On the insides of the cupboard doors I did three coats of the gel stain, no topcoats. On the outside of the cupboard doors, drawers, and all inside finishes I did three coats of the java gel stain and two coats of the satin finish.
Tip: This project lasts quite awhile and it can start to blend together, so I made this little sheet to help me keep track of how many coats I did on what. It helped a ton, and it was fun to watch the sheet fill up.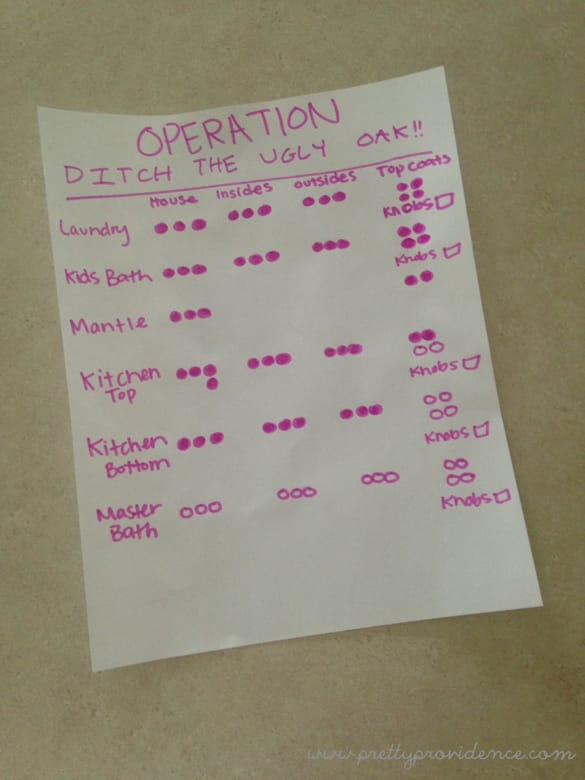 3.) What knobs/handles did you use? I used these Varnhem knobs (which have gone up $1.00 in price, btw) for the cupboard doors and these Attest handles for the drawers.
Tip: When adding your hardware, it will save you about a million hours if you make a template first. We made ours on a piece of card stock. Use a cereal box, anything. Measure and measure again and make sure it's exactly where you want it then make your template. Here is what ours looked like for the knobs….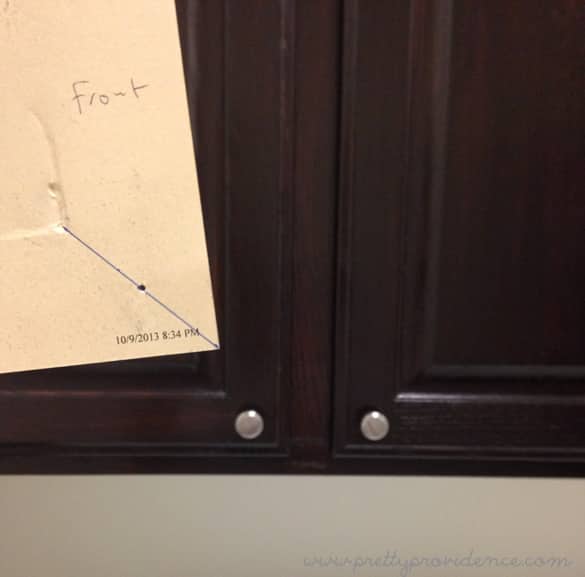 You may be tempted to skip the hardware, but it made a huge difference! The pictures don't really do them justice. After we had stained the cabinets we were so happy with the results, but once we added the hardware we were ecstatic.
4.) Was it really less than $200? YES. The knobs and handles cost me $99.37 and the gel stain, satin finish, gloves and a bag of new socks (seriously though, we went through a lot of socks!) made up the other $88 or so.
Tip: We used barely over 1 quart of gel stain (so we bought one quart and one pint). The top coat goes a lot further, and we did a lot less coats and we probably would have been just fine with a pint, but we bought a quart.
5.) Did you really wait 24 hours in between coats? Mostly. If you don't wait long enough then when you go to apply your second coat it will smear and smudge your previous coat. However, for the insides of doors (since I wasn't worried about them being perfect) sometimes I would do a coat in the morning and a coat at night, and they were fine. Also, we found the topcoat dried much quicker and we did those coats back to back morning and night without a problem.
Tip: We used a butter knife under a sock to get in hard to reach corners and edges.
6.) Was it easy? Yes and no. The actual concept is beyond easy. I mean it when I say anyone could do it. By far the hardest part in terms of actual skill was measuring for the hardware, and that is easy! BUT it is time consuming. I had cupboard doors off in my kitchen for a solid week. The best answer to this question is: yes, it is technically easy, but it takes a lot of man hours and wait time.
Tip: Every single person who has come to my house since has asked when we got new cabinets, and oohed and ahhed over how much better everything looks! If you are on the fence, do it!!!
Now that we have the nitty gritty out of the way, I know you are all dying for some more pictures right? Here ya go…
Kitchen Before: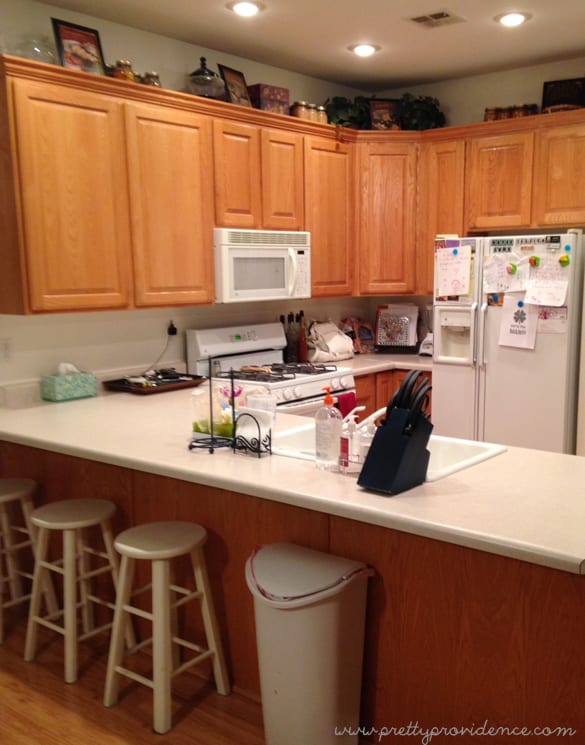 Kitchen After: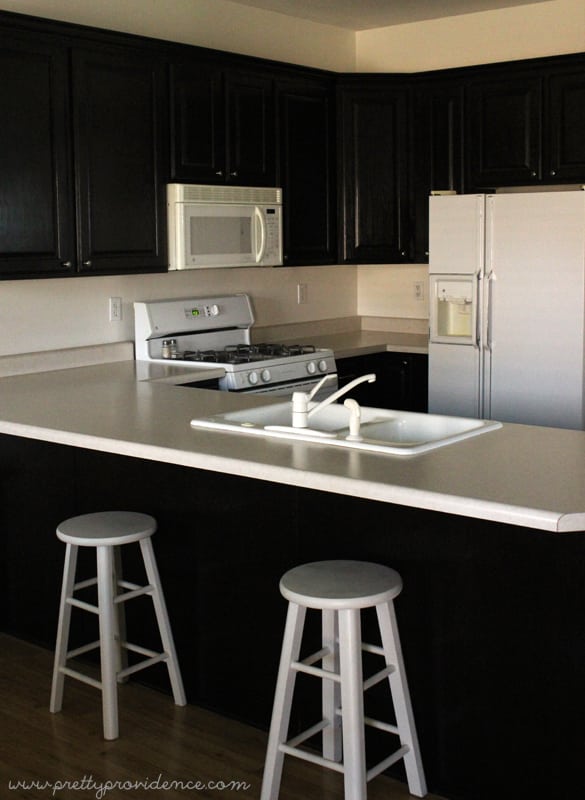 Mantel Before:
Mantel After: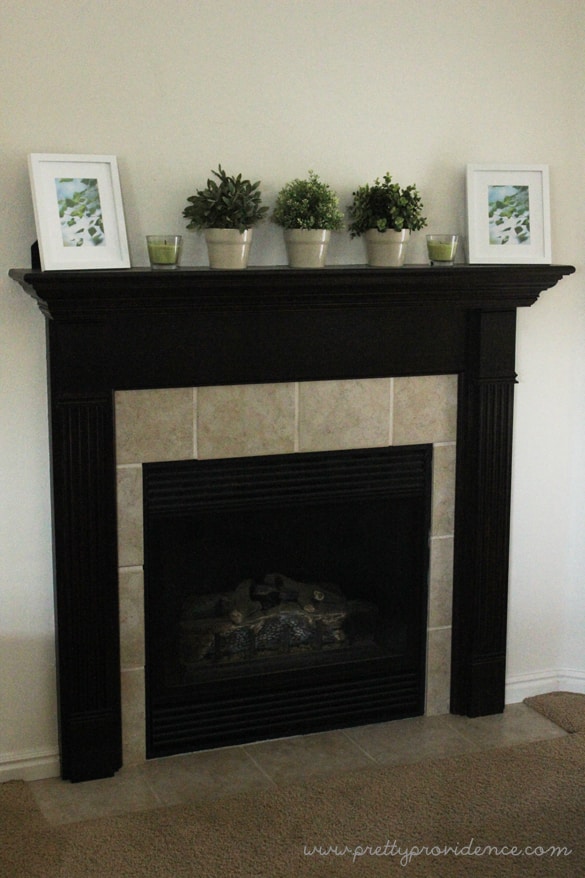 Laundry Before: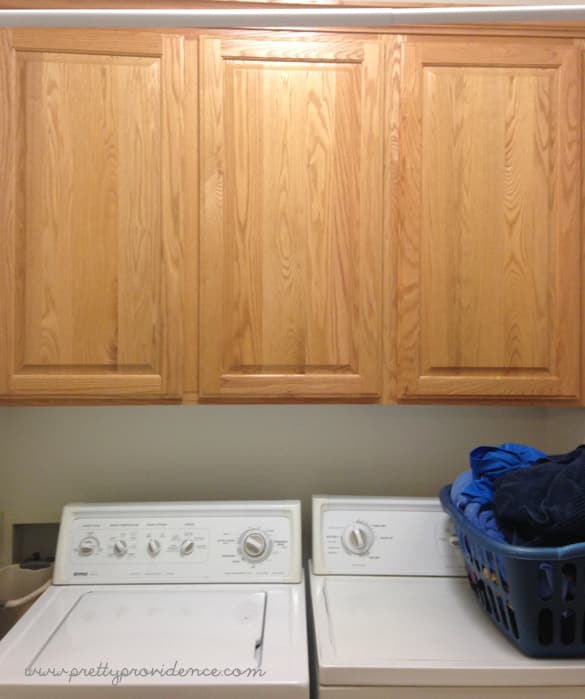 Laundry After: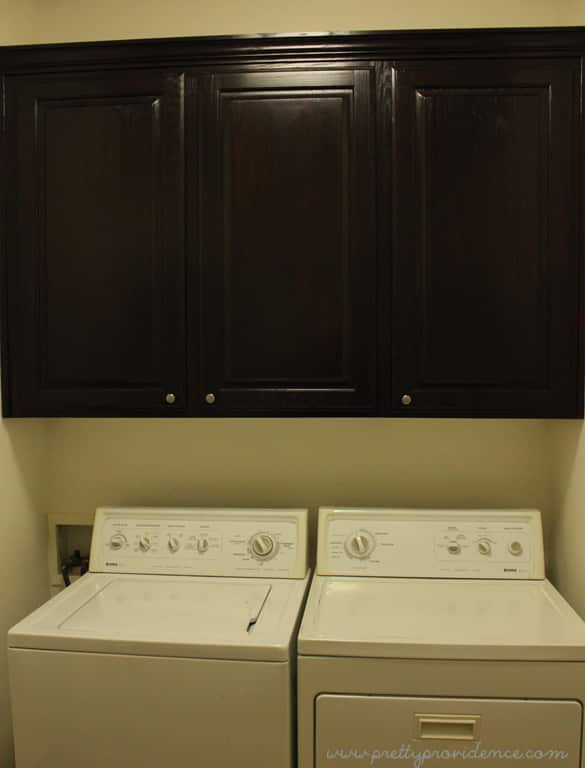 Pretty dramatic change huh? We also did both our bathrooms, and our master bath is actually probably my favorite transformation, but it was crazy messy and I didn't have the energy to clean it to take a picture, haha! #sadtruth. Anyway, if you have been on the fence about staining anything darker, go for it! Seriously, if I can do it, anyone can.

If you liked this post you will also love my dining room makeover on a teeny tiny budget or this DIY Ikea hack desk for $60!