Have you ever thought about how to paint furniture white? We have! And in this How to Transform an Old Tile Table Tutorial, we've done the work for you. And if you are feeling ambitious, here's How to Paint Furniture with Chalk Paint too!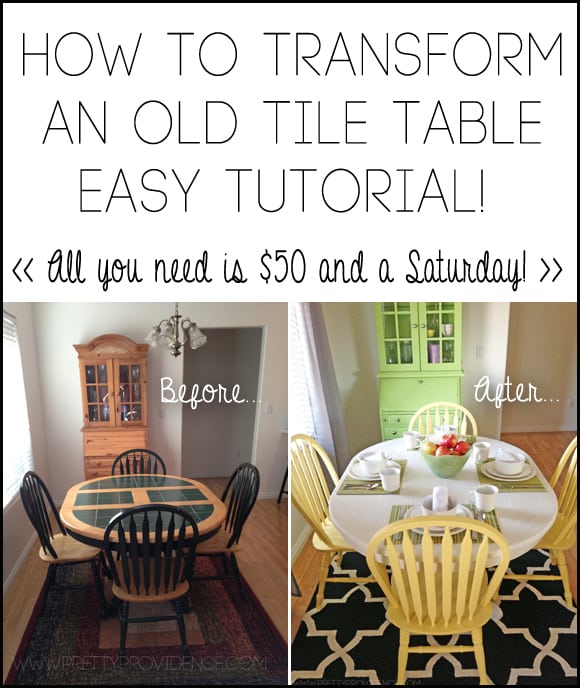 History of the Dining Table
Six years ago when Bryce and I got married, my Grammy and Grandpy gave us this dining table and chairs. It was a really solid, well-built table with an interesting shape. But, I was not crazy about the forest green tile/oak wood combo. Beggars can't be choosers though, and it was honestly way nicer than any of our other options. We gratefully accepted it and ate, played and puzzled on it for five happy years.
Why DIYs Work
Anywho, I anxiously awaited the day when we could afford to buy a new dining table. As I started to shop around I realized how expensive our set was going to be to replace. I obviously heard of refinishing furniture, but for some reason, the tile always scared me off. Until one fateful morning when I just woke up and decided, "I'm doing this thang."
Of course, the first thing I did was google it, and shockingly I turned up with little to no helpful information, so I decided to wing it. I figure if it turned out a nightmare, it would just speed up my buying process, and if it turned out awesome, I saved us big bucks! I am sooo happy with how it turned out, and it has given me the confidence to try more furniture related DIYs.
Old Tile Table Makeover Before
So. I think you might die when you realize how easy this is. Before we start this how to transform an old tile table tutorial, here are a couple of lovely before pictures for your viewing pleasure.
How to Transform an Old Tile Table Tutorial
Okay, now that you have a working knowledge of the "before" set, let's get to work. Move your table and chairs to an area where you can paint. Then follow these instructions:
Clean your table and chairs thoroughly
Prime
Prime Again
After your Primer is completely dry, Paint
After your table and chairs are completely primed, painted and dry, you will need a sealant or top coat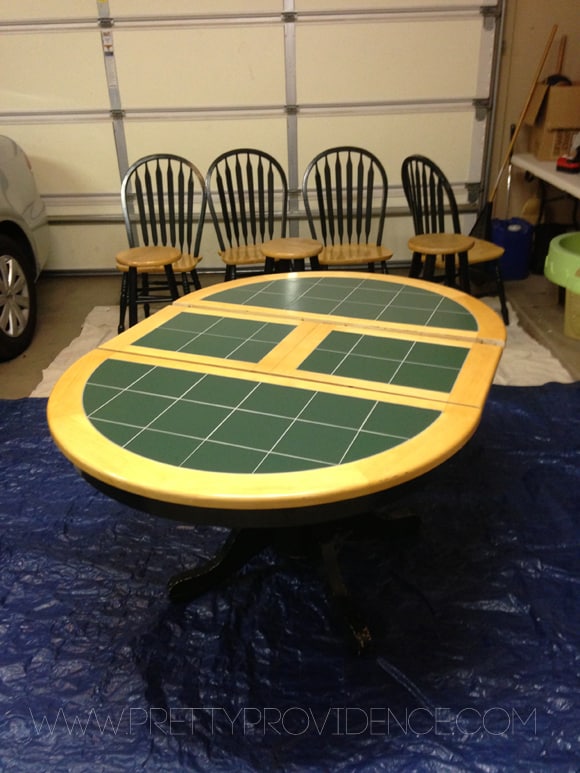 Step 1
Clean your table and chairs thoroughly and wait until completely dry.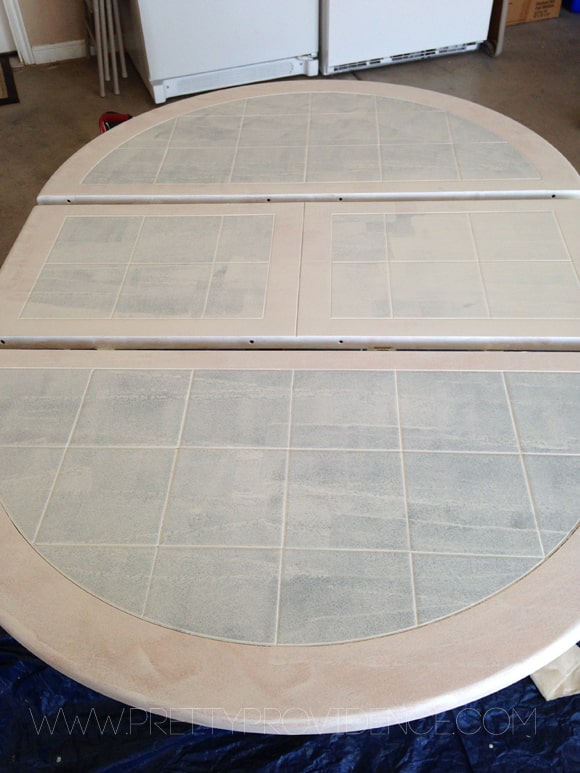 Step 2
Prime. This is the absolute most important step. If you don't want to sand (and I didn't) you have to be sure you prime well. Don't buy just any primer, here are your two options: Zinsser Bulls Eye 1-2-3 Primer or Kilz Primer. I used the Zinsser for this table because at the time I had not yet heard of/used Kilz. Even though Kilz is my new favorite primer, I really loved Zinsser as well, and it did a great job on my table. Although, I did two coats. Which leads me to my next step…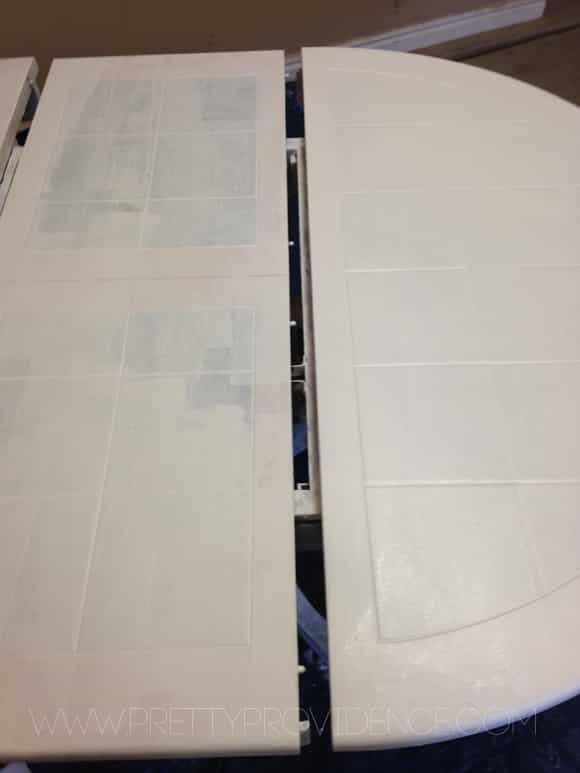 Step 3
Prime again. You heard me. After your first layer is dry prime again. I used two coats of primer on my table and only one on my chairs because, spokes. And, impatience. Anyway, the table has held up like an absolute dream, where the chairs I have already had to touch up once. Don't take the easy way out, we already skipped sanding, so you need to prime twice, don't argue! In the above picture, you can see the difference. The left side of the table had only been primed once where the right had been primed twice.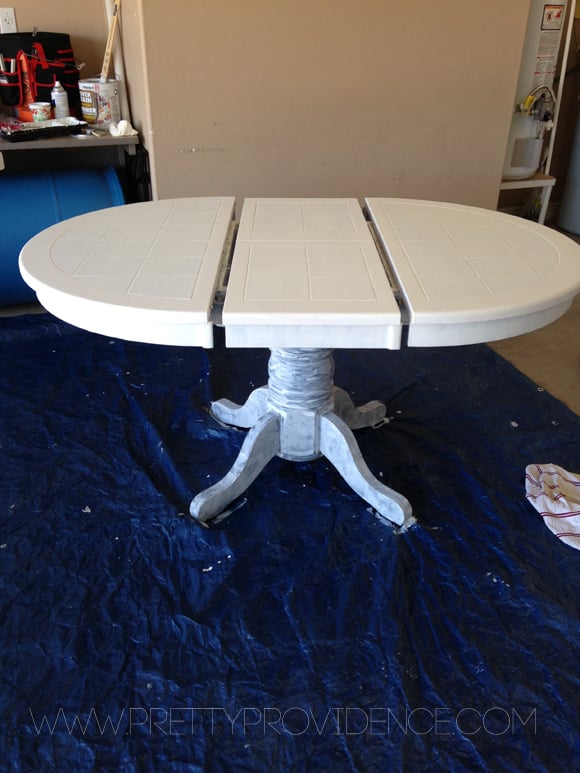 Step 4
After your primer is completely dry (follow package directions for how long to wait between coats) you can do the fun part, paint!!! I used a creamy white paint for the entire table. The chairs are a bright yellow and they were just the right, happy touch. I bought both paints and primer at Lowes.
Step 5
After your table and chairs are completely primed, painted and dry, you will need a sealant or topcoat of some kind. I used Valspar's clear sealer in a satin finish. If you are using a spray-on sealer than you will want to do multiple light coats. You will be able to tell if it pools or squirts out, so don't get too close and take your time! If you are worried about being patient, I wouldn't recommend a spray-on kind!
Step 6
Sit back and enjoy your beautiful "new" dining set!
Pro Tips
Make sure you clean the table surface thoroughly before painting. Use washing water and a soft cloth to clean the surface of the tiles. An old toothbrush works to remove any dirt in the grout. Rinse with clean water and dry with a clean cloth.
Use oil-based paint – do not use latex paint. And choose between a satin or semi-gloss finish for the best results.
Take your time between coats of paint. Make sure the first coat is completely dry before adding a second.
If you are painting a wooden table, sand it first before applying the primer.
And always keep a touch-up can of paint handy in case it needs it.
It's ironic that the thing I disliked most about my table beforehand (the tile) is now my very favorite part of the table. It adds texture and interest to the tabletop without being too bold or distracting!

Also, if you love frugal and AMAZING DIY projects as much as we do, check out our awesome DIY Sliding Barn Door video tutorial!
Are you ready to transform your old tile table? Make sure you share your creations by tagging us on Instagram!
Originally published on December 17, 2013, and since updated on July 11, 2019.