Print these Free Halloween Bingo Cards and have fun playing as a family or at class parties. This is our favorite Halloween game for kids!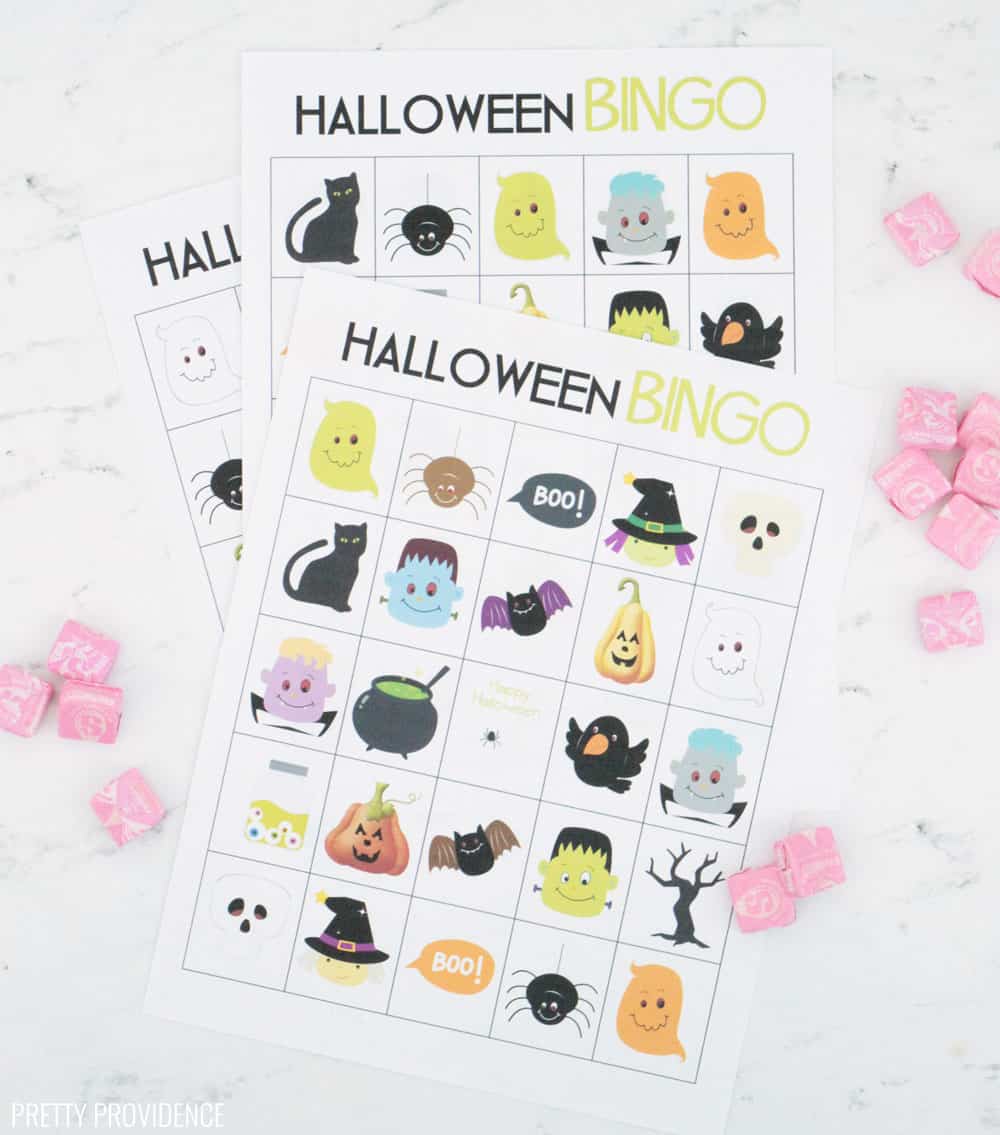 Hi, everyone! It's the middle of October already! Are you knee-deep in Halloween parties, trick-or-treating, and all things spooky? A forever hit in our family is Halloween Bingo.
You might also be interested in our Halloween coloring pages, word search, and Halloween Categories game while you're here! Visit our Halloween page for all of the ideas in one place, and check out all of our free printable bingo cards HERE!
Halloween Bingo
I have recently made new sets of bingo cards for each holiday. I made all of them, including Halloween Bingo, free printables so that you can play with your family too! It's also great for class parties or any kind of Halloween gathering.
*This post contains affiliate links.
I don't know what it is about Bingo, but it never gets old. At least for kids! As long as they have plenty of treats to use as markers, my kids can play this game forever!
Sometimes I get a little tired of calling out the cards, so it's a good thing that even the youngest children can do it!
What to Use as Bingo Markers
Speaking of markers, we usually use Starburst or candy corn for Halloween. You can use any small candy that is wrapped. I don't recommend open chocolate like M&M's, because they tend to melt!
Another option is to use these washable dot markers AKA daubers.
Want a set of Halloween Bingo to play with your family or at a classroom Halloween party?
All you need is a color printer and some good printer paper. Laminating is optional, but I highly recommend it, so you can use the bingo cards year after year!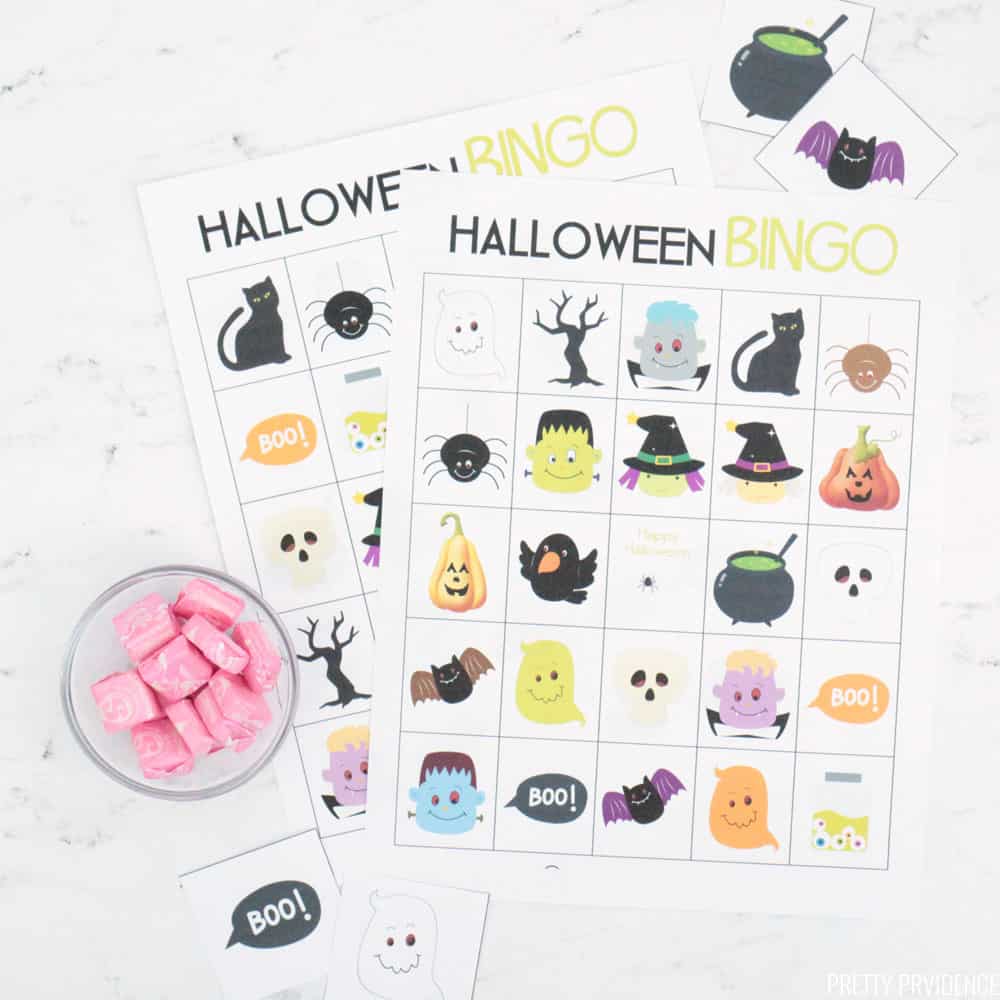 How to Prepare this Halloween Bingo Game
The printable includes Bingo boards and calling cards. Cut out the calling cards, mix them up, and choose them one by one to call the game.
Download a family set (four bingo sheets + calling cards) by subscribing below. The PDF file will be opened as soon as you check your email and confirm.
We've been using this bingo set for Halloween class parties for years, ever since Heidi, from One Creative Mommy designed them for us. If you'd like a set of thirty different cards, click the link below to head over to the One Creative Mommy etsy shop to download the full set.

If you like fun printable Halloween games, check these out too: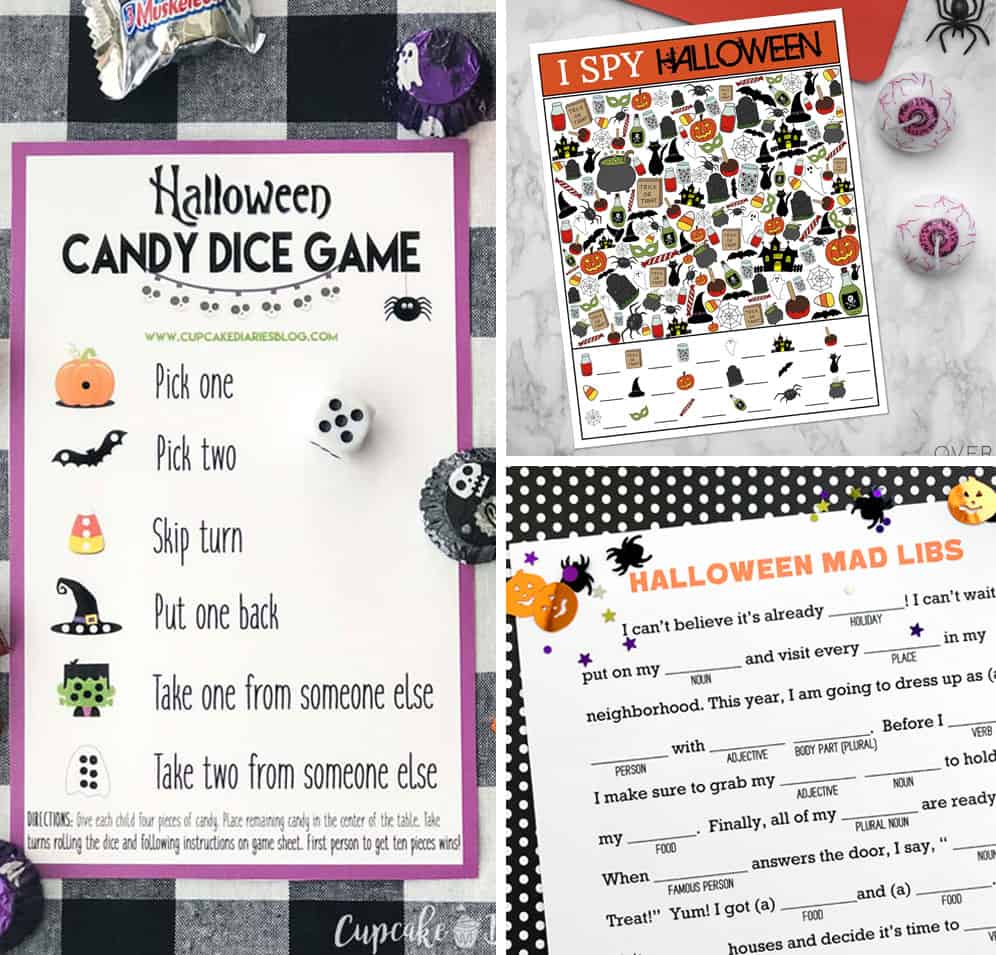 We love this Halloween I Spy from Over the Big Moon
Print some silly Halloween Mad Libs from My Sisters Suitcase
Another hit with the kids – Halloween Dice Game from Cupcake Diaries
This post was originally published in October 2015 and has been updated with new photos and more detailed information.