This post was written in partnership with JOANN. All thoughts and opinions are 100% our own.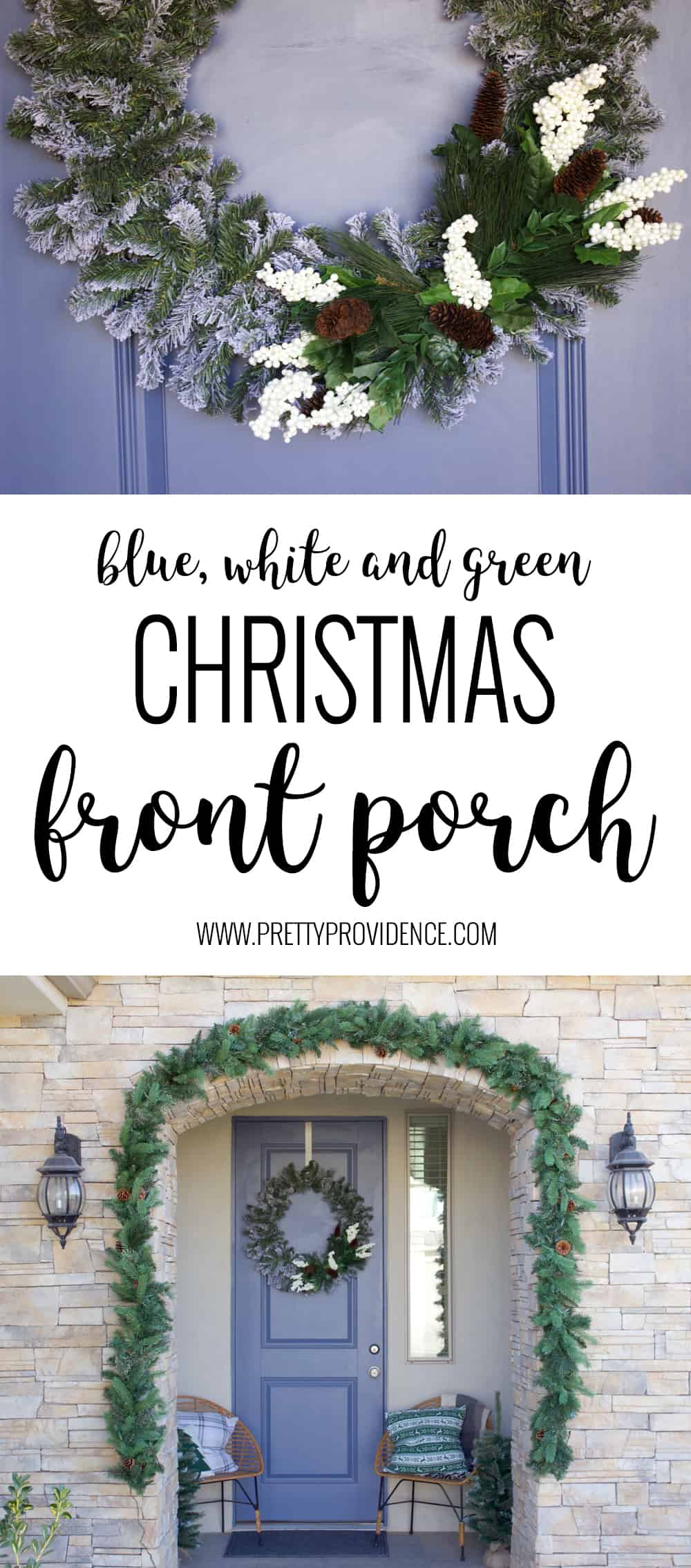 I don't know about you guys but Christmas is my absolute FAVORITE time of the year! I love the sights, the smells, the music, just the feeling in the air! Growing up my mom always made our home feel so magical around the holidays and I'm sure that's why I love it so much now! Creating a home like that obviously happens over time and so each year I try to tackle one project to make our home even more Christmassy (it's a word I swear) and this year I decided to do our front porch!
I knew I would want to make some things and buy some things to maximize my money and time and so I headed straight to my nearest JOANN store to get the best of both worlds! I literally didn't even have to go anywhere else because they had everything I needed from gorgeous garlands to holiday fabric to a cozy blanket down to command hooks! I mean… you just can't beat that!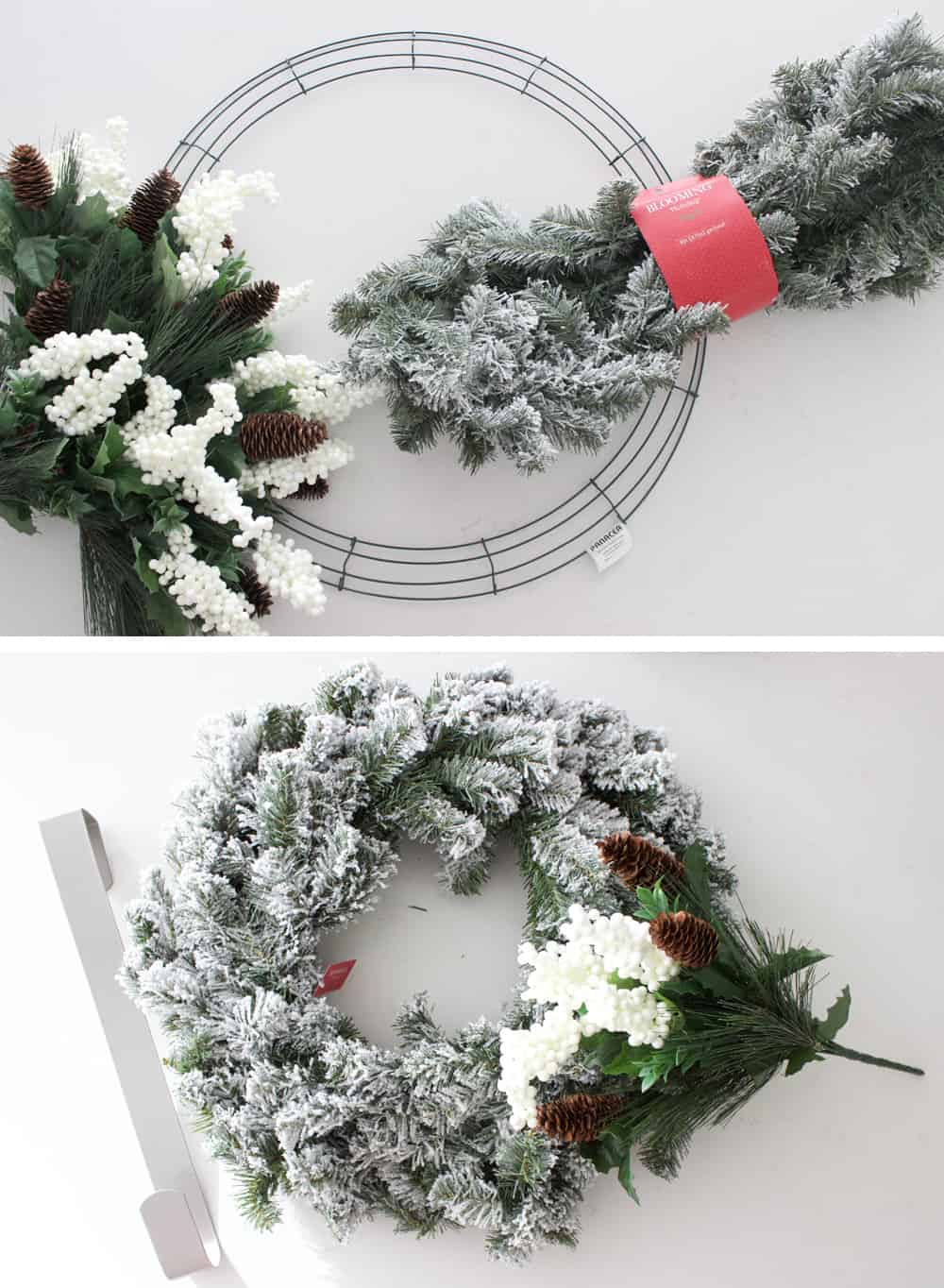 I knew I wanted to make the wreaths myself because wreaths are ridiculously expensive to buy and fun and easy to make! Honestly, it is rare I even find a wreath in a store that I love anyway. Lots of them come off a little gaudy or cheesy for my tastes. The great thing about making them yourself is that you can make them exactly how YOU like! I decided to go with a clean, simple, natural approach. My house has a more modern vibe and I wanted to stick with that. I also don't really love the color red, so most of my holiday decor is blue, white and green with gold, silver and natural wood elements. I figured if it's not broken I'm not gonna fix it and I may as well carry what I love right outside to the porch!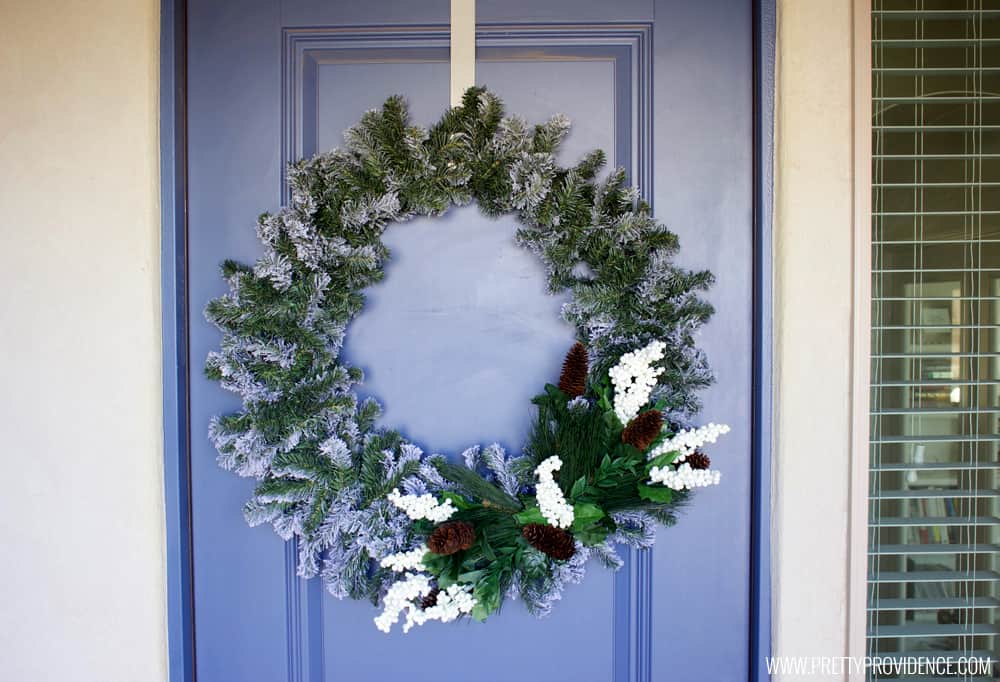 Making this wreath was so simple, you guys! Even a beginning crafter shouldn't have a problem doing it! I just wrapped my frosted garlands (aren't they so pretty?!) around my wreath form, and then garnished with these gorgeous bunches I found in the floral section. I attached mostly using floral wire, and then added a dot of hot glue here and there to place things exactly how I wanted them. You would be hard pressed to find a wreath that large for under $100, and I made it myself for almost a fifth that price using supplies from JOANN!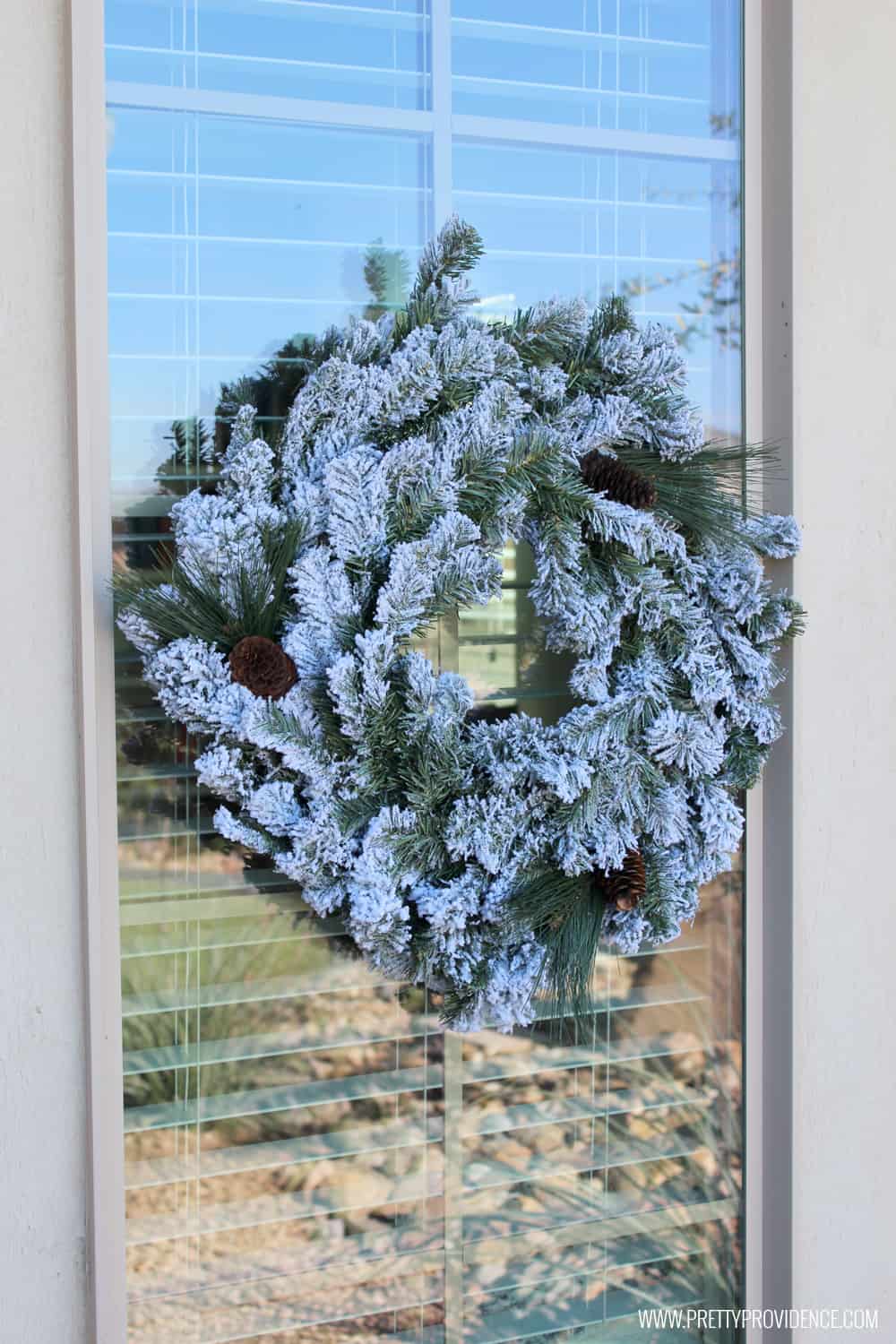 I also wanted wreaths for the three windows directly beside my front porch area. I wanted them to coordinate, but not match exactly. I bought the frosted wreaths already ready to go and embellished with the same floral bunches, just in a more subtle way. I think they turned out so pretty!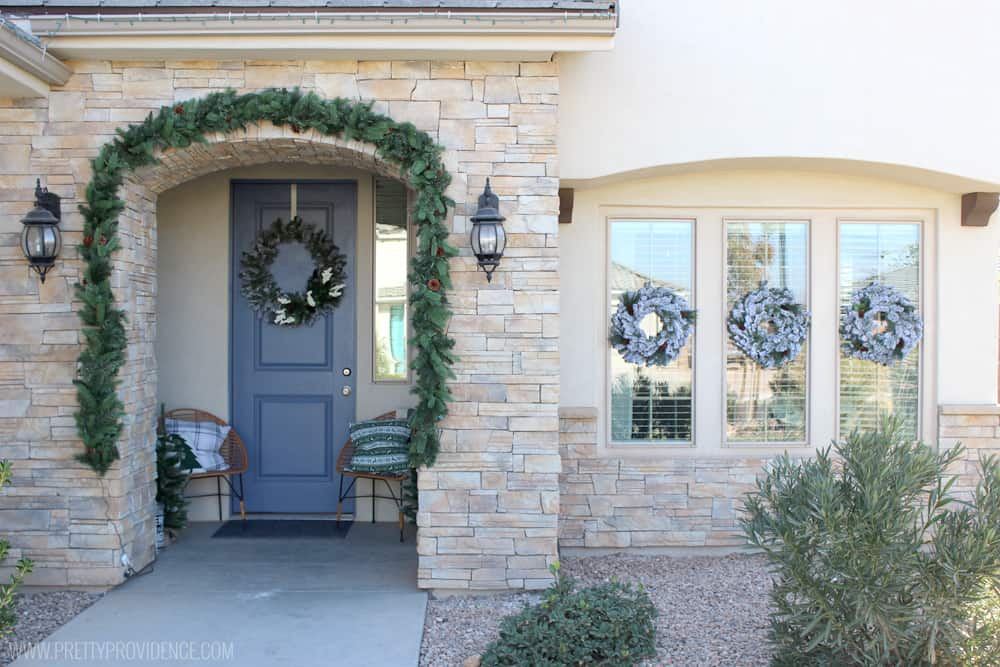 Doesn't that look so cute? I hung a large green garland garnished with pinecones around the entry arch too, and I love how it turned out!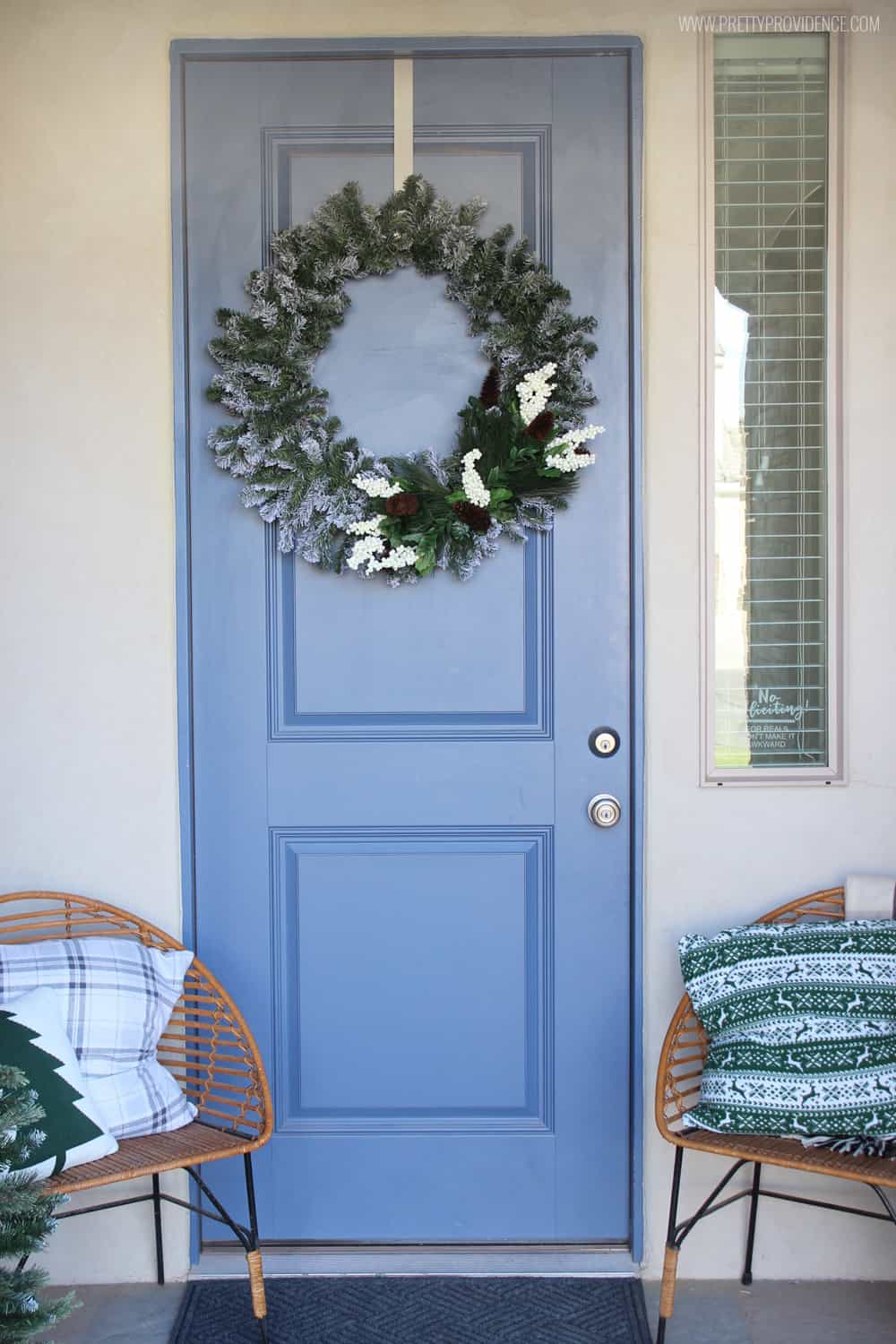 Now for the fun extra touches!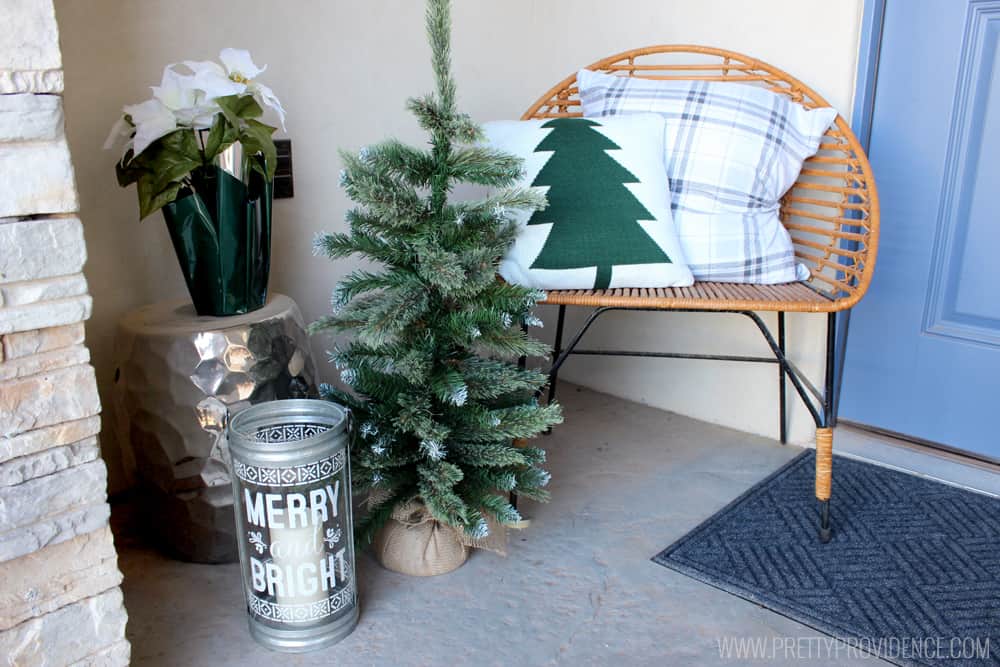 You can't have a Christmas porch without a Christmas tree! I love these cute little evergreens I found in JOANN holiday section! The poinsettia, the Merry and Bright lantern and the cute little Christmas tree pillow were all found there as well! So was the cozy blanket on the other side (see below).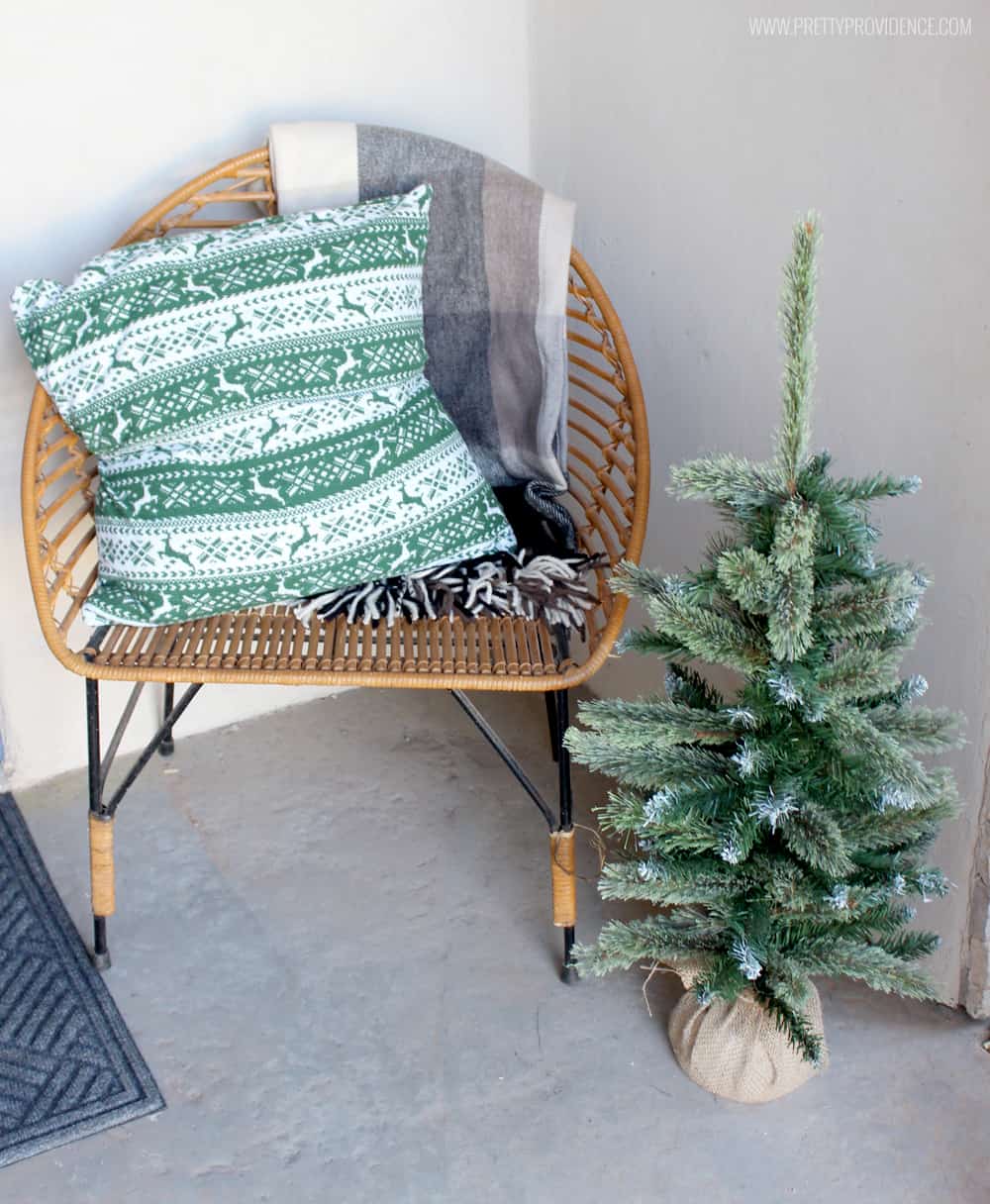 My friend Anna from Practical and Pretty was shopping with me, and as we were browsing the fabric section to find her what she needed I fell in love with that cute reindeer print! I mean, come on! She offered to sew pillow covers for me (true friendship right there people) and I couldn't refuse! We found the grey plaid fabric to balance things out and I love how they both turned out!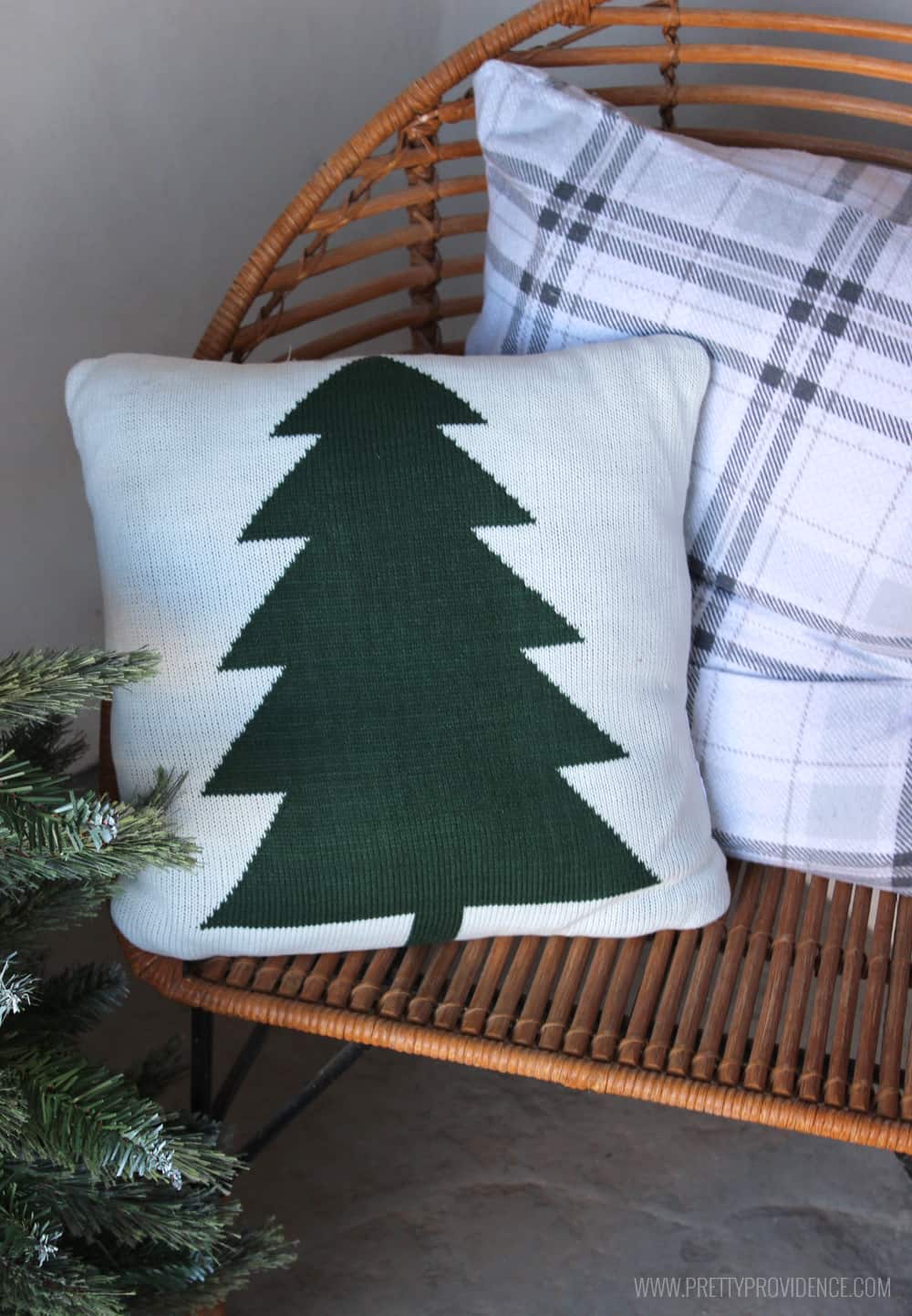 Does that not go so perfectly with my cute little tree pillow?! I'm a little pillow obsessed… it's fine.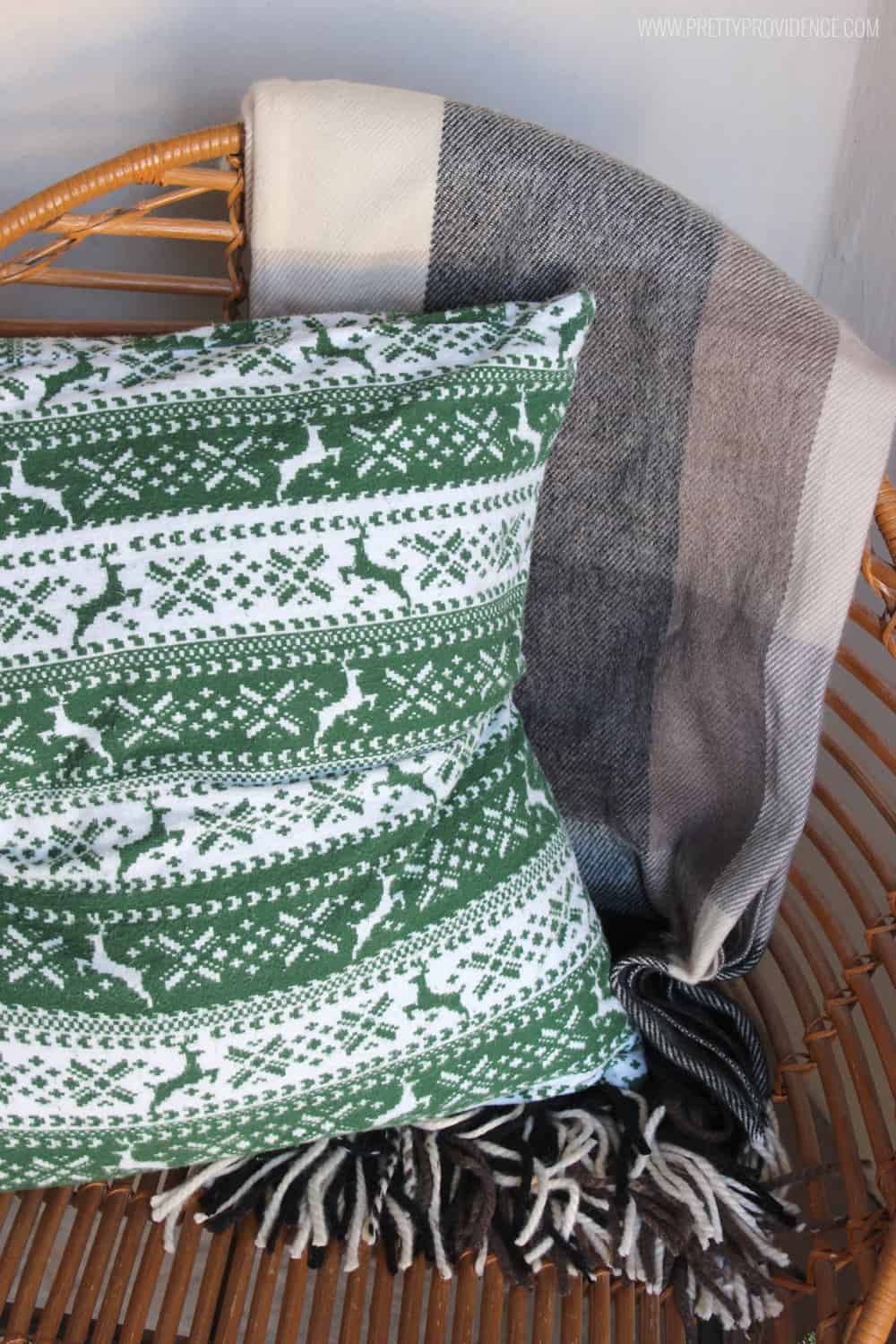 Here's one more look at the porch as a whole!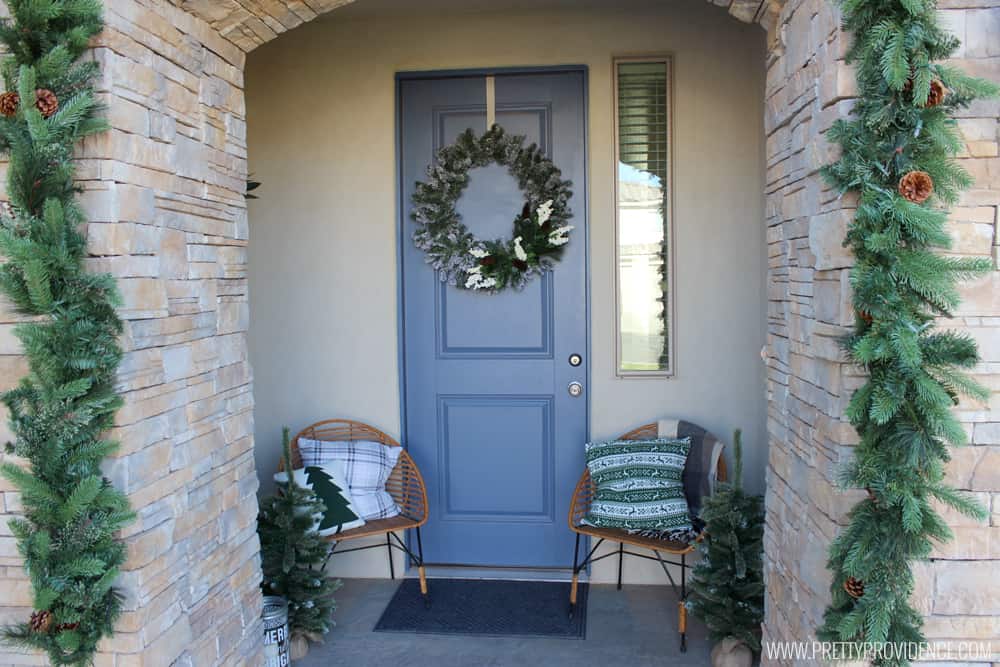 And of course you have to see the night view!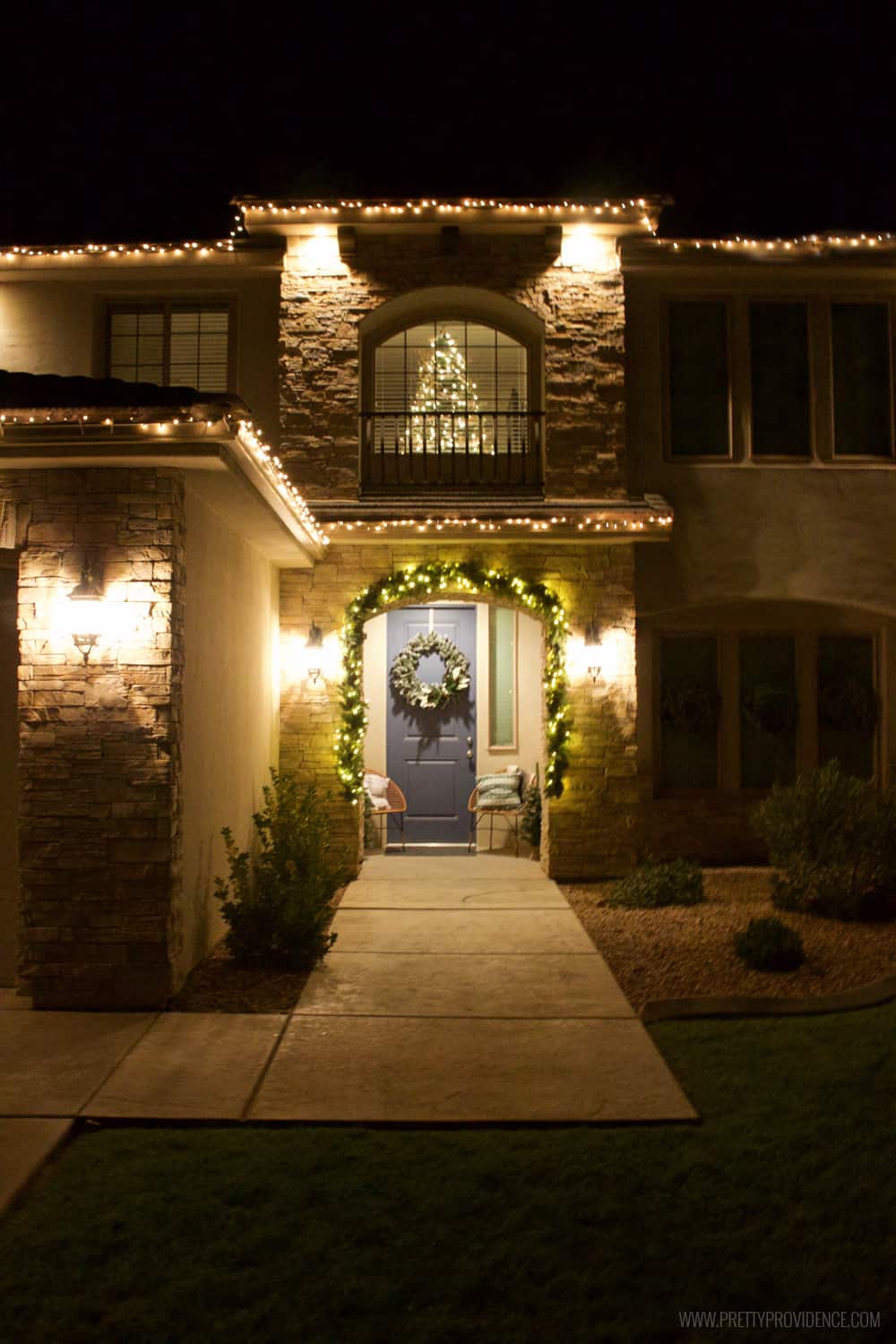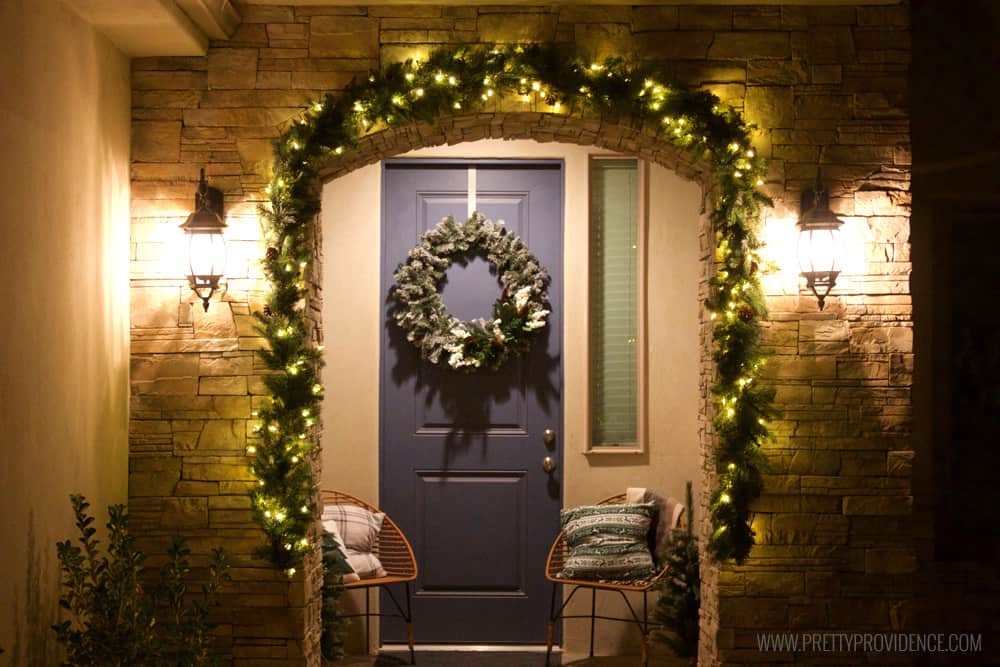 The pictures really don't even do it justice!
Run don't walk to your nearest JOANN for all your Christmas decor needs! I'm telling you, they will not disappoint!
xo,


| | | |
| --- | --- | --- |
| Garland Over Arch | Prelit Garland Option | Window Wreath Base |
| Garland for Door Wreath | Porch Trees | White Poinsettia |
| Christmas Tree Pillow | Grey and White Throw | |
| | Merry and Bright Lantern | Candle |
| | Blooming Holiday Floral | |
| | Wire Cutters | Floral Wire |