Our fan favorite Pepper Jelly recipe is perfect for eating over cream cheese with crackers, gifting to friends, or using as a glaze over meat or veggies.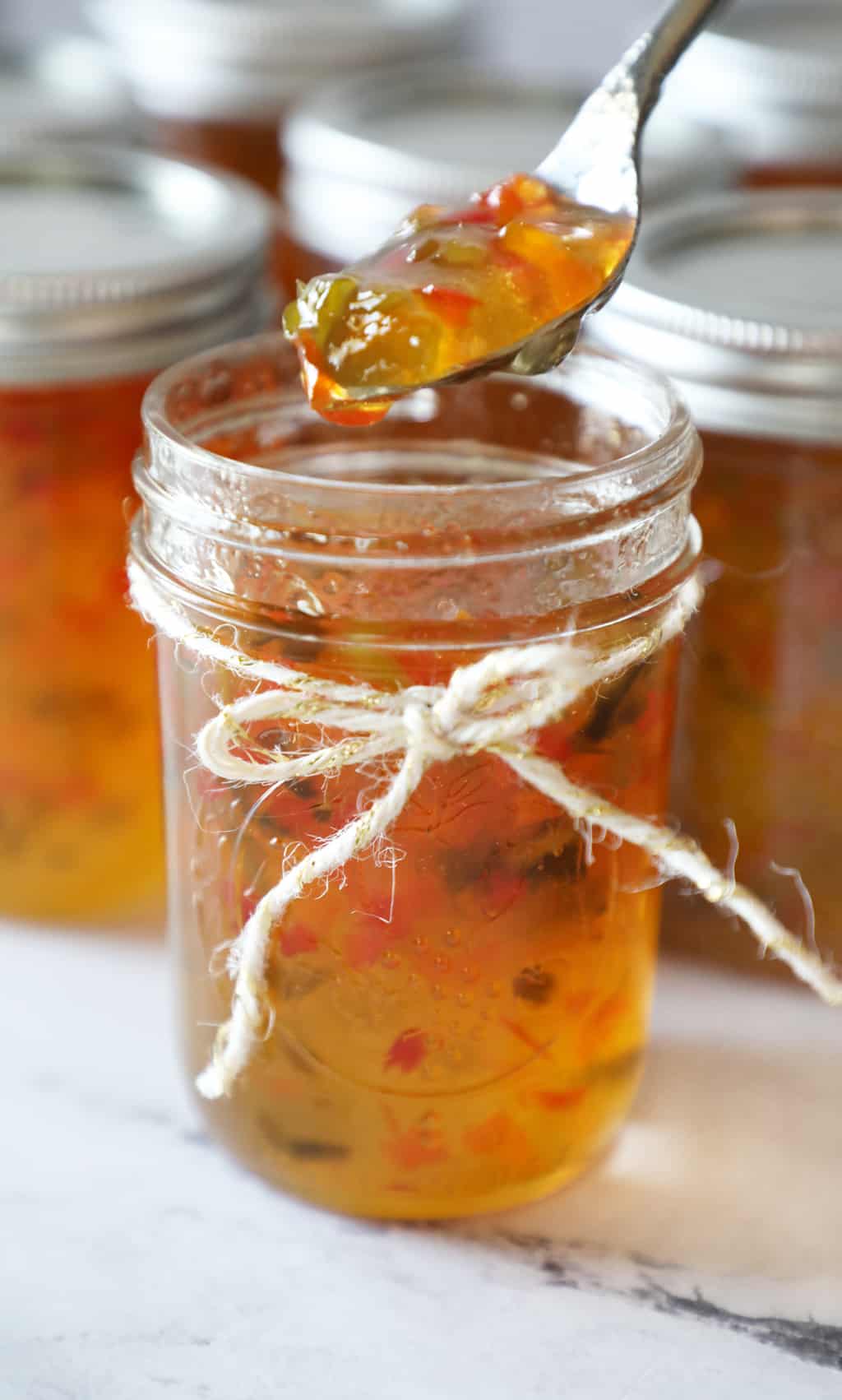 This Pepper Jelly Recipe is delicious and makes the perfect gift
If you are looking for the best Pepper Jelly recipe look no further. Our recipe is thoroughly tried and tested and we are sharing all our best tips in this post.
Read on for detailed instructions, FAQ's answered, and a video tutorial. You can also browse through all the 5 star reviews below.
You will love this Pepper Jam Recipe
If you have never had pepper jelly before, you are in for a treat. It is typically served over cream cheese with crackers as an appetizer. I love canning it and giving it as gifts to friends and neighbors, or storing in the pantry for when I need a quick party food on the go.
If you like jam be sure to also check out this 30 minute strawberry freezer jam, our incredible raspberry freezer jam, or try our homemade pumpkin butter.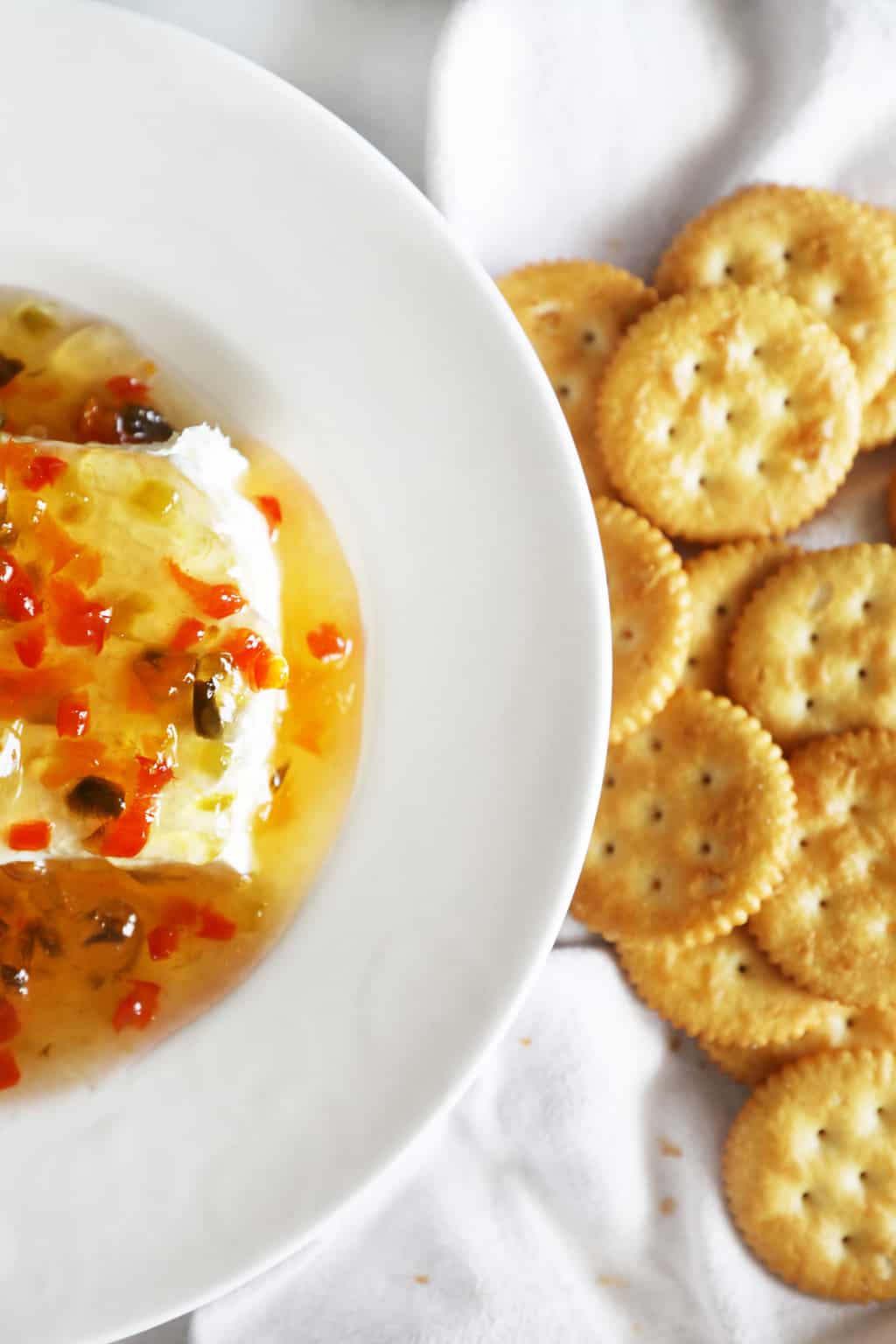 Hot Pepper Jam ingredients
Red Bell Pepper
Yellow Bell Pepper
Green Bell Pepper
Jalapeno Pepper
Apple Cider Vinegar
Powdered Pectin
Sugar
8 oz. Jars for Storage
How to make Pepper Jelly
The great thing about this recipe is that it makes 8 half pint jars. Plenty to share, or you can opt to freeze them or can them and save them for a rainy day. It is also easy to double the recipe.
You ready for the step by step process?
*This post contains affiliate links.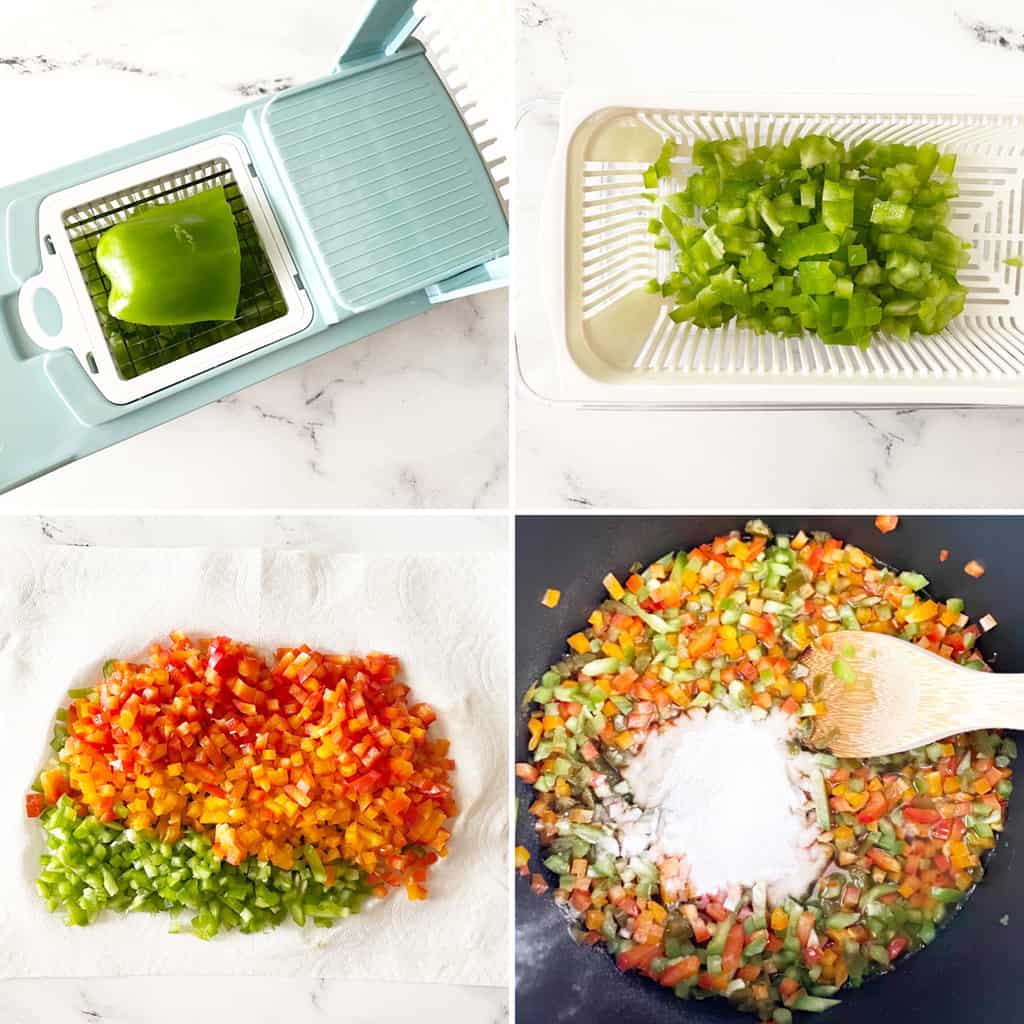 Step 1 - Wash your peppers and finely chop them. I love using this food chopper to chop mine into perfect tiny squares, it is amazing.
Step 2 - If time allows, once your peppers are chopped lay them on a paper towel to drain excess moisture for 15-20 minutes. While this won't affect the taste of your jam, it will allow for a prettier more vibrant color.
Step 3 - Add chopped peppers to a saucepan over medium high heat and mix with vinegar and pectin.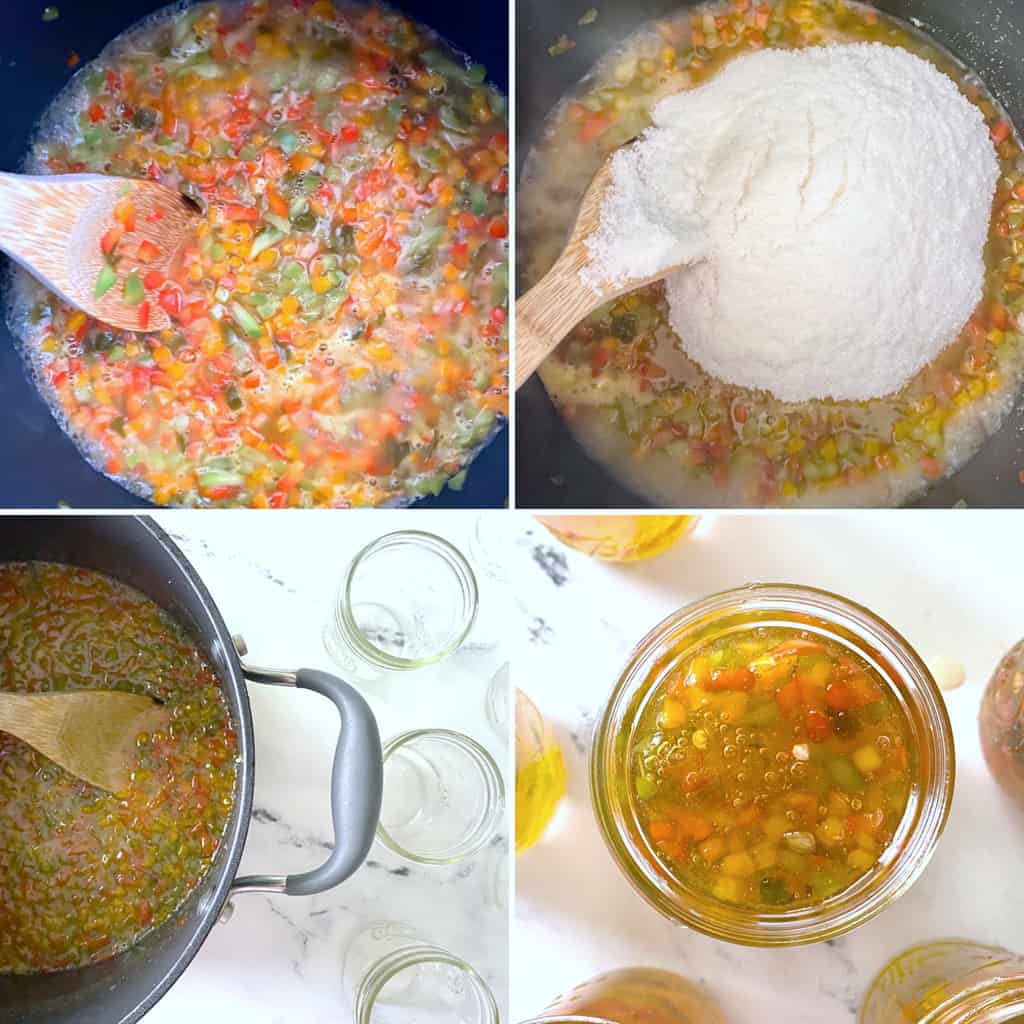 Step 4 - Stirring continuously, bring mixture to a rolling boil.
Step 5 - Add in sugar, stirring to combine and return mixture to a boil, boiling for one full minute. Be sure to stir the entire time to prevent burning or clumping.
Step 6 - Remove from heat and using a jar funnel if you have one, ladle the jelly mixture into sterile half pint jars.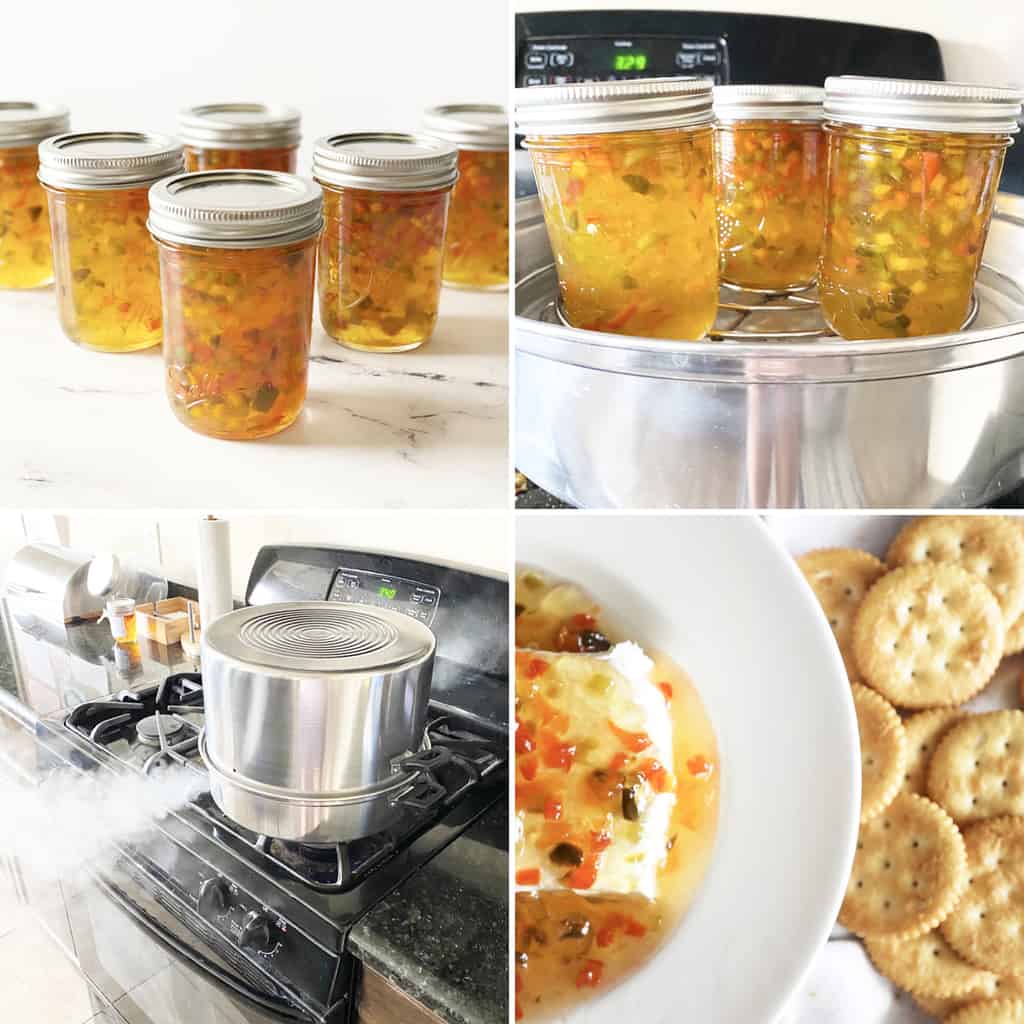 Step 7 - If process canning be sure you are using brand new jar lids. Add lids on jars and secure with rings. If freezing, you can store in any airtight container at this point in the process.
Step 8 - If you are using a water bath or steam canner, follow the manufacturer's directions to process your cans.
Step 9 - Serve over cream cheese and eat with crackers.
How to use Hot Pepper Jelly
Hot pepper jelly is a versatile condiment that can add a sweet and spicy kick to a variety of dishes. Here are some of our favorite ways to use hot pepper jelly:
Glaze for Meats: Hot pepper jelly makes an excellent glaze for grilled or roasted meats such as chicken, pork, or beef. Simply brush the jelly onto the meat during the last few minutes of cooking to create a flavorful and slightly spicy glaze.
Appetizer Spread: Serve hot pepper jelly with cream cheese or goat cheese as a delicious appetizer. Place a block of cream cheese on a serving platter and pour the jelly over it. Serve with crackers, bread, or vegetable sticks for dipping.
Sandwich or Wrap Condiment: Spread hot pepper jelly on sandwiches or wraps to add a sweet and spicy element to your lunch. It pairs particularly well with deli meats, cheese, and grilled chicken.
Marinade: Use hot pepper jelly as a marinade or sauce for grilled or roasted vegetables, such as bell peppers, eggplant, or zucchini. Toss the vegetables in the jelly before cooking to infuse them with flavor.
Glaze for Seafood: Hot pepper jelly can be used as a glaze for seafood, such as salmon or shrimp. Brush it onto the seafood before grilling, broiling, or baking for a flavorful and slightly spicy finish.
Salad Dressing: Mix hot pepper jelly with olive oil, vinegar, and other salad dressing ingredients to create a sweet and spicy salad dressing. Drizzle it over greens, fruits, and nuts for a unique salad.
Condiment for Cheese Boards: Serve hot pepper jelly as part of a cheese and charcuterie board. It pairs well with various cheeses, crackers, and cured meats.
Glaze for Roasted Vegetables: Drizzle hot pepper jelly over roasted vegetables like Brussels sprouts, carrots, or sweet potatoes to add a sweet and spicy glaze that caramelizes during roasting.
How to store Pepper Jelly
When hot water bath or steam canned sealed jelly jars can be stored at room temperature in a pantry or storage room.
After opening the jar of hot pepper jelly, it should be stored in the refrigerator. The cold temperature helps preserve the jelly and prevent spoilage.
Freezing (Optional): If you have an excess amount of hot pepper jelly or want to store it for an extended period, you can freeze it. Transfer the jelly to a freezer-safe container, leaving some space for expansion, and store it in the freezer. It can typically be frozen for several months without significant loss of quality. Thaw the jelly in the refrigerator when you're ready to use it.
Hot Pepper Jelly Recipe FAQs
Why did my pepper jelly not gel?
If your pepper jelly did not gel properly, it can be frustrating, but there are several common reasons why this might happen:

- Incorrect Ratios: The most common reason for jelly not gelling is incorrect ratios of ingredients, particularly sugar and pectin. Make sure you accurately measure the ingredients according to the recipe.
- Undercooking: If you didn't cook the jelly mixture for long enough, it may not have reached the proper temperature or consistency needed for gelling. Follow the recipe's cooking time and instructions closely.
- Overcooking: On the other hand, overcooking the jelly can also prevent it from gelling. If you cook the mixture for too long or at too high a temperature, it can break down the pectin molecules, preventing them from forming a gel structure.
- Quality of Pectin: The quality and type of pectin you use can affect the gelling process. Make sure you're using fresh, unexpired pectin.

If your pepper jelly didn't gel as expected, you may be able to salvage it. One option is to reheat the jelly and add more pectin, sugar, or acid according to the recipe's guidelines to help it gel. Alternatively, you can use it as a delicious sauce or glaze even if it remains in a syrupy consistency.
How do you keep peppers from floating in pepper jelly?
Keeping peppers from floating in pepper jelly can be a bit tricky, but there are a few techniques you can try to help distribute the peppers more evenly throughout the jelly and reduce floating:

- Chop Peppers Finely: When preparing the peppers for your jelly, make sure to chop them into small, uniform pieces. Smaller pieces are less likely to float because they can be more evenly distributed throughout the jelly.
- Stir Constantly: While cooking the jelly mixture, stir it constantly to keep the peppers from rising to the top. Use a wooden spoon or silicone spatula to gently mix the ingredients together as they heat.
- Let It Sit: After you've filled your jars with the hot pepper jelly, allow them to sit for a few minutes before sealing them. This can help reduce the likelihood of the peppers floating to the top. During this time, gently tap the sides of the jars to release any air bubbles.

Remember that some floating of peppers may still occur despite these efforts, as it can be challenging to completely eliminate it. However, by following these tips, you can minimize the floating and create a more visually appealing pepper jelly.
Is hot pepper jelly a southern thing?
Hot pepper jelly is often associated with Southern cuisine, but it is not exclusive to the South. While it may have gained popularity in the Southern United States, particularly in states like Georgia, Louisiana, and Mississippi, it is now enjoyed across the country and even internationally.

In the South, hot pepper jelly is often used in traditional Southern recipes and served as an accompaniment to dishes like biscuits, cornbread, fried chicken, and pork. It's also a staple at Southern holiday gatherings and is commonly served with cream cheese and crackers as an appetizer.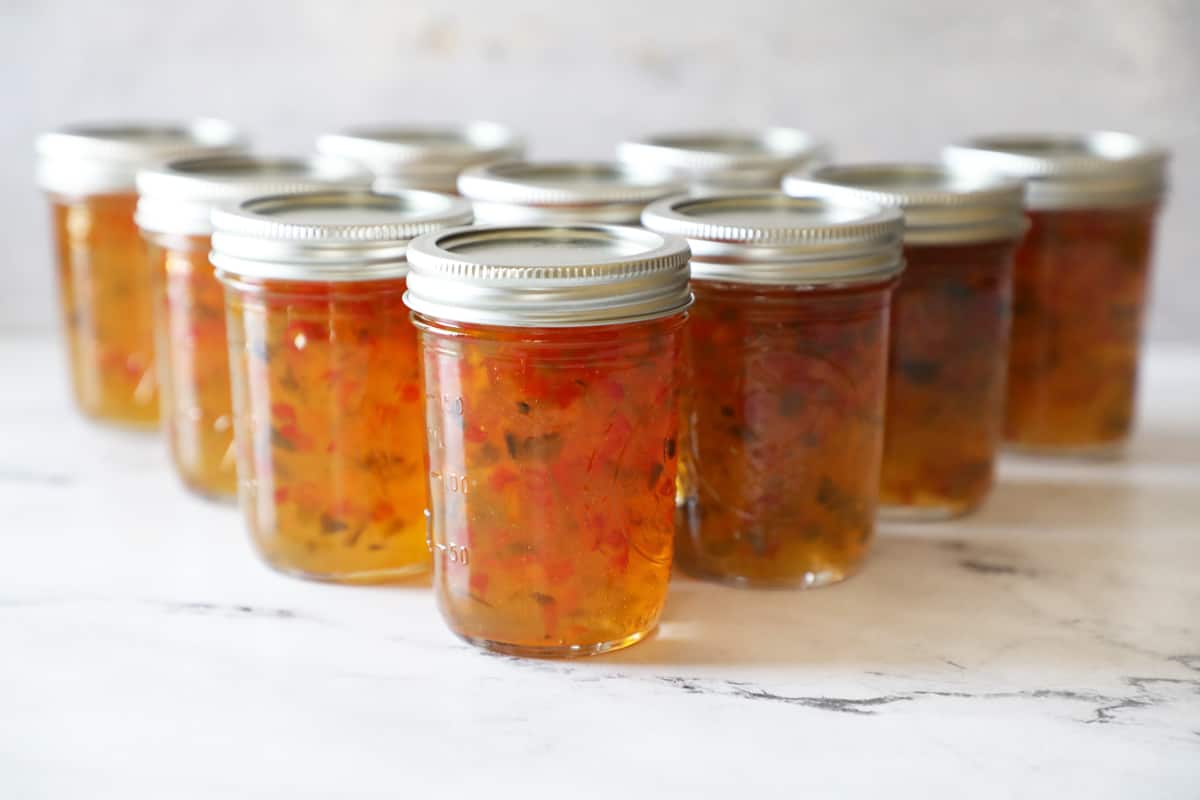 If you make this recipe and enjoy it, we would love for you to leave us a positive comment and review. They mean so much to us.
More Favorites from Pretty Providence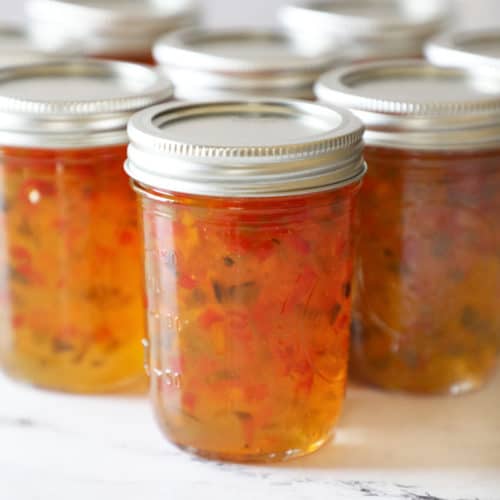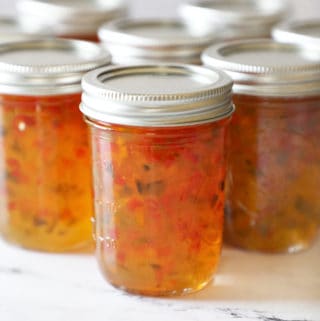 Hot Pepper Jam Recipe
Hot Pepper Jelly is so yummy over cream cheese with crackers, and makes the perfect gift to can and give away to friends and neighbors.
Print
Pin
Rate
Servings:
8
Half Pint Jars
Equipment
Water Bath Canner, Optional
Instructions
Finely chop all your peppers and place them in a saucepan over medium high heat. Sitr in vinegar and pectin. Bring mixture to a boil stirring constantly.

Once boiling, add in sugar and stir to combine. Continue stirring as mixture returns to a rolling boil. Boil for one minute and remove from heat.

Use a funnel if you have one to pour jelly into sterile jars. Be sure to leave at least a fingers width of room at the top of jars for expansion. Cover with lids and screw bands on. If canning, the lids must be new, never used.

Freezer Hot Pepper Jam: If freezing, let jars cool to room temperature and store in the freezer for up to six months. When ready to use thaw in the fridge or in a warm water bath.

To Can Hot Pepper Jam: Heat water in a water bath or steam bath canner according to manufacturers instructions. Place jars on rack, and cover with lid. Bring water to a boil and begin process timing according to manufacturers directions.
Notes
I used my steam bath canner and at an altitude of 3,000 feet these processed for 15 minutes.
Pro Tip: If stored in the freezer pepper jelly will last for up to 6 months. If process canned jelly will last on shelf for up to 18 months. If opened in the fridge jelly will last for 7-10 days.
If you like jam be sure to also check out this 30 minute strawberry freezer jam, our incredible raspberry freezer jam, or try our homemade pumpkin butter.
Nutrition
Calories:
670
kcal
|
Carbohydrates:
171
g
|
Protein:
1
g
|
Fat:
1
g
|
Saturated Fat:
1
g
|
Polyunsaturated Fat:
1
g
|
Monounsaturated Fat:
1
g
|
Sodium:
6
mg
|
Potassium:
160
mg
|
Fiber:
1
g
|
Sugar:
168
g
|
Vitamin A:
774
IU
|
Vitamin C:
82
mg
|
Calcium:
10
mg
|
Iron:
1
mg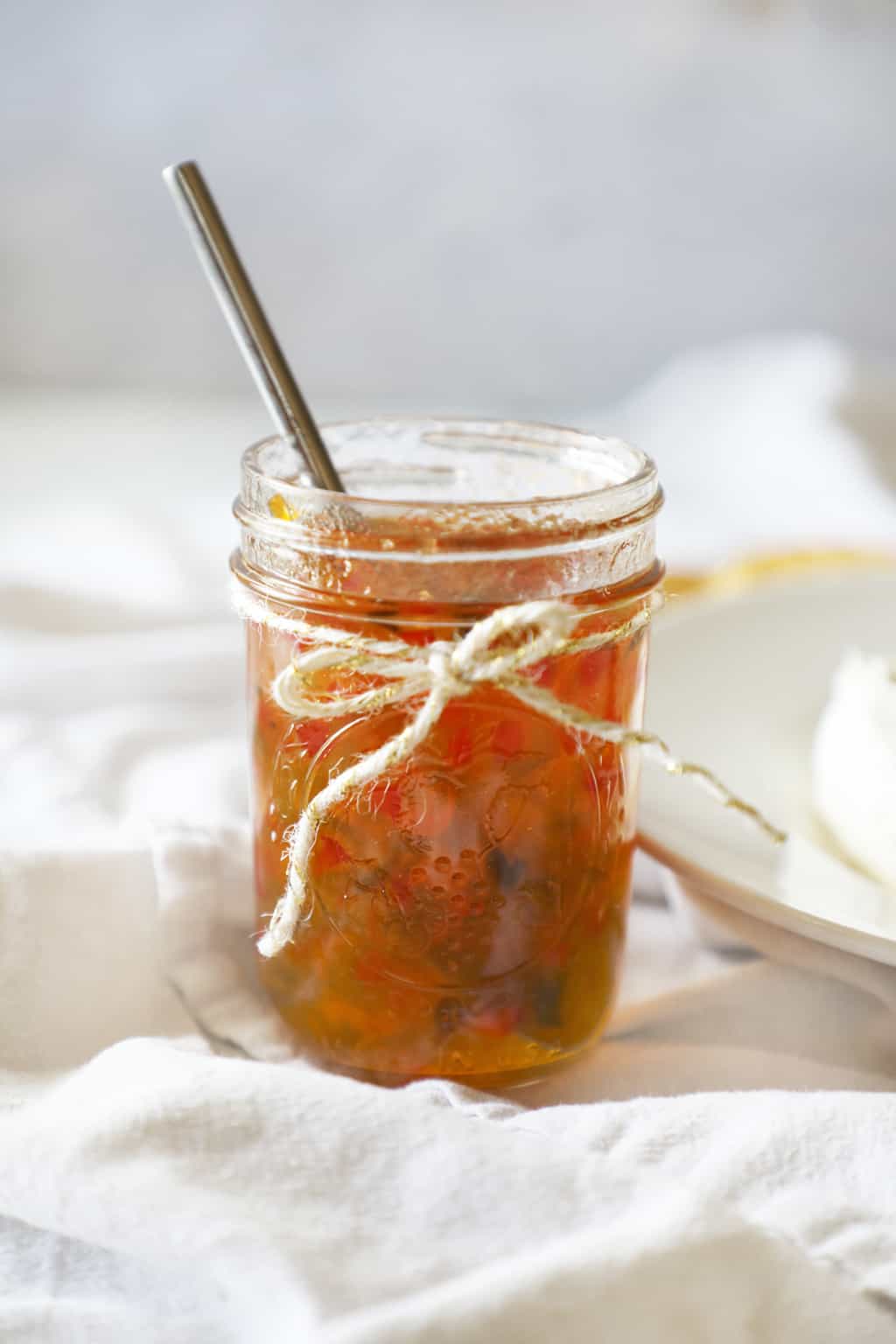 Pro Tip: If stored in the freezer hot pepper jelly will last for up to 6 months. If processed, canned jelly will last on pantry shelf for up to 18 months. If opened in the fridge jelly will last for 7-10 days.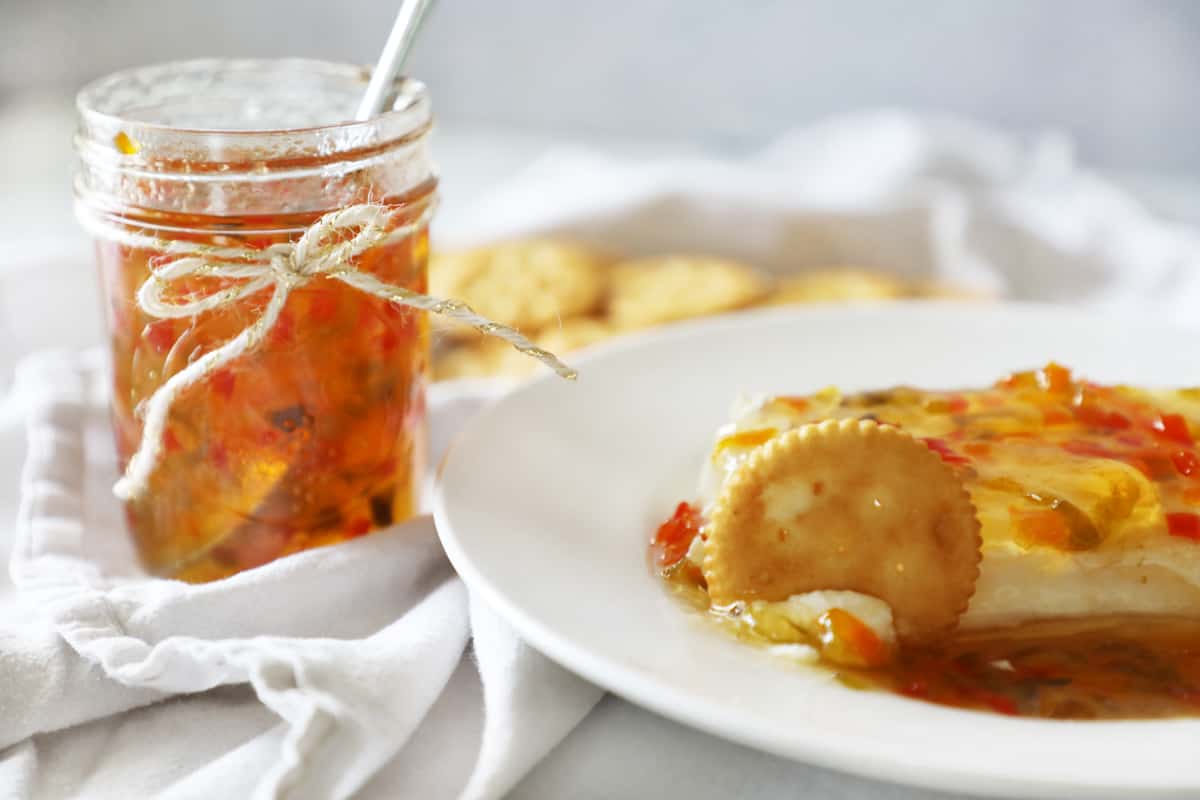 As I mentioned, this pepper jelly recipe makes great gifts for neighbors and friends. The best part is, if you process them you can make them in advance and have holiday gifts ready to go.
xo,

This post was originally published on July 26, 2021 and has been updated with video and more detailed information.