If you're looking for cute and easy Elf on the Shelf ideas, we've got tons for you. Your Elf can be funny and mischievous with one of these quick Elf on the Shelf ideas or printables!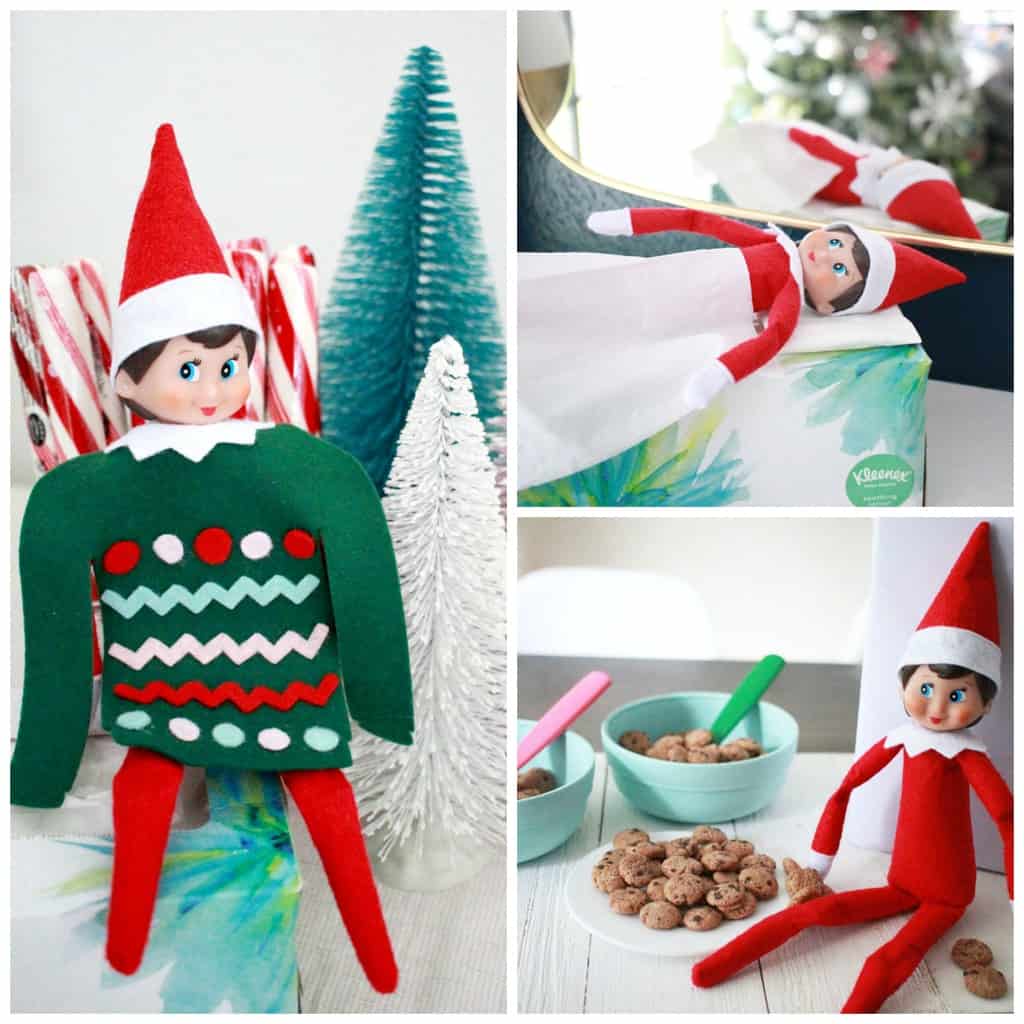 Do you have an Elf on the Shelf?
We LOVE our Elf on the Shelf, and our kids love looking for him each morning. It actually doesn't have to be complicated. You can do as much or as little as you want with your family Elf.
What is Elf on the Shelf?
If you don't know what Elf on the Shelf is all about, here's the basic explanation: you buy an Elf on the Shelf kit that comes with an Elf and a book. The book is a fun story that explains that the Elf is visiting for the Christmas season. We also have a movie called An Elf's Story that our kids love watching.
So, the book outlines the rules he or she follows, and how their magic allows them to visit Santa each night. The Elf then returns to your house, usually in a new spot, in time for your kid to see them when they wake up!
Elves are often found doing funny or mischievous things – which is why this has become such a fun family tradition. As you can imagine, kids love to go looking for the Elf each morning to see what their Elf has gotten into!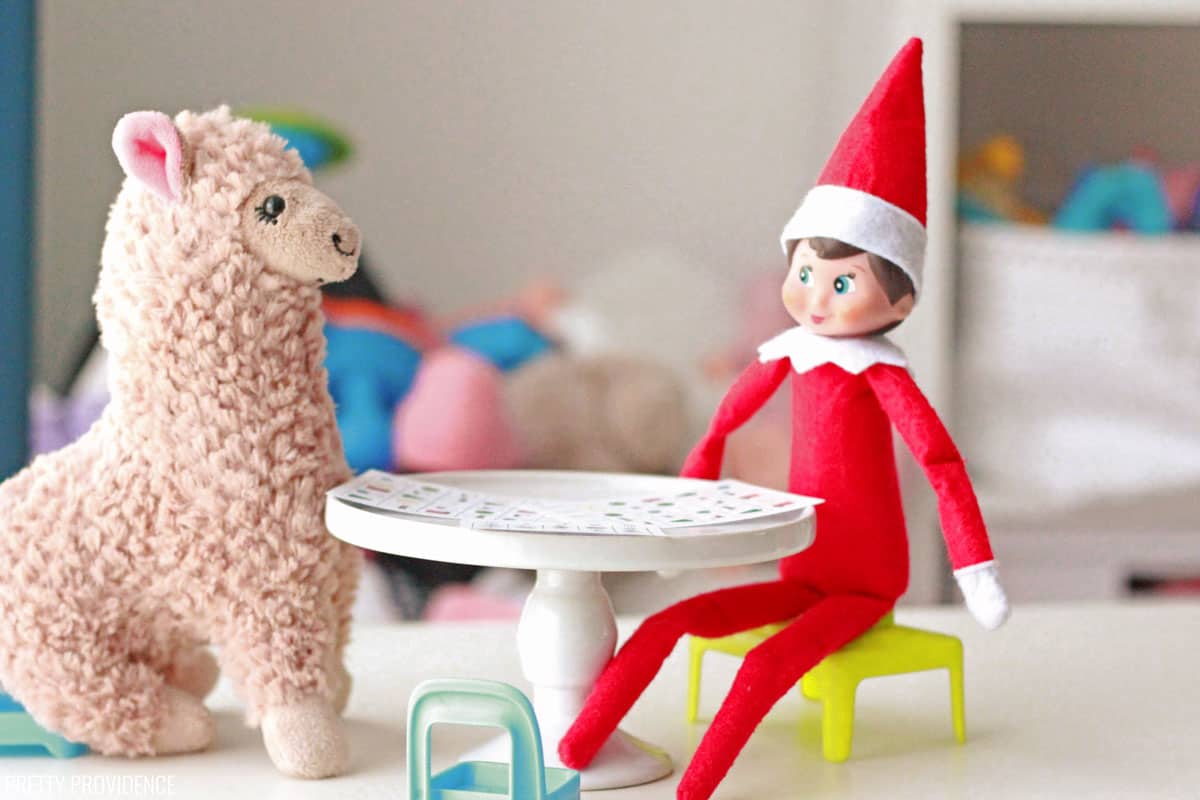 Cute and Funny Elf on the Shelf Ideas:
There are SO many ways to make the cute Elf tradition even more fun, with outfits, printables and props. I have taken pictures of a bunch of the things we've found our Elf doing, and I decided to round up a bunch of other cute Elf ideas to share with all of you too! There are so many good ideas here.
Cute Elf on the Shelf ideas with Props: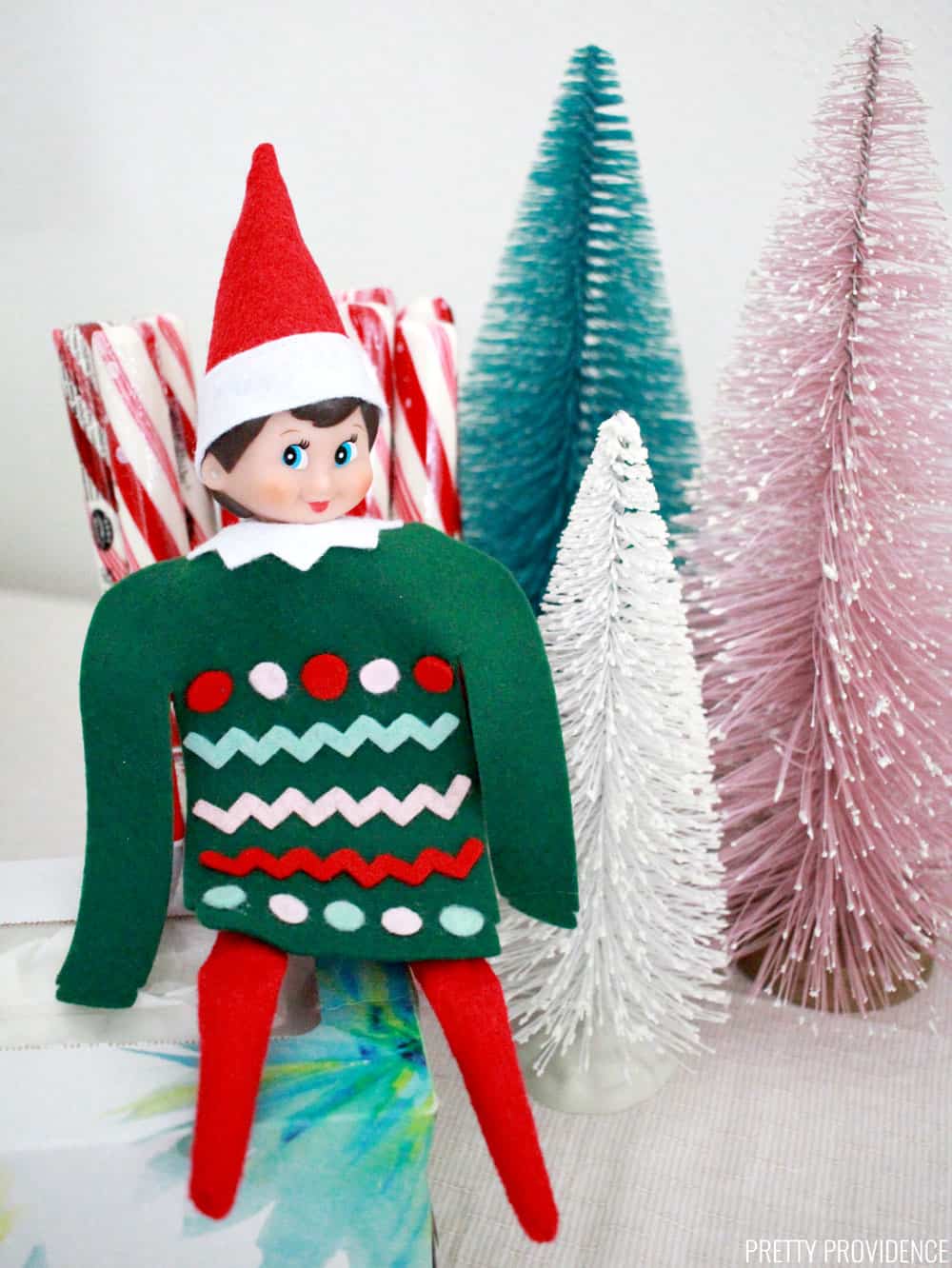 Our Elf has to wear a tacky sweater at some point during the season! It is a family tradition, after all. I think she even made her very own sweater!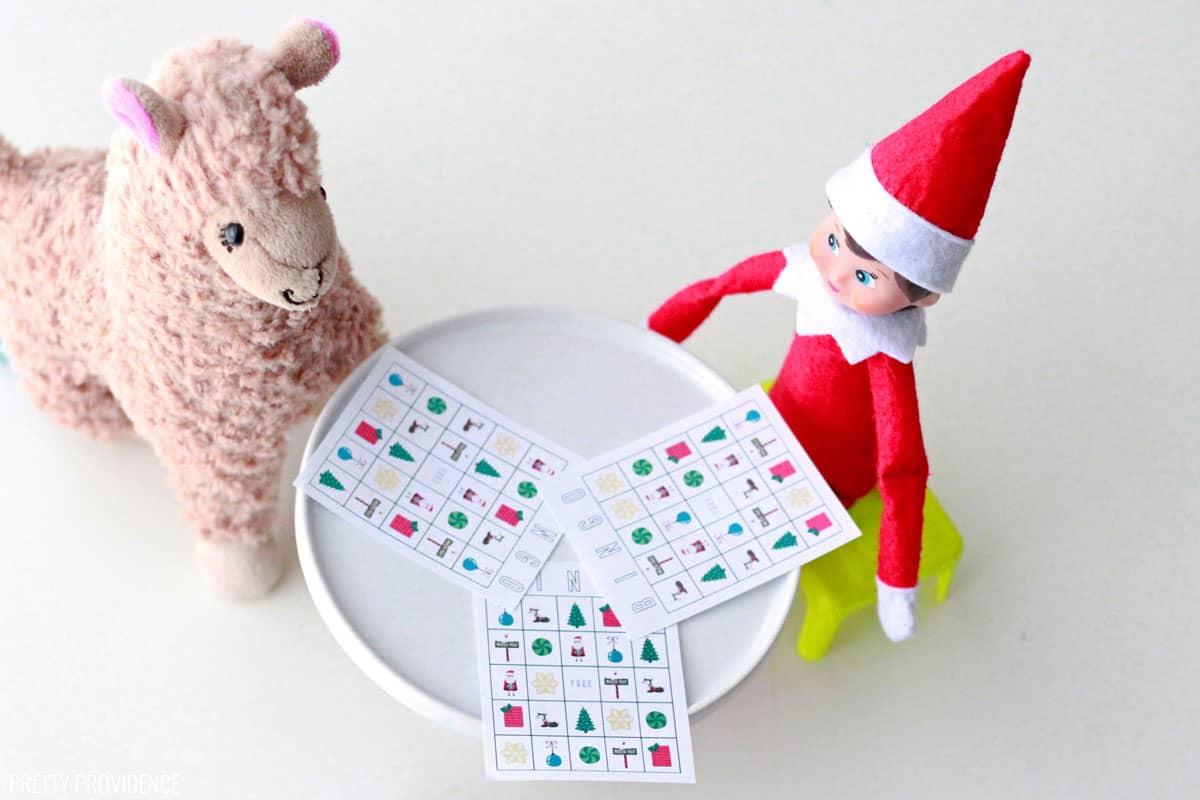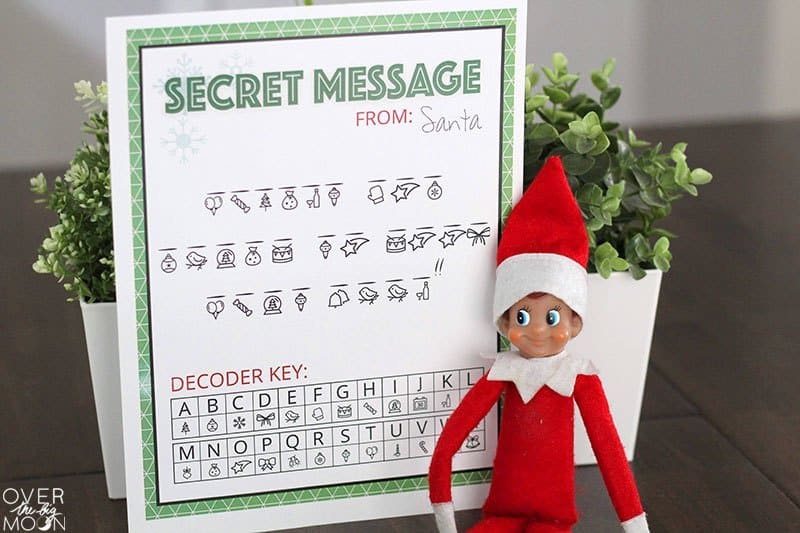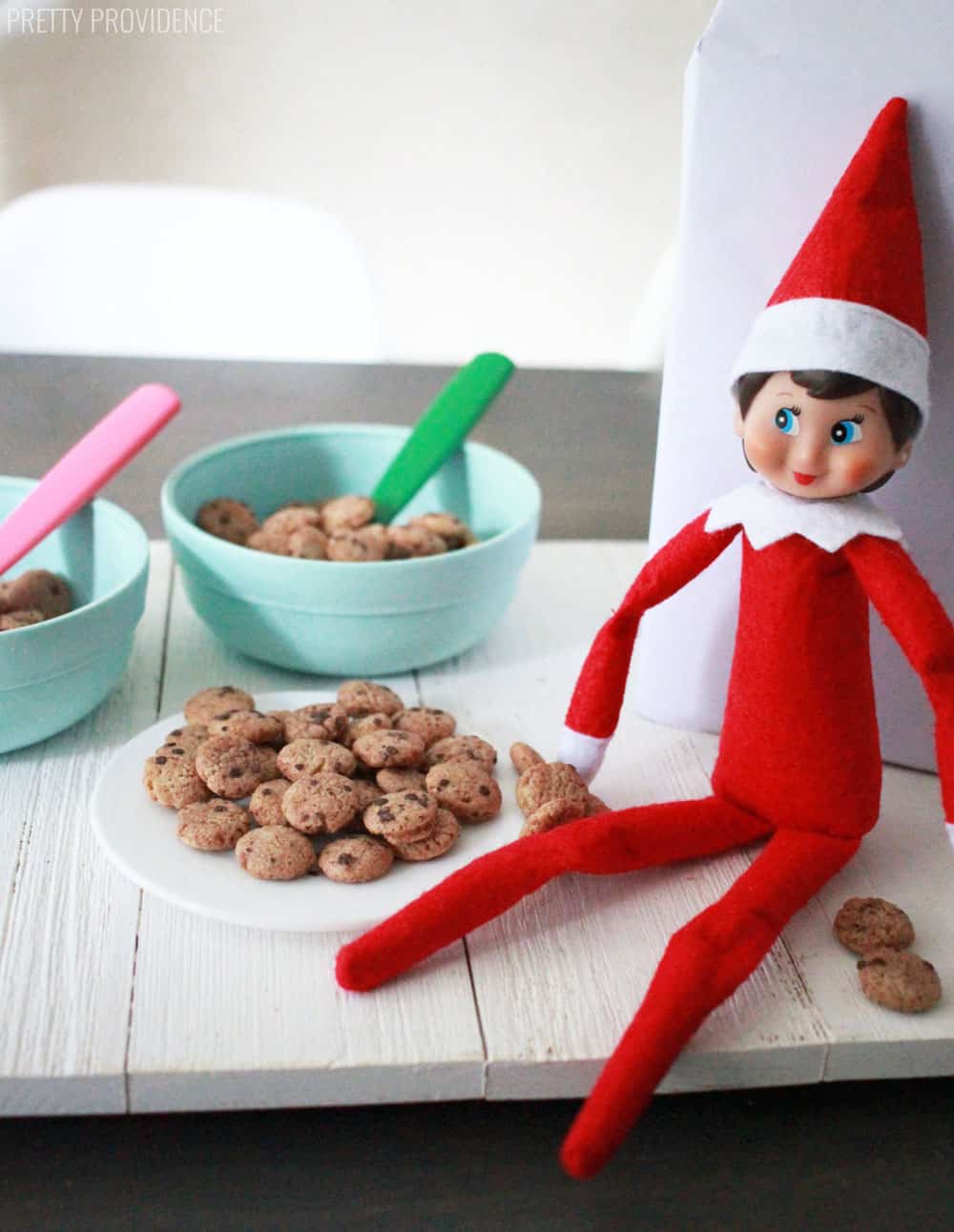 Our Elf on the Shelf makes cookies for breakfast! Cookie cereal is the perfect size for her!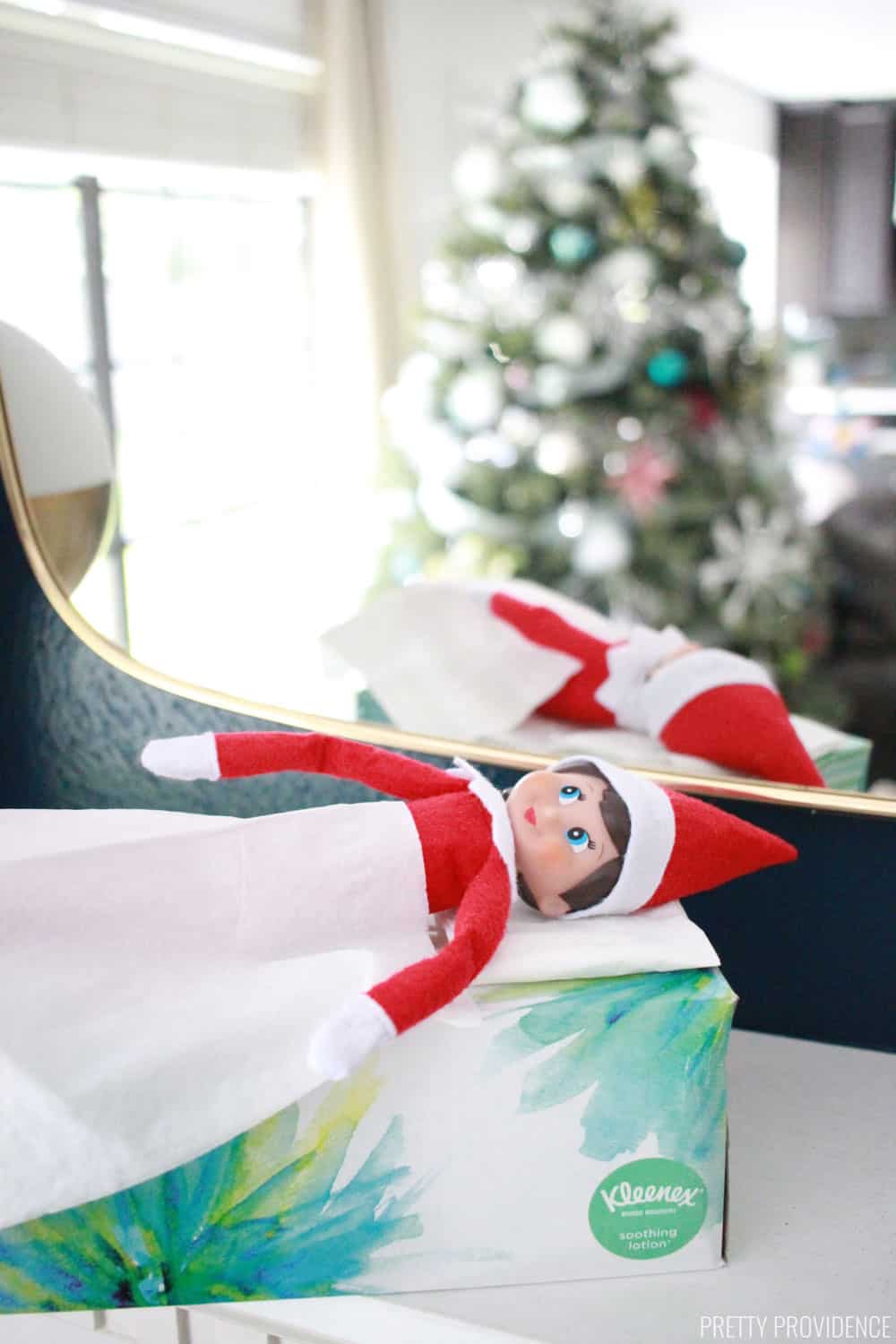 The Elf in her tissue box bed. Elves need to sleep too, even if it is only for 40 minutes.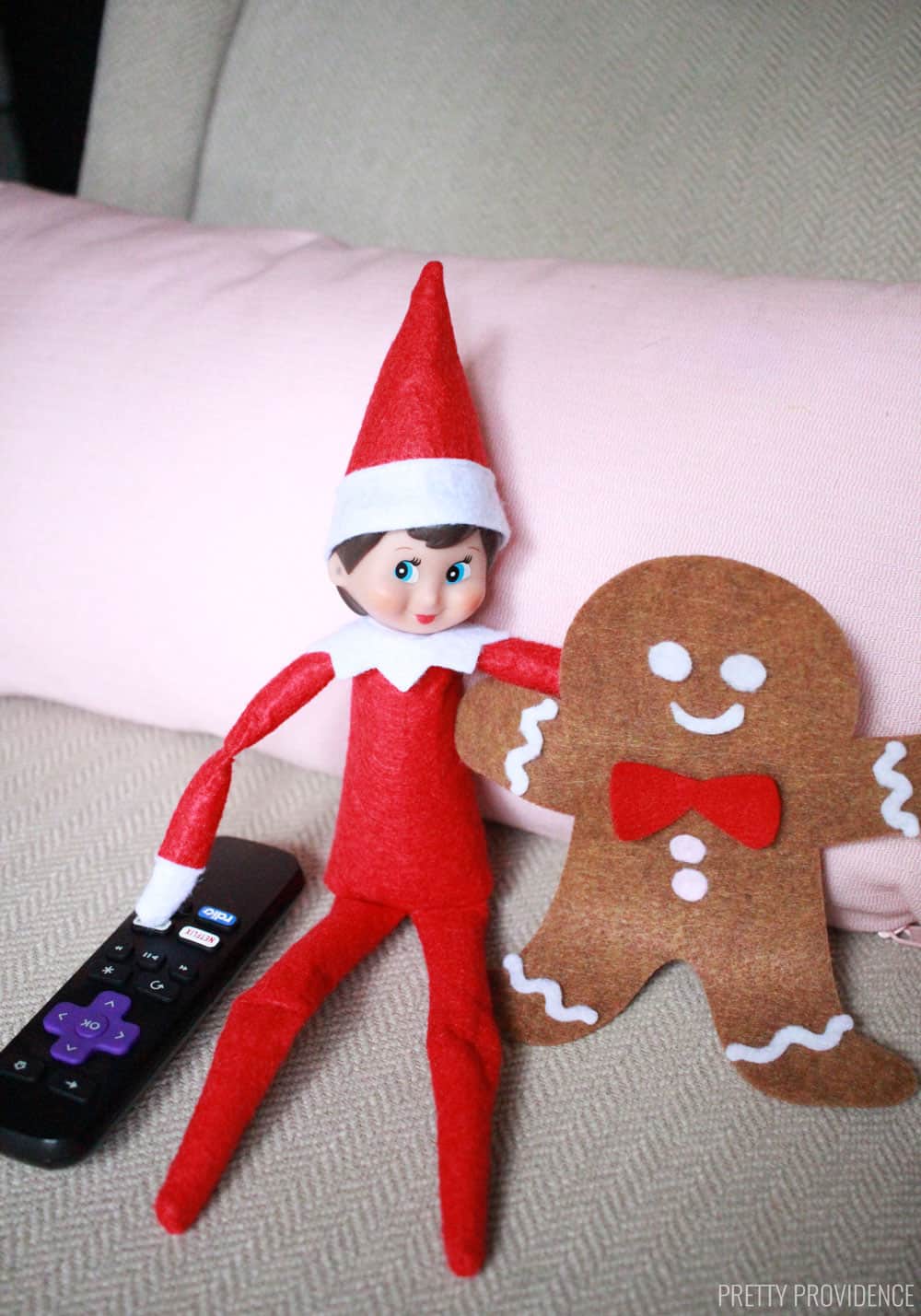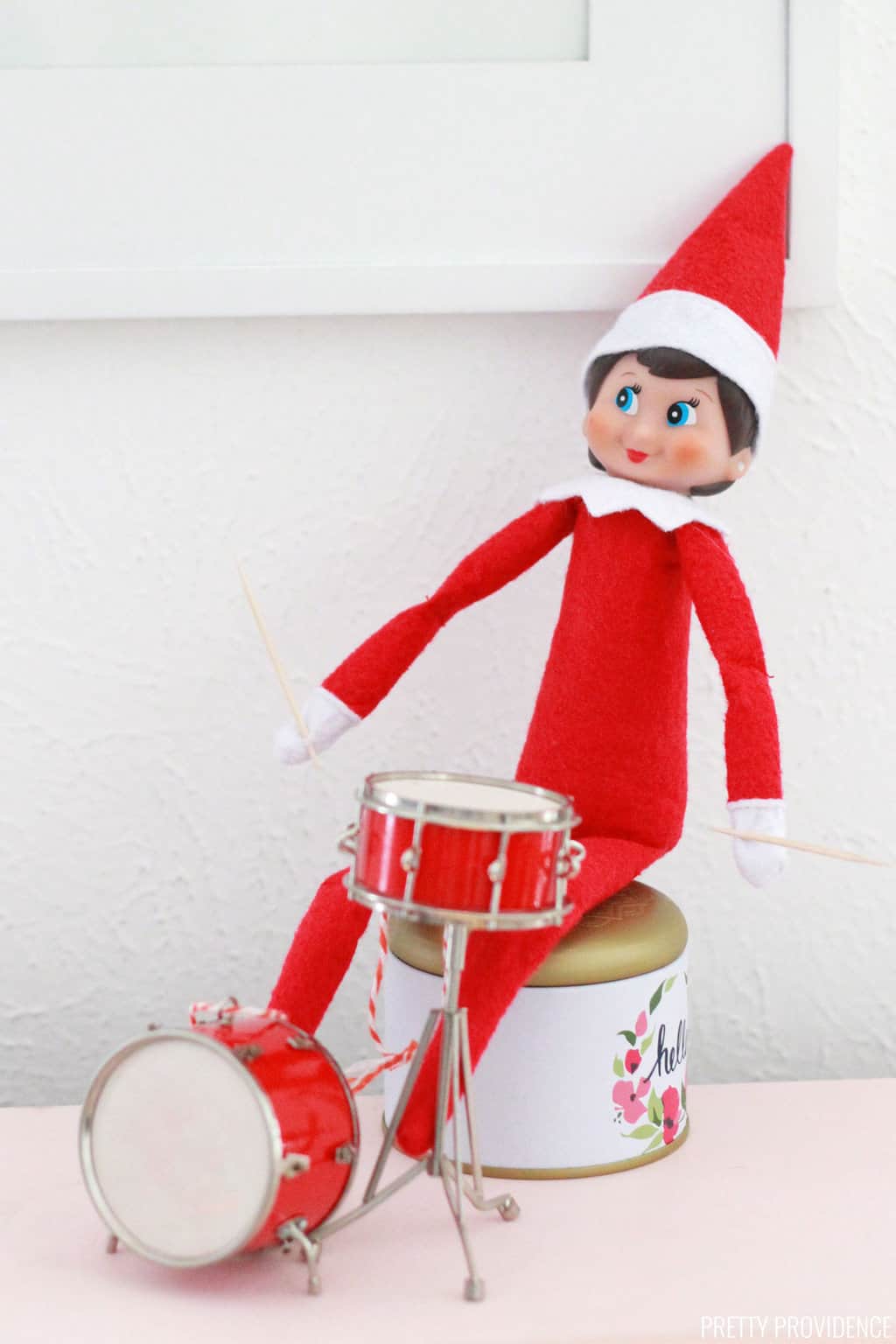 The Elf playing the drums, with toothpicks for drum sticks. I hear Elves are very talented musicians. These bass drum and snare drum ornaments are similar to the ones Holly is playing here.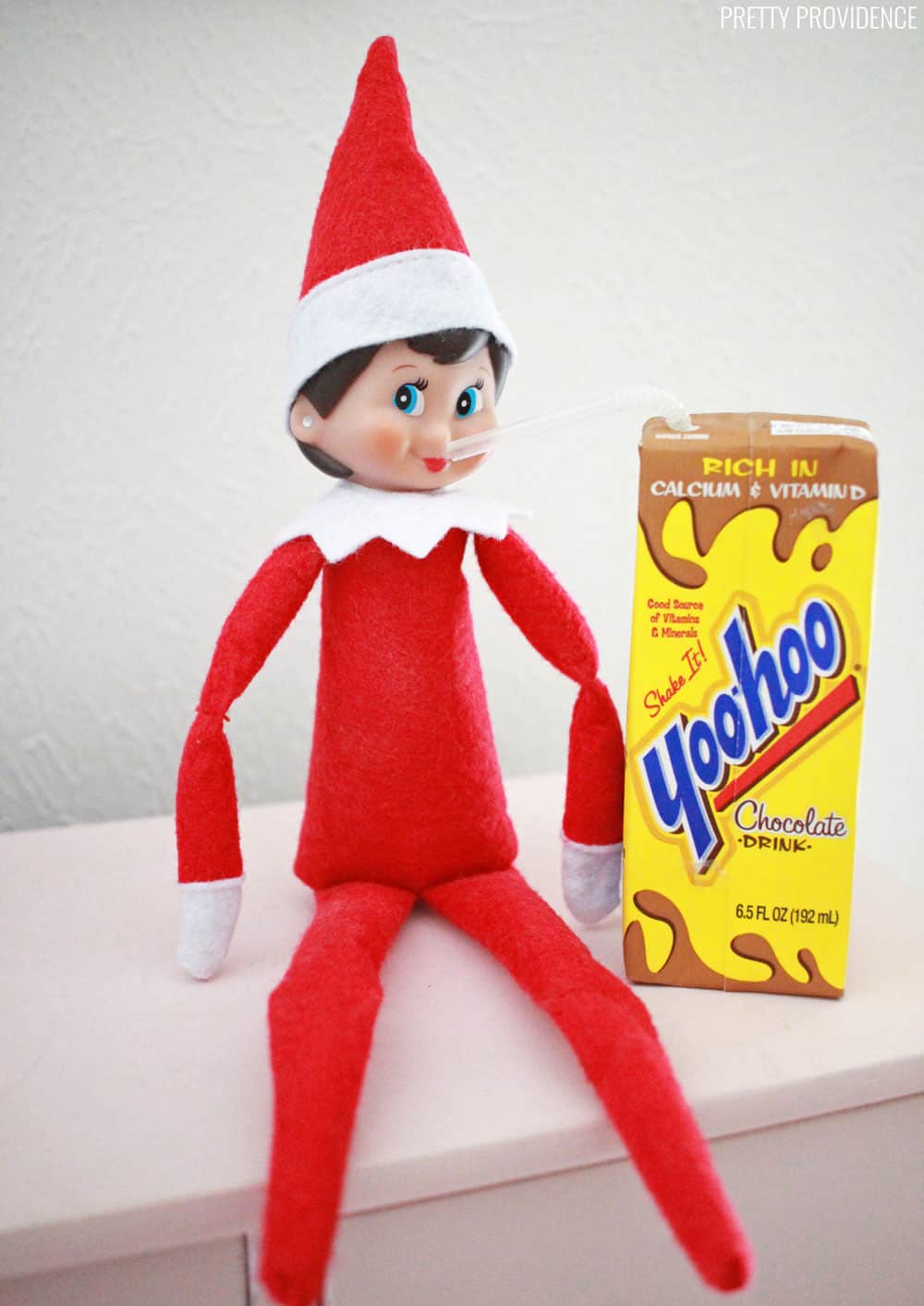 Holly the Elf drinks Yoohoo. I think Yoohoo is part of their official food pyramid! You could also find your scout elf with a bottle of maple syrup! Just like Buddy would do…
Our friend Pam's Helpful Elf cards are an amazing idea. Instead of your scout Elf being mischievous, he or she can be a helper and maybe encourage the kids to help around the house too!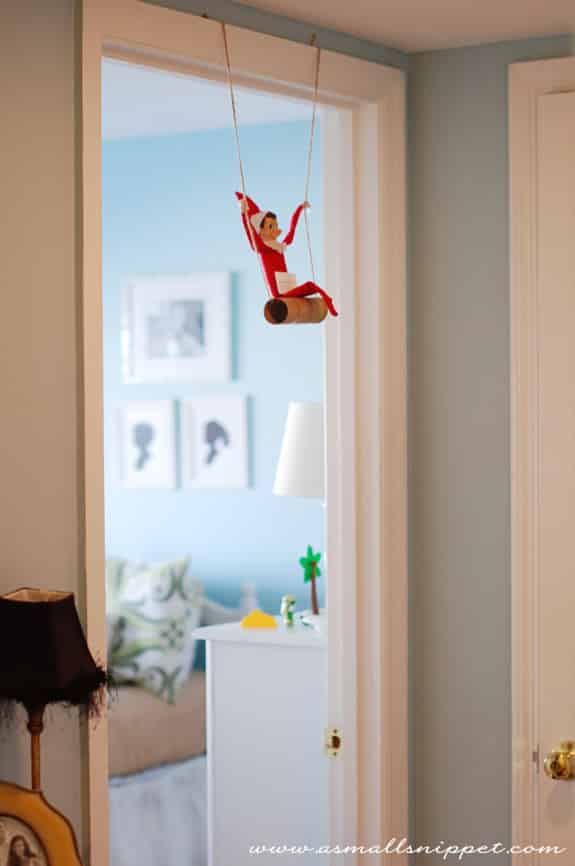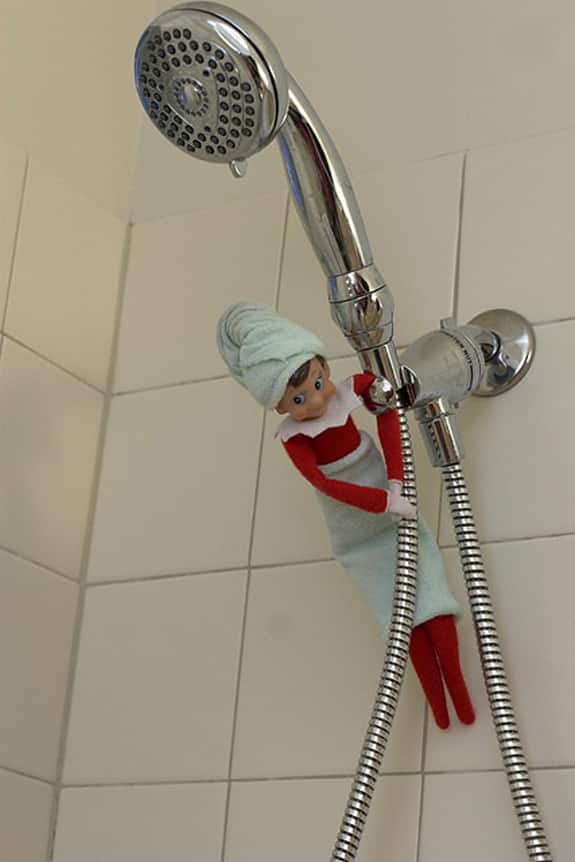 This Funny Elf on the Shelf takes a shower. Fun and easy!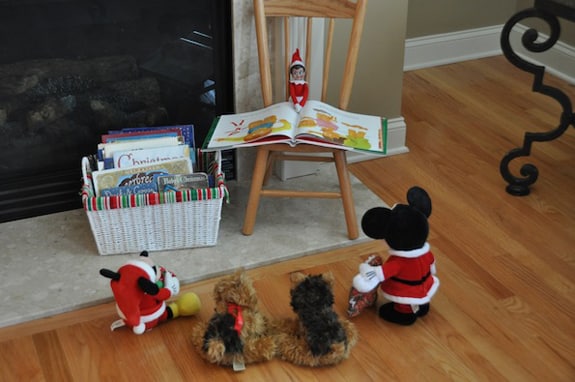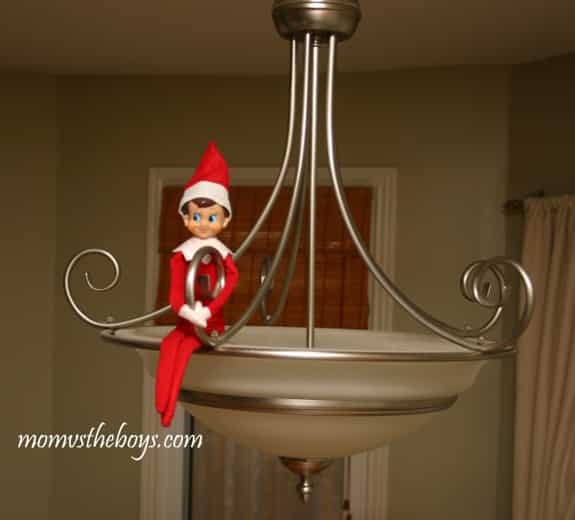 Elf on the Shelf on a light fixture: I thought this would be a good first day since it will be fun and exciting to find him, but up out of the way so that I don't have to distract Luke all day long! Haha.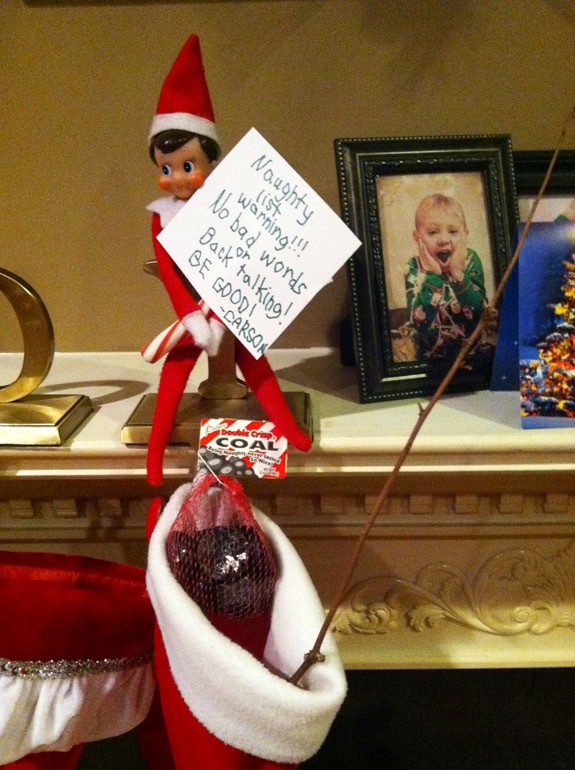 The Elf on the Shelf warns us to be good: We all know there will be a day when everybody needs a "be good" reminder.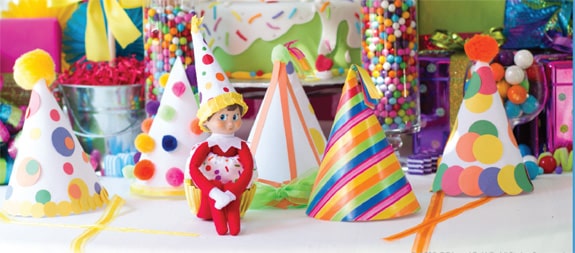 Elf makes party hats: This is so perfect if anyone in your family has a December birthday. The elf would definitely remember an important thing like that!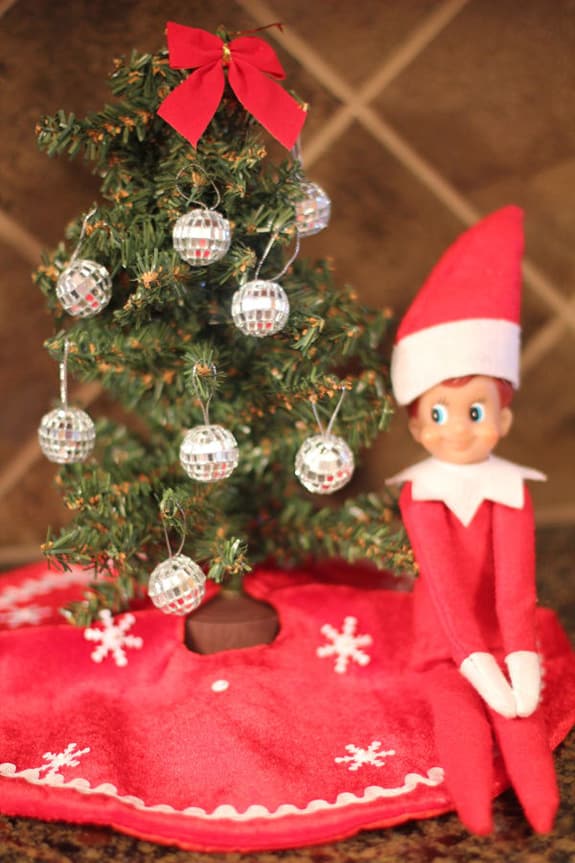 Elf has his own Christmas tree: I love trees of all shapes and sizes.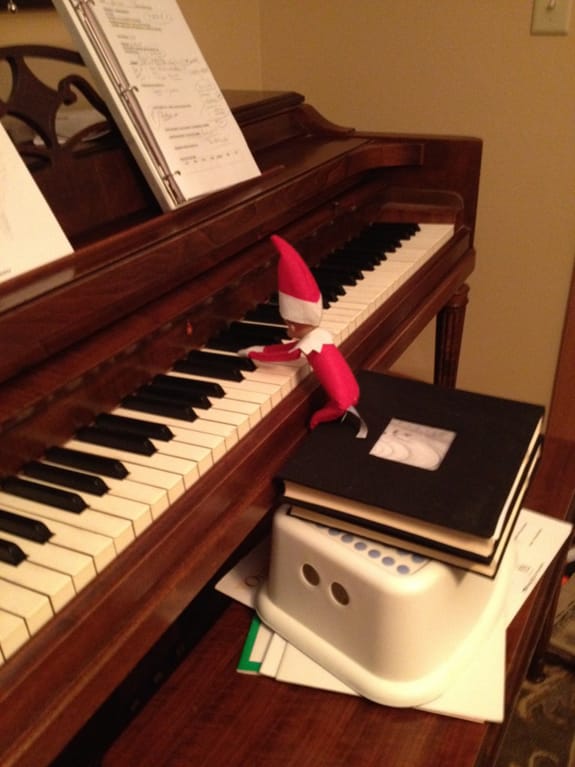 The Piano playing Elf on the shelf: My kiddos love banging on the piano together, so this would be a real hit. It totally looks like something they would do to get up there, haha.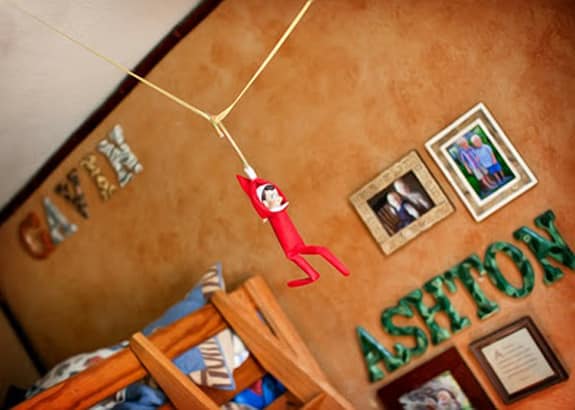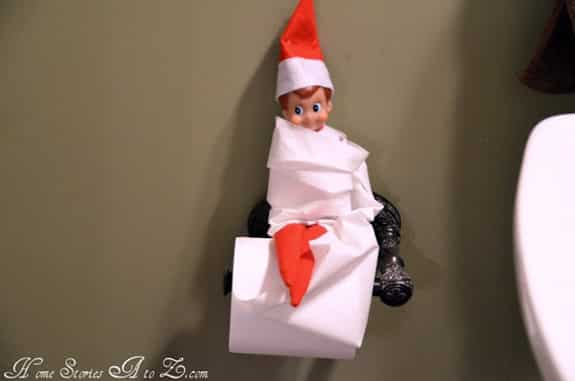 The Elf tangled in the toilet paper: I know Luke will think the toilet paper thing is funny, so I like this one because there is minimal time and mess involved!
Our Elf makes a Paper Airplane: I couldn't find a picture of this either, but we're pretty airplane obsessed over here, so I thought it would be fun to have some airplanes we could play with all day.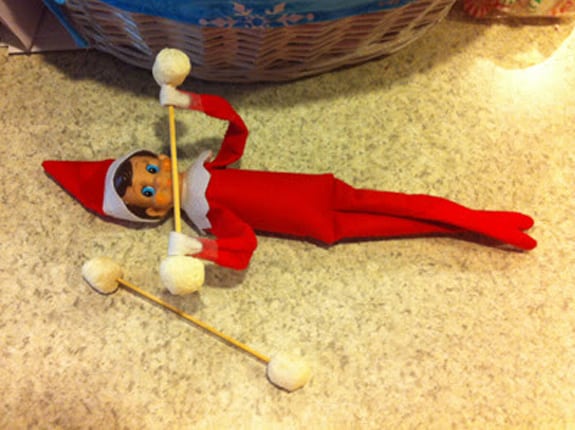 Elf Exercises: One time when we were going on a walk Luke said, "why??" and I said, "because, mama needs exercise." So now, when he wants to go for a walk he says, "Let's go exercising!"
Elf on the Shelf with Food: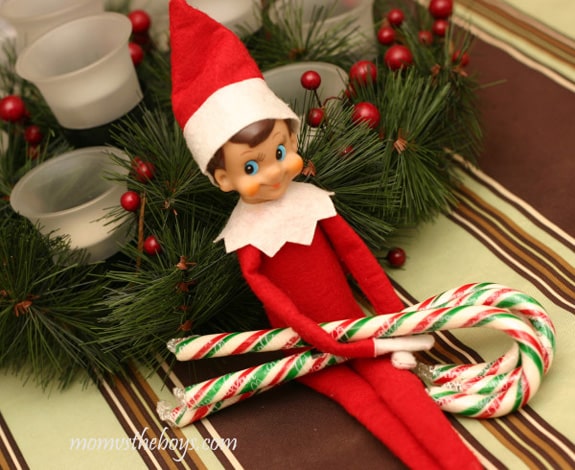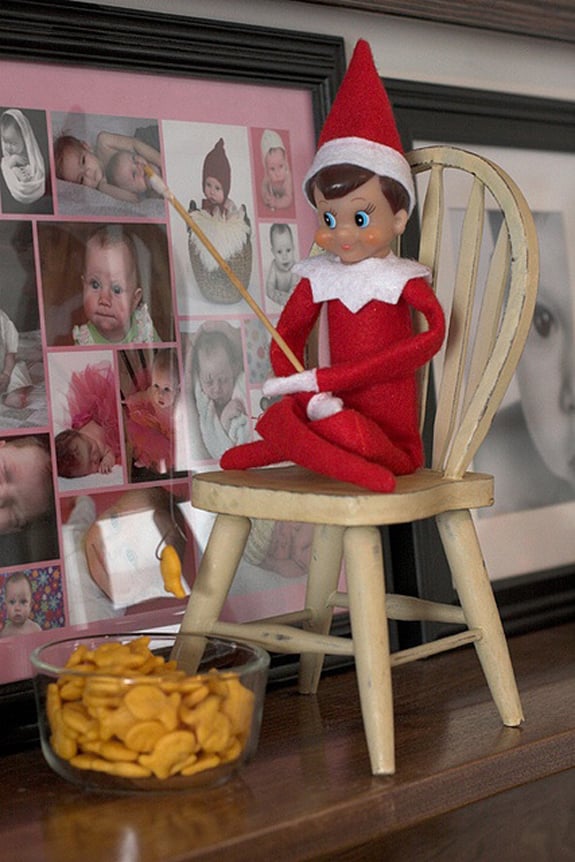 Funny Elf goes fishing. Fishing for whatever we have on hand, of course!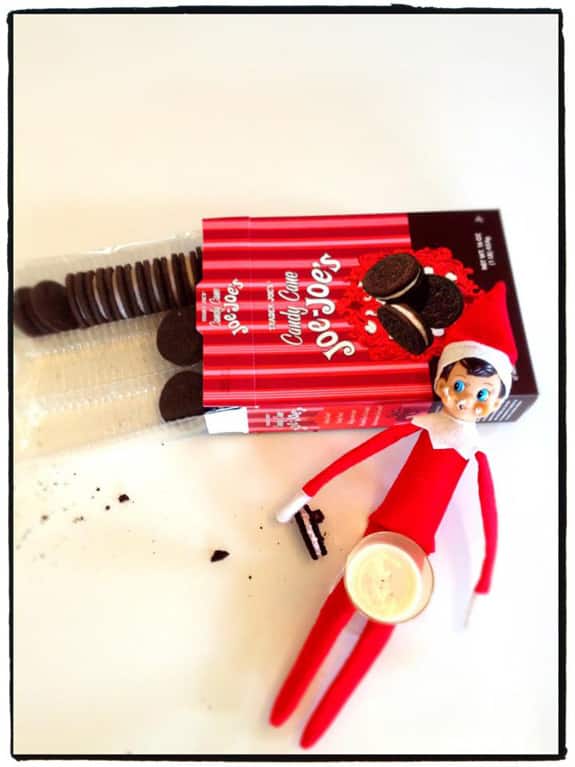 The Elf eats treats: Of course we'd all share the treats.
Elf on the Shelf Mischievous Ideas
The Elf on the Shelf has become known for being mischievous. Here are some of our favorite things we've seen scout elves doing…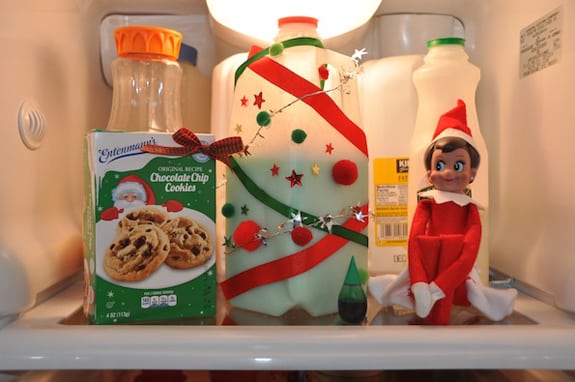 The Elf on the Shelf dyes the milk green – that's a funny elf!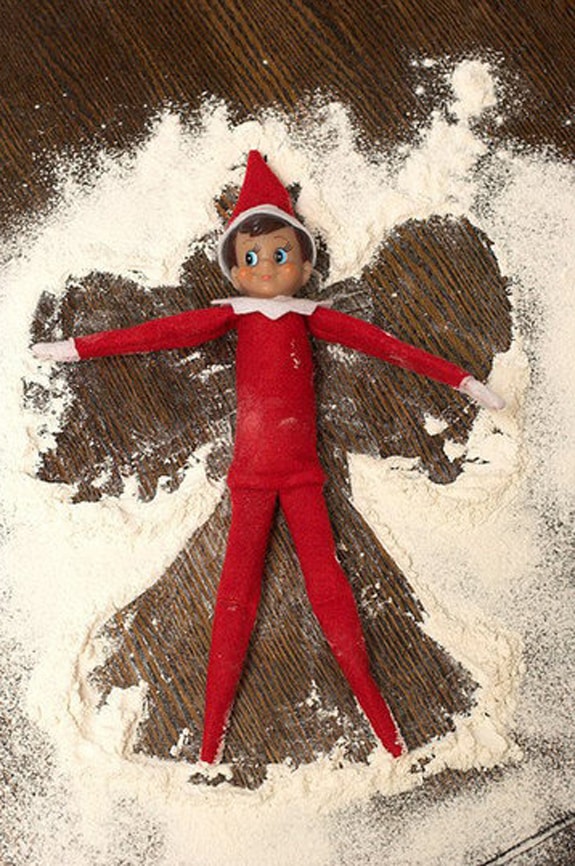 The Elf on the Shelf makes a Snow Angel with flour. Simple and sweet.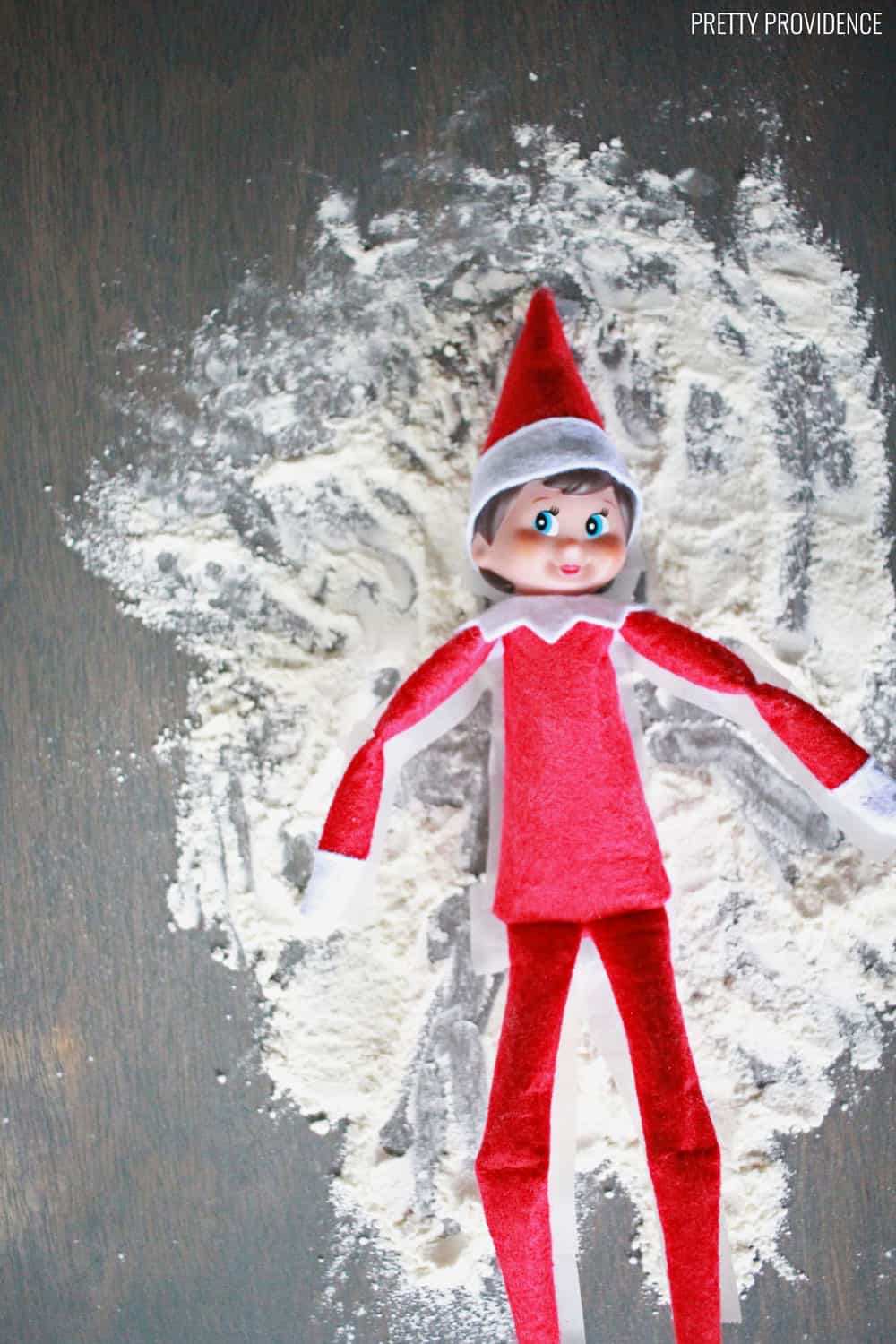 In a similar vein, if you're looking for mischievous ideas, he or she can make a mess with flour, just like your toddler might have done once or twice! (To do this Elf on the Shelf flour idea without getting *too messy* the elf had scotch tape on her back! )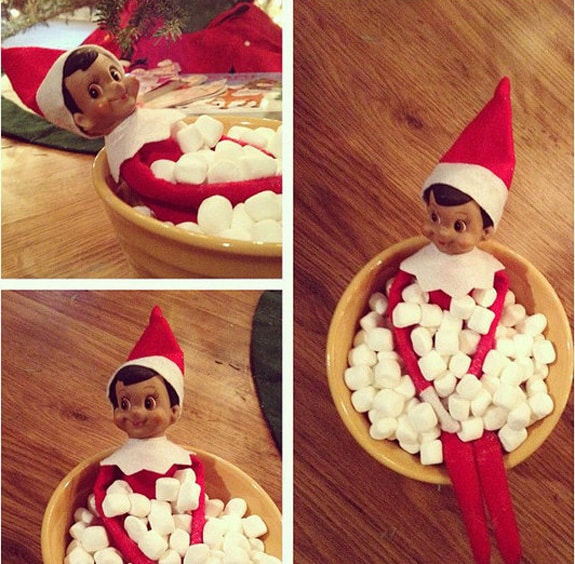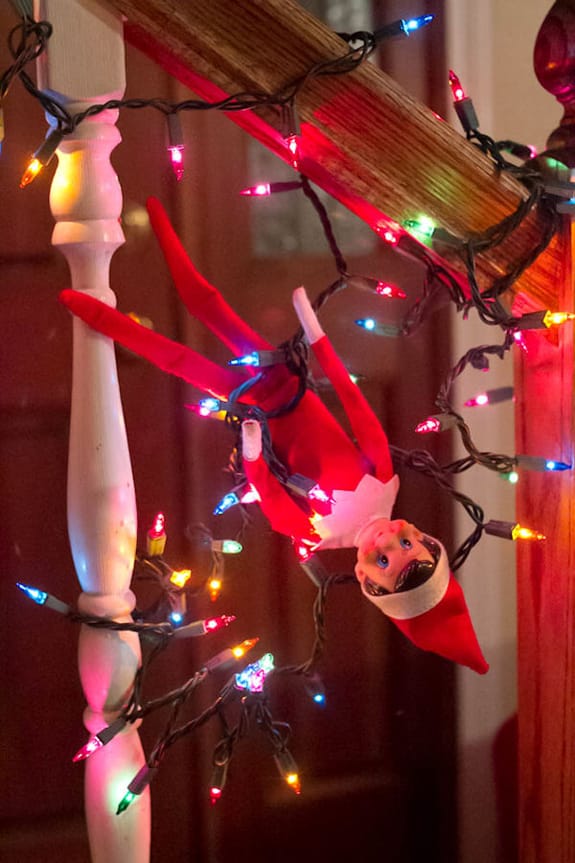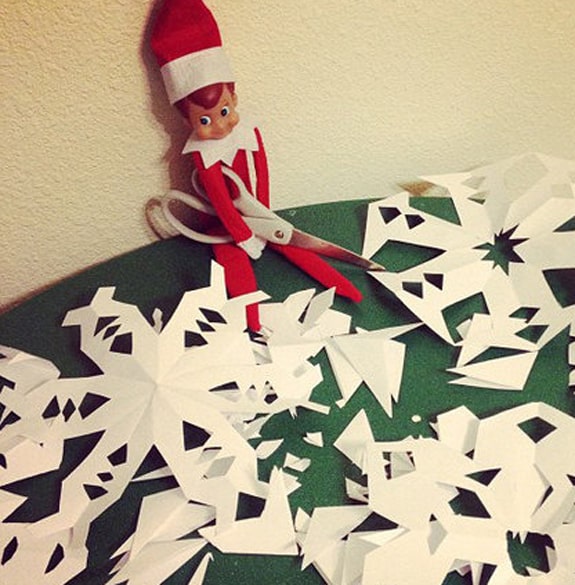 Elf on the Shelf makes snowflakes: Kids aren't supposed to touch the elf, so, I love the idea of having the elf bring things the kids can play with, like some pretty snowflakes.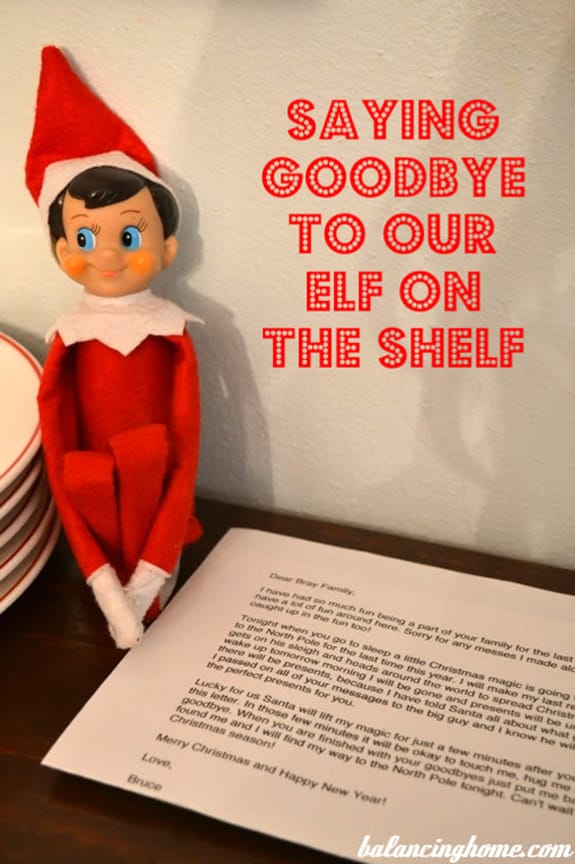 The Elf on the Shelf goodbye printable: I like the concept of having a letter prepping the kids for the excitement of Christmas and the departure of the elf. I'd also like the letter to include a paragraph about the real meaning of Christmas and some of my favorite things about my kids.
This whole Elf tradition is pretty fun. When I was a kid, our family had an Elf. His name was Milton. We would never see him but he would leave notes so we knew it was him. He would periodically bring us little treats and prizes throughout the Christmas season (like socks, a Christmas book, a treat, etc.)
I loved Milton and his magic and seeing a special gift out of nowhere. Also, he would take our wish lists to Santa and kept an eye on things at our house. Nowadays, we have our Elf on the Shelf, but we call him Milton to carry on the tradition!
So, what is your opinion? Do you love Elf on the Shelf or think it is ridiculous? Super fun, or too commercial? If you decide you want to buy one, I haven't found it any cheaper than here!
If you liked this post you will love our friend Pam's Elf on the Shelf ideas too.

This post was originally published in November 2013 and has been updated with new ideas, photos and information!