YOU GUYS!!!! I am so freaking excited about today's post! Ever since I was a little girl I have dreamt of having a library in my house. I love reading, and anytime someone asks me what my hobbies are, that is what I say! Haha. When we decided to build this house, I knew immediately that I wanted to turn the small front room into our library! It took us a little while after we moved in to get the shelves built because, money. But I had so much fun picking everything out for this little sanctuary and I can't wait to show you all the details! You ready?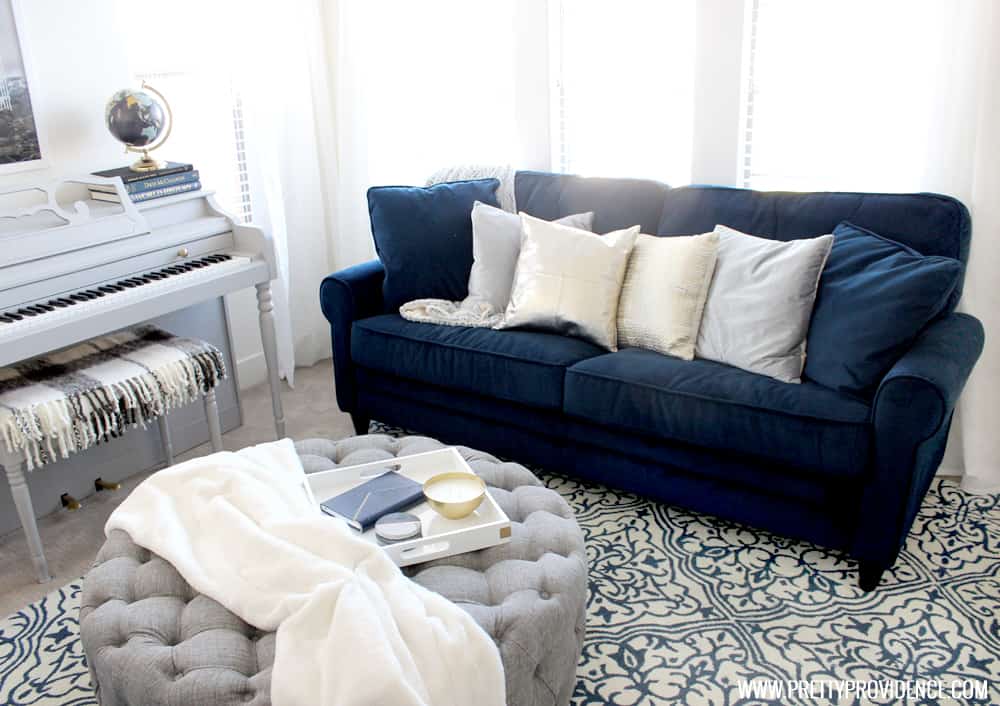 The room is actually pretty small, and "technically" it probably shouldn't fit a full size couch in it, but what is the point of a library where you can't lay down and read a book? I wanted the room to feel cozy and inviting! I found this
navy blue beauty
on Wayfair several months ago and I fell in love with it! It is so pretty you guys, the pictures don't even do it justice! Not to mention, it is comfortable, affordable and did I mention so so pretty?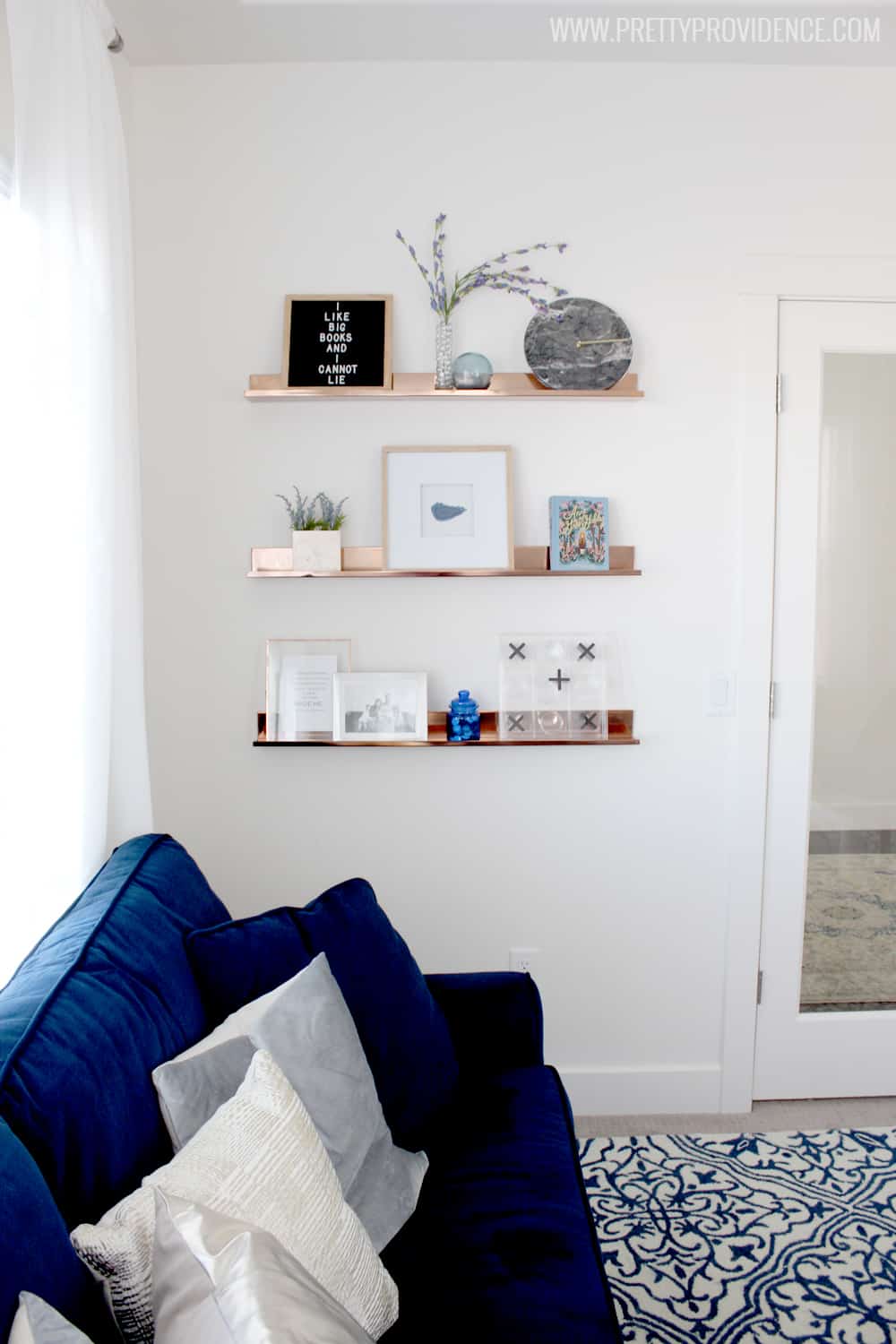 How amazing are these copper art shelves from Minted.com? I love them so much! I needed something for that little wall, and I love the way they turned out! It really helps tie in the copper light, too!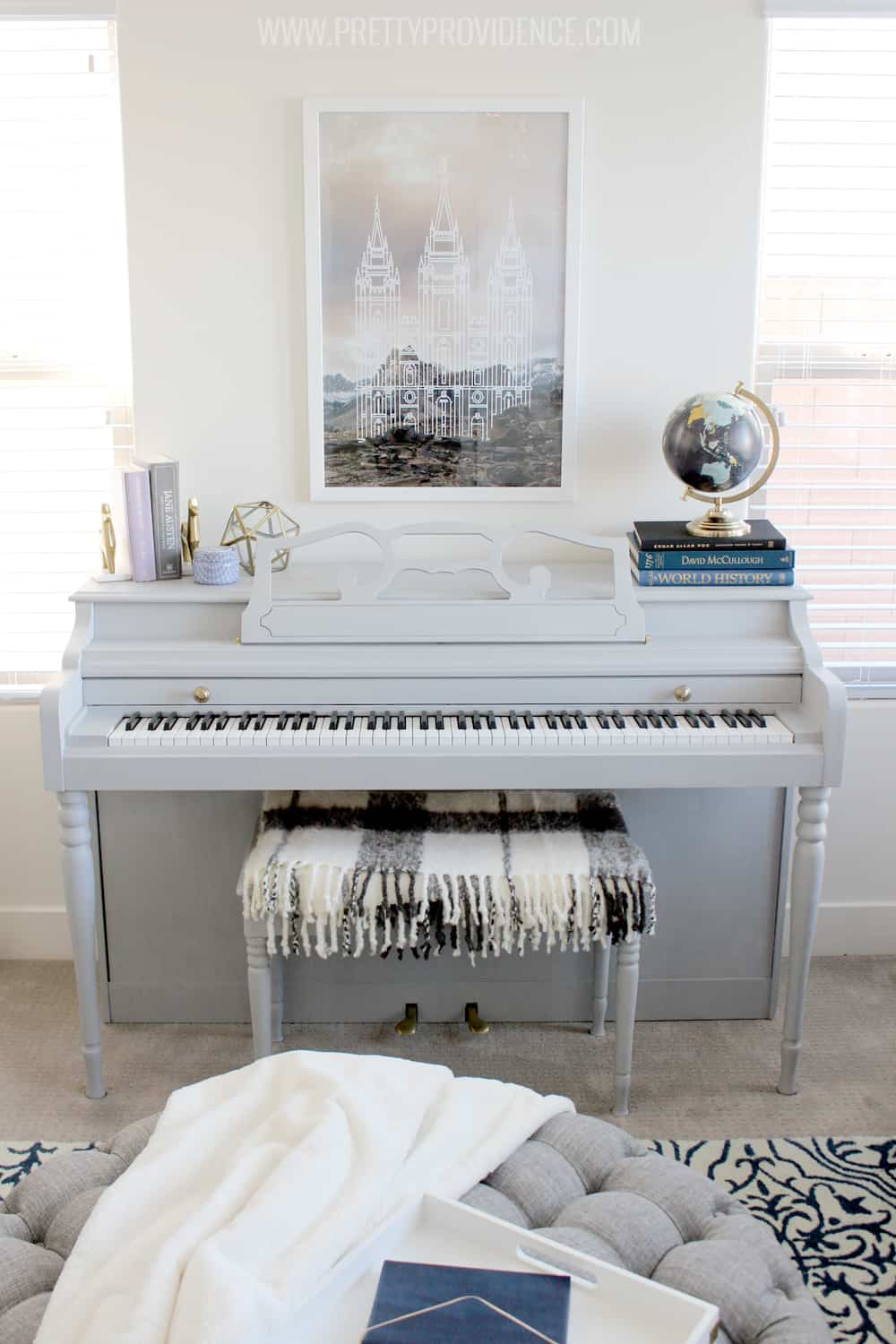 I used Rustoleums new
chalk paint
in aged gray to makeover my paino (tutorial coming soon) and I am obsessed with how it turned out! Also, I'm loving how the throw blanket looks on the bench instead of a cushion! So fun, and easy to switch up! For those interested the gorgeous modern temple print is from my girl Mandy's shop, and I am so in love with it!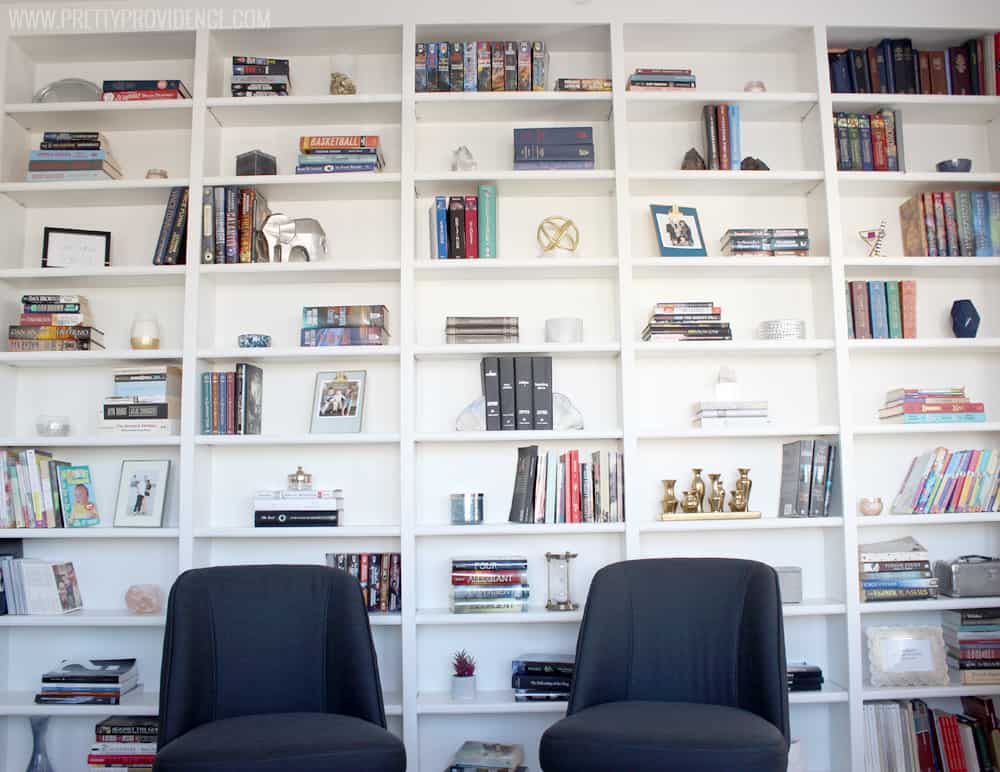 How pretty are those shelves you guys? I am so obsessed with them. The funny thing is, I thought I had a zillion books, and I was sure I was going to be able to fill the shelves up! Well, when we finally got them done and started unboxing it wasn't even close! Haha. I got to do a lot more shelf styling than I had anticipated, but it was fun, and I love how they turned out! Plus, there is plenty of room to add new books over the years… hooray! The cute chairs are from Target, FYI!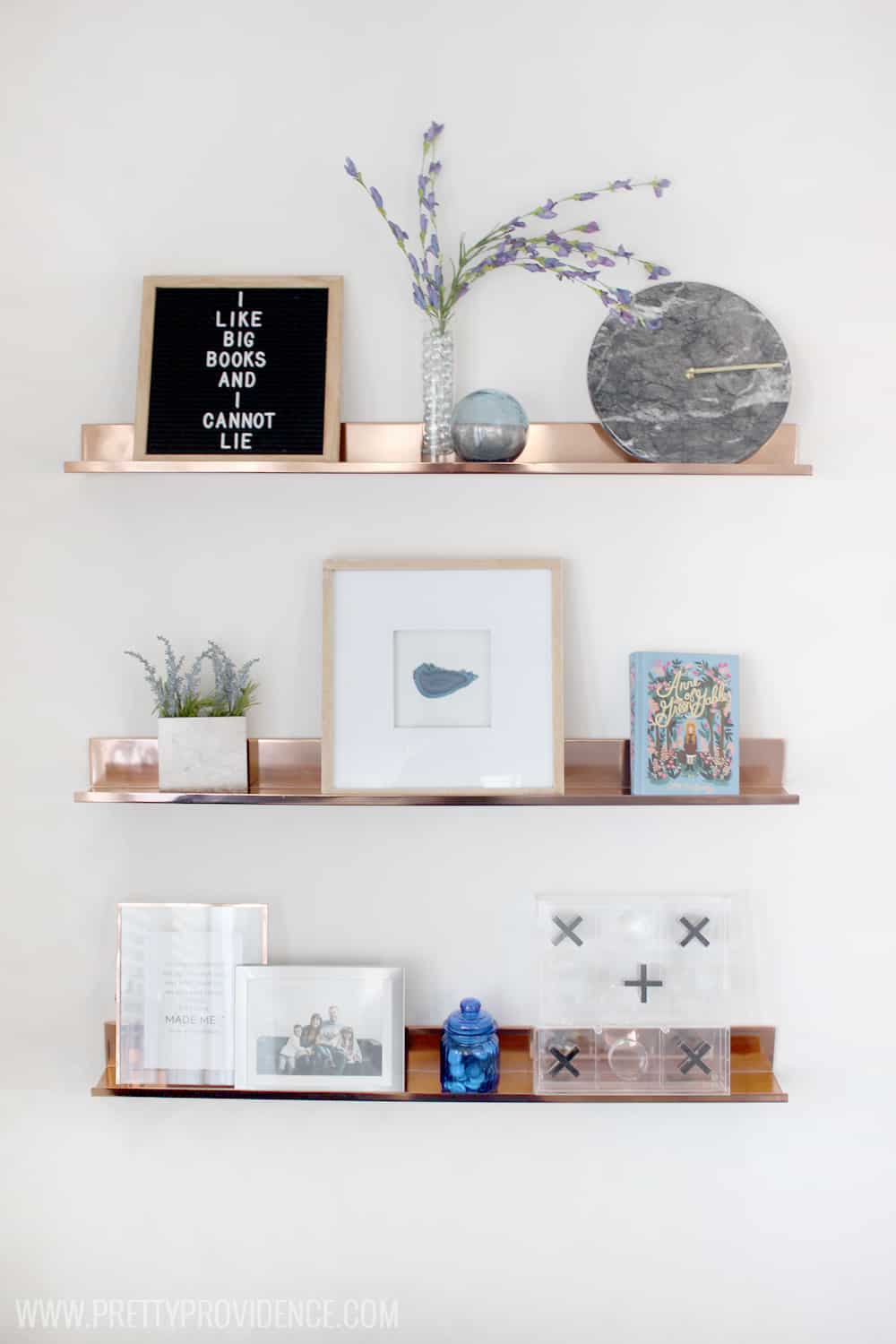 Another up close shot of the dreamy
minted shelves
! I can't get enough of them!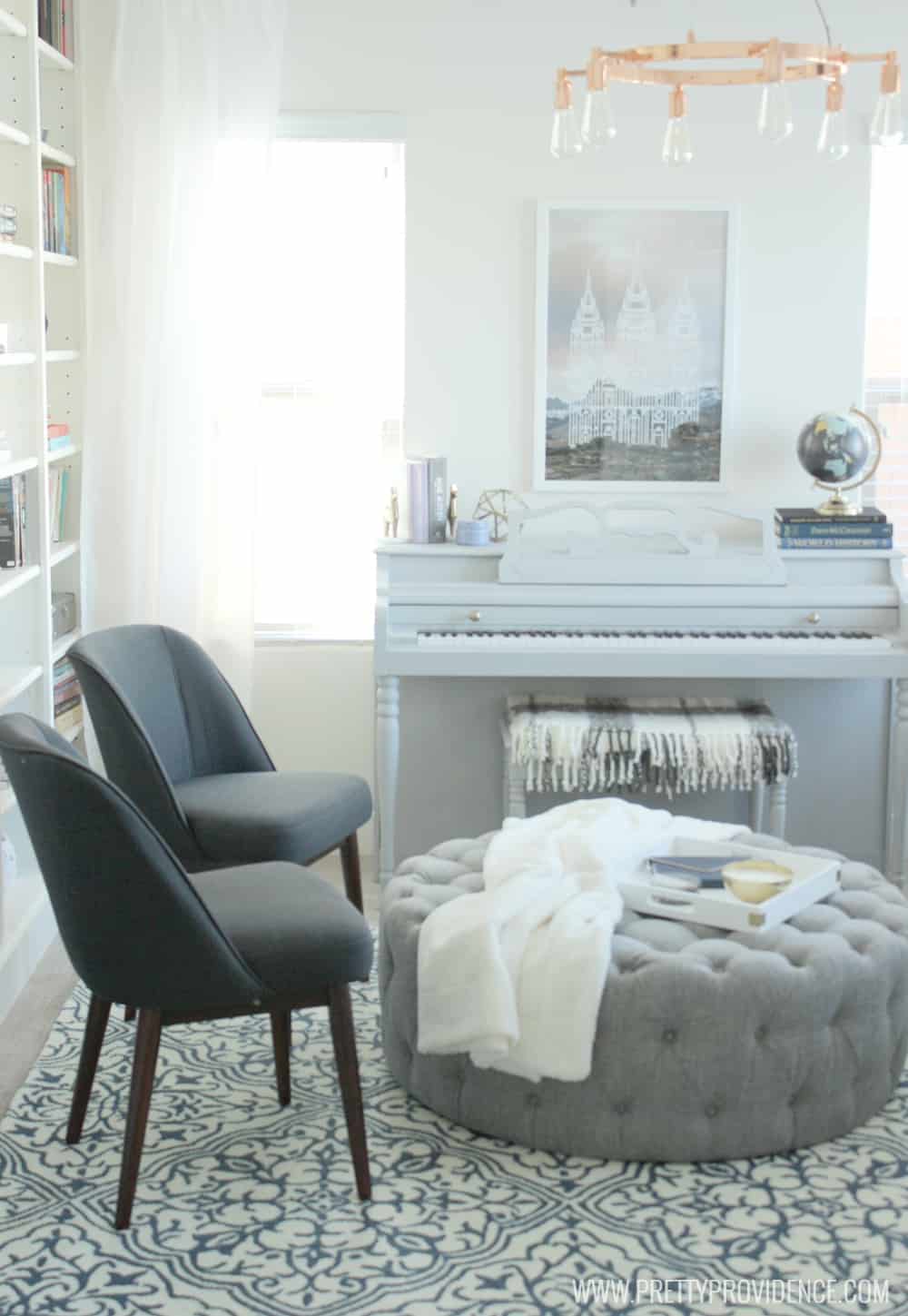 The rug is from Rugs Expedition and I get so many compliments on it! I love the fancy pattern for the library! The pretty gray ottoman is from wayfair.com! The gorgeous chandelier was found on Overstock.com (and can also be found here on amazon) and was such a crazy good deal!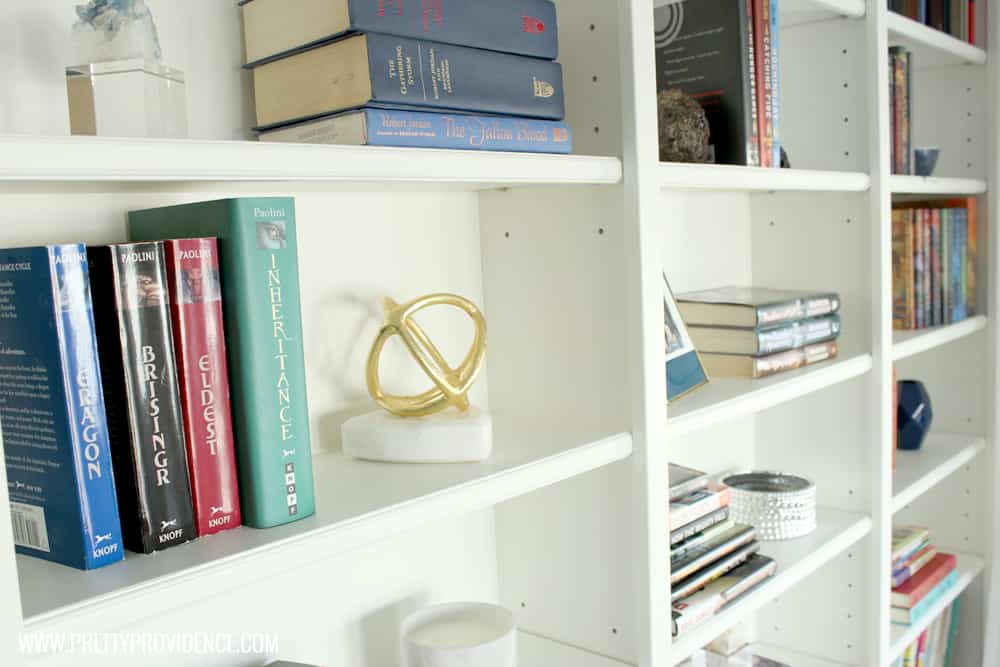 I didn't want the shelves too deep, because I hate when there is tons of extra empty space for dust to collect! Plus, with the room being small I didn't want to take up any more room than usual! So we went with 8 inches deep. I also wanted movable shelves as you can see from the holes in the sides, but you can't tell from the front because of the molding. I wanted tons of shelves too so that hopefully one day we can have a whole wall of books!
We priced out the wall to do it ourselves, and ultimately decided it wasn't worth the time or money. Plus, we are by no means professional wood workers! Sometimes you can get just as good of a deal by pricing things out, and better quality. I called at least 12 different companies and we ended up going with Garron Jones (you can check out his other work here) and he did a great job. He was fast, affordable, and even painted in house after installation (which is typically much more expensive). We chose to match the existing base paint color in our house for a truly built in look. They turned out great and I would definitely recommend him if any of you live in St. George!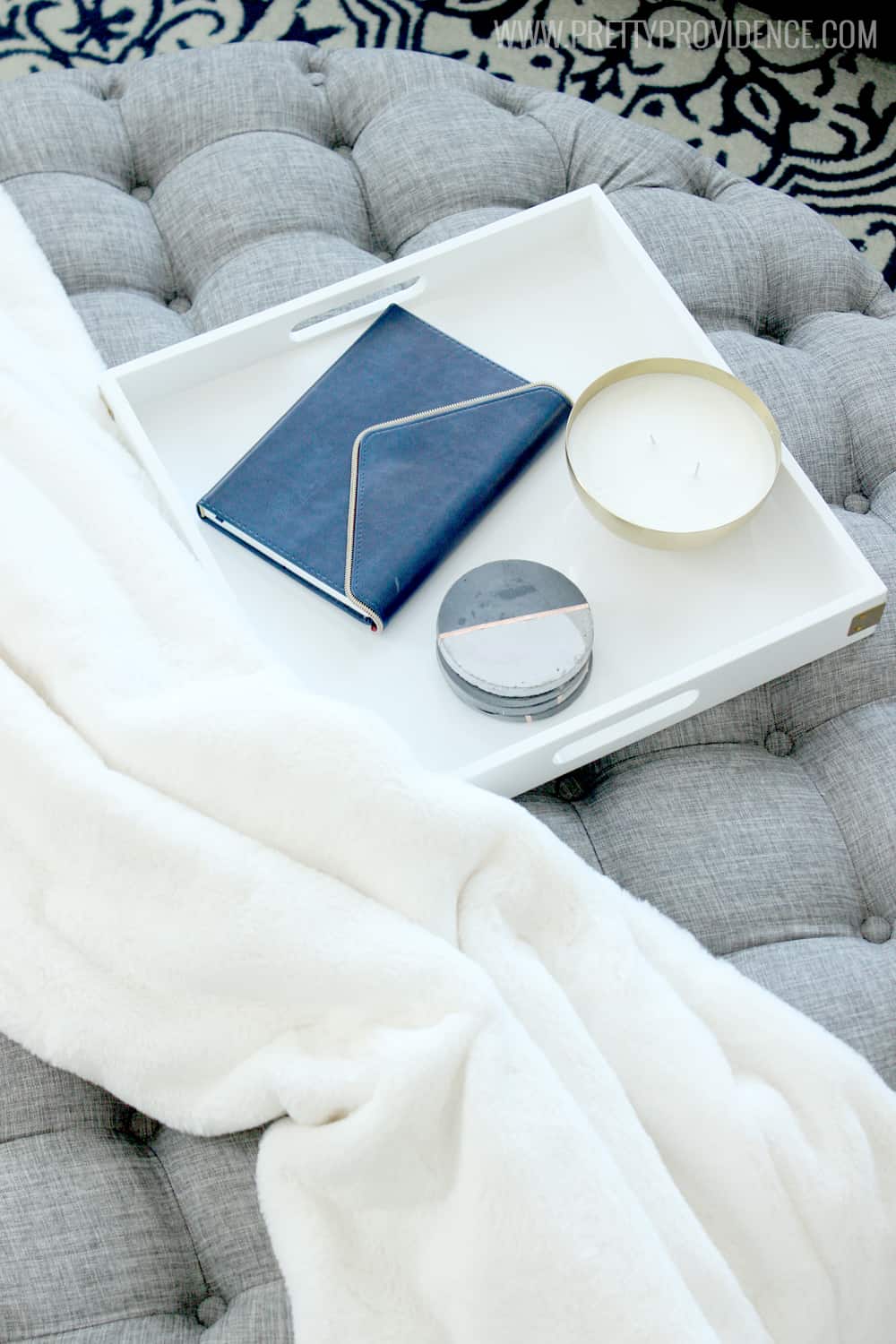 Most of the accessories are either from Target, TJMaxx, or Michaels! The amazing coasters were a gift and they are a DIY from my girl Anna from Practical and Pretty!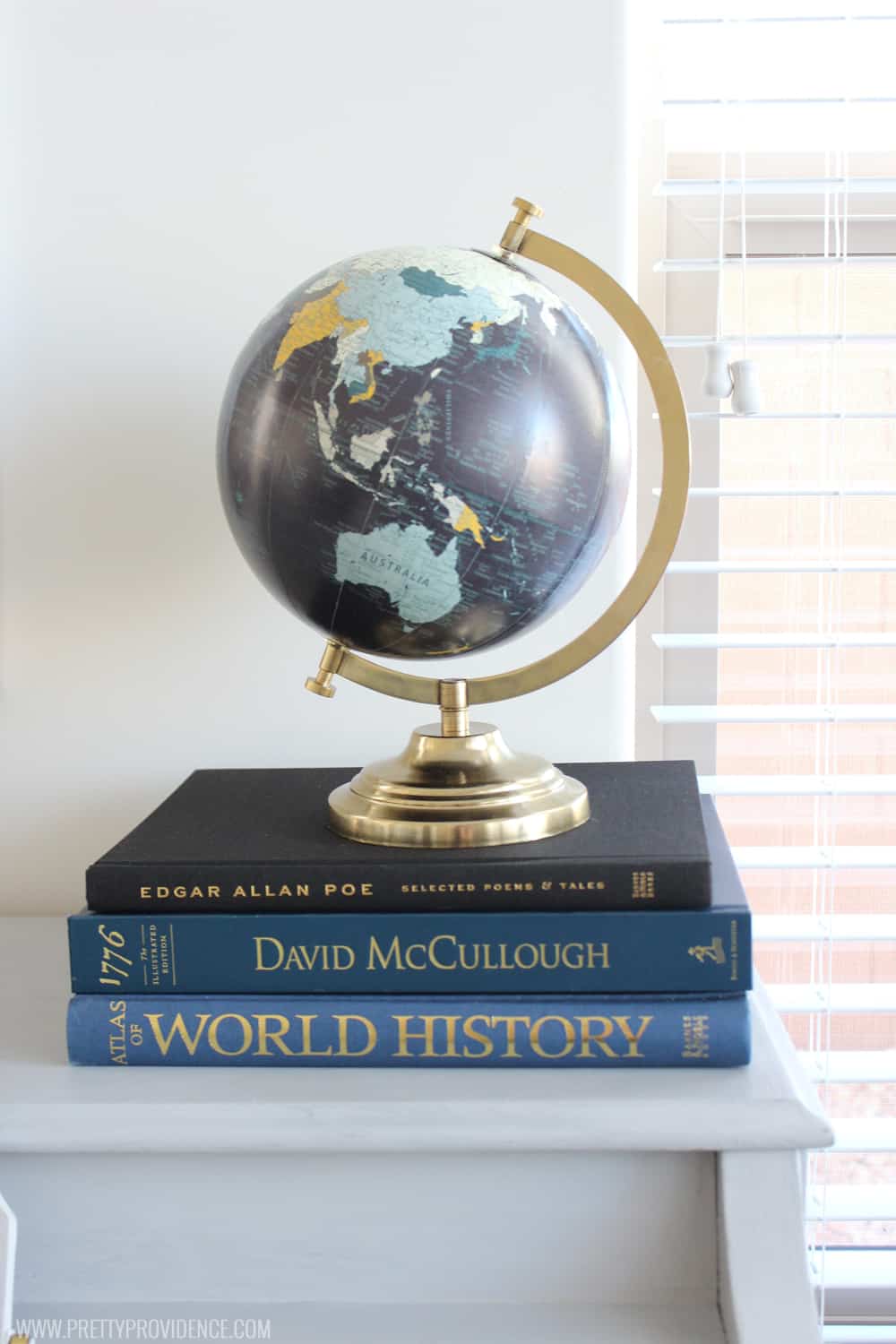 Can't have enough books in a library! Globes are pretty much a must too, no?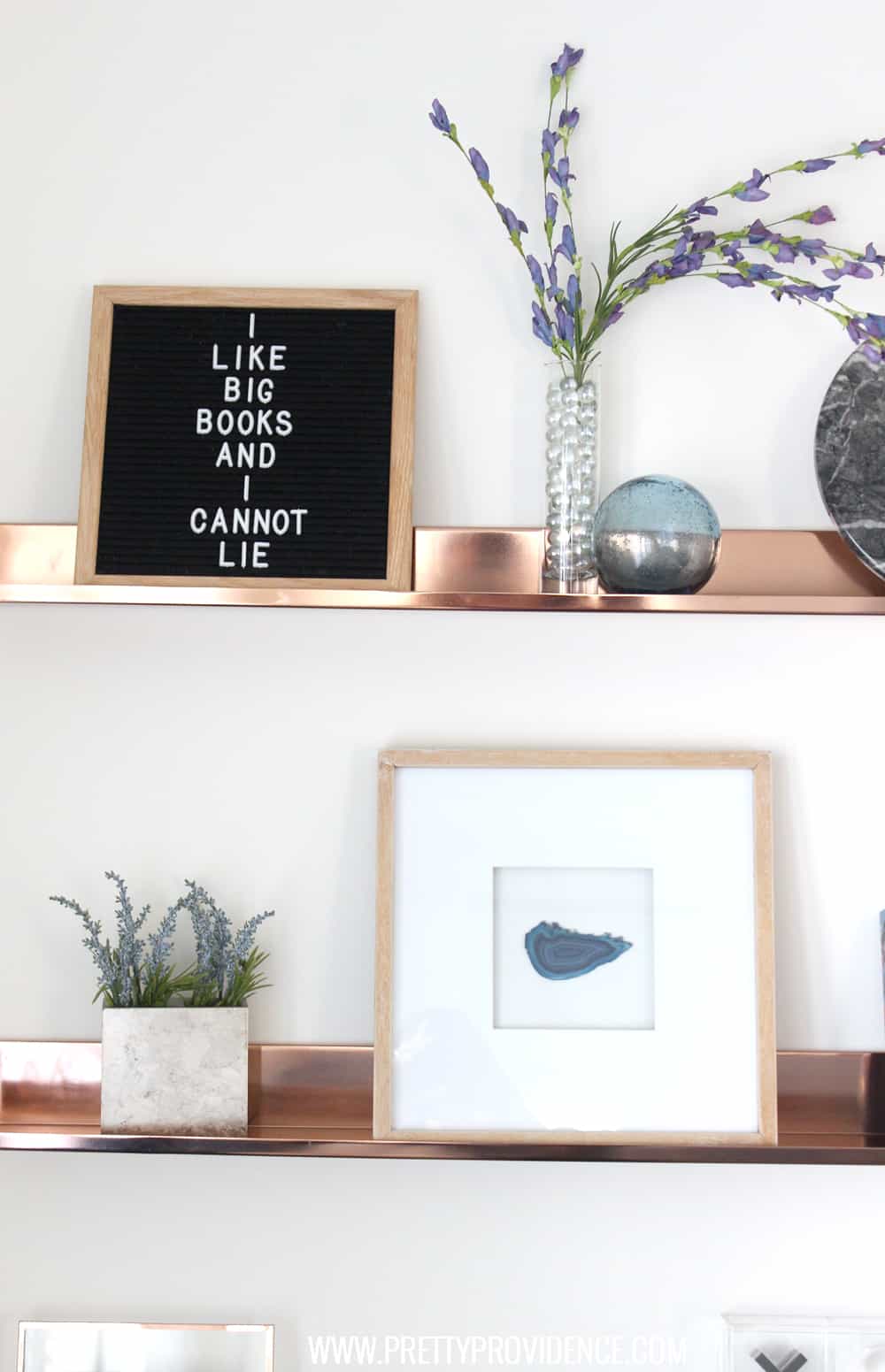 One more close up of those pretty shelves!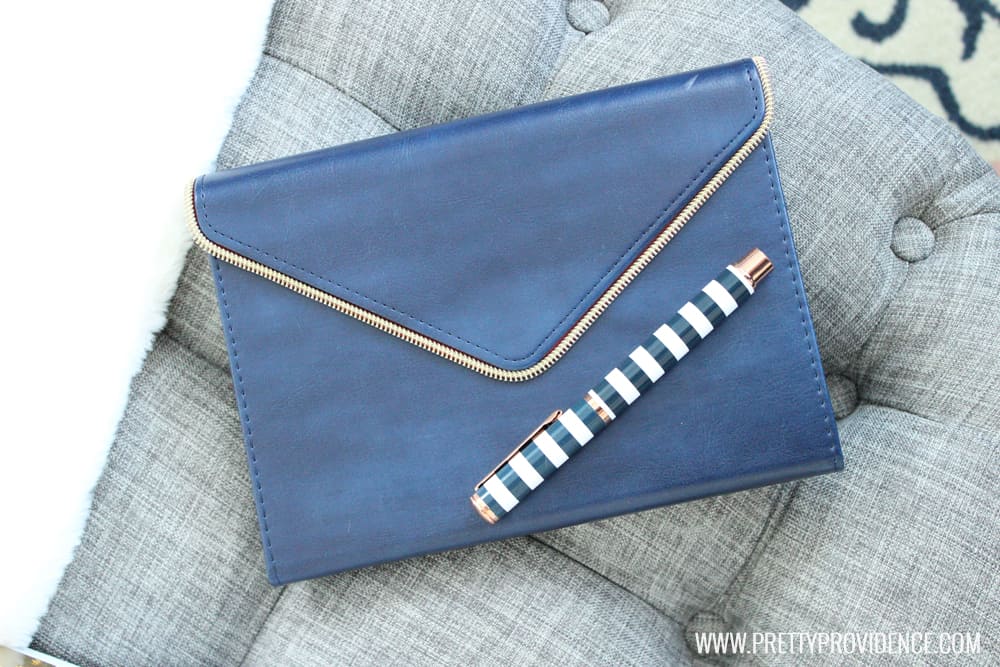 I got this cute journal at TJMaxx and we are using it as a book log! So each time you finish a book you write the name, date, your name and a rating out of five stars! It has been so fun so far. I hope my kids develop a love of reading just like I have, and that one day they will love looking back and seeing what books were our favorites.
Well, what do you guys think? What is your favorite part of the room?
xo,


| | | |
| --- | --- | --- |
| Ivory/Navy Loloi | Modern Anytime Chair | |