Laundry Care Symbols Explained: A guide to understanding the meaning of laundry symbols including washing, drying, bleaching, and ironing symbols and a pdf printable chart for quick reference.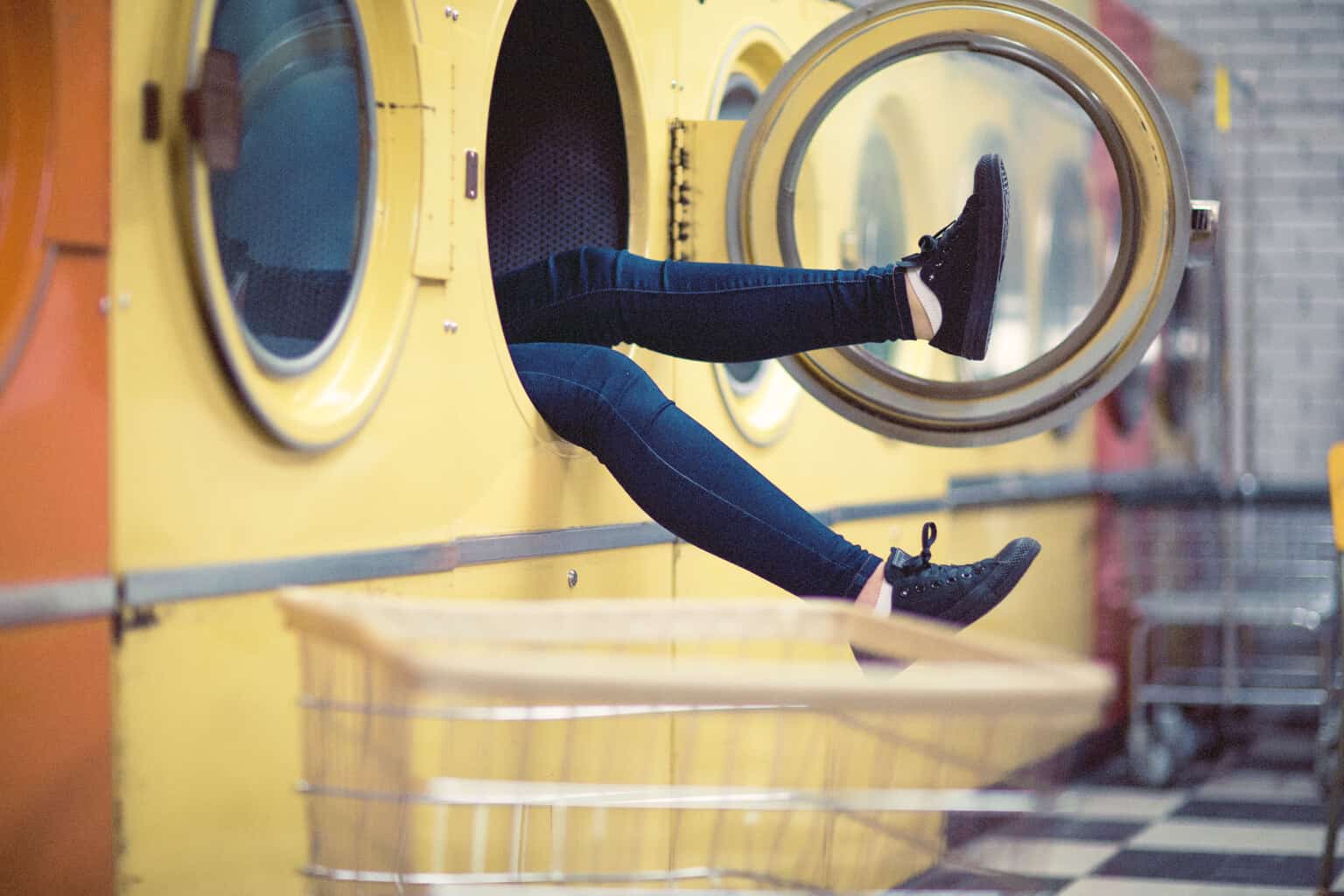 When I was growing up I was one of those lucky (aka: spoiled) kids who didn't do their own laundry. Don't get me wrong, we had plenty of chores and I folded clothes and put them away, but my Mom handled all of the washing. Suffice it to say, when I moved out on my own I was a complete laundry novice. There is not a chance I could have interpreted laundry symbols!
Laundry Care Symbols
Fast forward 12 years and with four young kids I basically have laundry coming out my ears! Between towels, leotards, jerseys, burp clothes and all the many spills and soils and little outfit changes, I have become a laundry pro. Below I'm sharing a full laundry guide with laundry symbols meanings and a printable PDF cheat sheet!
Using Laundry Symbols to Become a Laundry Pro
The first trick to tackling laundry like a pro is understanding laundry symbols. This takes out the guesswork and will make life so much easier when you go to tackle tough stains down the road. Laundry symbols are small pictograms or care labels that are attached to clothing and can help you decide the most appropriate ways to wash your clothing, including the correct settings and temperature.
Washing Machine Laundry Care Symbols:
Dry Clean Only– Do not machine wash or hand wash clothing with this symbol.
Normal Wash– Clothing may be washed normally in the washing machine.
Hand Wash- Especially for delicate items of clothing. Washing these items in the machine wash may cause damage or unwanted stretching or shrinking.
Do Not Wash– This clothing item cannot be safely machine washed. Check for dry cleaning instructions. Washing Cycle Symbols:Choosing the right washing cycle is just as important as selecting the right water temperature. The wash cycle will determine how aggressive or delicately your laundry is treated during the tumbling process.

Normal Cycle- the normal cycle is the most intense cycle and usually a cycle that will require you to select the temperature (see above for advice about which temperature to select). This is a great setting for the majority of your laundry needs (socks, underwear, t-shirts, towels, sheets, etc.
Permanent Press Cycle- this cycle is a slightly slower spin cycle that usually uses warm water. This cycle is the most rarely used but is meant to minimize wrinkling but isn't as slow of a cycle as the delicate cycle.
Delicate / Gentle Cycle – select the delicate cycle when you really want to be cautious and gentle with an item of clothing. It's typically the shortest cycle and uses cold or luke warm water.

*Expert Tip: Jeans and heavy knit sweaters can be worn up to 10 times in between washing! Undergarments, socks, and t-shirts should only be worn once.
Washing Temperature Laundry Symbols:
Washing temperature is especially important in preventing damage and discoloration of clothing. The correct washing temperature is indicated by the number of dots on the symbol.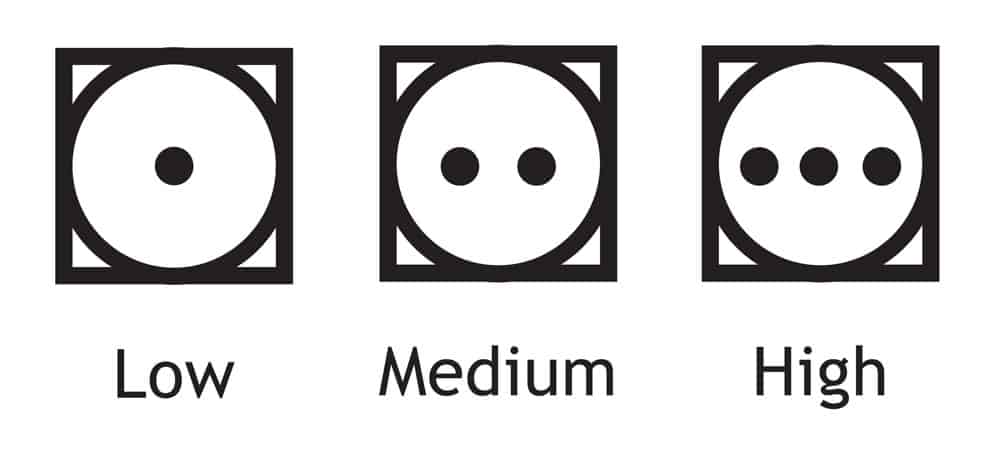 Wash Cold on temperatures between 65 and 85F

For colors that are likely to bleed (dark or brightly colored fabrics), jeans, and delicate fabrics.

Wash Warm on temperatures at max. 105F

Light colored clothing, synthetics (polyester, rayon, acrylic, and other man-made fibers), and knitted clothing. This is a great way to wash most of your clothing (but avoid washing brightly colored items on warm or hot).

Wash Hot on temperatures at max. 120F

For whites, extra dirty clothes. However, remember that hot water can also shrink clothing and cause it to fade quicker. Also be-sure to pre-wash extra dirty items with cold water beforehand.
Your washer might also include mixed temperatures:
Hot-Cold= Hot clean, Cold rinse
Warm-Cold= Warm clean, Cold rinse
Cold-Cold = Cold clean, Cold rinse

Drying Symbols:
Understanding the drying symbols is crucial to preventing shrinking and avoiding drying clothes that should not be tumble dried.
Do Not Tumble Dry- clothing with this symbol should not go in the dryer.
Tumble Drying Allowed
Dry Flat– This symbol is usually recommended for clothing items that may stretch when hanging wet on a clotheslines for an extended period of time.
Hang to Dry
Do Not Wring– this may cause stretching or damage.
Dryer Temperature Symbols:
Any Heat
High Heat
Medium Heat– This piece of clothing can withstand some heat.
Low Heat– Because machine drying is harsh on clothing, some items are more likely to shrink at higher temperatures. This is especially true the first or second time washing the item.
No Heat / Air
*Expert Tip: You can "unshrink" clothing by soaking the item in hair conditioner and water for 10-20 minutes and gently stretching clothing back out.
Drying Cycles Symbols:
Normal Cycle
Permanent Press Cycle
Delicate / Gentle Cycle
Bleaching Symbols:
Before using bleach, check your clothing items for the fabric care symbols. Clothing that should not be bleached is indicated by a triangle with an x in the center.

Bleaching Allowed– Use chlorine bleach when necessary.
Do Not Bleach
Use Non-Chlorine Bleach– You may use a color-safe bleach on this item.
Ironing Symbols: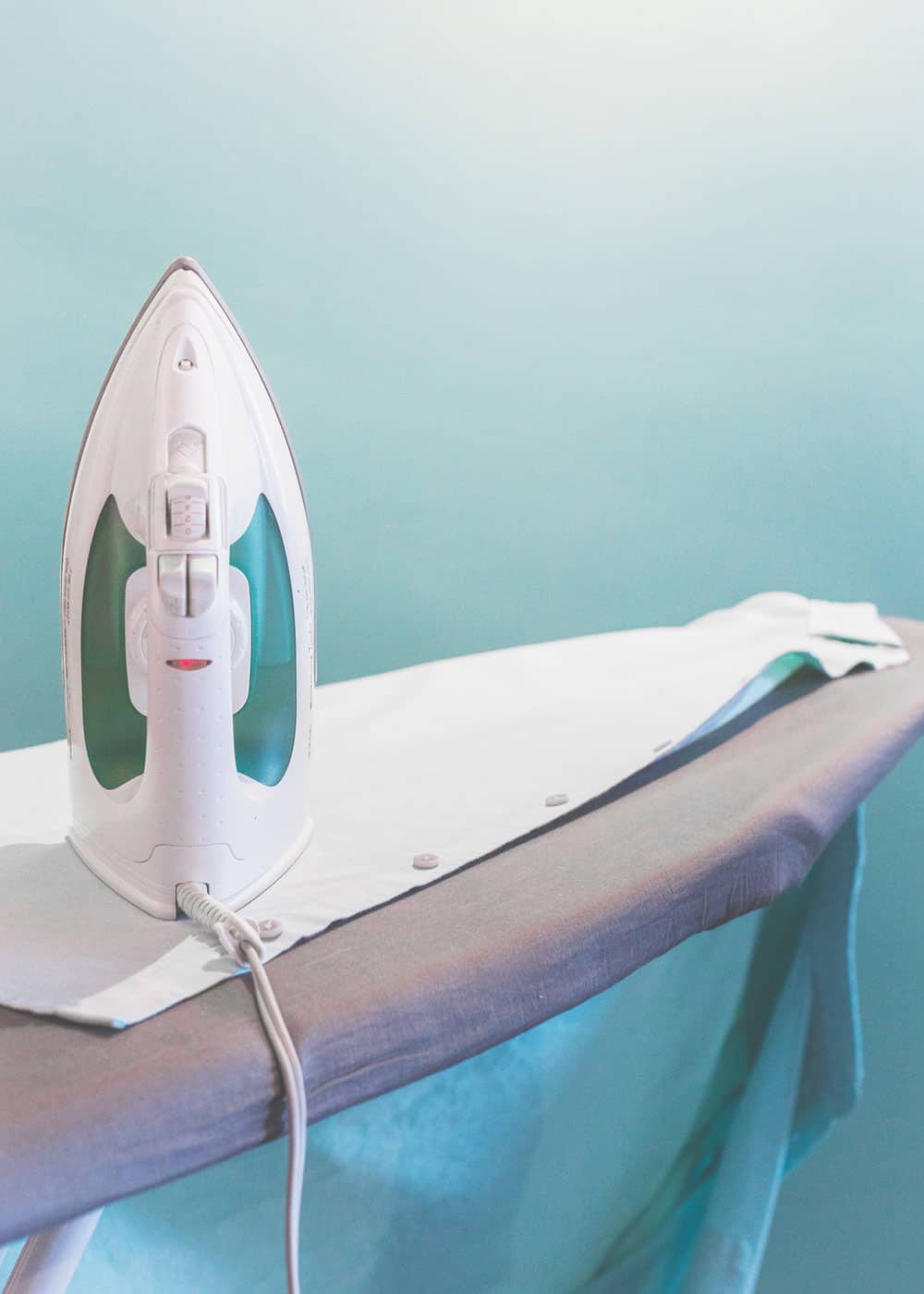 Not all clothing will respond well to ironing. Pay special attention to the ironing symbols to determine if the clothing is appropriate to iron and which ironing temperature would be best.

Low – best for nylons, acrylics, acetate, and other delicate materials that may be damaged under hot heat.
Medium– best for wool, polyester
High – best for cotton, linen
Do Not Iron
No Steam Added to Iron
Dry Cleaning Symbols
Although you probably don't need to know what these symbols mean, they are helpful for dry cleaners to make sure they take proper care of your clothing!

Dry Clean– clothing with this symbol must not be hand or machine washed.
Do Not Dry Clean
Petroleum Solvent– indicated to use petroleum dry cleaning solvent
Any Solvent
Any Solvent Except Tetrachlorethyline
Wet Cleaning– The textile to be cared for may be cleaned by dry cleaner with a wet cleaning system.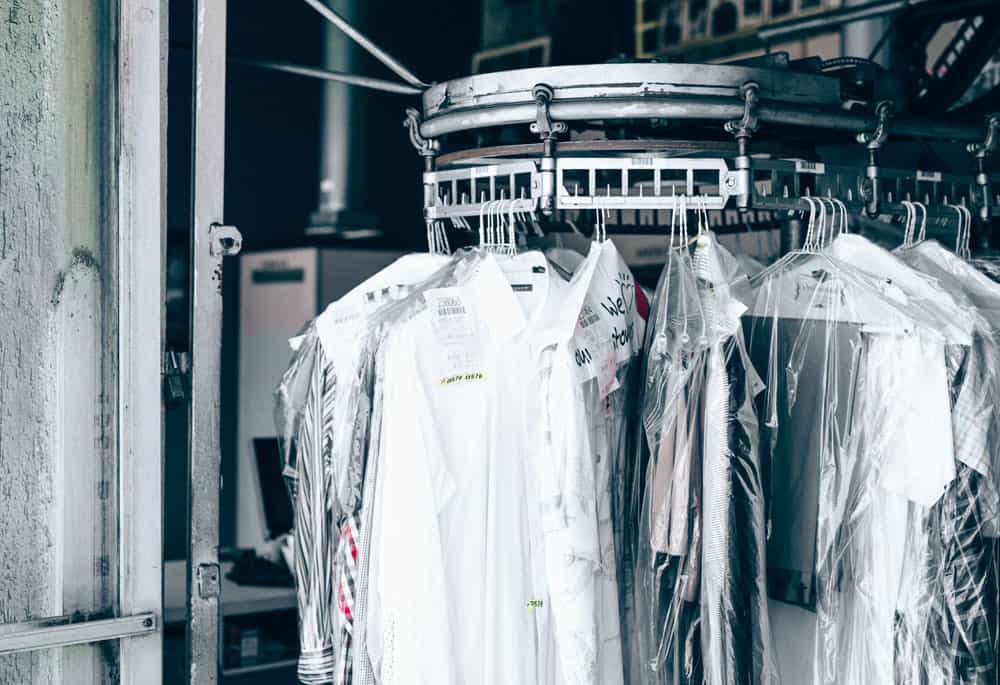 Print your own laundry cheat sheet right here! It has everything from explanations for all the laundry care symbols, details for how to get out a variety of tough stains, and a few other tips and tricks you may not know!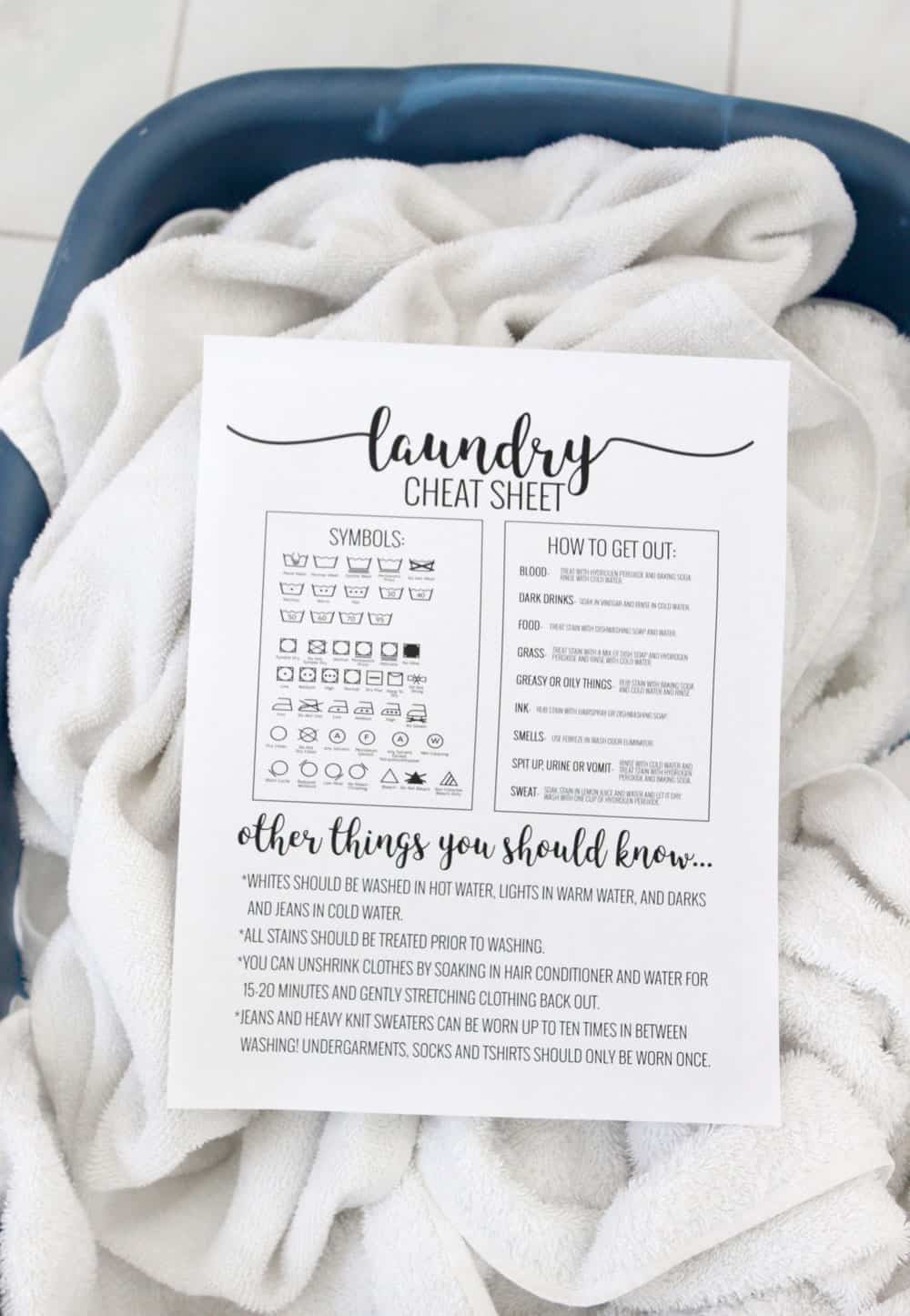 I printed mine out and taped it to the inside of my cupboard in my laundry room, so it's easily accessible if I need it, but I think it would also look super cute framed on the wall!
I hope laundry is at least a little easier now!

This post was originally published on July 4th 2018 and has been updated with new photos and more informative text.