White chocolate covered Oreos with Cadbury mini eggs are what dreams are made of. This easy dessert recipe is perfect for Easter or a baby shower dessert!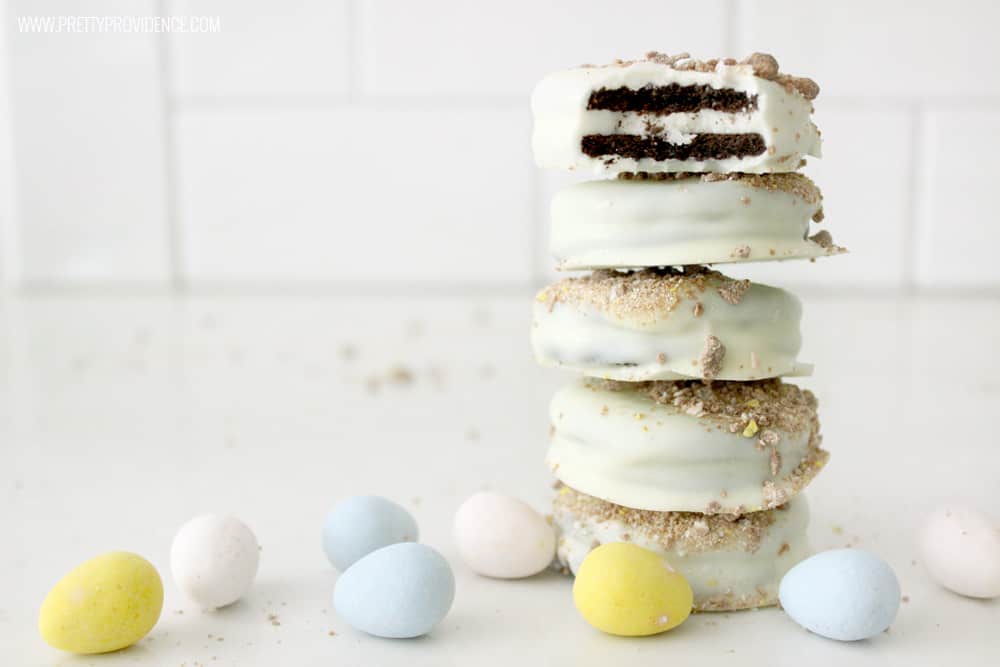 White chocolate. Oreos. Cadbury Mini Eggs. I have just introduced you to three of my FAVORITE things, so it is no wonder I would eventually have the brilliant idea to put them all together! Haha. When we were kids we looked forward to every Easter, primarily for the Cadbury mini eggs to appear on store shelves again. Every Christmas time we were overjoyed when my Mom snatched up a box of the white chocolate covered Oreos! It didn't take me long to figure out that I could easily make my own white chocolate covered Oreos the other 11 months of the year. It did take way too long for the birth of these white chocolate covered Oreos with crushed Cadbury mini eggs! These are so decadent, so rich, so delicious. You are going to love them!
*This post contains affiliate links.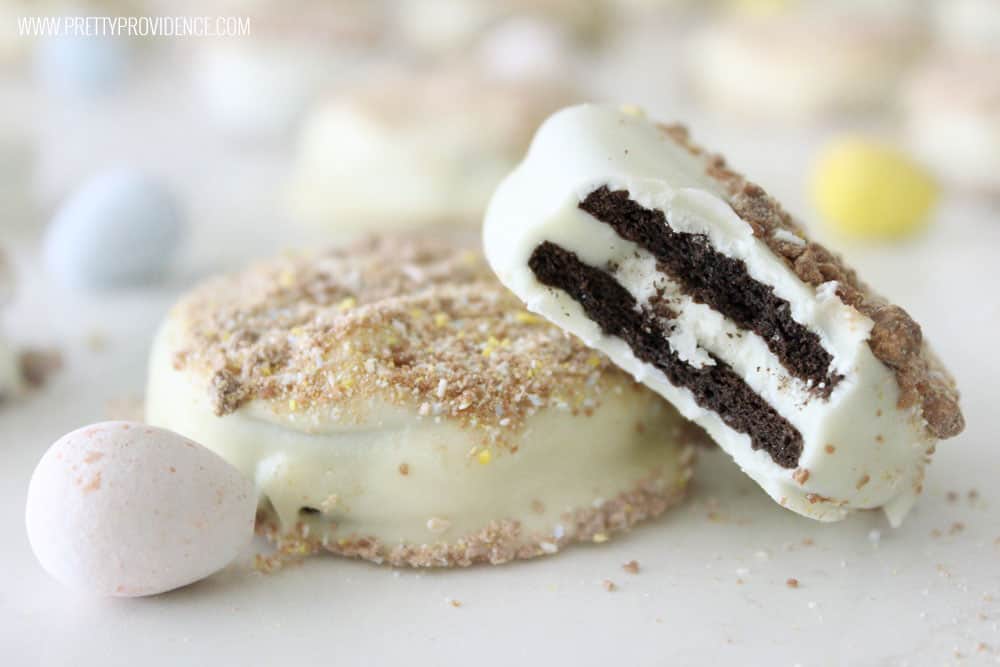 How to Make White Chocolate Covered Oreos:
Melt white chocolate candy melts.
Dip Oreos in melted chocolate.
Let white chocolate covered Oreos rest on wax paper.
Garnish with crushed Cadbury mini eggs, sprinkles, or drizzle another fun color of melting candy.
Refrigerate for at least 20 minutes, and serve.
Store in an air-tight container.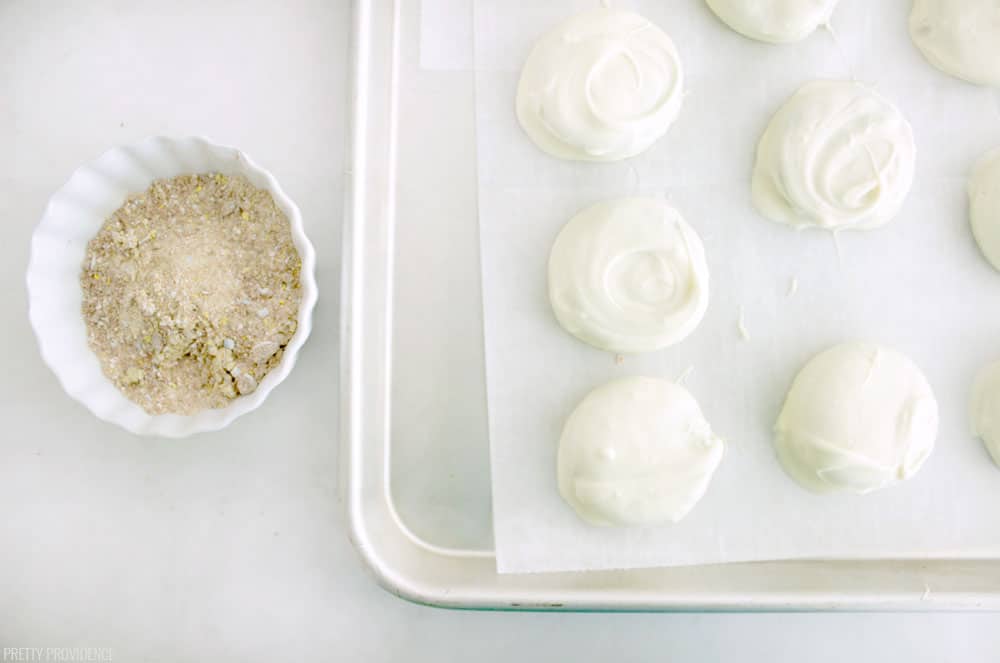 White candy melts vs. white chocolate chips:
You can substitute white chocolate chips for white candy melts if you have them. White chocolate chips taste slightly better, but are harder to melt. As all white chocolate chips might be made differently, follow the directions to melt them from the back of the package. This candy melting pot is a lifesaver for making treats like this.
Candy melts are made with vegetable oil, making them easier to melt and dip. They still taste really good, and will cover more Oreos, which is why I use them for this recipe.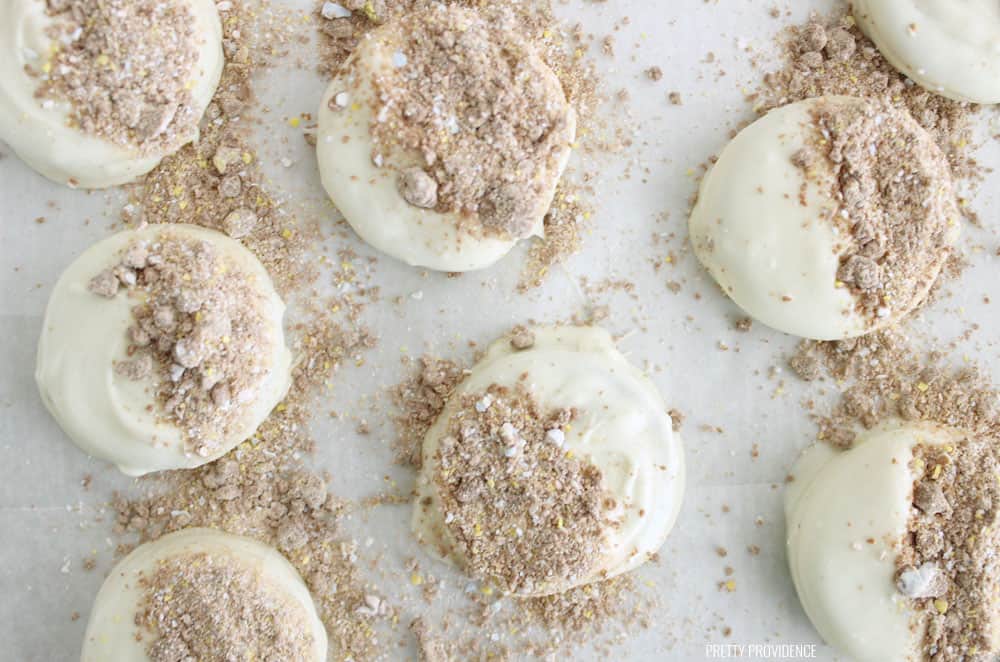 These will last in the fridge for weeks, assuming that they would ever last that long! I just stick mine in an air-tight container.
Because of how pretty they are, White Chocolate covered Oreos are the perfect dessert for Easter, for a baby shower dessert table, or to even add to Christmas cookie plates.
Consider some of these other fun Easter desserts too: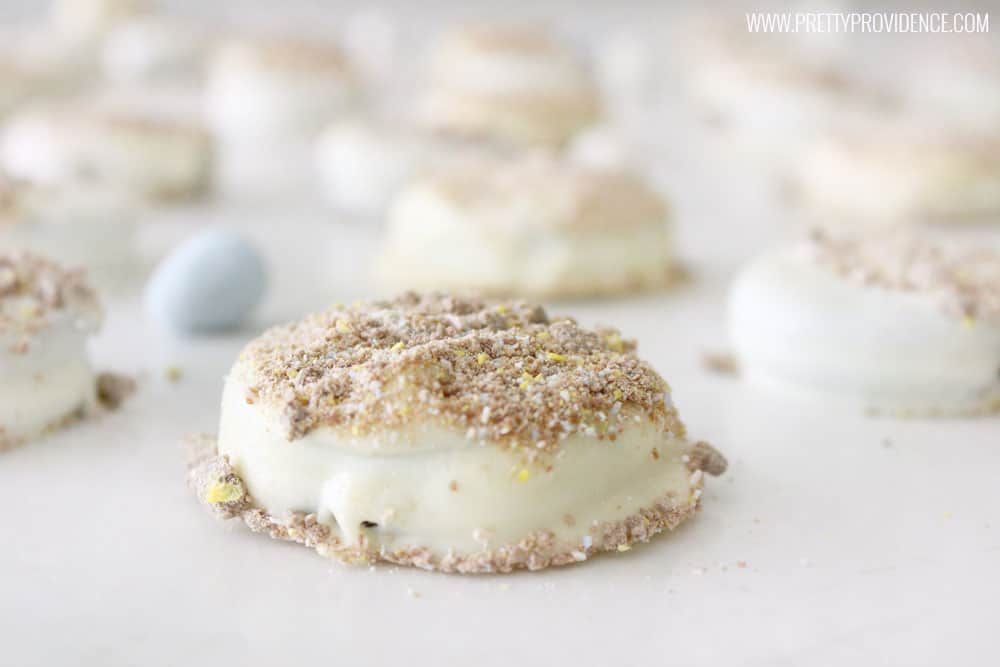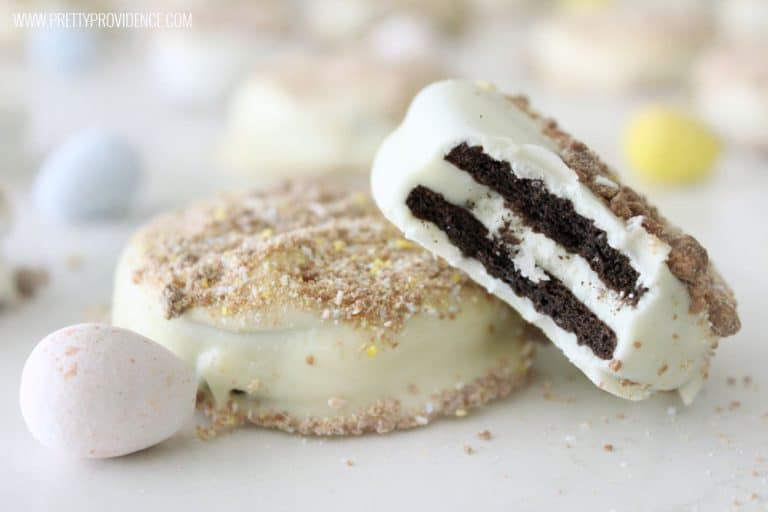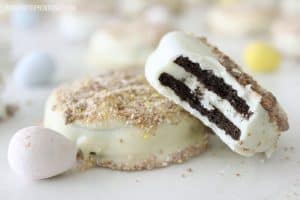 Print
White Chocolate Covered Oreos
These white chocolate covered Oreos with crushed Cadbury mini eggs are what dreams are made of. It's an easy Easter dessert and it is perfect for baby shower dessert tables too!
Instructions
Crush up Cadbury mini eggs in a food processor or blender.

Melt white chocolate according to package directions.

While chocolate is melting, line a cookie sheet with wax paper and put crushed mini eggs into a shallow bowl.

When chocolate is melted, dip Oreos one at a time until covered. Lay them flat on the wax paper.

Once all the Oreos are dipped, sprinkle Cadbury crumbs on the top of the white chocolate and press gently with your fingers.

Refrigerate finished Oreos for about 20 minutes until hardened, and enjoy!
Nutrition
Serving:
1
oreo
|
Calories:
219
kcal
|
Carbohydrates:
29
g
|
Protein:
2
g
|
Fat:
10
g
|
Saturated Fat:
5
g
|
Cholesterol:
3
mg
|
Sodium:
121
mg
|
Potassium:
81
mg
|
Sugar:
22
g
|
Vitamin A:
25
IU
|
Vitamin C:
0.1
mg
|
Calcium:
40
mg
|
Iron:
2.1
mg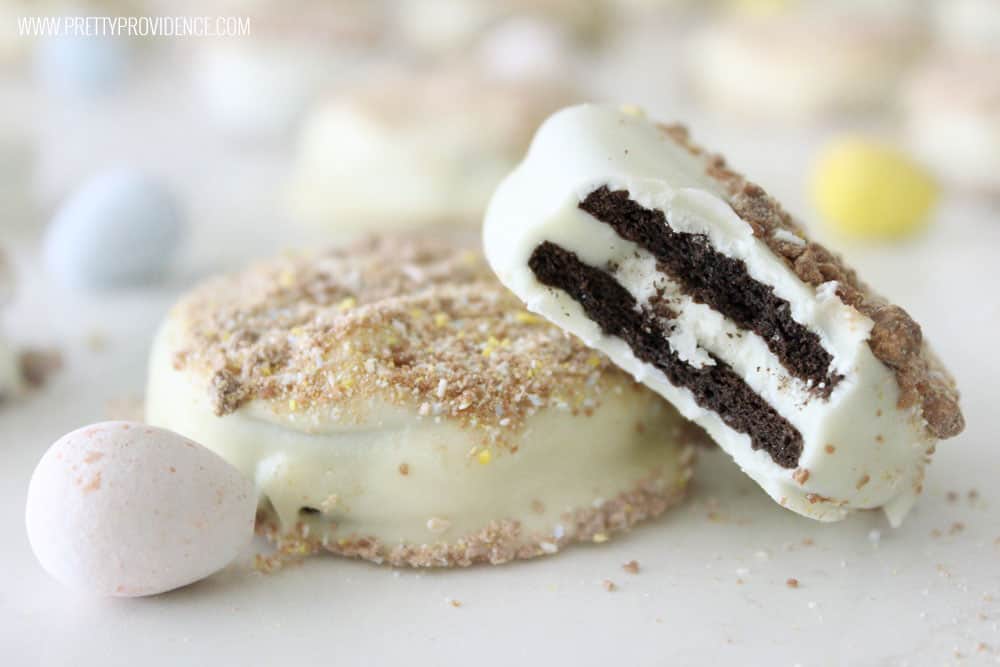 I'm not even gonna lie, they fulfilled my wildest dreams! Haha. I hope you love them as much as I did!