White chocolate covered Oreos are what dreams are made of. You only need three ingredients for these white fudge covered Oreos and they are the perfect easy dessert for any holiday or special occasion!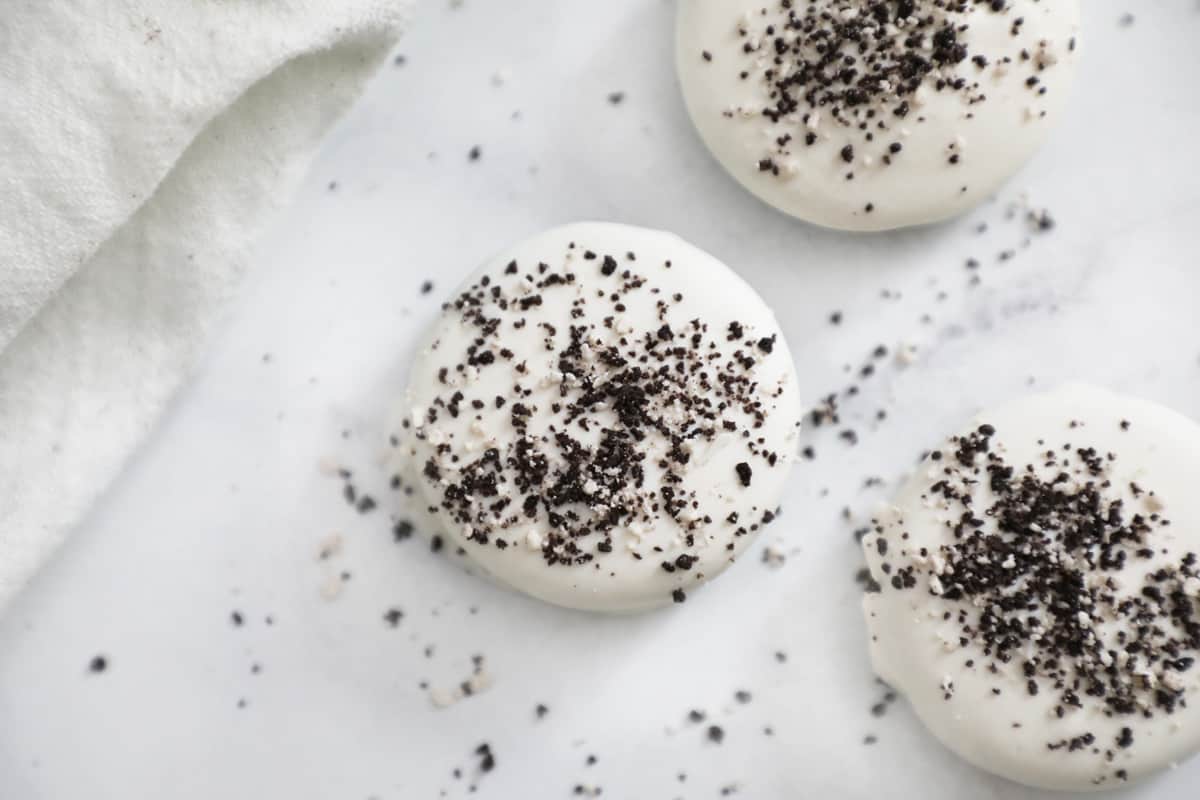 White chocolate. Oreos. Holiday sprinkles. I have just introduced you to three of my FAVORITE things, so it's no wonder I am always wanting to put them all together! White chocolate covered Oreos are the perfect special treat because they are super easy to whip together but they taste gourmet!
White Chocolate Covered Oreos
Every Christmas time we were overjoyed when my Mom snatched up a box of the white chocolate covered Oreos! It didn't take me long to figure out that I could easily make my own white chocolate Oreos the other 11 months of the year. They have since been one of our families favorite go-to treats!
If you like quick and easy dessert recipes you will also love our perfect no bake cookies, our amazing Texas sheet cake or our easy homemade rice pudding. Or you can find all our dessert recipes here.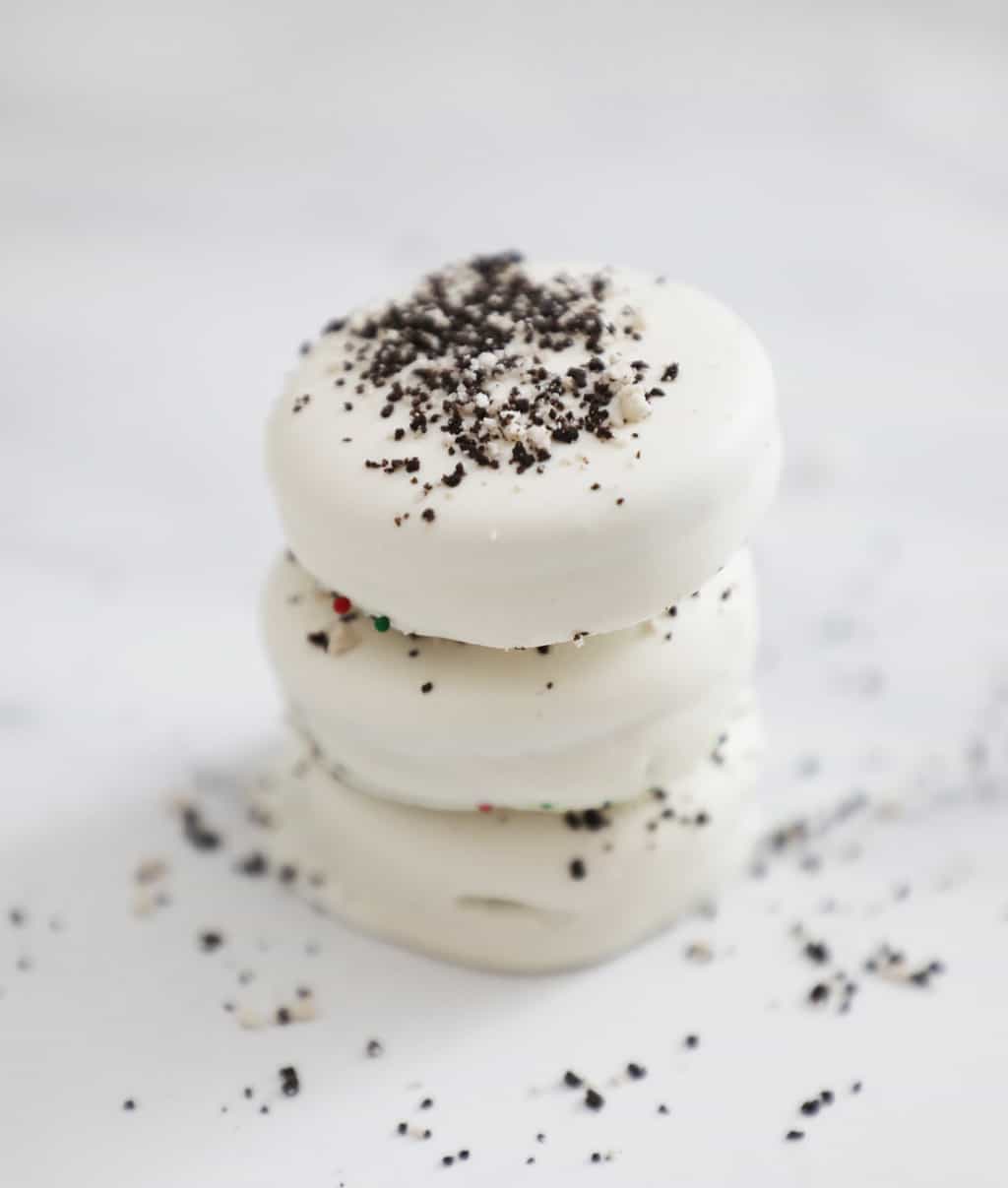 *This post contains affiliate links.
Mmmm. The best part is, they are as easy as they are delicious! You ready for all my tips and tricks?
How to Make White Chocolate Oreos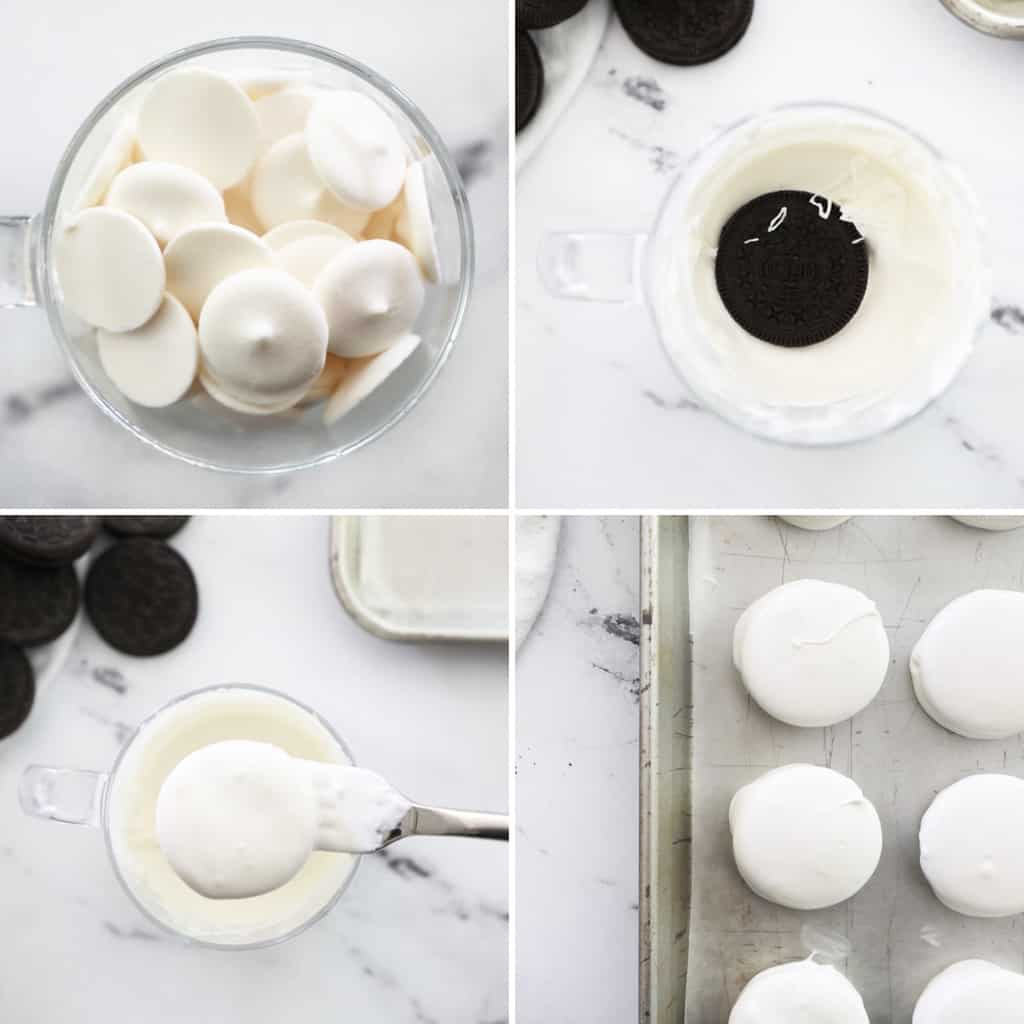 Top Left - Melt your white chocolate. I like to use a small glass cup. Spray it with cooking spray first to make the chocolate easier to remove.
Top Right - Dip your Oreo in the melted chocolate and push it down until submerged.
Bottom Left - Use a fork to grab your cookie out of the white chocolate and gently tap it on the side of the glass to allow remaining chocolate to drip out the bottom.
Bottom Right - Place cookies on a wax paper lined cookie sheet.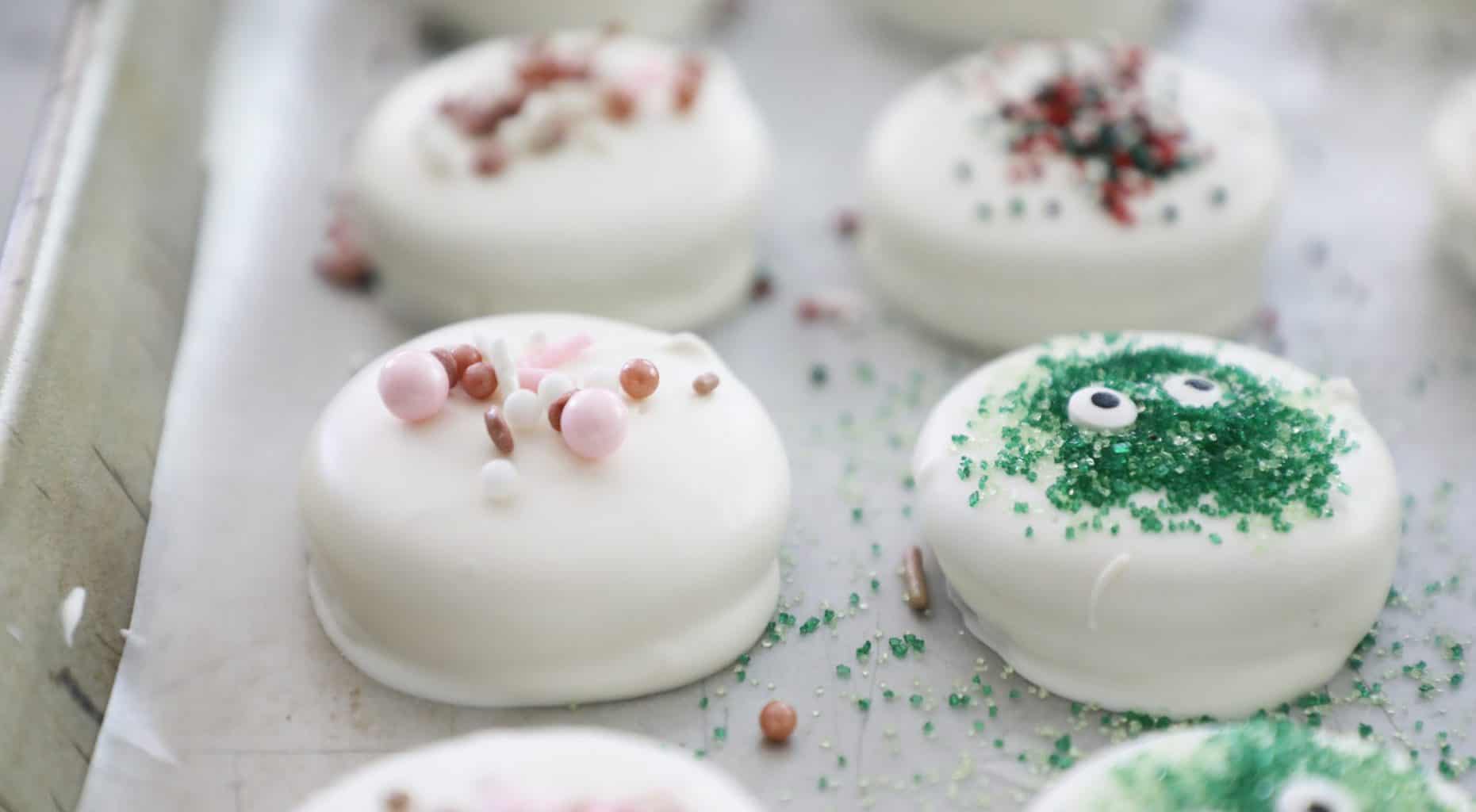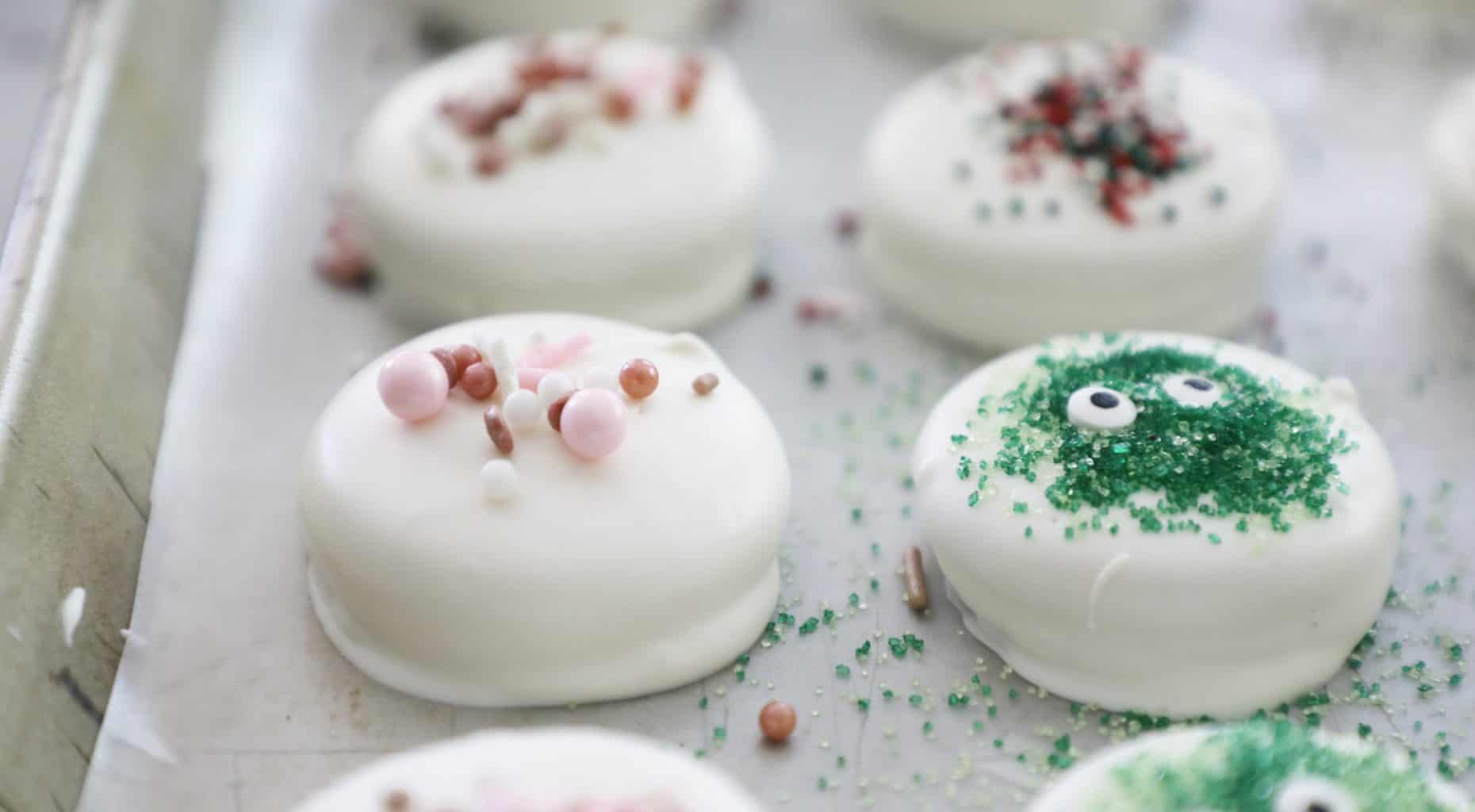 Before chocolate hardens add sprinkles or garnish with leftover cookie crumbs. If needed, place decorated cookies in the fridge or freezer for a few minutes to harden completely.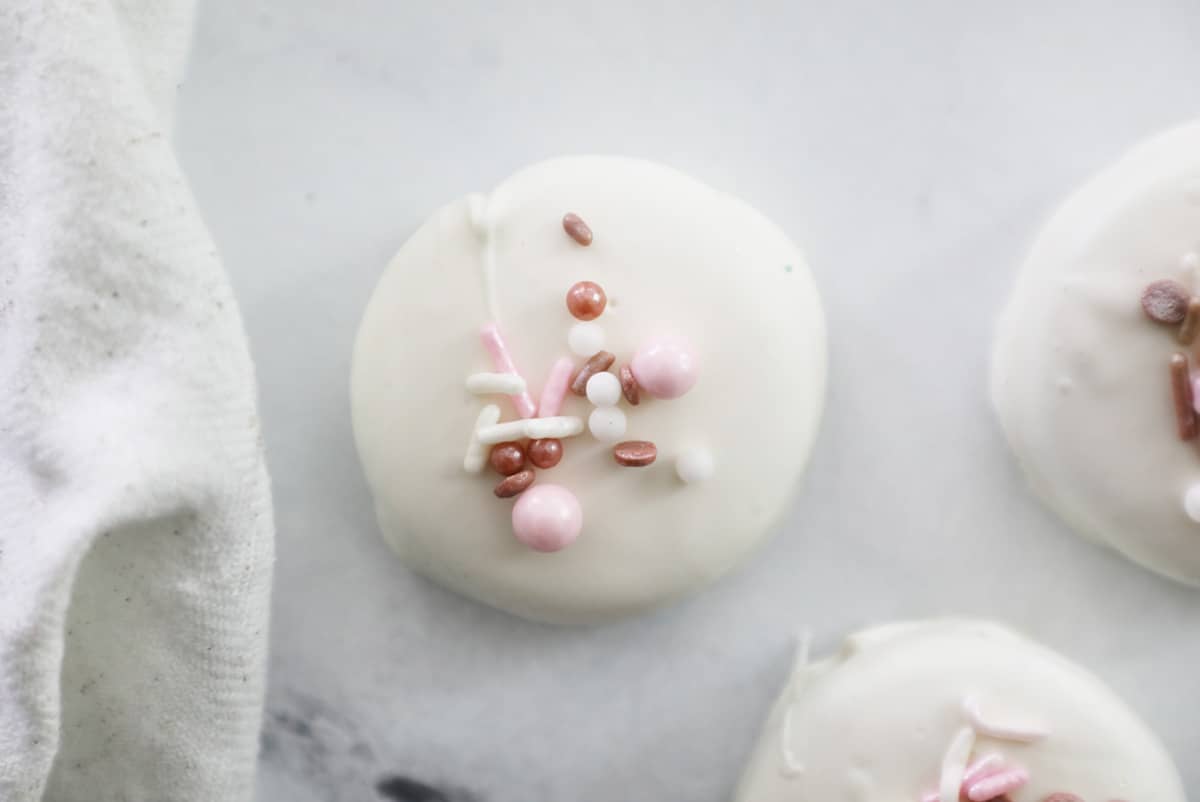 White Fudge Covered Oreos
Really quick let's answer a few frequently asked questions.
White Candy Melts vs. White Chocolate Chips:
You can substitute white chocolate chips for white candy melts if you have them. White chocolate chips taste slightly better, but are harder to melt and take longer to harden. As all white chocolate chips might be made differently, follow the directions to melt them from the back of the package. This candy melting pot is a lifesaver for making treats like this.
Candy melts are made with vegetable oil, making them easier to melt and dip. They still taste really good, and will cover more Oreos, which is why I use them for this recipe.
How long do they last?
These will last in the fridge for weeks, assuming that they would ever last that long! I like to stick my leftovers in an air-tight container and put them in the freezer to be pulled out as needed. They will last in the freezer for 6 months.
Holiday Chocolate Covered Oreos
Because these are so easy to customize, they work wonderfully for any holiday. Here's a few ideas to get your juices flowing!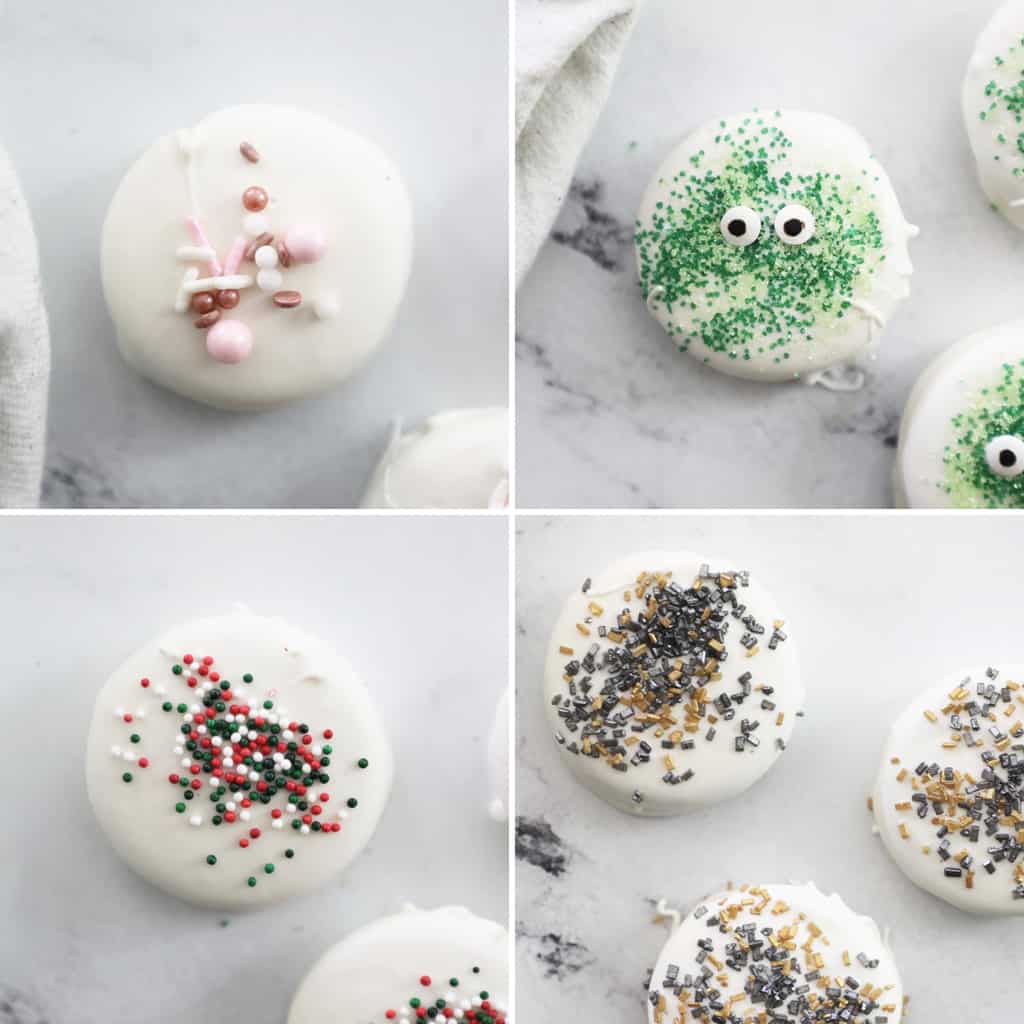 You ready for the easy recipe?
If you like this post we would love for you to leave us a positive comment and review, they mean so much to us!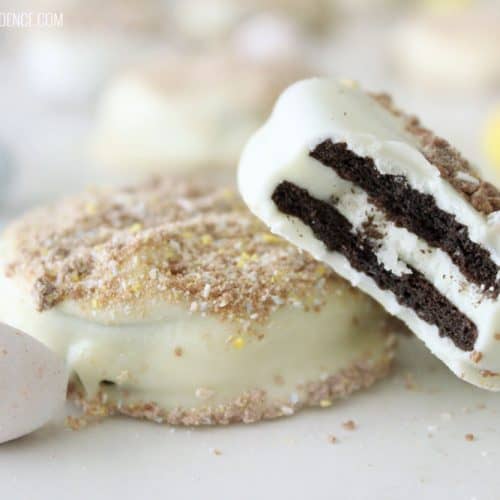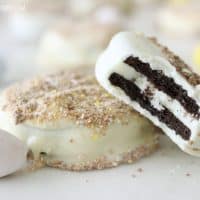 White Chocolate Covered Oreos
White chocolate covered Oreos are what dreams are made of. You only need three ingredients for these white fudge covered Oreos and they are the perfect easy dessert for any holiday or special occasion! 
Print
Pin
Rate
Instructions
Melt white chocolate according to package directions.

While chocolate is melting, line a cookie sheet with wax paper and get out desired toppings.

When chocolate is melted, dip Oreos one at a time until covered. Pull them out with a fork and let them drip off remaining chocolate. Lay them flat on the wax paper. 

Before the chocolate hardens completely add sprinkles or leftover cookie crumbs to garnish.

Refrigerate finished Oreos for about 20 minutes until hardened, and enjoy!
Nutrition
Serving:
1
oreo
|
Calories:
219
kcal
|
Carbohydrates:
29
g
|
Protein:
2
g
|
Fat:
10
g
|
Saturated Fat:
5
g
|
Cholesterol:
3
mg
|
Sodium:
121
mg
|
Potassium:
81
mg
|
Sugar:
22
g
|
Vitamin A:
25
IU
|
Vitamin C:
0.1
mg
|
Calcium:
40
mg
|
Iron:
2.1
mg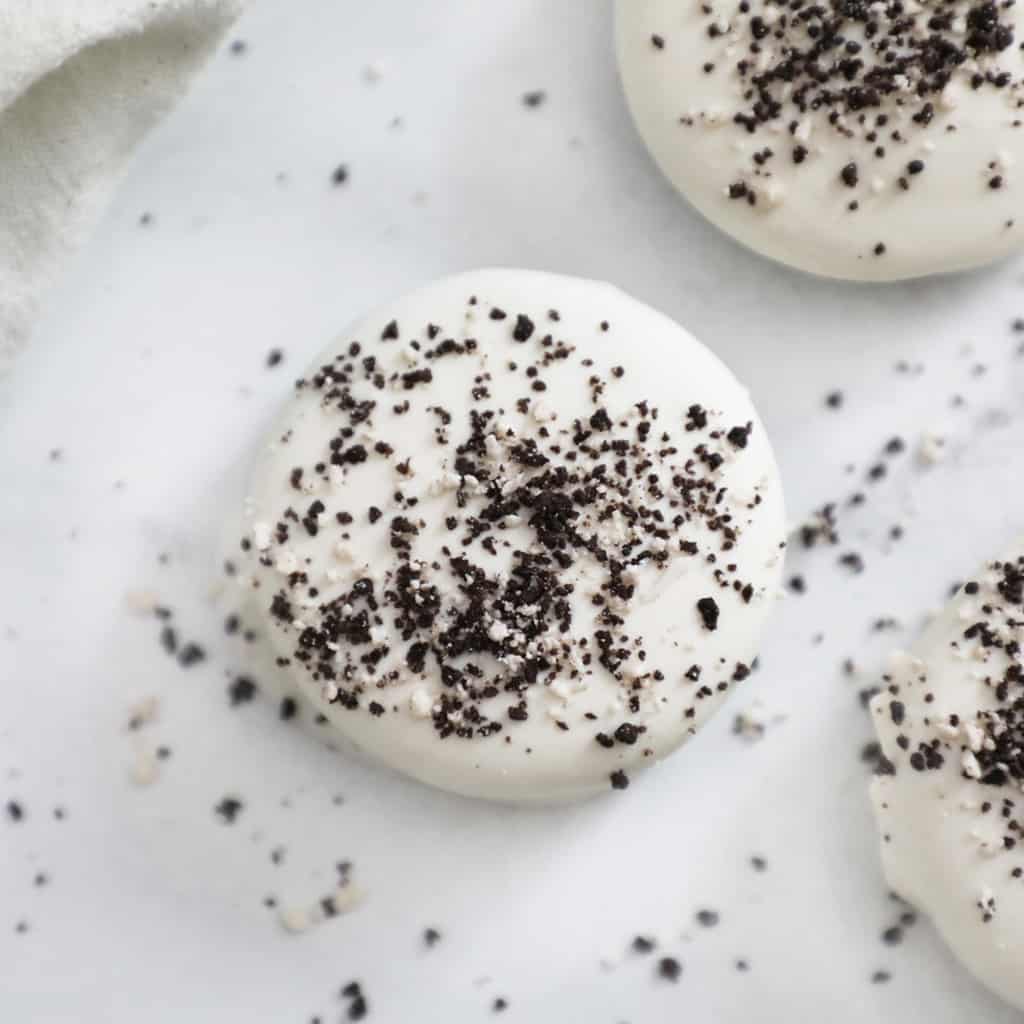 I'm not even gonna lie, they fulfilled my wildest dreams! Haha. I hope you love them as much as I did!

This post was originally published March 27, 2017 and has been updated with new photos, video and more detailed information.