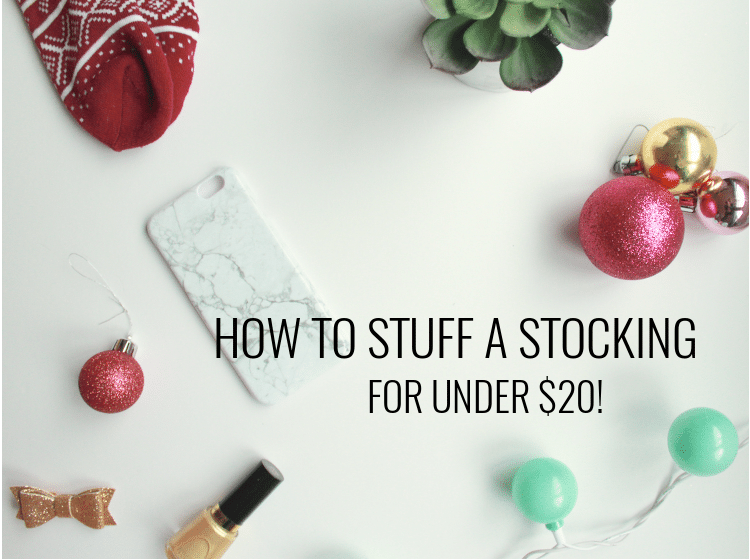 Stockings are one of my favorite parts of Christmas morning. I have noticed in the past few years since being married and thus in charge of stuffing someone else' stocking, that I tend to forget to budget for stocking stuffers. I am always thinking about all of the other gifts I am buying, budgeting for them, and leaving stockings to the last minute. Then I am rushing to gather things up and I end up spending way more than I should have just due to lack of planning. Not this year. I went on a quest and figured out exactly how much I wanted to spend on each stocking – $20 at the most. I thought it would be so easy but it was actually more challenging than I thought, even after planning everything out. The hard part was not going over-budget because I wanted to buy everything! Isn't it funny how easy it is to justify over-spending when it is on a gift for someone else?
I did it though. I made a shopping list of stocking stuffers I would like to get, and went out to see what I could do with my $20 dollar bill.

A FEW TIPS:
1. Use stockings that are average size instead of completely HUGE. The bigger your stocking is, the more money you will spend because you need more to stuff it with.
2. Think bigger. Your stocking stuffs don't all have to be tiny. Get a few bigger items that will take up more room in the stocking so it appears full without the $50 worth of Hershey's kisses it would take to fill that thing up. Canned or bottled soda or other fun drinks are great, popcorn balls, rolled up socks, etc.
3. Do it all in one trip. Find a morning or an afternoon that you can spend a few hours on this, make your stocking shopping list, and go do it all at once. The more trips to the store you take, the more impulsive purchases you are likely to make.
4. Don't feel like you have to put everything in it. I know it's nice to give as much as possible, but it's a stocking, not this person's only chance to get new toiletries for the next year. They will be happy with whatever they find in there! So if one of the things you would like to put in there just won't fit in the budget, be willing to let it go, or let go of something else to make room for it.
5. DON'T GET CAUGHT UP IN THE HOLIDAY SECTION AT TARGET & similar places. This is the magically festive part of the store where everything is cute, special holiday limited edition, often sparkly and perfectly stocking-sized. And the prices are jacked WAY up because they know that people aren't going to walk to the other aisles and compare. Don't fall for it. Yes it's fun. But no one really cares whether their Reeses PB Cups are in green and red wrappers or their regular gold attire.
6. Shop for candy in bulk bins if you can. If you live near a WinCo, that's your place. If you don't, you'll have to hunt a little harder but a grocery store that has bulk candy bins is much easier on the wallet.
7. If buying for more than one person, take advantage of multi-packs. Lots of items come in packs of two, three or four, and cost less than just buying the same items separately! (As you will see below, there are two pairs of gloves, two root beers, and two popcorn cups. The popcorn cups were a two pack for $1 at Target, the root beers were in a six pack, and the gloves were a two pack at wal mart for $1.50!)
With that said, here's what I got for $20 for the boy stocking:
pair of thick socks – $3.50 wal-mart
pair of gloves – .75 cents wal-mart
beanie – $2 wal-mart
root beer – $1 wal-mart
popcorn cup – .50 cents target
caramel popcorn – $1 winco bulk
candy – $2 winco bulk
tide pen – $3 wal-mart
tissues – .50 cents target
chap stick – $1 wal mart
total: $15.25 
I left myself $4.75 to buy an iPhone case + maybe one more small item from Amazon (hard to find boyish stocking stuffers!) but the stocking was already stuffed to the brim!
And here's what I got for the girl stocking:
black sequin bows – $1.80 forever 21
bronze metallic bows – $1.50 forever 21
floral and pearl post earrings – $1.00 forever 21
notebook – $2 cotton on
gloves – .75 cents wal mart
nail polish -1.75 wal mart
chapstick – $1 wal mart
root beer – $1 wal mart
tide pen – $3 wal mart
tissues .50 cents – target
popcorn cup – .50 cents target
popcorn – $1 winco bulk
candy – $1 winco bulk
total: $16.80
Success! The stockings are stuffed with fun, useful items and the bank is not broken. So that's how it's done!