Holy cow you guys I cannot believe how soon Christmas is going to be here! Ah!!! We are hosting my in-laws for Christmas this year and I am so excited to be able to do Christmas in our own home and still have family with us! Growing up my family always did our big nice Christmas meal on Christmas Eve, and then a big brunch on Christmas! I am trying to plan ahead and get everything ready now so that we can all enjoy the holiday stress free! I wanted to do a tablescape to make our nice Christmas meal feel special, so I headed to my local JOANN store on Black Friday to see what I could come up with!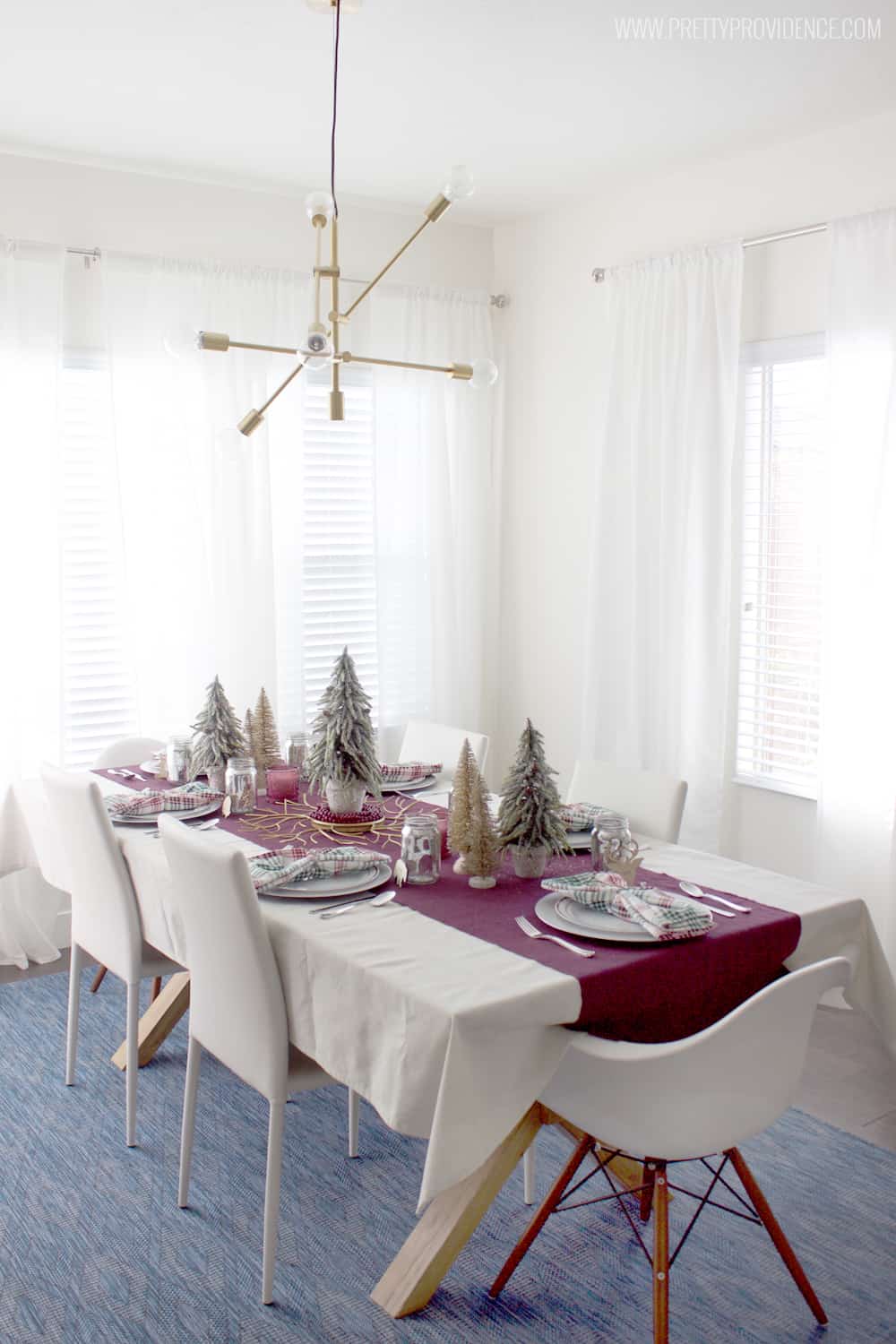 I really love how it turned out! Typically when I am doing a tablescape I start by just wandering the aisles and seeing what calls out to me. The first thing I saw that I really loved were the adorable bottle brush trees! I immediately knew I wanted to incorporate them into the table design!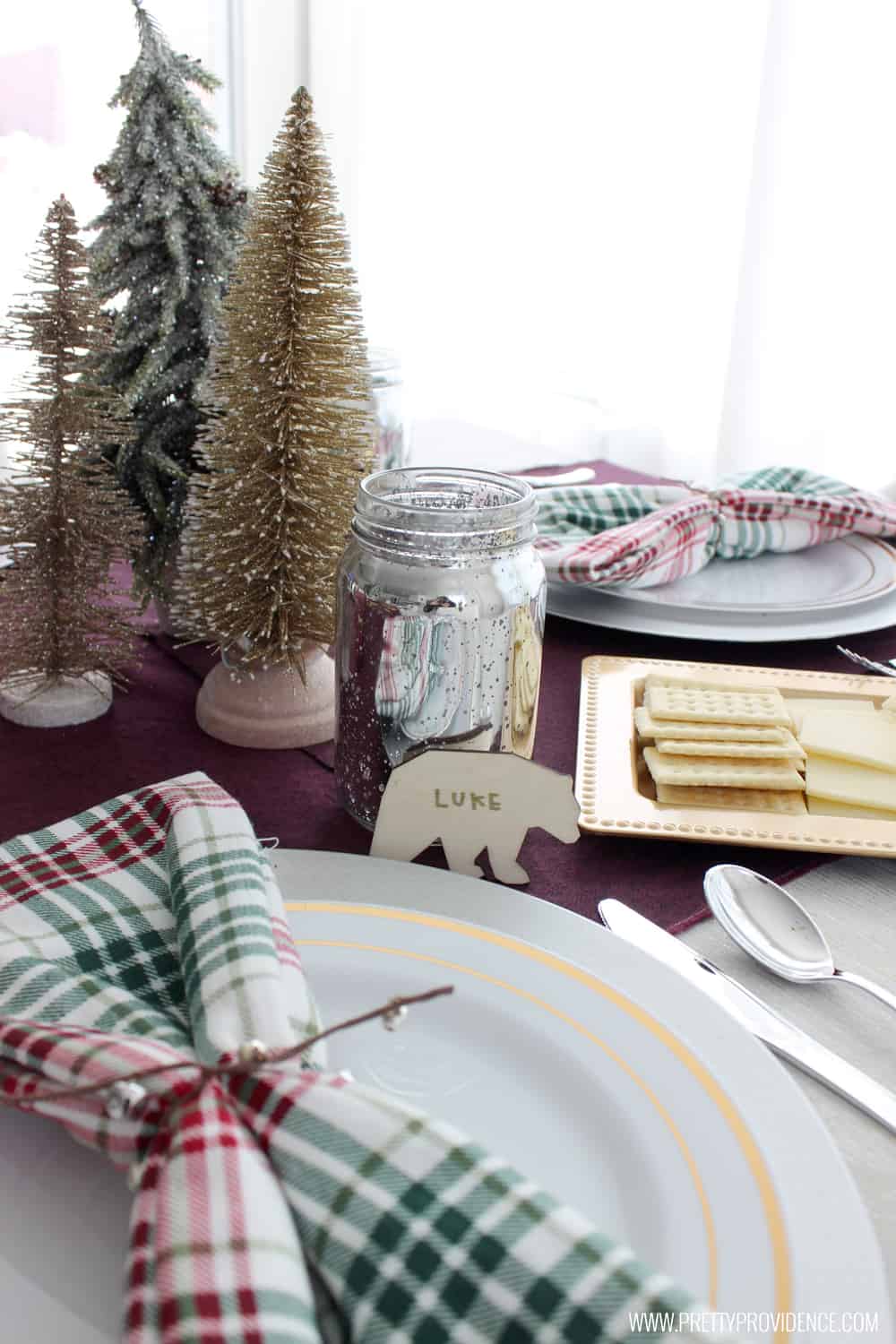 I wanted something to kind of center the whole design (I tend to prefer things really symmetrical.. it's the OCD in me!) and I loved this holiday antler mirror! After finding those two things I figured a whimsical, woodland theme would be fun and easy!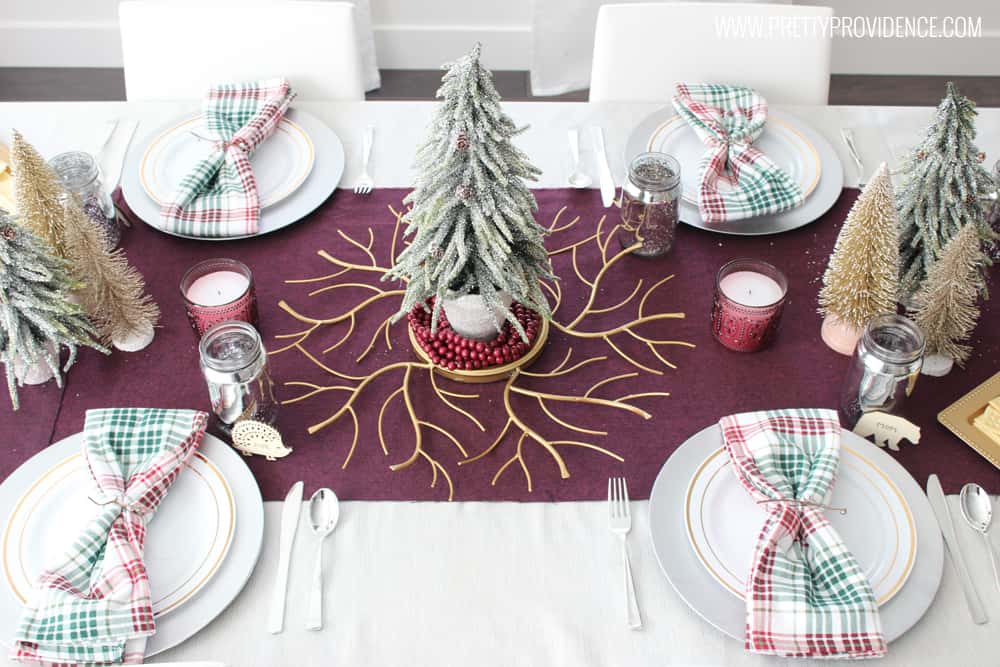 To balance out the gold trees and the golden antler centerpiece I decided to go with silver chargers and utensils. I love mixing metals and the white plates with gold trim are another fun addition!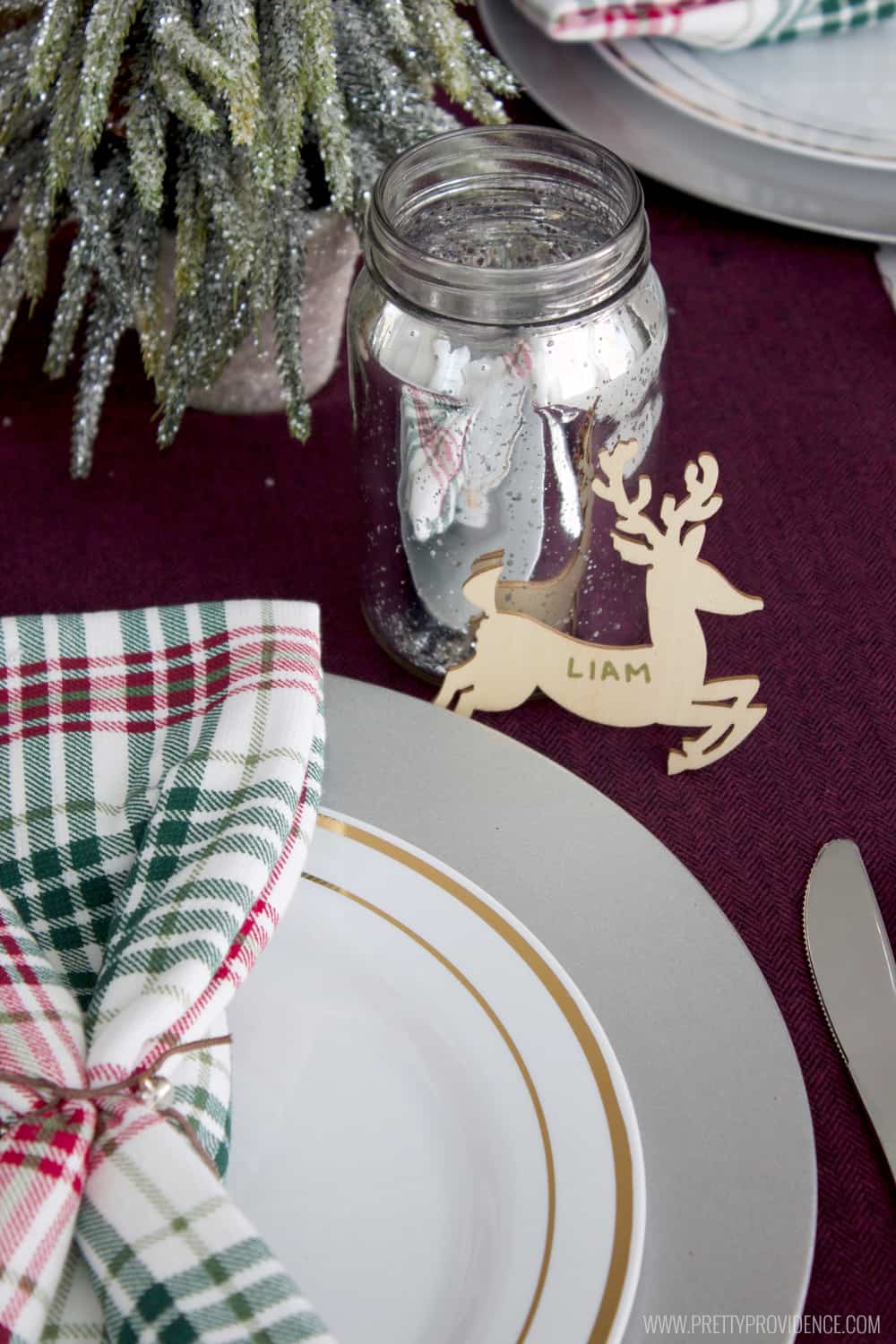 Also, how beautiful are these silver mason jars? I'm obsessed with them! They had them in so many fun colors you guys! I went with silver but it was a tough decision, haha! I decided to use them as drinking glasses (even though they are technically not food safe) but I love that they could easily be reused in the future for vases or some other kind of centerpiece!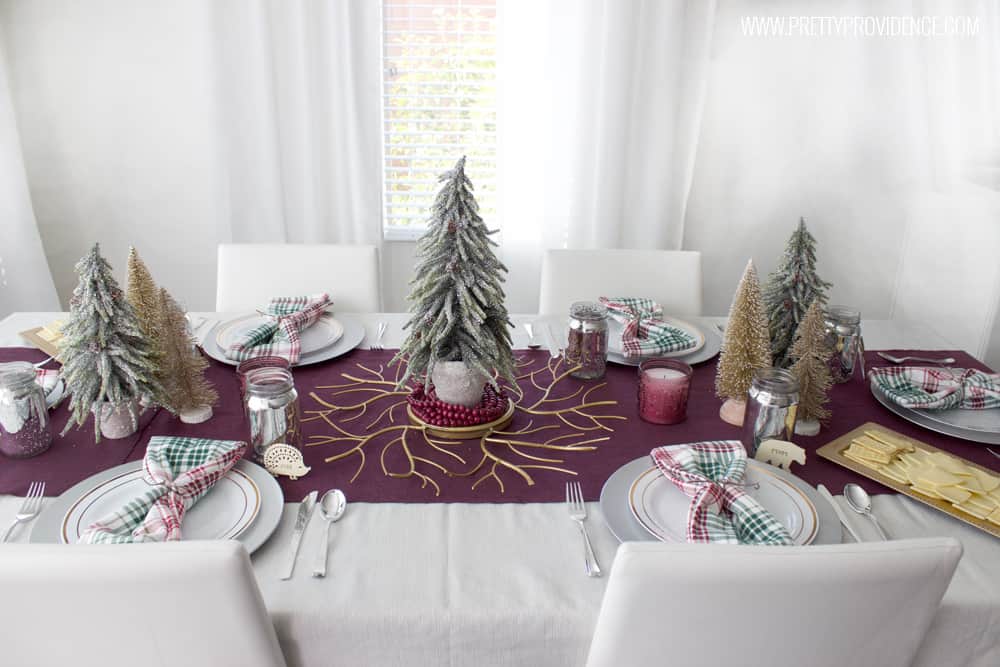 I wanted to bring in a bold color, but you guys know that red is not really my favorite and we already had green in the trees! When I saw these fun dish towels I thought they would work great as nice napkins, and I knew the red was deep enough that if I added a deep purple runner it would all take on a pretty cranberry hue! When I found the beautiful purple candles as well it was a done deal!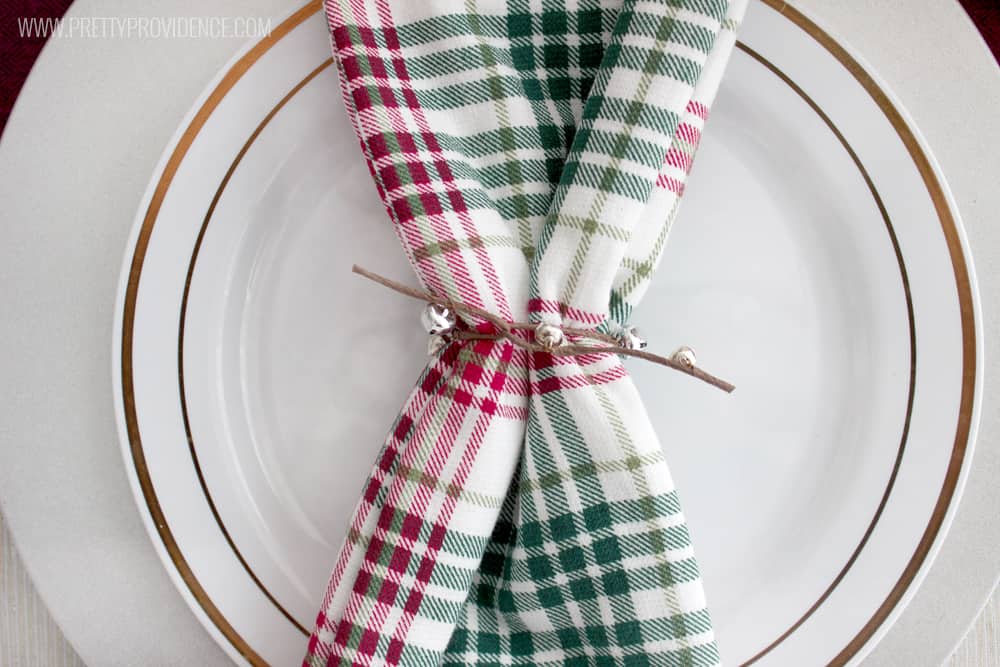 How fun is the jingle bell wire I used to accent the napkins?! Cute, easy and festive.. right up my alley! I was originally planning on cutting the towels in half and sewing them to make smaller napkins, but then I decided they would get more use at my house as dish towels so I decided to buy a few extras and use them that way instead, but you could do either!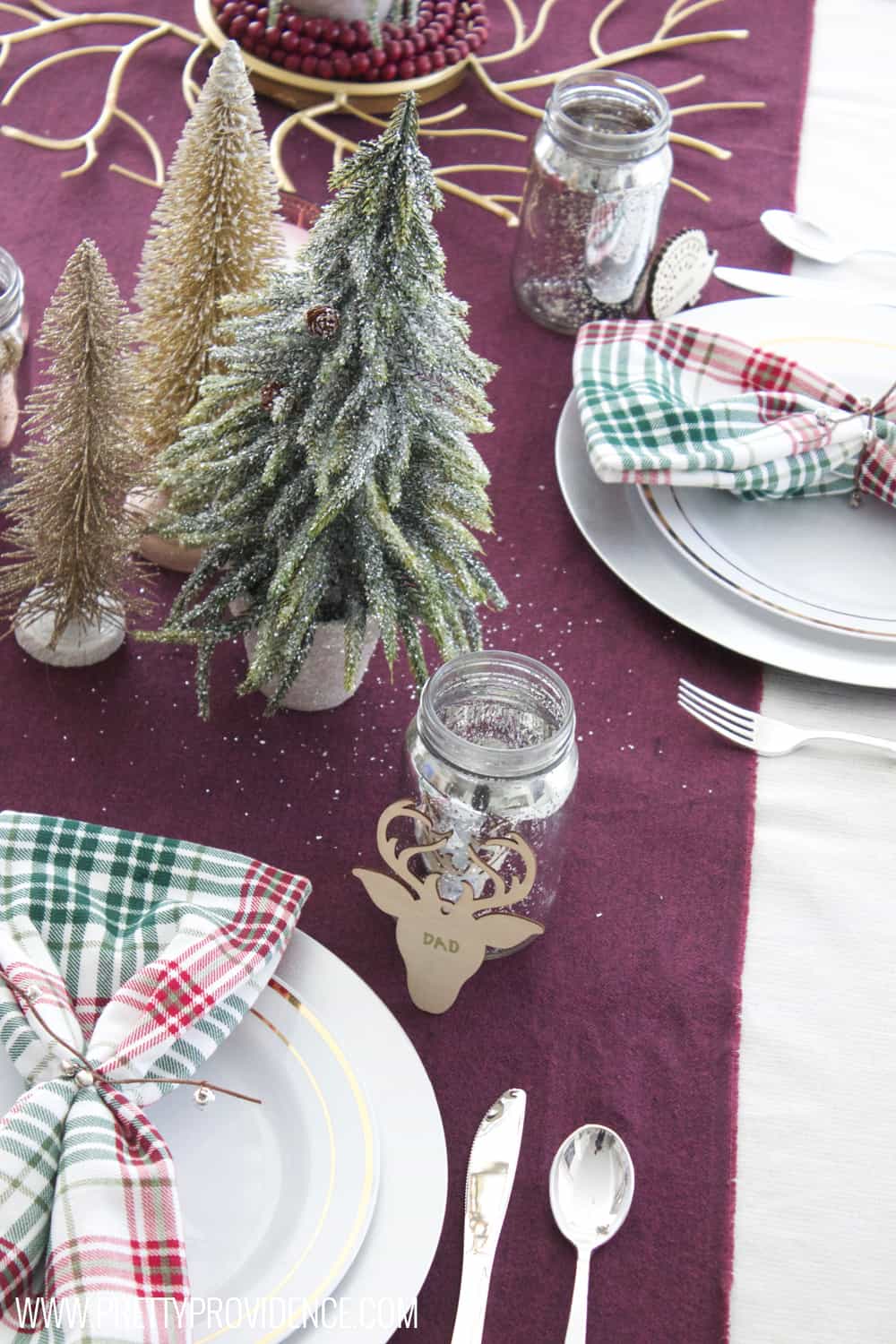 I found this pretty purple fabric at JOANN as well! I decided to leave the edge raw because I loved the texture of it and felt like it fit well with the woodland vibe!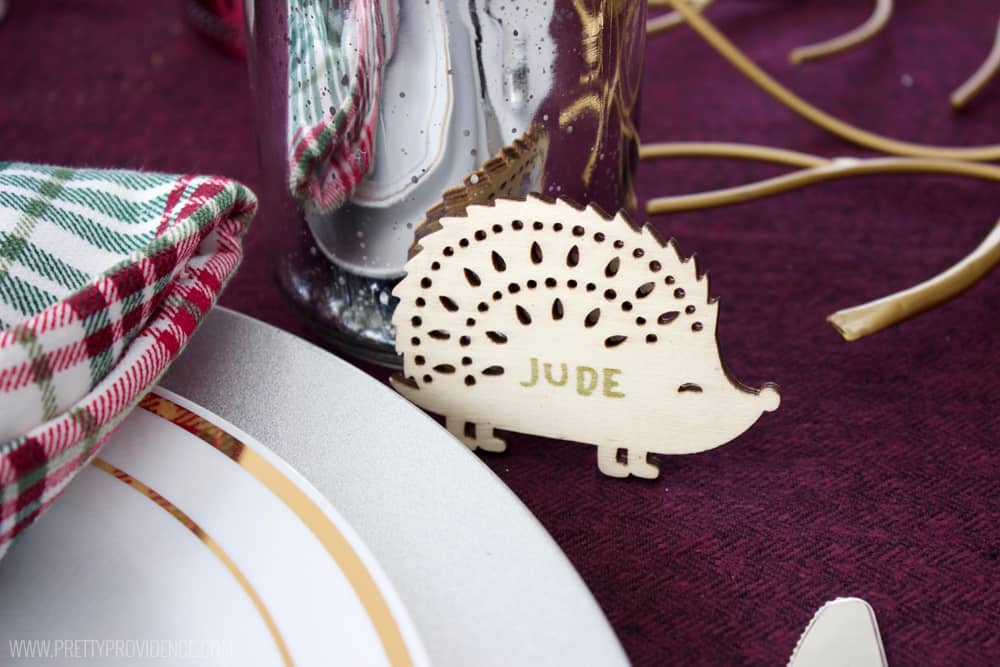 Okay these little woodland animal place markers are probably my favorite part of the whole table! Are you kidding me with that little hedgehog?! I am obsessed! Such a perfect accent to let guests know where their seats are! I used this cute metallic marker set to write everyones names on their ornaments.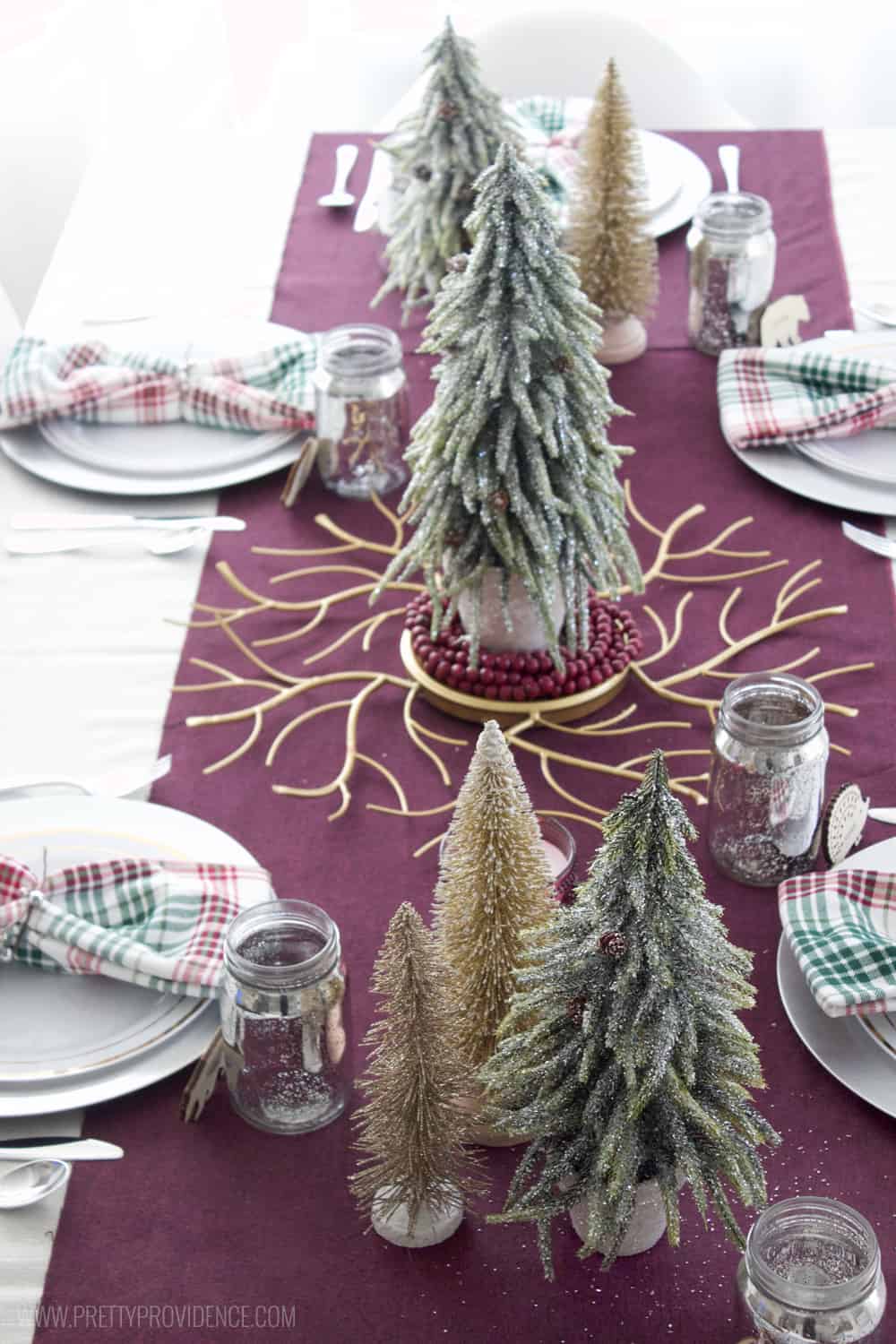 It was so hard to narrow down which trees to get (JOANN had soooo many cute ones) but I finally decided on three different types. I like how using different ones creates texture and visual interest on the table.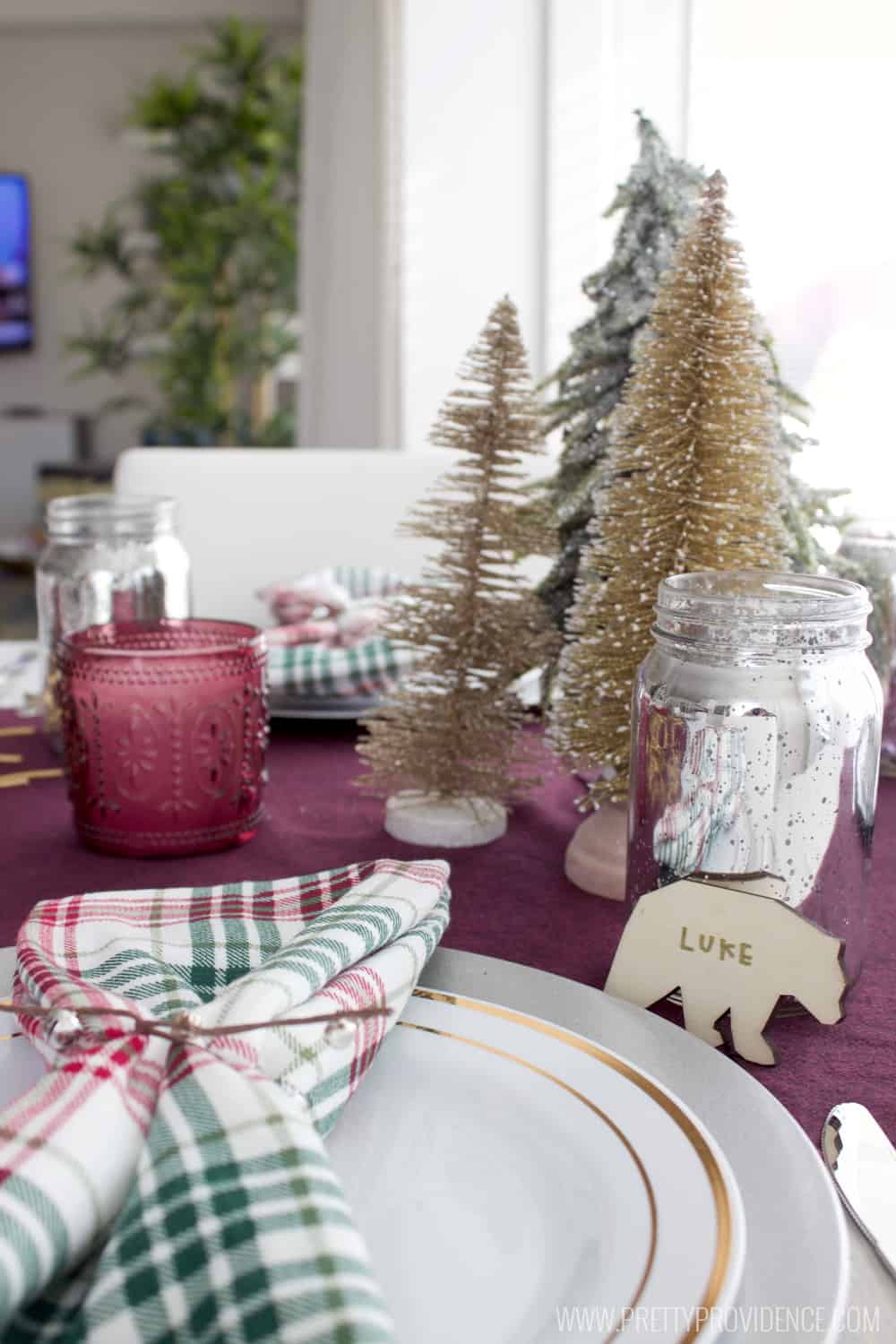 Here's one last view of the full set up!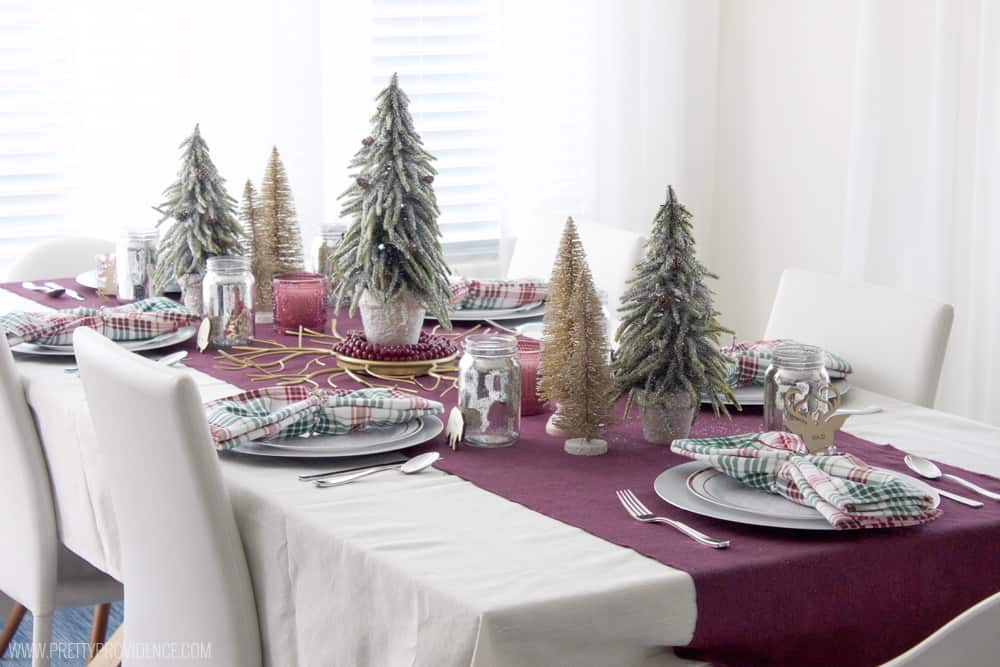 Well there you have it friends! I hope you enjoy all of your upcoming festivities! Happy holidays! You can shop the entire post down below if you're interested!
xo,


| | | |
| --- | --- | --- |
| Glass Mason Jars | Large Glitter Tree | Champagne Tree |
| LED Gold Tree | | Small Glitter Tree |
| Red Wooden Beads | Silver Charger | Wooden Bear (Similar) |
| Plaid Kitchen Towels | Rose Glass Candle | Jingle Bell Roping |
| Metallic Markers | Gold Platter | Gold Mirror |