Hello Pretty Providence readers! I'm Bethany and I blog at Whistle and Ivy. I am so excited to be a part of the Pretty Providence birthday week. Today I am sharing this easy gift card birthday basket.
We have been able to celebrate 3 birthdays with our little 3 year-old (the last one was the only one that he "got"), and it was so fun to be able to spend a few dollars on a toy he absolutely cherishes. He has slept with his Blade Ranger every night since he received it.
My husband, on the other hand, is not so easy. I learned many years ago that he is impossible to buy for. I also learned that gifts are not his love language, so he doesn't mind a card with cash or a gift card in it (he actually prefers it). That being said, it's not impossible to put some thought and pizzaz into a birthday gift card.
What you need:
worsted yarn
6.5 mm hook
Small basket
Helium-filled ballon
Giftcard and favorite treats
I started with these adorable baskets from Joann. The round one is my favorite. They were on sale for $2!
Next, I made some simple bunting with scrapbook paper and curling ribbon. It is easy to cut free hand –no fancy cutting machine needed. Simply fold the edge of your paper down. Make sure it is straight. Then, using the edge as a guide, cut triangles. It took a few cuts to make them uniform, but after that it was a cinch.

Make a thin line of white school glue in the crease to attach the curling ribbon.

Next, crochet the cozie. I used worsted weight yarn and a 6.5 mm hook:
(If you are a beginner or don't crochet, don't fret! I have all the abbreviations here, and video tutorials for the stitches on my youtube channel.)
Ch 4.
Sl st into first ch forming a loop
1.
Ch 6 (counts as first st)
*tc, ch 2* work 9 times. Join with a sl st in the 4th ch of your first 6 chains.
 2.
sl st once.
* ch 5. Sc into ch sp* work 9 times
(you should have 9 "petals")
 3.
Sl st 3 (to the top middle of the loop) Sc.
*Ch 8, sc into next loop* work 8 times
Ch 8. Sl st at the base of your first sc.
4.
Sl st 4. Sc.
*Ch 10. Sc in next loop* work 8 times
Ch 10. Sl st at base of first loop. Tie off.
Attach the bunting with a small dab of hot glue, and string up your balloon with a few strands of yarn.
Using some pieces of yarn, attach the cozie by pushing one end through a space near the rim on the basket, and through the loops on the cozie.
Fill your basket with the gift card and some favorite treats. Peanut M&Ms are a must!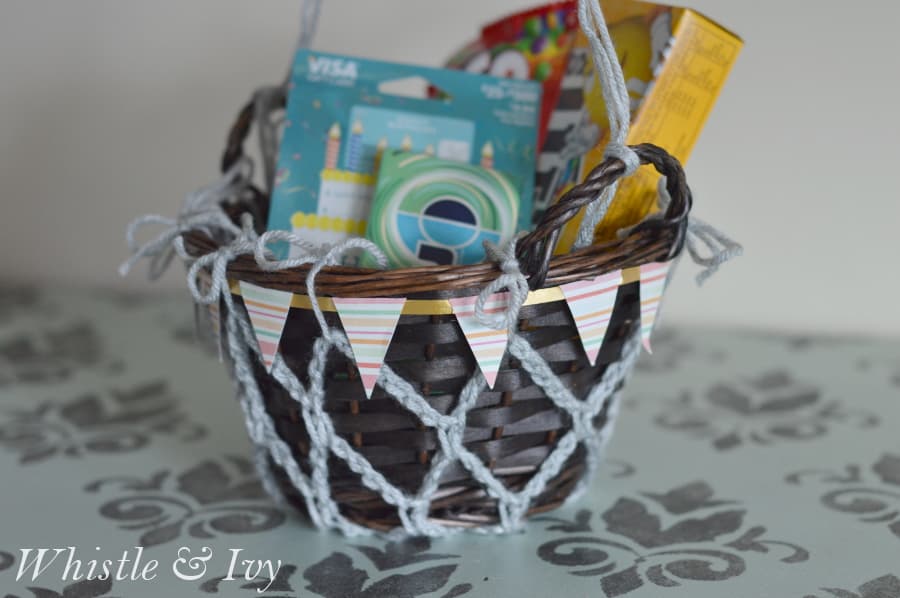 Who says gift cards can't be cute and personal? Not me!
See you next time,
Keep in touch! Follow me on Instagram and subscribe to weekly updates.