Awesome walk in closet ideas! make your master closet beautiful, functional, and space saving!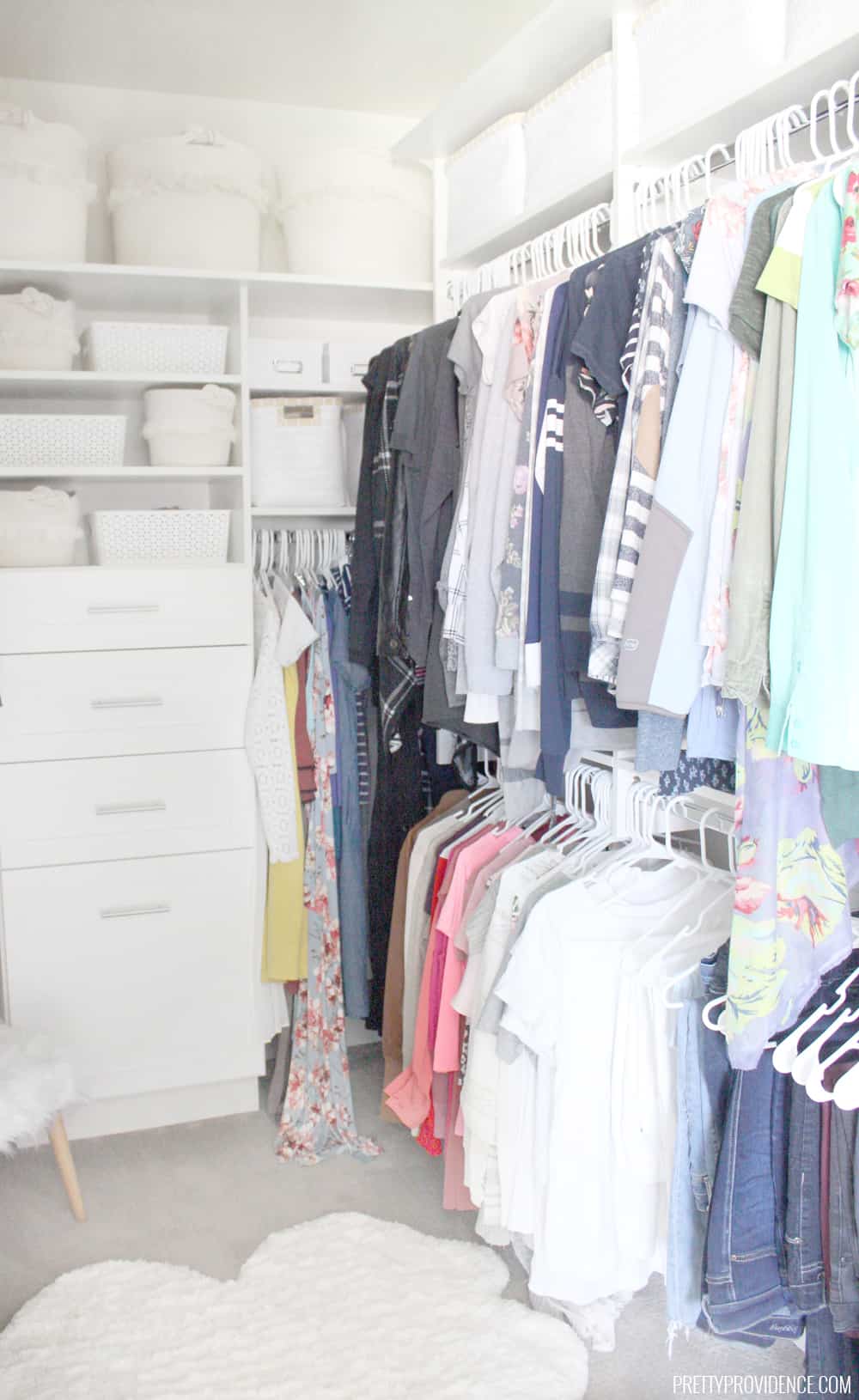 Hello friends! I am so excited to be sharing my master walk in closet with you today! When we built our house, we left the master closet pretty bare. I am SO mad, I can't find any of my before pics to show you, but it was basically just a simple hanging rod all the way around. Definitely a super inefficient use of space, and we knew that one day we would customize it to make it our own! We are completely in love with how it turned out! I hope that this post will give you some great closet ideas and inspiration if a closet makeover is on your project list as well!
Closet Shoe Rack
Here is the entryway to our master closet from our master bathroom. Since I knew that space on the right wall would be visible from basically anywhere in our bathroom and the first thing you see, I thought shoe racks would be fun and more visually appealing than a bunch of hanging clothes.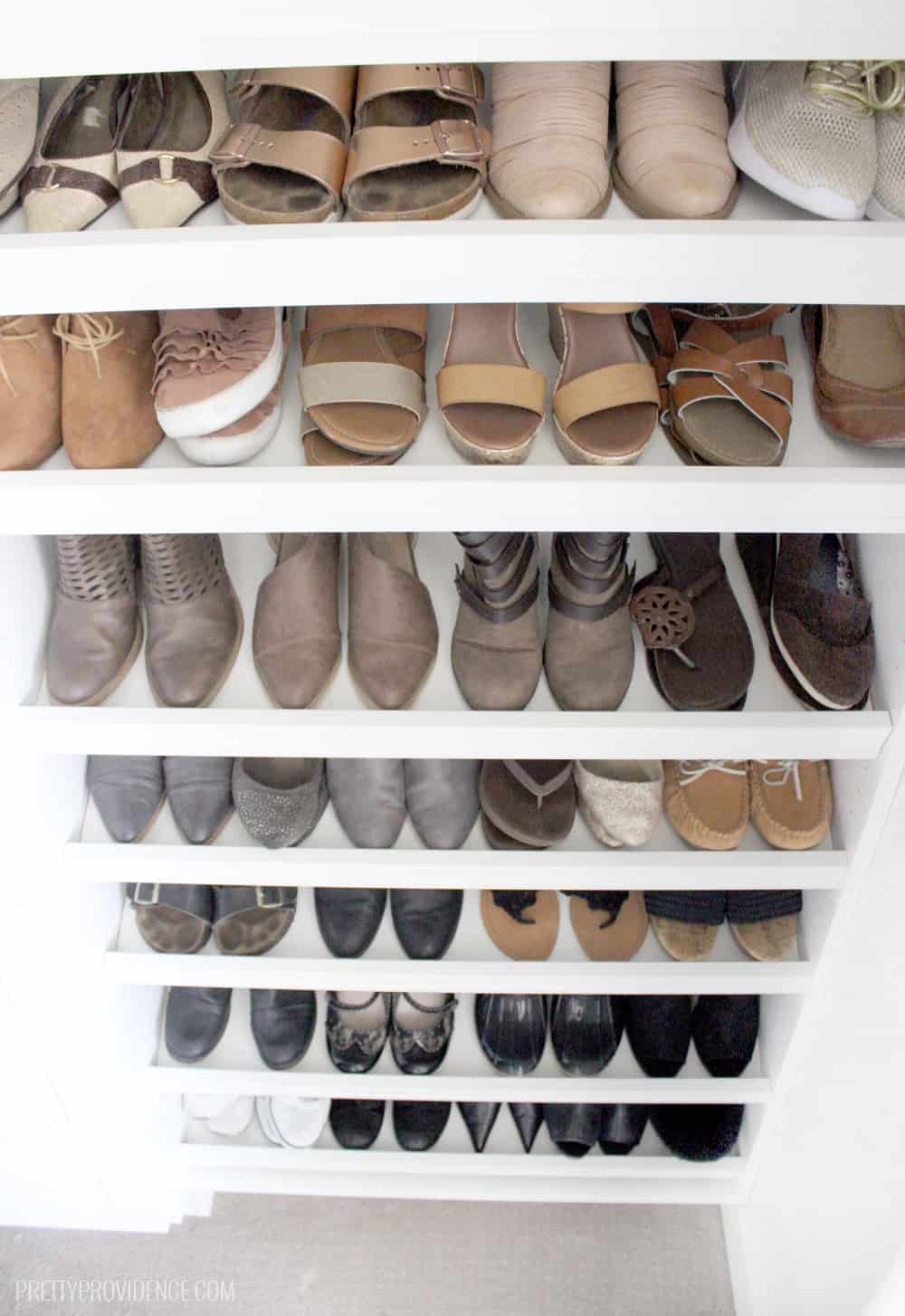 When we added shoe racks to our master closet here are a few things we considered!
Angled Shoe Shelves
I chose to make my shoe shelves angled because not only is this more aesthetically pleasing, but it makes it a lot easier for me to see all my shoes when picking what to wear. The shoes on higher or lower shelves would be especially tricky to view without angled shelves!
Adjustable Shoe Racks
I also chose to make my shoe racks adjustable. The little holes on the sides really bother some people, but I wanted to maximize the number of racks I could hang in one vertical space. It also helps when grouping shoes of similar heights together without big space gaps for flat shoes. Having adjustable shelves also allowed me to have a large space at the top where I group all my boots together, and I love that I still have a spot for them!
Shoe Track
The track on the end of each shelf ensures your shoes don't fall off (because of the downward angle). It also makes for a nice finished look (see above picture from the bathroom)!
Closet Drawers
Lots of drawers were a must for us. We had a large dresser in our master bedroom that we wanted to use to store other things, and we wanted all our clothes and accessories to be easily accessible in one place! Now we have separate drawers for pajamas, sweats, workout clothes, graphic tees, swimsuits, bras and underwear, lingerie, ties, and knick nacks! Having tons of drawers is so nice. Everything is so much more organized and easy to locate! Even though we have much less hanging space, our closet is so much more functional now. I can actually see the nicer pieces that are hanging because all my sweats and t shirts aren't packed in on the same bar!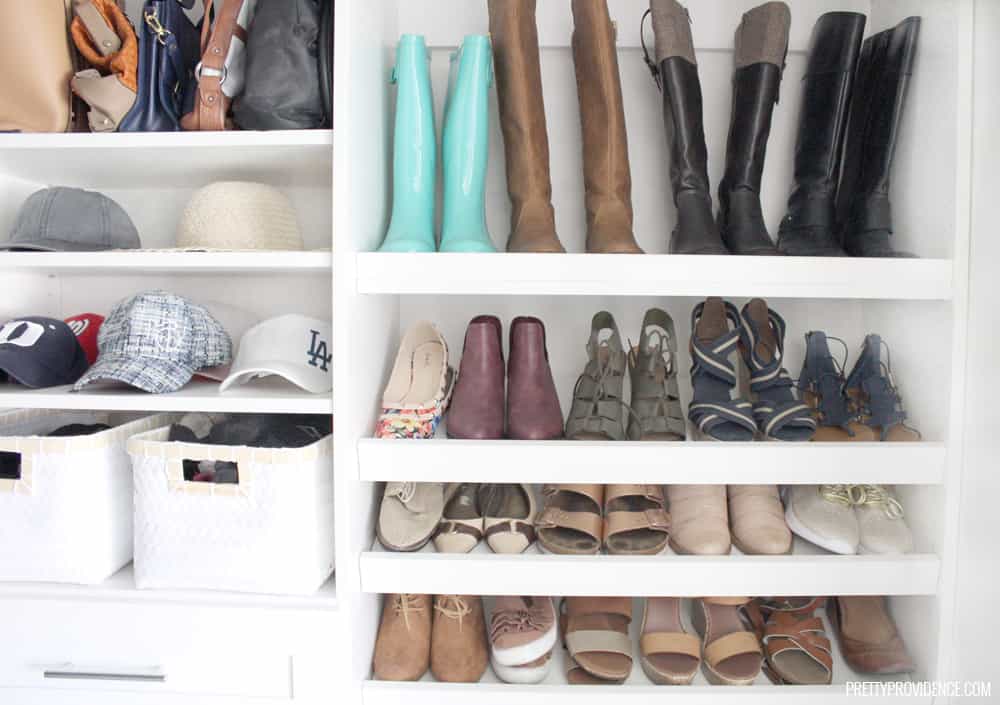 Closet Shelving
Above each bank of drawers we also have adjustable shelves! You can see in the picture above that I use mine primarily for my hats and purses, and then I also have those cute wicker Target bins for my stockings and scarves etc. Bryce uses his for shoes and hats! You can also see our luggage peeking out between the top of the shelves and the ceiling. That spot is the perfect fit for them and a great use of that space!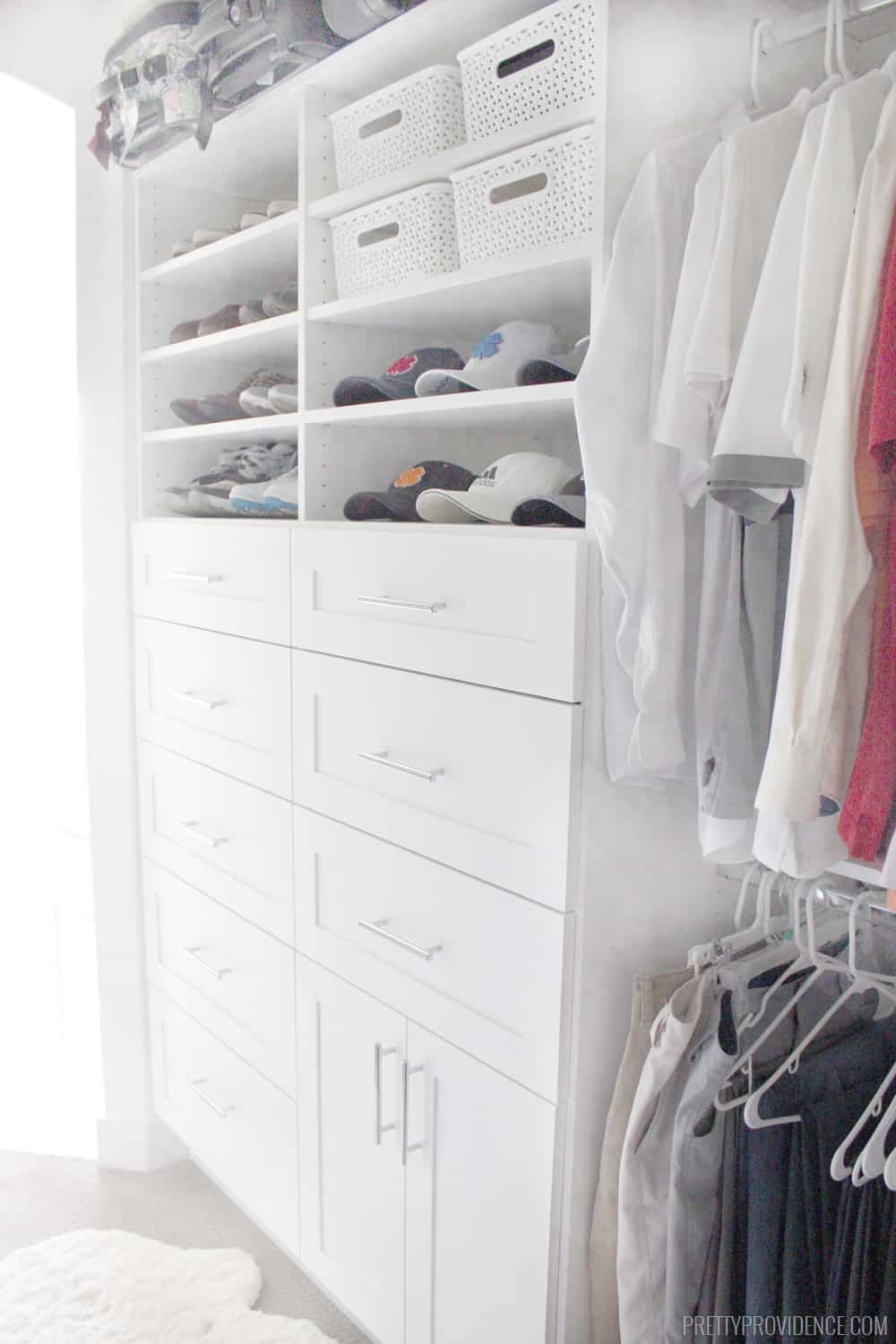 Closet Baskets and Bins
I actually found these cute large baskets in the kids section at Target and I'm obsessed with them! The baskets store things we rarely use or need, like my maternity clothes and the kids winter coats. Other smaller bins and baskets are great for hiding the random things we store in here like small gifts for just in case or ankle and wrist braces, haha.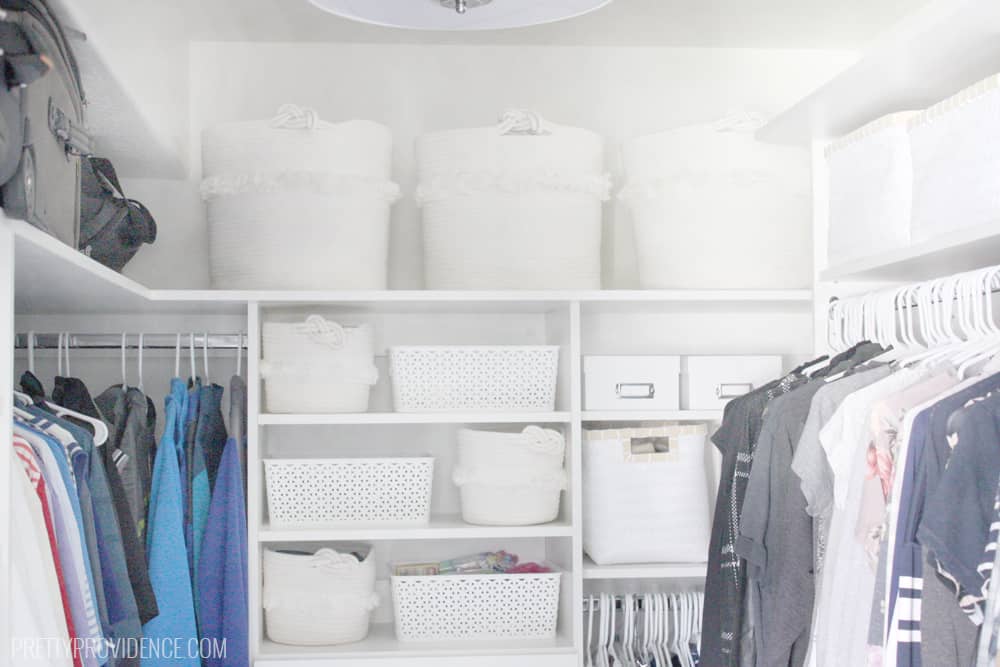 We also incorporated a cupboard to hide our safe as well as a pull out laundry hamper and I love both of those additions! Since we eliminated so much hanging space I really didn't want to have to have anything on the floor taking up space where we could hang things!
Now for a few more closet ideas that will give your closet its final touches...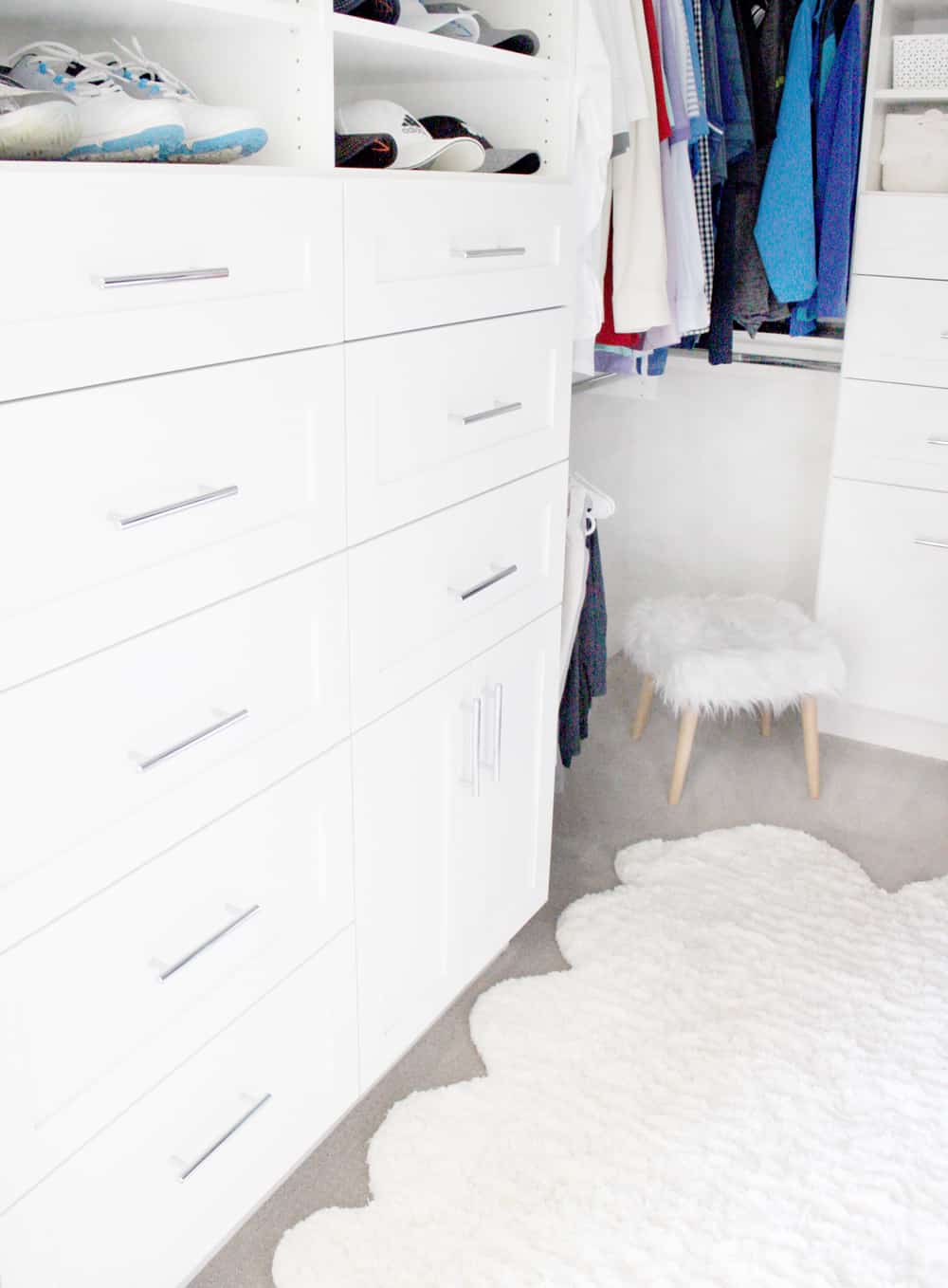 Master Closet Light
Isn't this light perfect? I love its elegant simplicity! You can find it here.
Faux Fur Rug
Because clothing can be so loud and colorful, I wanted to keep the accessories neutral in tone. I immediately thought of a faux fur rug and I love the warm cozy vibe it brings! You can find a similar rug here if you're interested.
Faux Fur Stool
I needed something to sit on while putting on shoes, and this faux fur stool is the perfect thing! I use it to lay clothes on when I am trying them on or hanging them up as well! You can find this stool here.
Well what do you think?! I hope that gave you some good closet ideas for how you'd like your dream closet to be!
xo,

SHOP THIS POST:
| | | |
| --- | --- | --- |
| Faux Fur Stool | Faux Sheepskin Rug | |
| | Storage Bin | |